The Hungarian Grand Prix was the twelfth round of the 2018 Formula One season, meaning we are now over halfway through the year. All the teams will enjoy a well-deserved break for four weeks, which gives them the time to relax and maybe come up with some new ideas to improve the car and gives us the time to look back at this season before looking ahead to the Belgian Grand Prix.
After the Hungarian Grand Prix, Lewis Hamilton leads the drivers' championship with 213 points, in front of rival Sebastian Vettel who has 189 points. Behind him are Räikkönen (146 points), Bottas (132 points), Ricciardo (118 points), and Verstappen (105 points), with Hülkenberg (52 points), Magnussen (45 points), Alonso (44 points) and Perez (30 points) closing the top ten in the drivers' championship.
However, these numbers don't tell the whole story. How did it come to these standings? How did each team perform this year so far? How did the drivers perform? Let's take a look at that, team by team.
Mercedes
Currently leading both the drivers' championship with Lewis Hamilton and the constructors' championship, it would seem that Mercedes are on another dominant run. However, that is far from the truth. Mercedes are having a very tough season currently. Their season started mediocre in Australia as Hamilton ended in a solid second place (the VSC cost him a shot at victory), but Bottas only ended up in eight place after an awful qualifying.
In Bahrain things got a little better for the Brackley-based team, with Hamilton bringing home eighteen points with his P2 finish, whilst Bottas brought home fifteen points with his third place finish. The following races they scored some good points too, although a late drama in Azerbaijan cost Bottas a victory as he ran over debris and incurred a puncture.
Mercedes have so far achieved two 1-2 finishes, one at the Spanish Grand Prix and one at the German Grand Prix, with the latter meaning a lot more to the German team, especially because Hamilton started from fourteenth place and came through to win the rain-affected race.
A definite all time low this season for Mercedes came at the Austrian Grand Prix, where both cars failed to cross the finish line due to mechanical problems (just after they got an upgraded engine).
The team can go into the summer break buoyed by a victory in the Hungarian Grand Prix, courtesy of Lewis Hamilton. Bottas had a disappointing race in Hungary, though, as he made contact with Vettel and Ricciardo in the last ten laps of the race, costing him his front wing and resulting in a ten-second time penalty after the race.
Mercedes are still the team to beat, and it is most likely that if they continue like this Lewis Hamilton will become a five-time World Champion. Bottas looks out of the running for the championship battle, because of his bad luck early on this season.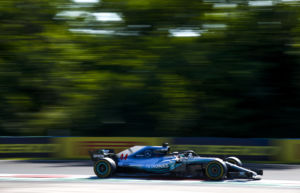 Ferrari
Someone else who is hoping to become a five-time world champion is Sebastian Vettel. In the first couple of races of the year it was the German who got away with a full complement of points. A very chaotic Chinese Grand Prix, however, ruined his winning-streak as he got hit by Verstappen. Vettel was spun and picked up some damage so he could only finish in eighth.
His teammate Kimi Räikkönen scored some solid points too with a third position in Australia and China, although he retired from the Bahrain Grand Prix.
Räikkönen will probably have to help his teammate in this fight – he got ordered at Hockenheim to let Vettel past. It was at that race where the biggest disaster this year so far took place for Ferrari, as Vettel crashed out of the lead of his home race in the rain. This very rare mistake from Vettel kept him from taking his first every victory at Hockenheim and, with the track's uncertain future you wonder if it will even be possible for him to make up for it in the future. This meant he lost some important points, and with his rival Hamilton taking victory it meant Vettel lost the championship lead.
In the Hungarian GP Vettel crossed the line in second place, losing another seven points to his rival Hamilton, who took victory.
With the passing of Ferrari president Sergio Marchionne at the age of 66 just before the Hungarian Grand Prix the Italian team might lose some stability. Marchionne led Ferrari to become the team it is now and they are the closest they've ever been to a constructors championship since 2007. Let's hope Ferrari can continue to fight Mercedes for the constructors championship and bring it home for Marchionne.
Red Bull
The Austrian team were the third-best team last year, and this year it is no different. They are not fast enough to regularly beat the Mercedes or Ferrari, but are much faster than Renault, Haas and McLaren in the mid-field.
Where Mercedes and Ferrari have a pretty stable point scoring record so far, Red Bull have had more problems. They have walked away from a race weekend with no points on two occasions this year. At the Bahrain Grand Prix mechanical issues ended the race of both Max Verstappen and Daniel Ricciardo, and the Azerbaijan Grand Prix ended up as a major disaster for the team as their drivers crashed into each other, costing the team valuable points.
However, there were still some very good moments for the Austrian team this season. In China Ricciardo took victory because of a brilliant strategy in what was a chaotic race, whilst Verstappen took victory at the team's home Grand Prix at the Red Bull Ring, although they were helped by the DNFs of both Mercedes drivers. Ricciardo also dominated at the Monaco Grand Prix, even though he suffered some problems with the car during the race.
The team announced earlier this season that they will switch to Honda engines for 2019, and they hope this will make it possible for them to not just fight for the third position in the teams standings, but also for the first place.
For now though, they still have ten races to go with Renault engines. With circuits coming up like Mexico and Singapore there should be enough possibilities for them to get at least another victory.
Renault
Best of the rest at the moment are Renault. The French team are currently embroiled in a tight battle for the fourth position in the constructors championship, with Force India, Haas and McLaren.
There has only been one race so far where they haven't scored any points, which is a very impressive result for the French team.
Two fifth places are the highlights of the year so far, by Hulkenberg at his home Grand Prix at Hockenheim, and by Sainz at the Azerbaijan Grand Prix. The difference between the two teammates in the drivers' championship, however, is big, with Hulkenberg on almost twice as many points as Sainz.
The fight for the constructors championship is still very much on, and Renault have to find improvements from Spa-Francorchamps onwards as their rivals are still on their tail.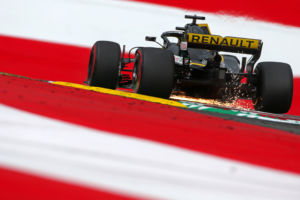 Force India
After a terrible qualifying at the Hungarian Grand Prix the gap to their main rivals at Renault only increased for Force India. The team really struggle to even get in the top ten regularly, and there have been three races so far where Esteban Ocon and Sergio Perez have not scored any points between them.
Their biggest points haul came from the Azerbaijan Grand Prix, where the team scored fifteen points in total, thanks to a spectacular third place for Perez.
Placed into administration over the Hungarian Grand Prix weekend, the team's future is uncertain. Sergio Perez, his manager, BWT, and Mercedes want the money back Force India owes them, with Perez saying he brought action against his team to "save [them] and protect the 400 people who work there". Now it is even a question whether they'll start the Belgian Grand Prix or not. Let's hope they can get out of trouble,as it would be a huge shame to lose such an amazing team.
Haas
Haas began the Hungarian Grand Prix equal on points with Force India. The so-called "second Ferrari" team started the season very promising at the Australian Grand Prix after an impressive qualifying. The race, however, ended in a horrible nightmare as two identical mistakes at the pit-stops of both Romain Grosjean and Kevin Magnussen meant they had to retire.
At the Austrian Grand Prix they once again put in an impressive qualifying and followed that up with an even more impressive race in which they scored twenty-two points thanks to a fourth place for Grosjean and fifth place for Magnussen.
After a pretty good Hungarian Grand Prix the team jumped to fifth in the constructors championship, leaving Force India behind.
The team seem to have found pace this year. Of course not all races ended well, but for a relatively new team they are surely proving what they are capable of. Can they keep up their good performances for the upcoming nine races?
McLaren
After years of disappointment due to problems with the Honda engine, this year could finally have meant the Woking team could fight for the podiums.
Now driving with a Renault engine, they were immediately aiming to fight the Red Bulls. At the Australian this looked very much possible, with Alonso finishing in P5 and saying "now we can fight!'". Vandoorne ended that race in ninth, a nice result for McLaren then, scoring almost more points in one race than in the whole of last year. The dreams of fighting the Red Bulls continued when they finished the Bahrain Grand Prix in seventh and eighth.
Unfortunately, these dreams were shattered from Monaco onwards, where the pace had seemingly vanished and the points almost became out of reach. At the Monaco, Canadian and French Grand Prix the team scored no points, mostly because of retirements (Alonso had DNFs in all these races).
The highest position they achieved after these problems was P8 in Austria, Great Britain and Hungary, all thanks to Alonso. Team-mate Vandoorne was lacking pace, even losing almost a full second to Alonso at the qualifying for the British Grand Prix, and he had to retire from the Hungarian Grand Prix from what would have been a ninth-place finish.
The Renault engines have not brought the real change the team were hoping for. It even looks like the team are struggling more than ever, as qualifying pace is way off and results in the races are disappointing for such a great team. Maybe the summer break will bring the change they desperately need.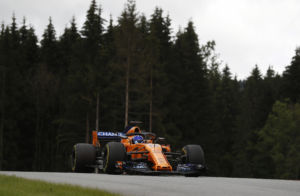 Toro Rosso
Currently standing eighth in the constructors standings with just twenty-eight points, the team will not be happy.
Brendon Hartley in particular has just had no luck. This became especially clear when he crashed heavily during free practice at the British Grand Prix due to a suspension failure. Two days later, he had to retire from the race after just one lap as the team found a problem with the car.
Seven races out of the twelve so far have yielded no points. When they have gotten into points though, the results have been very impressive. Gasly got P4 at the Bahrain Grand Prix and P6 at the Hungarian Grand Prix.
Hartley has just two points to his name, whilst Gasly brought home twenty-six points. The Kiwi's future is uncertain because of his disappointing results, but a lot has been due to problems out of his control.
Alfa Romeo Sauber
One driver showing his potential this season is Charles Leclerc. The Ferrari Driver Academy driver from Monaco just keeps on impressing everyone. With a car that shouldn't regularly finish in the points, he got himself two consecutive points finishes in Baku and Spain. His sixth place in Baku definitely was a highlight for the team, bringing home eight very important points for the team. He even held up Alonso in Spain in a tense battle in a race where he finished in tenth place.
His teammate Ericsson has improved himself. Seemingly motivated by the speeds Charles has shown, he now too scores points from time to time. With five points for the Swedish and thirteen points for Leclerc, the team are now ninth in the constructors championship.
The last few races Sauber were able to out-qualify McLaren, and even in the races they have showed they have the pace to fight for position. Hopefully they are able to continue this fantastic performance.
Williams
It has been an absolute nightmare for Williams so far. Eleven of the twelve races resulted in zero points for the team, leaving them last in the championship. The only points they have managed so far were the four points Lance Stroll achieved because of his eighth position at the Azerbaijan Grand Prix.
Even Robert Kubica, test driver for the team, said it is "embarrassing" to drive the car. Newcomer Sergey Sirotkin, while showing a few flashes of pace, doesn't seem to be able to build up any momentum.
Williams has lots of work to do if it wants to score some points after the summer break. If they don't, they will be hoping for another chaotic race like Azerbaijan, otherwise the points will be scarce.
Featured image courtesy of Ferrari.