Controversy reigned in qualifying:
Local boy Miguel Oliveira (Red Bull KTM – 88), took a tumble during the qualifying, which caused the yellow flags to be waved. During this time Francesco Bagnaia (Ducati – 63) was on his fastest lap and had also taken the lap record but it was taken away from him due to Oliveira's accident, although the yellow flag was out of his peripheral vision at the time, rules state that his lap be removed.
Bagnaia was not the only rider to be unhappy with the qualifying results. Maverick Vinales (Yamaha -12) started in 12th, one position behind Bagnaia. Due to exceeding track limits by having both tyres on the green, although this was only by mere millimetres.
Marc Marquez (Repsol Honda – 93), returned this weekend after his explosive crash in July at the start of the 2020 season. He seemed to take a tow from Alex Rins (Suzuki – 42) which gave Marquez a brief third place on the grid. But, his time was not enough to keep him there and he started in 6th place.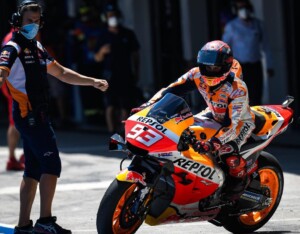 Fabio Quartararo (Yamaha – 20) – took pole, from Alex Rins (Suzuki – 42) and Johann Zarco (Pramac Ducati – 5) who took up the front row. A surprise 8th place for Luca Marini (Sky VR46 10) with reigning Champion Joan Mir (Suzuki – 36) in 9th and regardless of his crash Oliveira rounded up 10th place.
Rookie Jorge Martin had a massive crash which unfortunately resulted in him not being able to race on Sunday.
Portuguese Moto GP race:
Portimao, with it's undulating bends and tight corners proved to be the place for Frenchman Quartararo to take back-to-back victories, in the third round of the championship.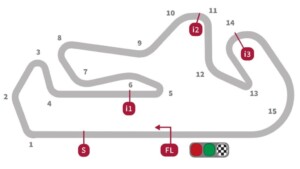 Starting from pole, it seemed it was going to be a straight-forward race for Fabio, but he immediately went backwards to 5th place. Letting Zarco claim 1st into the first corner, leading from Rins and astonishingly Marc Marquez progressed to 3rd place. Mir also went up 6 places from the grid as did Brad Binder gaining 9th place for KTM.
With track temperatures now at 41 degrees the next 25 laps were sure to be sensational.
Quartararo was quick to put in a fastest lap, hoping to gain places back as soon as possible, taking 4th place from Miller. Only to have the fastest lap soon to be taken by Aleix Espargaro on lap three.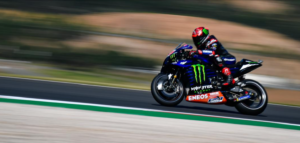 The battle was heating up already, with riders trying to gain ground with Quartararo soon taking 3rd place on lap 4 and Rins who was hot on the heels of leader Zarco. The Suzuki rider soon secured 1st place but the Ducati power proved too much and on the straight it was taken back.
Lap five saw a mechanical failure for Pol Espargaro (Honda – 41) and sadly he made an early retirement from the race. Rins once again battled for first place, this time brakes won over power and he was able to hold onto it, while Quartararo took 2nd.
Braking too hard however, caused Miller to crash out of the race on turn 3, lap 6.
Sadly for local boy Oliveira turn 14 also saw him crash out on lap 7, but he managed to get back on the bike to finish the race in 16th place.
Hard rear tyres seemed to be the right call for the riders as Bagnaia passed Marquez for 8th place, making his way through the pack and Quartararo was hunting down Rins for 1st. Unfortunately, Yamaha rider Vinales could not do the same and was outside the top 15.
Into the first corner of lap 9, Fabio decided to take 1st place and pushed hard to break-away from Rins. Getting faster and faster sections the further into the laps he went. A brilliant ride from Binder saw him progress from 15th on the grid to 6th place by lap 11. With the two Marquez brothers claiming 9th and 10th.
Lap 13 saw Bagnaia take fastest lap (1:39:728), in 6th place. Closing down on Morbidelli. All the while Rins was putting pressure on Quartararo and trying to catch up enough to pass him.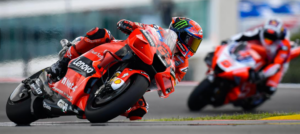 Quartararo responded with another fastest lap (1:39:680).
The battle between the Frenchman and the Spaniard continued to escalate and Rins regained fastest lap (1:39:598) on lap 15.
A bump in the circuit caused Rossi to crash out with 11 laps to the finish and track limit warnings were handed out to Morbidelli and Vinales, the latter had already fell fowl to them in qualifying.
Still fighting for 1st place, Rins took fastest lap yet again twice in a row and was pushing himself to his limits trying to catch Quartararo. Sadly, it proved to be to much for the number 41 and he crashed out with only 7 laps to the end. Zarco gained 2nd place with Bagnaia 3rd and Mir 4th. Creating the four riders to break away from the rest of the pack.
Moments after Bagnaia took 2nd place from Zarco, the Frenchman fell, seemingly from another bump in the circuit. Quartararo now lead Bagnaia and reigning champion Mir.
Quartararo seemed to be able to handle the hard rear tyre and use it to his advantage. Slowly gaining a 5.276 second lead ahead of the other two riders who followed behind.
This gap proved to be too big for any of the riders to close down and Quartararo took a very clean victory, with no mistakes, at Portimao. Mir looked to have one last attack in him for 2nd, but Bagnaia gave nothing away. They claimed the last two places on the podium. Morbidelli, with a return to form, just missed out and finished 4th.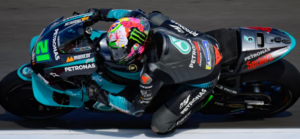 Marc Marquez made a herculean effort, even having to change his riding style for race-day and finished a respectable 7th place, remaining ahead of his brother.
Nakagami, who looked like he wasn't going to be able to even start the race, due to injuries sustained in practice sessions managed to finish the race completing the top 10 riders.
Incredibly six different manufactures finished in the top 7 positions.
The championship standings:
Quartararo (61 points)

Bagnaia (46 points)

Vinales (41 points)

Zarco (40 points)

Mir (38 points)
With two weeks to wait until the fourth round of the championship, will it be enough time for Marc Marquez to heal any further or has this race halted his healing progress? Will it be a third race win in a row for the number 20? Or will we see a new race winner in 2021?
Happy Birthday to Fabio Quartararo for Tuesday 20th April.
(Featured image: Courtesy of Moto GP website)