Qualifying:
Warm weather and good track conditions saw Ducati dominate in Spain.
Francesco Bagnaia (Ducati) took an all-time lap record for pole position and Ducati's 50th pole in the Moto GP class while his team-mate took a sensational second. From Championship leader Fabio Quartararo (Yamaha), who rounded off front row in third.
Aragon saw the return of Maverick Vinales, on an Aprilia (his new team for 2022) and last weekends two Brits – Jake Dixon, riding for Petronas Yamaha and Cal Crutchlow, riding for the factory Yamaha.
Race:
Track temperature remained at a high level, reaching 42degrees by lights out. The Ducati's had been superb in qualifying but Marc Marquez (Honda) was on home-ground with numerous victories already in place at the Aragon circuit. Starting from fourth on the grid, on a track better suited for his injured shoulder, could he perform at his best once again to take two victories this season?
Bagnaia was quick off the line but it was Marquez who soared up to 2nd place, ahead of Jack Miller (Ducati) and Aleix Espargaro (Aprilia). Unfortunately, luck was not on Alex Marquez's (Honda) side and he took a tumble on the first lap.
Fabio's luck didn't go too well for him either and he went from 3rd to 7th. Could he work his way back through the pack?
Good luck however was on the side of last years race winner Alex Rins (Suzuki), who had risen 5 places from where he started on the grid.
Lap two saw Britain's Jake Dixon crash in sector 2, bringing an early end to his second Moto GP race.
Soon Quartararo and Brad Binder (KTM) were scrapping for 7th place but while that was happening Bagnaia claimed fastest lap. Putting in a lot of effort to try and break free of Marquez, but Marquez never released him and constantly sat on his rear – watching.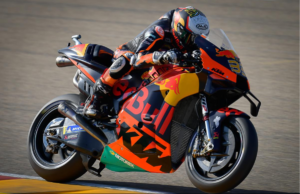 By lap five, Rins had made good progress and was up to 12th place and there were mini battles forming throughout the pack – Miguel Oliveira (KTM) and Johann Zarco (Ducati) fought for 14th place, while Iker Lecuona (KTM) and Brad Binder (KTM) fought for 8th place.
Marquez soon stole fastest lap from Bagnaia, all the while watching and formulating a plan.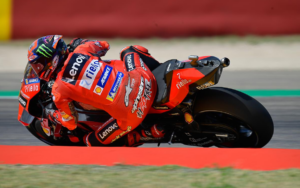 All the riders, apart from Zarco, had chosen to use hard front Michelin tyres and soft rear. Did Zarco know something the others didn't? Would we see a change in pace later on in the race?
First and second started to break away from Miller in third and 3rd, 4th, 5th and 6th created their own group.
With 12 laps to go Miller went wide and A. Espargaro and Joan Mir (Suzuki) took advantage and passed but Mir went one further and also passed Espargaro for last place spot on the podium.
With all this happening behind them, Bagnaia and Marquez extended their lead even further to 3.405 seconds.
Rookie Enea Bastianini (Ducati) and Quartararo battled it out for 9th place, which brought Takaaki Nakagami (Honda) into the fray. But it resulted in Nakagami passing both Bastianini and Quartararo on lap 14 of 23. The fight then switched between Nakagami and Bastianini, with the Japanese rider winning the place.
The gap between the leading pair extended further still with 4.226 seconds between them and Mir.
Fabio was back up into 8th place after Iker went wide on lap 18.
Predator mode was fully activated for Marquez with four laps until the chequered flag, as he closed down further on Bagnaia, all of his waiting, watching and planning were put into action.
Bagnaia was warned of his proximity and rode defensively, keeping him at bay.
With 3 laps to go:
Marquez passed Bagnaia but the Ducati rider took the position straight back and rode defensive into turn 12.
Marquez passed him again, but again Bagnaia re-took the lead.
2 laps to go:
Marquez tried once again, but once again Bagnaia out-braked Marquez and remained in 1st.
Another pass from Marquez, saw Bagnaia pass right back.
The lead was momentarily Marquez's for the 5th time but for the 5th time Bagnaia took it back.
Last lap:
Turn one saw Marquez go back into the lead but it was taken straight back by Bagnaia.
Marquez passed again soon after but he went wide and Bagnaia needed no invitation and re-took the lead again.
The final attempt on turn 12 saw Marquez pass again, he got into the lead but went wide and in doing so exceeded track limits. Bagnaia fought a hard but respectful battle and beat Marquez to victory, to claim his maiden win in Moto GP. A healthy 25 points meant he climbed up the championship ladder into second place and he became the 8th different winner for 2021.
It was an even sweeter day for Ducati as it was not only their 50th pole position in Moto GP which accumulated into a win but it was also their 50th anniversary of their first entry into the Moto GP championship (12th September 1971 – Monza).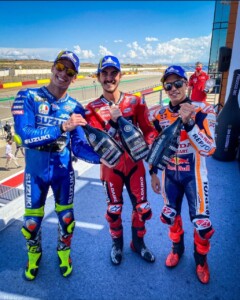 Top Ten Riders:
| | |
| --- | --- |
| 1 | F. Bagnaia |
| 2 | M. Marquez |
| 3 | J. Mir |
| 4 | A. Espargaro |
| 5 | J. Miller |
| 6 | E. Bastianini |
| 7 | B. Binder |
| 8 | F. Quartararo |
| 9 | J. Martin |
| 10 | T. Nakagami |
The only Yamaha rider to gain any points during the race had relatively poor finish but it still sees him leading the championship:
Championship top four:
| | | |
| --- | --- | --- |
| 1 | F. Quartararo | 214 points |
| 2 | F. Bagnaia | 161 points |
| 3 | J. Mir | 157 points |
| 4 | J. Zarco | 137 points |
Making history for Ducati and himself, Bagnaia proved he has what it takes to be a Moto GP winner. Will we now see a new championship contender for 2021?
Featured image. Courtesy of: Ducati Course Twitter.