Qualifying:
After issues with freight delays, qualifying finally got underway at Argentina and it was a surprise front row finish.
Aleix Espargaro with the Aprilia took pole, the first ever in the Moto GP era with 1:37.688. Jorge Martin (Ducati) was second and Luca Marini (Ducati) took his second front row in Moto GP.
(Sad news once again for Marc Marquez as he couldn't participate in this weeks race either. Wishing him a speedy recovery)!
Race:
With the energy buzzing and all eyes on Aprilia, could we finally witness history? Could Aleix Espargaro finally win his first race?
Lights out and Martin quickly took the lead ahead of A. Espargaro and Marini.
Honda rider, P. Espargaro powered past Marini, knowing he had to get to the front and fast, if he was going to be in for a shot of the podium. On the same lap Andrea Dovizioso retired his Yamaha and Aleix put in the fastest lap.
Lap 5 of 25 – current World Champion Fabio Quartararo (Yamaha) was struggling in 13th position and his teammate (Franco Morbidelli) was having an even worse time in 19th. Franco later retired from the race with a mechanical failure.
Lap 6 – Johann Zarco (Ducati) crashed, turn 2 from 12th position, but his teammate was having a great time, setting a fastest lap from the lead.
Both Spanish riders were fighting hard for first place, each taking fastest lap away from each other. They managed to gap the third and fourth place men and break away with 1.749 seconds between them. Alex Rins (Suzuki) passed P. Espargaro to claim third, knowing this was his chance to get close to the leaders and try to also fight for the win.
Although starting off well, Marini had gone backwards and was fighting for 6th place alongside Francesco Bagnaia (Ducati) and Maverick Vinales (Aprilia).
With 14 laps to go A. Espargaro took another fastest lap, he clearly had more pace than Martin and continued to chase him down. But, 'metronomic Martin' just kept putting in the perfect laps, keeping Espargaro at bay.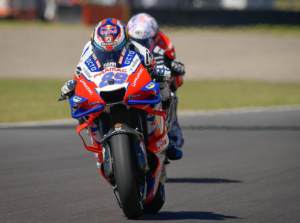 By lap 13 Bagnaia had gotten the better of Marini and took 7th place. Brad Binder (KTM) also seized the advantage and passed the Italian.
Meanwhile from 4th position, P. Espargaro fell in the gravel. A bad weekend for Honda just got worse.
Having gotten the better of Marini earlier in the race, Bagnaia made a small mistake which took him wide and forced him to re-join the race ahead of teammate Jack Miller, in 12th.
Back at the front and the Aprilia continued it's hunt for the Ducati. Could he pass Martin for that elusive win? Could he make the dream a reality?
8 laps until the chequered flag and everyone was willing Espargaro on. He managed to finally make a move on Martin but couldn't hold onto it and Martin took the advantage and went back in front. With the two Suzuki's biding their time just behind.
The second attempt from Espargaro came with 6 laps to go, but once again the Ducati passed him back. Rins was now closer and looking ready to strike.
Third time lucky! With only 5 laps to go, Espargaro took attempt number three and this time made it stick. Almost immediately he created a small gap from Martin (0.249 seconds). Which then became 0.381 seconds. The pace was most definitely there.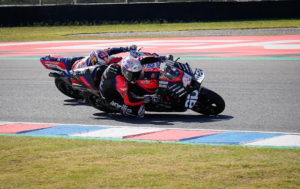 However, Martin was not going to give up without a fight and stayed with Aleix. Unlike Aleix, Jorge knows the sweet taste of victory and the rush of adrenaline, but was Aleix about to also know the elation?
All Espargaro had to do was ride the perfect few laps. Just hold on!
The pressure was rising and audiences had their hearts in their mouths whist biting their nails. Just willing Aleix to the finish line. With just two laps to go.
It felt like forever for the last lap. A. Espargaro still led from J. Martin and A. Rins. The gap between Espargaro and Martin was now too large to shrink. The dream was edging even closer!
And just like that, history was made! Aleix Espargaro on the Aprilia won the Argentine Moto GP 2022 race. With only his 4th ever podium and Aprilia's first ever Premier Class win. After all the years of hard-work. There wasn't a single person who didn't feel joy for both rider and the team. 200 (premier Moto GP starts) must have been Aleix's lucky number. The longest wait in Moto GP history for a maiden win, had finally ended.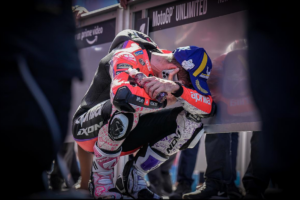 Not only did he win the race and the hearts of many viewers, he also leads the championship:
Championship Standings:
| | | |
| --- | --- | --- |
| 1st | A. Espargaro | 45 points |
| 2nd | B. Binder | 38 points |
| 3rd | E. Bastianini | 36 points |
| 4th | A. Rins | 36 points |
Top Ten Race Finishers:
| | |
| --- | --- |
| 1st | A. Espargaro |
| 2nd | J. Martin |
| 3rd | A. Rins |
| 4th | J. Mir |
| 5th | F. Bagnaia |
| 6th | B. Binder |
| 7th | M. Vinales |
| 8th | F. Quartararo |
| 9th | M. Bezzecchi |
| 10th | E. Bastianini |
Overcome with emotion A. Espargaro said "… this is just a dream…". No Aleix, this really happened and everyone was 100% behind you.
With nine different podium finishers in the first three races this year, Moto GP has never been so unpredictable. What will happen this weekend in Austin?
Featured image. Courtesy of: Moto GP website.