Jorge Martin has enjoyed a strong Saturday at the Thai GP – he took pole in the morning and followed this up with a very dominant performance in the sprint race. He flew off the line, led every lap, and eventually crossed the line 0.9 seconds ahead of his nearest rival.
After a difficult race in Phillip Island, Jorge Martin has quickly bounced back today at the Chang International Circuit to take his fifth consecutive sprint race win. It was a truly dominant ride after he flew off the line and quickly put clean air between him and the rest of the field. No one could come close to him as he enjoyed a 1+ second lead for the majority of the race.
Our championship leader, Pecco Bagnaia, had a much more difficult day – he arrived in Thailand with a 27 point lead in the championship. However, after coming home in 7th, this has dropped to just 18 points. With 136 points still up for grabs, the 2023 title could go to either rider!
Martin was joined on the podium by Brad Binder, in 2nd, and Luca Marini in 3rd. It was a strong race for both of them as they looked to have good pace and enjoyed a tussle for 2nd place.
Marc Marquez came home in 4th place, after an aggressive last lap fight with Aleix Espargaro. It was a final corner move from Marquez that forced Espargaro to have to settle for 5th.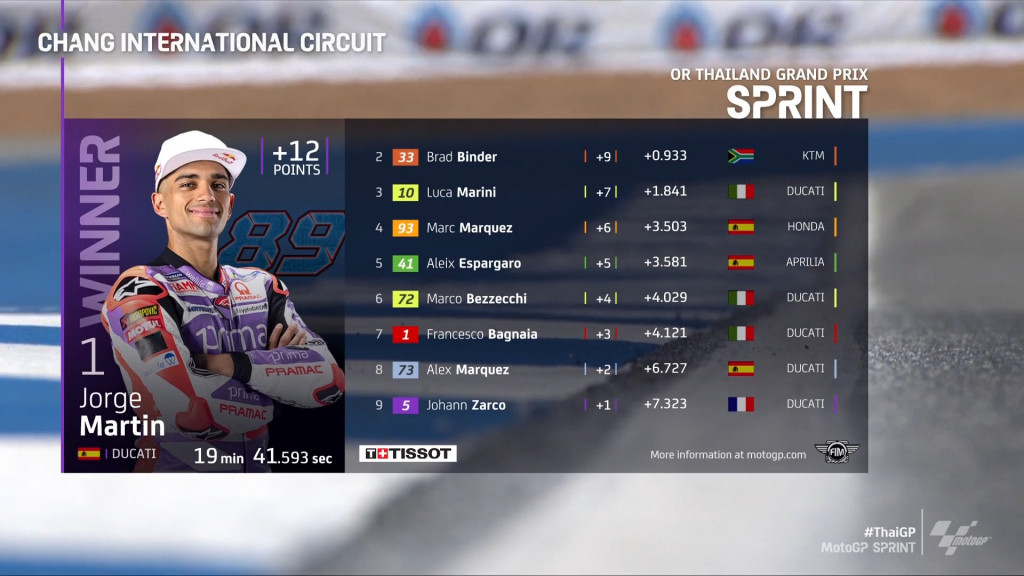 AS IT HAPPENED
Despite rain being forecast for today, the sprint race took place under glorious sunshine. We started with Jorge Martin on pole and championship leader, Pecco Bagnaia starting in 6th.
As the lights went out, Luca Marini, who started in 2nd, did try to take the lead of the race. He pulled up alongside Martin off the line but Martin was clearly ahead by the first corner. By the end of the first lap, Martin was already leading by 0.6 seconds.
It was a very difficult start for Bagnaia who quickly dropped down the order. There was an aggressive early move from Johann Zarco to take 8th away from Bagnaia. A few corners later, Fabio Quartararo made a similar move and pushed Bagnaia down to 10th.
9th at the end of lap one! 😮@PeccoBagnaia will lose 11 points to @88jorgemartin if he finishes there! 🤯#ThaiGP 🇹🇭 pic.twitter.com/GsF5EttcJX

— MotoGP™🏁 (@MotoGP) October 28, 2023
As everyone settled in to the race, we had Martin leading, with Marini in 2nd, Aleix Espargaro in 3rd, Brad Binder in 4th, Marc Marquez in 5th and Marco Bezzecchi in 6th. Just behind them were Alex Marquez, Zarco, Quartararo and Bagnaia who were all battling hard 7th.
On lap 2, Binder shoved his bike up the inside of Espargaro for 3rd. Marc Marquez made a similar move a few corners later and pushed Espargaro down further to 5th.
It was on this same lap that we had our first crash of the race, with Takaaki Nakagami going down at turn 12. He was able to rejoin the race but wasn't able to make any moves up through the field.
On the following lap, at turn 15, Bezzecchi took 6th position back from Alex Marquez who had bested him on the lap before. This now left Marquez and Zarco battling hard for 7th. After losing a place to Zarco, Marquez came back past him, pushing his way up the inside at turn 12. This move sent both Marquez and Zarco wide, gifting a lucky 7th place to Bagnaia who flew past them both as they rejoined the racing line. This battle allows Marc Marquez, in 6th, to pull out a 1.5 second gap ahead.
Excuse me, passing through! 👋

It ended up being a 2×1 overtake as @PeccoBagnaia sneaked by @alexmarquez73 and @JohannZarco1 😎#ThaiGP 🇹🇭 pic.twitter.com/NRZzUOx1su

— MotoGP™🏁 (@MotoGP) October 28, 2023
Just ahead, on lap 5, Binder in 3rd was now hot on the tail of Marini in 2nd. Binder finally makes a move on the following lap but he goes wide and allows Marini to instantly come back through. It was lap 7 when Binder was finally able to take, and hold, 2nd place. He came through on the final corner in a very tight and aggressive move. All this battling has allowed Espargaro, behind them in 4th, to close the gap down to 0.2 seconds. However, ahead of them all, Martin was now leading by 1.6 seconds.
On the same lap, Augusto Fernandez became the first rider to retire. He went down at the final corner, turn 12, and was unable to rejoin the race. Then, on lap 10, Fabio Di Giannantonio faced a similar fate and was forced to head to the pits and retire the bike after a technical issue.
Meanwhile, on lap 5, Marquez takes 5th place away from Bezzecchi. A few laps later, the VR46 rider ten has Bagnaia all over the back of him too.
On the final lap of the race, and with Martin simply cruising to the line, the drama was still unfolding further down the field. At turn 3, Espargaro goes wide and lets Marquez through for 4th. As Espargaro attempts to regain the position, the pair bump into each other. Espargaro is only ahead for a short while as, on the final corner of the race, Marquez makes a stunning move up the inside to stead 4th as the pair cross the line – a fantastic photo finish!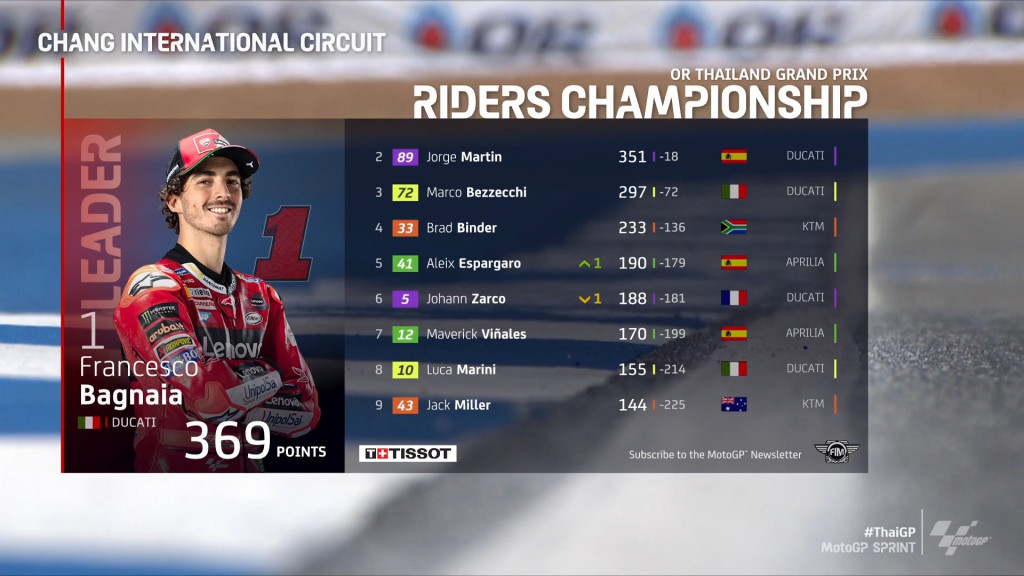 Feature Image Credit: Prima Pramac on X