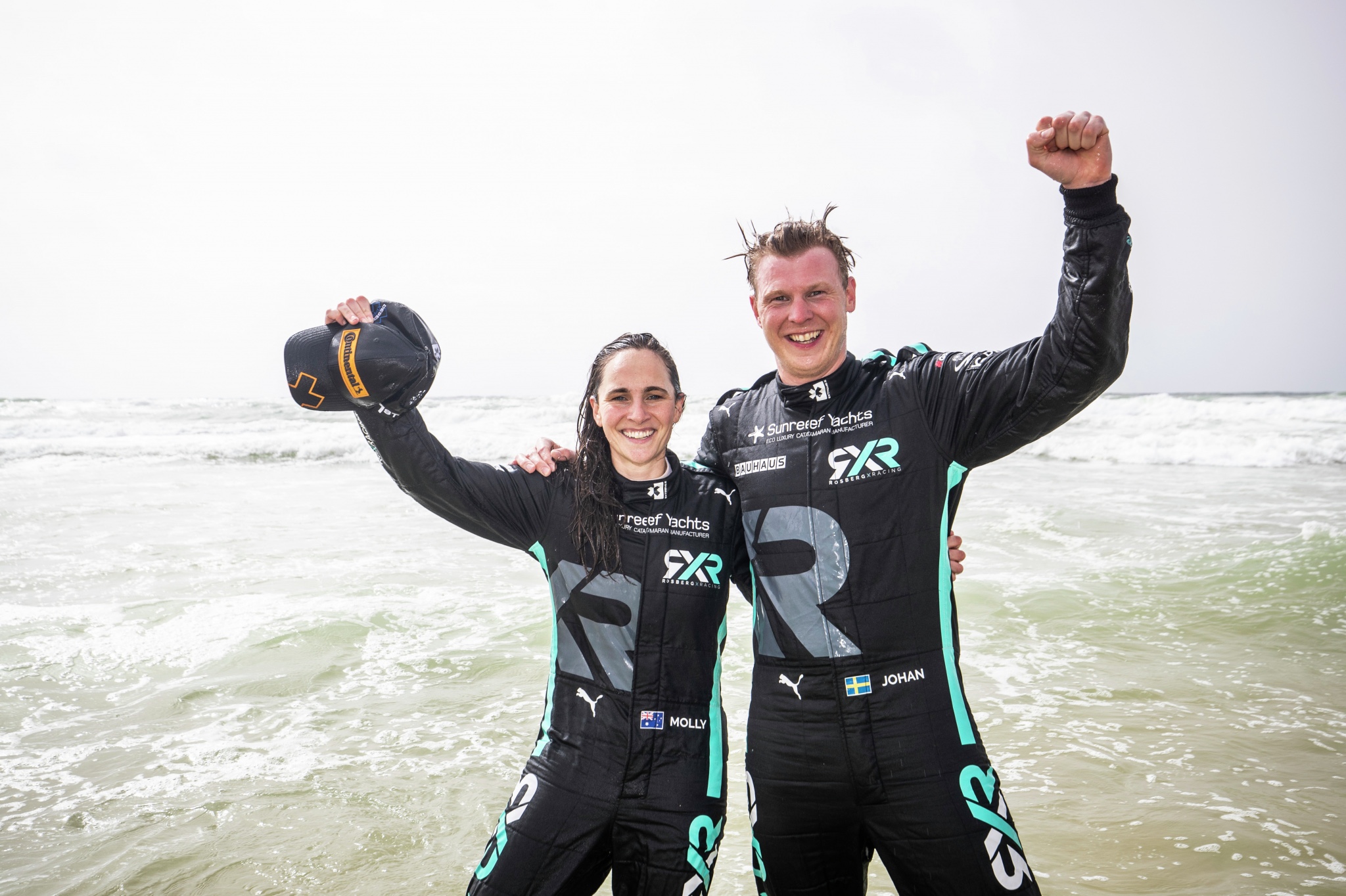 As the chequered flag fell on the second round of Extreme E's inaugural season, the championship still had plenty of work to complete off-track.
Extreme E's tag line "Race Without a Trace" was put into action again in Senegal, as they aimed to highlight issues surrounding ocean health, whilst leaving a positive impact on the local communities. Educating on sea level rise, plastic pollution, and rising ocean temperatures, as well as planting mangroves and engaging schools were just some of the actions Extreme E took whilst out in Dakar.
Plastic pollution is a substantial problem on the Senegalese coast so Extreme E teamed up with to.org to support the Ecozone Project based in Lac Rose. The aim of the project is to raise awareness of climate issues and mitigation strategies by involving the local communities in the creation of a healthy environment. With this knowledge, the ultimate goal is to build a sustainable economy through guidance, resources, encouraging self-sufficiency, and economic autonomy.
In June 2020, the EcoBrique Challenge was launched. 3000 children and other locals took part in a huge effort to create more than 6000 bricks from plastic waste. Roughly 80% of plastics found in oceans come from land based sources, so not only is the EcoBrique Challenge helping to build a primary school toilet and benches, but it also helps locals recycle the waste that gets washed up on their shores.
Some other infrastructure was also built. Gardens were created to allow children to engage with local farmers, as well as planting more than 600 trees. They also installed a water pump to prevent the community from needing to walk long distances and increase cleanliness, vital for keeping disease at bay.
However, Extreme E's initiatives weren't just limited to the EcoBrique Project. They also aim to help to.org and NGO Oceanium plant one million mangroves. So far, over 500 people have helped the team reach the half of that figure in just three weeks.The remaining number will be planted during the 2021 rainy season, and with a whopping 85% of those already in place developing into healthy mangroves, Senegal will really start to see the benefits.
Nachson Mimran, CEO and Co-founder of to.org, explains that "Mangroves are not only the most effective trees on earth for sequestering carbon, they also protect against coastal erosion and regulate soil salinity so coastal communities can farm fertile soil." She also states that mangroves protect fish habitats, ensuring locals can get the protein their diets need.
As in AlUla, the drivers and staff also took part in a beach clean. Together the likes of Jamie Chadwick, Stephane Sarrazin and Mikaela Ahlin-Kottulinsky collected over 100 bags of waste from the Lac Rose beaches.
Extreme E raced in Senegal to highlight the issues surrounding ocean health. It is believed that half of coral reefs and a third mangroves and sea grasses have already been lost, leaving coastal communities vulnerable to erosion, storm damage, and food shortages. Vital fish stocks are teetering on a knife edge, threatening the entire food chain. Plastics, oil spills, and agrochemicals are destroying ocean habitats and affecting every animal in them. Climate change is also causing the heating of oceans, making them more acidic, melting ice, and causing the water to expand. Many islands and coastlines are at risk because the sea levels are rising by about 30 millimetres every ten years.
Sheena Talma, Scientific Committee Advisor to Extreme E, finished "When we talk about things like global climate change and the fact that it's actually immediate, not two years from now and relying on someone else to deal with it, it makes people uncomfortable. But if we don't talk about it, find solutions, and take action, we will all be in real trouble."
Safe to say, Extreme has put some great initiatives together to ensure that they leave a positive impact on the communities they visit.