William Byron dominated Sunday's Pennzoil 400, leading 176 of the 267 laps, sweeping all three stages, and passing Martin Truex Jr. in overtime to take his first Cup win at Las Vegas Motor Speedway. Byron had battled hard with Hendrick Motorsports teammate Kyle Larson all race long for control of the lead and just pipped the Larson to the pit road exit line, seeing him line-up alongside Truex Jr. for the overtime restart, who gambled to stay out on old tyres.
Race summary 
Full race results
Points standings 
Byron said: "Yeah, just happy with getting the first win of the year. It's been a while since we've won. It's been almost a year, and it's nice to kind of just get back to what I feel like we're capable of."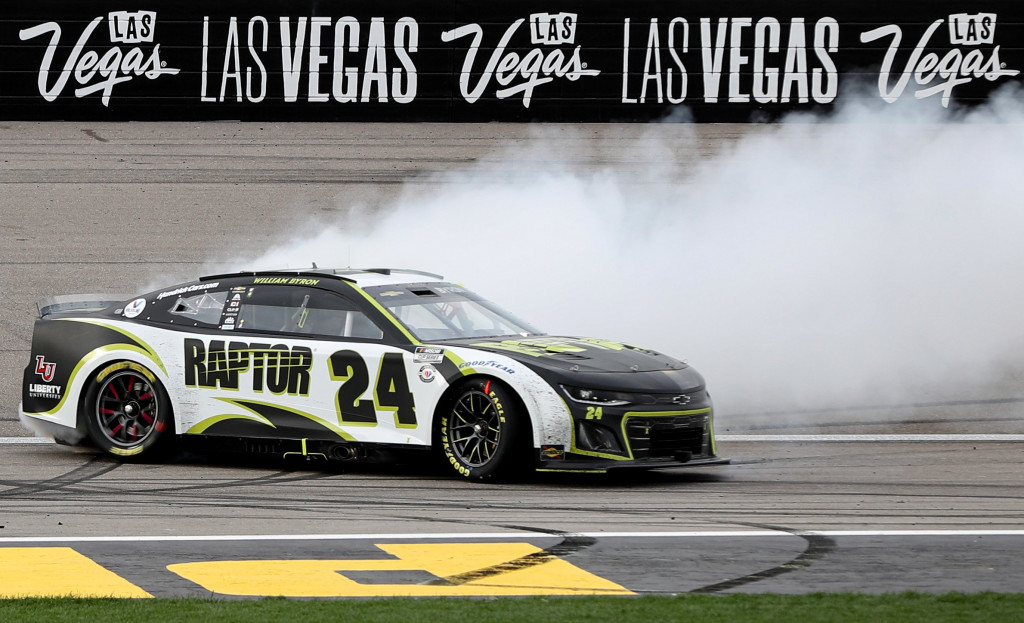 Byron was part of Hendrick Motorsports' third one-two-three finish in the teams Cup Series career with Kyle Larson and Alex Bowman finishing second and third respectively, finishing the race how they ended stage two. Hendrick's previous one-two-three finish came in the 2021 spring Dover race where it was also Hendrick's first one-two-three-four finish with Byron finishing fourth and Alex Bowman taking the spoils that day.
Race summary
Byron first took the lead on lap 10 from pole-sitter Joey Logano. From then on it was mostly smooth sailing for the first stage with Larson keeping tabs on the Charlotte, North Carolinian finishing just under a second behind him.
Stage two was a carbon copy for both drivers with Larson once again finishing second in stage two under a second behind Byron. The final stage saw the roles reversed with Byron losing places on pit road under caution on lap 184, and starting fourth on the restart with Larson in third.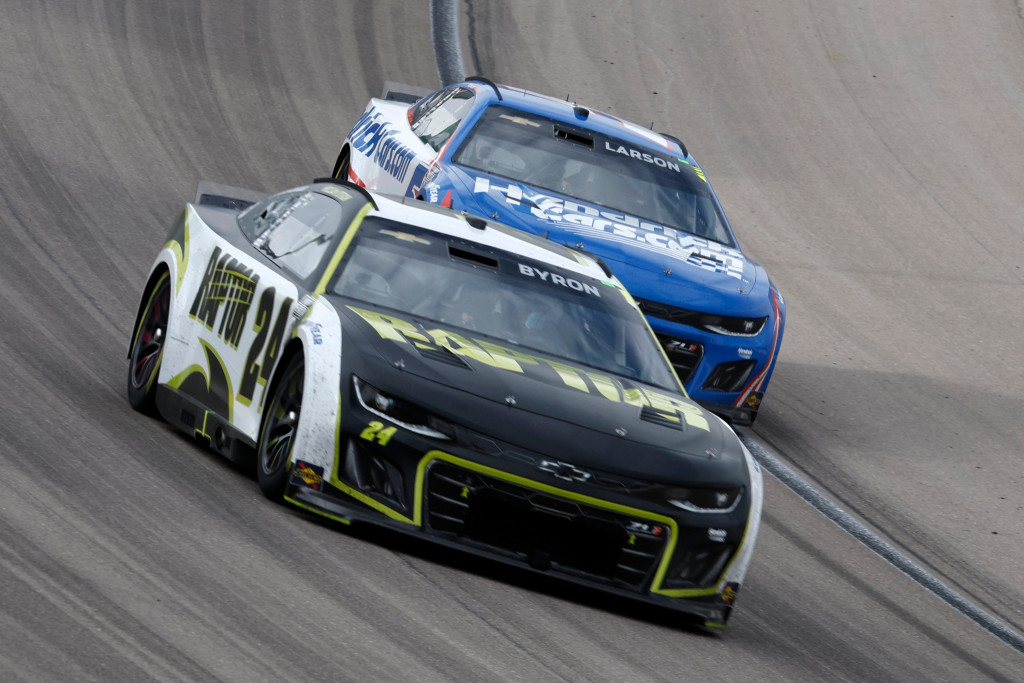 Larson was all over Denny Hamlin, who had stayed out on older tyres, for the lead and finally claimed top spot in the running order with 71 laps to go. Larson pulled out a five second-plus gap to Byron over the course of the final stage but this was eradicated when the caution came out with four to go in response to Aric Almirola sliding into a spin against the turn four wall.
At the time of caution Byron had halved the gap down to 2.4 seconds but it looked like a tall-order to have caught Larson without the Californian making a mistake or traffic getting in the way before they yellow flags waved.
Larson was only able to clear Truex Jr. with half a lap to go on the backstretch to finish runner-up.
Larson commented: "It seems like kind of laps down, lap by lap, and then, sure enough, the yellow lights come on. I had a gap to William behind me, and their pit crew must have just done a really good job and got out in front of us, and that gave up the front row. I knew I was in trouble with the 19 staying out."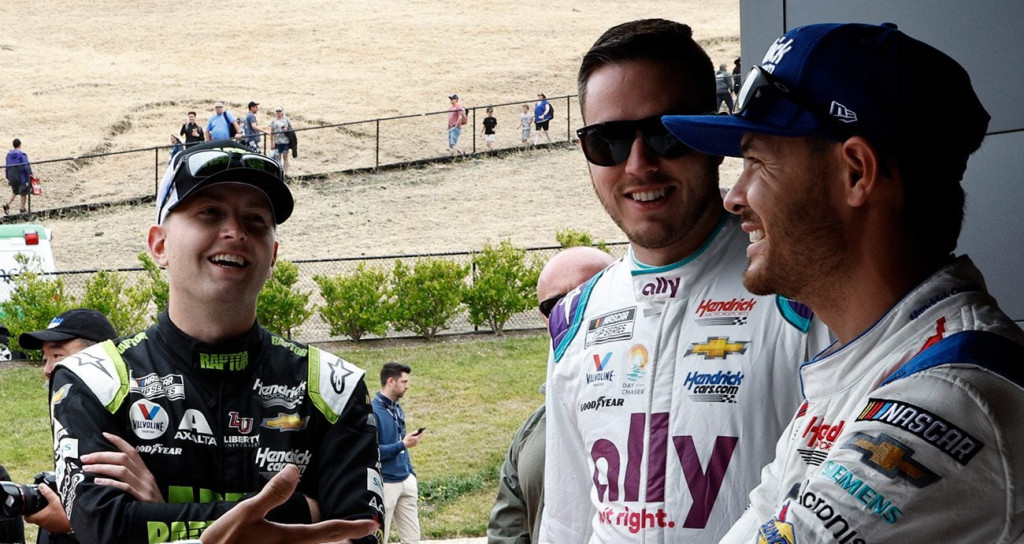 A dominant display by Hendrick comes on the week of teammate and 2020 NASCAR Cup champion Chase Elliott being forced to sit out indefinitely after fracturing his tibia in a snowboarding accident in Colorado last Friday.
Team owner Rick Hendrick speaking on Friday about NASCAR's most popular driver said: "Chase's health is our primary concern. He's understandably disappointed to miss time in the car."
JR Motorsports driver Josh Berry stood in for Elliott on Sunday, finishing 29th, two laps down, in his first race in the Next Gen car.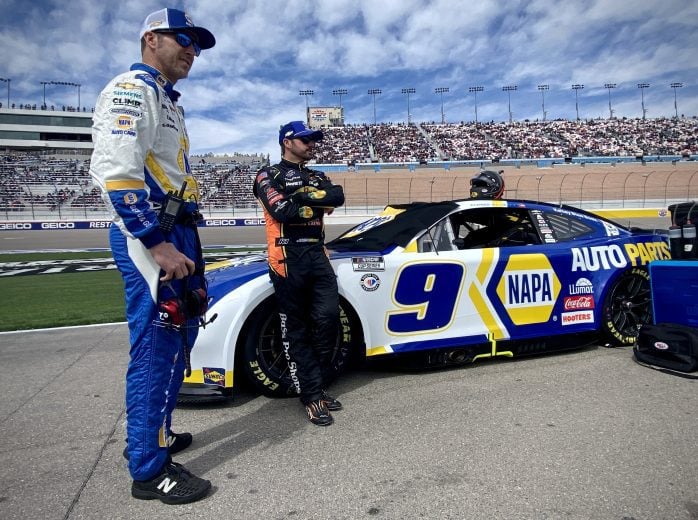 Bubba Wallace had a stand-out day running inside the top ten for most of the race, taking sixth in stage two and eighth in stage one, and coming home fourth. After not finishing either of the first two races of the season, it's a much needed boost of confidence and points for the No. 23 team.
Wallace said: "Never stop fighting. You never give up. I almost come over the radio and said, hey, good job, we finished sixth, then the caution came out, and I perked up again and got some."
Wallace's teammate Tyler Reddick had a wild day after marching up to 19th, just 11 laps after starting the race in the rear. Reddick nearly let a good points day get away when inside of 65 laps to go,  he ripped the turns three and four wall running sixth, sending him back to tenth. Reddick would finish 15th, after coming into the weekend with just four points after being wrecked out of the first two races.
Sunday's pole-sitter Joey Logano and last week's Auto Club finale winner Kyle Busch both difficult races.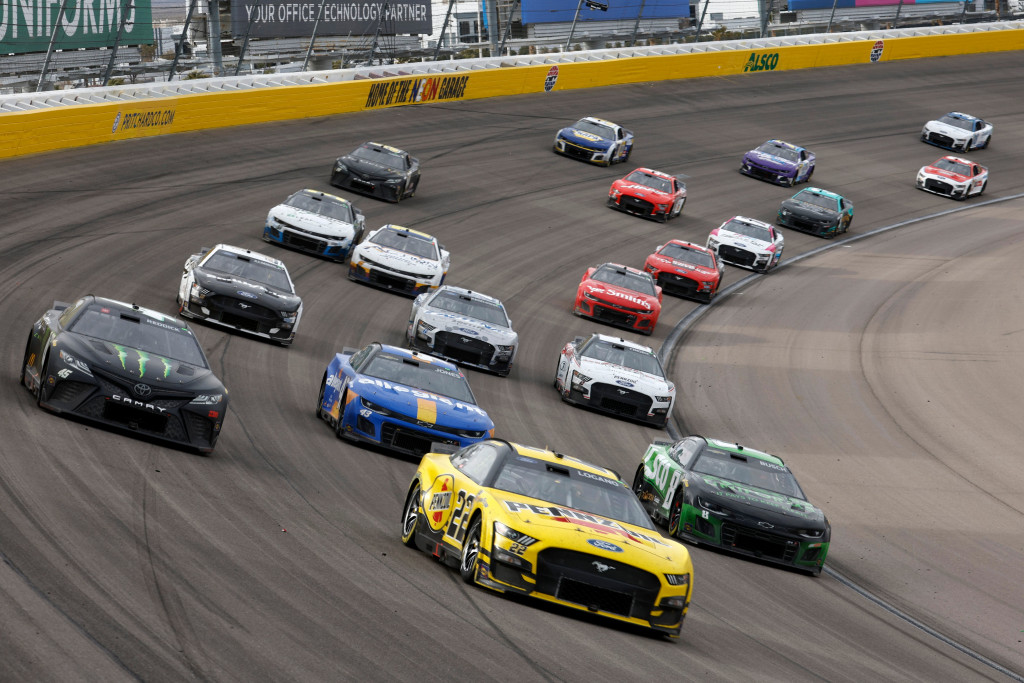 After losing the lead on lap 10 to Byron, Logano fought a tight handling race car for the first half of the race, clinging onto the top 15.
The two-time Pennzoil 400 winner asked a little too much of his No. 22 Pennzoil Ford Mustang on lap 182, when while he was battling three-wide on the outside with Brad Keselowski and Kyle Busch  coming off turn four over 14th place, he ran out of real estate, colliding with the wall before spinning across the track into the infield grass. Logano's team were not able to fix the car under the damage vehicle policy in time, forcing him to retire.
Kyle Busch made contact with the yellow outside walls several times during the race including twice in stage one, once clattering the turn two wall hard, bending the steering angle whilst challenging Hamlin for ninth place, but was able to continue.
The Las Vegas native wound up 14th in a weekend where he had attempted to sweep all three national series races taking place at Las Vegas Motor Speedway, trying to replicate his Bristol Motor Speedway's 2010 and 2017 weekend sweeps. 
Busch won the Craftsman Truck Series race on Friday driving for his own Kyle Busch Motorsports team but could only manage fourth in Saturday's Xfinity Series race driving for Kaulig Racing.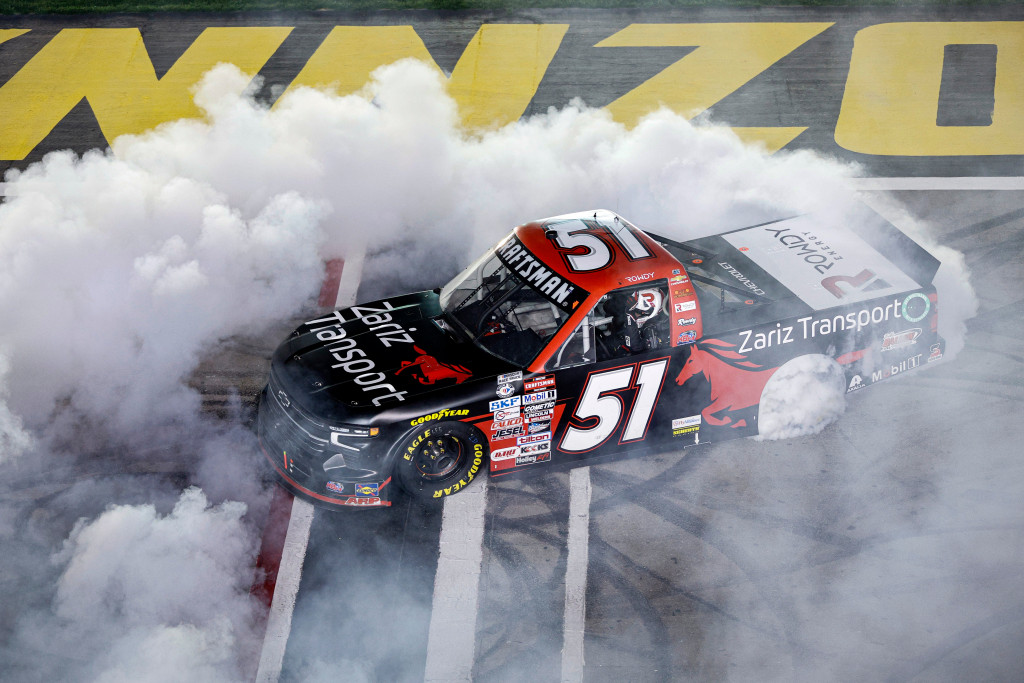 The next race for the NASCAR Cup Series is the United Rentals Work United 500 at Phoenix Raceway this Sunday, with the race starting at 3:30pm ET.
Featured Image: William Byron, driver of the #24 RaptorTough.com Chevrolet, celebrates in victory lane after winning the NASCAR Cup Series Pennzoil 400 at Las Vegas Motor Speedway on March 05, 2023 in Las Vegas, Nevada. (Photo by Meg Oliphant/Getty Images) 
Full race results
William Byron
Kyle Larson
Alex Bowman
Bubba Wallace
Christopher Bell
Austin Cindric
Martin Truex Jr.
Justin Haley
Kevin Harvick
Daniel Suarez
Denny Hamlin
Ross Chastain
Ryan Blaney
Kyle Busch
Tyler Reddick
Aric Almirola
Brad Keselowski
AJ Allmendinger
Erik Jones
Corey LaJoie
Chris Buescher
Ty Gibbs
Ryan Preece
Ricky Stenhouse Jr.
Michael McDowell
Harrison Burton
Austin Dillon
Chase Briscoe
Josh Berry
Noah Gragson
Todd Gilliland
BJ McLeod
JJ Yeley
Ty Dillon
Cody Ware
Joey Logano
Stage one 
William Byron
Kyle Larson
Ross Chastain
Christopher Bell
Denny Hamlin
Martin Truex Jr.
Alex Bowman
Bubba Wallace
Kyle Busch
Brad Keselowski
Stage two 
William Byron
Kyle Larson
Alex Bowman
Martin Truex Jr.
Christopher Bell
Bubba Wallace
Ross Chastain
Denny Hamlin
Brad Keselowski
Kevin Harvick
Points standings 
Ross Chastain – 129
Alex Bowman – 126
Kevin Harvick – 108
Daniel Suarez – 104
Martin Truex Jr. – 102
Denny Hamlin – 99
Christopher Bell – 94
Kyle Busch* – 92
Joey Logano – 92
Chris Buescher – 90
Brad Keselowski – 87
Ricky Stenhouse Jr.* – 86
William Byron* – 85
Kyle Larson – 85
Ryan Blaney – 81
Bubba Wallace – 69


---

Austin Cindric – 69
Corey LaJoie – 68
AJ Allmendinger – 54
Ty Gibbs – 53
Aric Almirola – 52
Michael McDowell – 52
Justin Haley – 50
Chase Elliott – 49
Harrison Burton – 46
Austin Dillon – 42
Todd Gilliland – 41
Erik Jones – 37
Cody Ware – 35
Noah Gragson – 35
Ryan Preece – 29
Chase Briscoe – 28
Travis Pastrana – 26
Tyler Reddick – 26
BJ McLeod – 25
JJ Yeley – 18
Ty Dillon – 10
Jimmie Johnson – 10