Deniz Öncü (Red Bull KTM Ajo) snatched glory away from pole sitter Ayumu Sasaki (Liqui Moly Husqvarna Intact GP) on the last lap to win the Australian Grand Prix. Aussie crowd favourite Joel Kelso (CFMOTO Racing PruestelGP) took a brilliant 3rd place, rounding off the podium.
There was heartache for Adrian Fernandez (Leopard Racing) after such a commanding performance at the front. Fernandez crashed out of the lead with 6 laps to go. Teammate Jaume Masia finished down in 8th place, with Masia now with just a 4 point lead to Sasaki in the championship as we head to Thailand next weekend.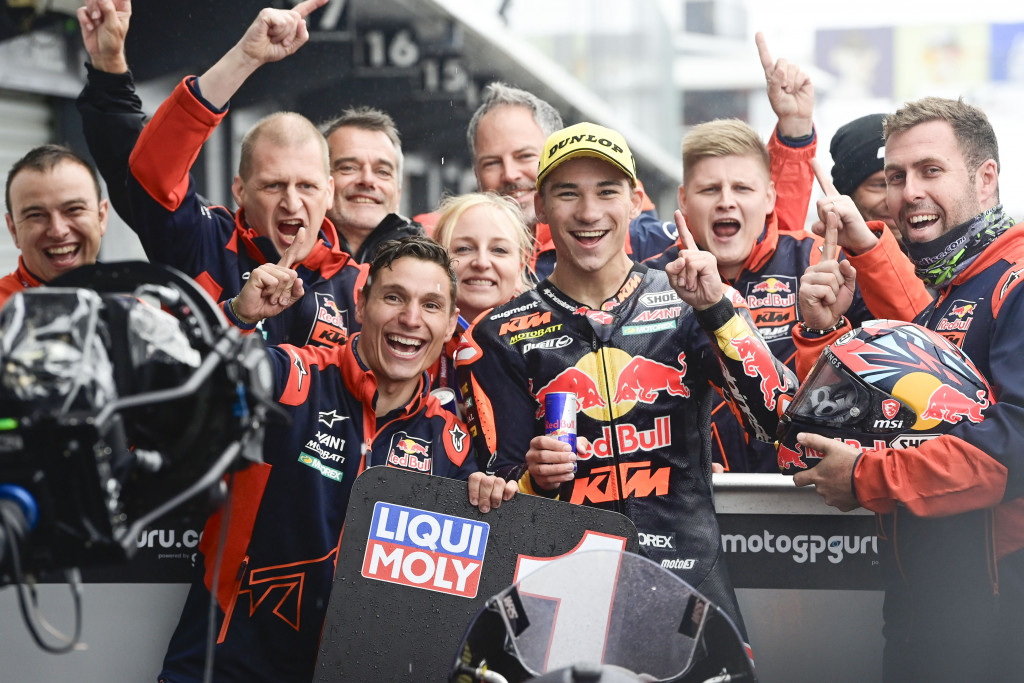 Image Credit: Red Bull KTM Ajo
AS IT HAPPENED
The conditions were the worst they have been all season for the race at Phillip Island. On the sighting lap, Matteo Bertelle (Rivacold Snipers Team), Daniel Holgado (Red Bull KTM Tech3) and last week's winner Diogo Moreira (MT Helmets – MSI) all crashed en route to the grid. Spare parts were rushed to the grid to make sure they all started the race.
Fernandez could not of dreamt of a better start, moving from 9th on the grid to almost take the lead from Sasaki during the first lap. Collin Veijer (Liqui Moly Husqvarna Intact GP), from 6th, also had a great start and was up into 3rd after turn 2.
Championship leader Masia and Öncü were both sat behind, watching the battle in front. Masia was up into 6th place from 13th on lap 1.
We crossed the line with pole sitter Sasaki leading from Fernandez in 2nd, Veijer 3rd and Kelso in 4th. Into turn 1 and Fernandez took the lead for the first time in his career, up 8 places as we started lap 2.
Yellow flags lit up at turn 4, as David Alonso (Gaviota GASGAS Aspar Team) lost it under the brakes. He was 4th in the Moto3 championship and 29 points behind Masia before the race. Alonso was ok though, as Fernandez looked to break away at the front.
On lap 4, Alonso re-joined the race as Öncü went by Sasaki and up into 2nd. Fernandez had a 1.189 second lead at the front. Home favourite Kelso was in 4th. Title contenders Holgado and Masia were in 11th and 13th respectively as we approached a quarter of the race distance.
With 14 laps to go, Öncü set the fastest lap of the race. The rain seemed to ease off at this point, as Öncü led the group behind to catch Fernandez, now just 0.434 seconds ahead as they crossed the line.
With 10 laps to go, Fernandez was just 0.388 seconds ahead of Öncü in 2nd. Fernandez was inch perfect at this point in the race and seemingly in full command at the front. Special mention should also go to Lorenzo Fellon (CIP Green Power) who started the race in 24th place and, with 10 laps to go, was running in 8th. Championship leader Masia was unable to make any progress in the race and was seemingly stuck in 10th, with fellow title rival Holgado running way down in 16th at this stage.
Down the start straight and Sasaki blasted by Kelso to go back up into 3rd. Only 8 laps to go now and still any of the leading group could take the victory here in Australia.
Öncü then gifted Sasaki 2nd place coming out of Miller corner, and nearly lost the rear. Öncü, only a few corners later, had another scare and lost a place to Kelso. Öncü went from 2nd to 4th on lap 15.
As we headed into the final part of the Grand Prix, Fernandez continued to dominate, posting the fastest lap of the race. Fernandez now had a 1.043 seconds gap to Sasaki in 2nd.
Disaster struck for Fernandez with 6 laps to go. He went down at turn 11 which was a huge blow after such a superb performance. Sasaki was then promoted into the lead of the race and the top of the championship standings as things stood at this point.
5 laps to go, Öncü and Kelso exchanged fastest laps as Sasaki led at the front. Sasaki was keen to pull away as Öncü was back up into 2nd place passing Kelso into turn 1.
With 3 laps to go and Sasaki and Öncü pulled away from Kelso who looked to settle for 3rd place. Kelso is 9.918 seconds clear of Veijer in 4th. Title contender's Masia was running in 8th and Holgado in 13th place.
THE LAST LAP
Öncü was not giving up the fight for the win and was right up behind Sasaki as we started the last lap of the race.
Down the hill where Andrea Iannone head butted a seagull in 2015, Öncü barged his way into the lead of the race into turn 10. It was a brilliant block pass on Sasaki and yet another last lap winning opportunity squandered for the Husqvarna rider.
It was heartache for Sasaki but a brilliant performance. Home favourite Kelso finished on the podium in 3rd. The front group were outstanding in the conditions today. The leaders finished over a minute ahead of Holgado who finished down in 13th place.
We continue this triple header in Thailand next week at the Chang International Circuit. The Moto3 championship standings are all change once again, with Masia leading the championship by just 4pts to Sasaki in 2nd.
Race Classification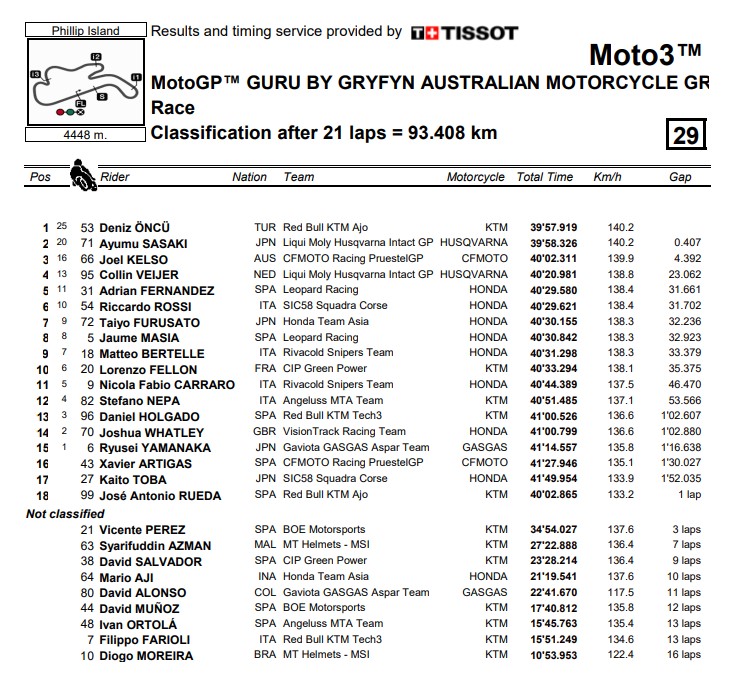 Image Credit: MotoGP
Championship Standings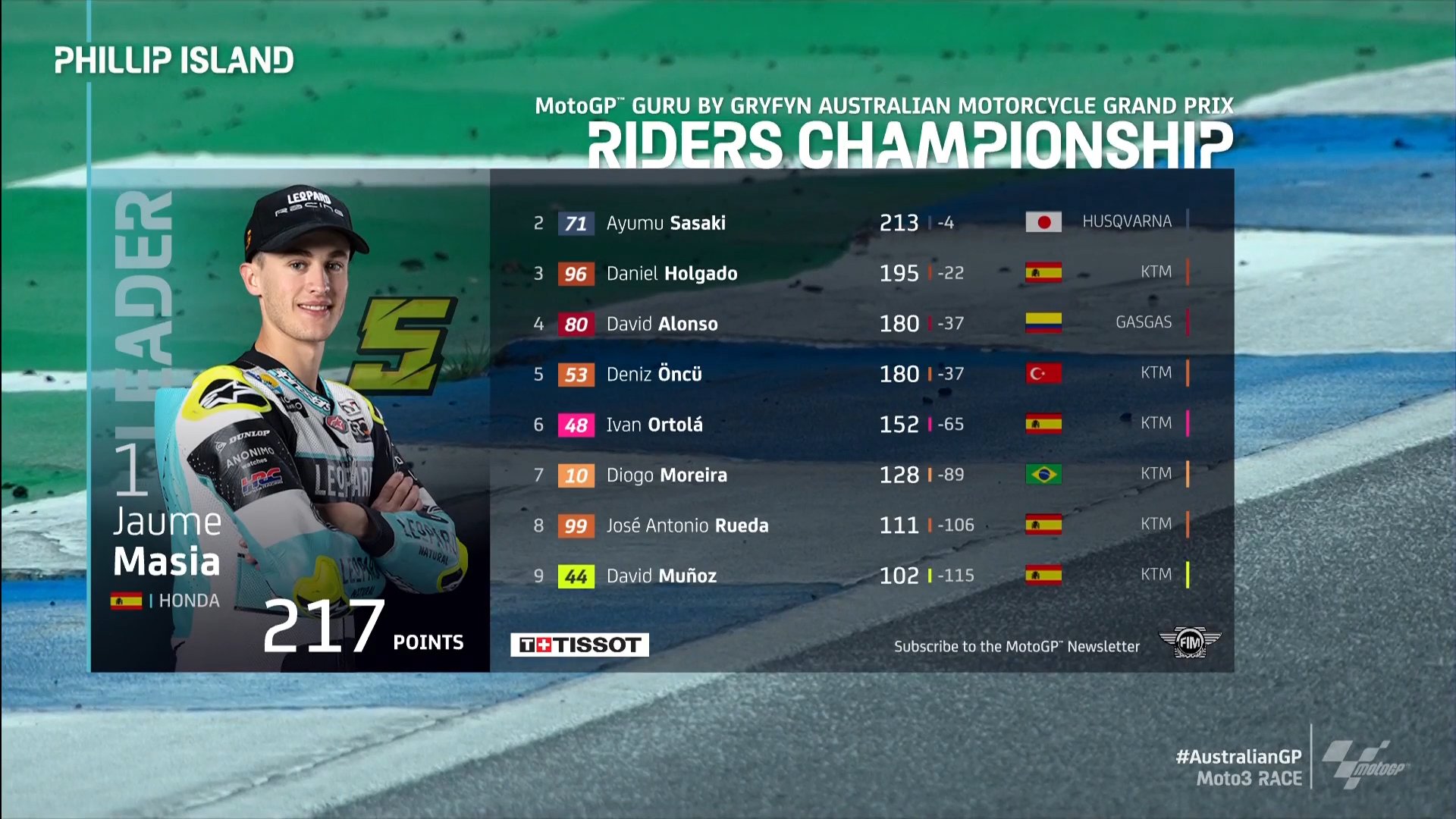 Image Credit: MotoGP
Feature Image Credit: Red Bull KTM Ajo