Trident's Jack Doohan set the fastest time in Formula 3's final post-season test at Jerez, ahead of teammate Clement Novalak.
Doohan set his best time of a 1:29.041s during his qualifying simulations in the morning session. This session was interrupted multiple times with red flags brought out for Alessandro Famularo (Campos), Olli Caldwell (ART), Francesco Pizzi (MP Motorsport) and Jonathan Hoggard (Campos), but Doohan was still able to log a respectable 42 laps in between the stoppages.
Novalak came close to Doohan in the sister Trident, but was ultimately kept off the top of the timesheets by just 0.019s. However, Novalak recorded more laps than his teammate with 45 in the morning session, and a day's total of 101 to Doohan's 92.
Jenzer's Calan Williams had another strong day of testing as he again finished the day third-fastest. Williams was also second-fastest in the second session, with his 1:30.238s being only 0.14s slower than afternoon pacesetter Igor Fraga.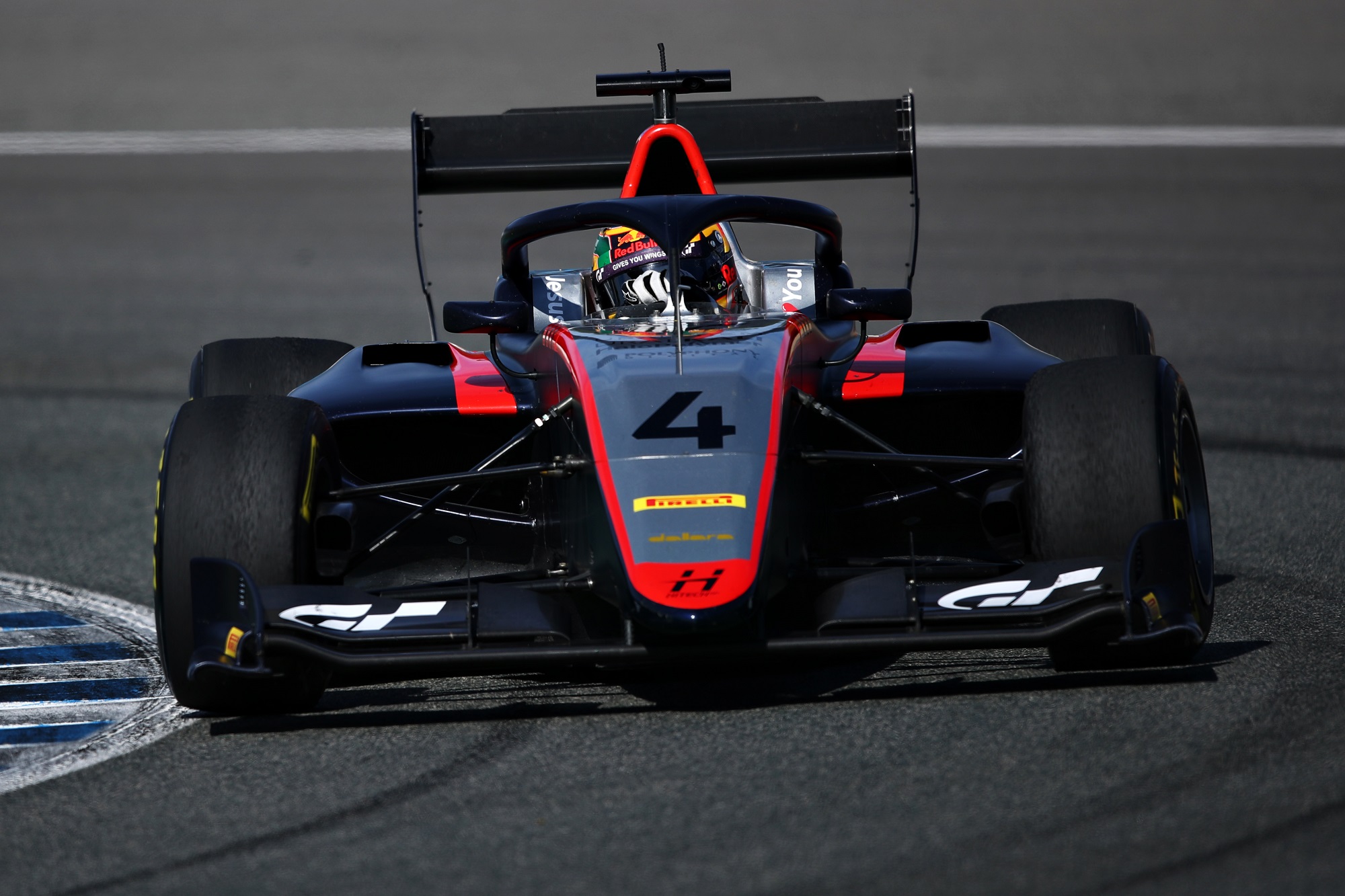 Hitech rookie Jak Crawford was fourth-fastest overall ahead of Charouz's David Beckmann. Dennis Hauger (Prema) and Caio Collet (ART) were early pacesetters before Doohan's run, but ended the day sixth and seventh respectively.
Hoggard was eighth fastest despite ending the morning session early with his spin into the gravel at Turn 5. Arthur Leclerc (Prema) and Enzo Fittipaldi (HWA) were ninth and tenth.
Leclerc logged the fewest laps of the day with 60, while Charouz rookie Konsta Lappalainen recorded the most with 103, despite finishing 28th in the overall times.
Overall classification:
| | | | | |
| --- | --- | --- | --- | --- |
| Pos. | Driver | Team | Time (best) | Laps (total) |
| 1 | Jack Doohan | Trident | 1:29.041 | 92 |
| 2 | Clement Novalak | Trident | 1:29.060 | 101 |
| 3 | Calan Williams | Jenzer Motorsport | 1:29.328 | 77 |
| 4 | Jak Crawford (R) | Hitech Grand Prix | 1:29.336 | 97 |
| 5 | David Beckmann | Charouz Racing System | 1:29.350 | 61 |
| 6 | Dennis Hauger | Prema Racing | 1:29.361 | 64 |
| 7 | Caio Collet (R) | ART Grand Prix | 1:29.461 | 93 |
| 8 | Jonathan Hoggard (R) | Campos Racing | 1:29.514 | 68 |
| 9 | Arthur Leclerc (R) | Prema Racing | 1:29.516 | 60 |
| 10 | Enzo Fittipaldi | HWA Racelab | 1:29.558 | 90 |
| 11 | Igor Fraga | Hitech Grand Prix | 1:29.622 | 102 |
| 12 | Pierre-Louis Chovet | HWA Racelab | 1:29.628 | 88 |
| 13 | David Schumacher | Trident | 1:29.674 | 75 |
| 14 | Frederik Vesti | ART Grand Prix | 1:29.698 | 90 |
| 15 | Olli Caldwell | ART Grand Prix | 1:29.705 | 86 |
| 16 | Matteo Nannini | Hitech Grand Prix | 1:29.718 | 92 |
| 17 | David Vidales (R) | Campos Racing | 1:29.728 | 87 |
| 18 | Bent Viscaal | MP Motorsport | 1:29.833 | 72 |
| 19 | Cameron Das | Carlin Buzz Racing | 1:29.917 | 72 |
| 20 | Jonny Edgar (R) | MP Motorsport | 1:30.099 | 86 |
| 21 | Oliver Rasmussen (R) | Prema Racing | 1:30.135 | 61 |
| 22 | Reshad de Gerus (R) | Charouz Racing System | 1:30.285 | 87 |
| 23 | Nazim Azman (R) | Carlin Buzz Racing | 1:30.310 | 82 |
| 24 | Ido Cohen (R) | Carlin Buzz Racing | 1:30.410 | 80 |
| 25 | Sophia Floersch | HWA Racelab | 1:30.590 | 89 |
| 26 | Francesco Pizzi (R) | MP Motorsport | 1:30.634 | 75 |
| 27 | Rafael Villagomez (R) | Jenzer Motorsport | 1:30.744 | 65 |
| 28 | Konsta Lappalainen (R) | Charouz Racing System | 1:30.924 | 103 |
| 29 | Filip Ugran (R) | Jenzer Motorsport | 1:30.960 | 75 |
| 30 | Alessandro Famularo (R) | Campos Racing | 1:31.082 | 64 |