On a hot and sticky day at the Buddh International circuit. The inaugural Moto3 Indian Grand Prix was won by Leopard Racing Team's Jaume Masia. Masia gave his all today, annihilated the rest of the field and stormed to victory in India. A statement win for the Leopard Racing Team rider and a clear message to the rest of the field.
A great recovery ride from Daniel Holgado after starting from row 6 to finish in 5th. Holgado battled his way through the pack to salvage as many points as possible for the championship. The Moto3 championship has all changed now with just 1 point covering the top 3 riders. Holgado and Masia are now level in the championship on 174 points and Ayumu Sasaki right behind on 173.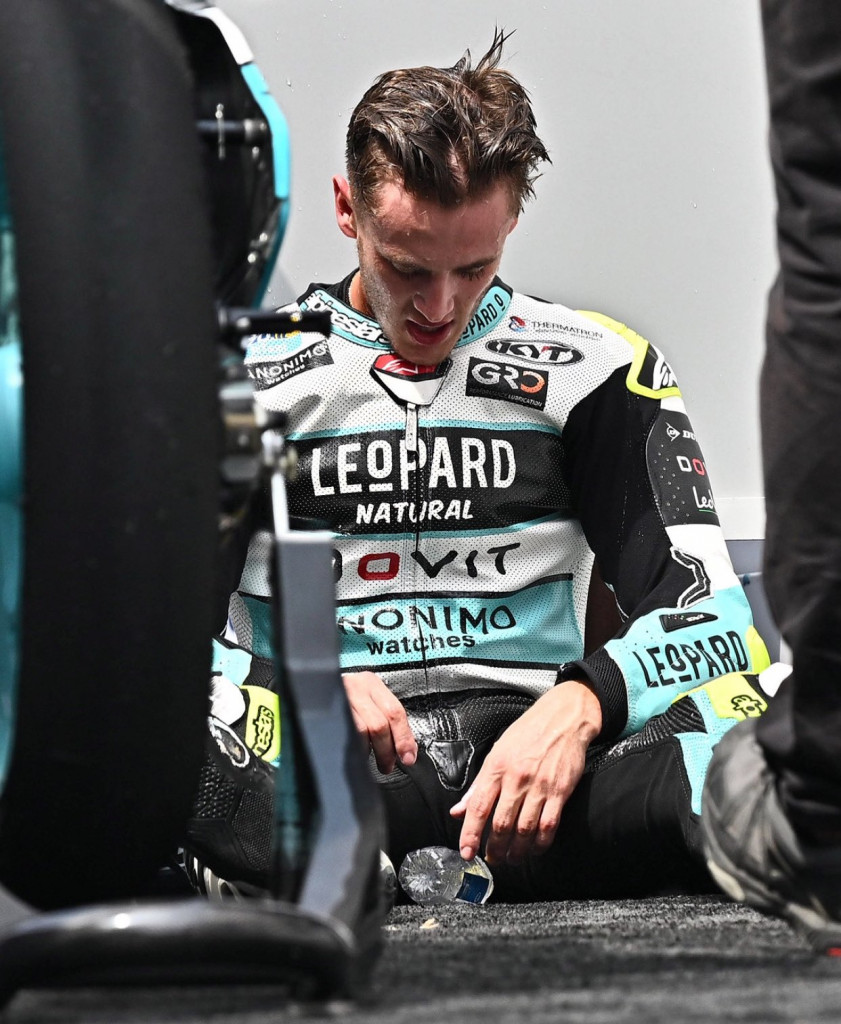 Image Credit: MotoGP
AS IT HAPPENED
Masia starting from pole position got a great start and led into turn 1. Sasaki moved up to 2nd and Scott Ogden dropped down to 6th. As they headed up to turn 5, Diogo Moreira moved up the inside of Matteo Bertelle and into 3rd.
Holgado was up 9 places on lap 1 and got off to a great start.  Coming across the line to complete the first lap and Masia had a gap of a few tenths to Sasaki in second. David Alonso our race winner last time out up 6 places on the opening lap.
During Lap 2  Joel Kelso crashed out at the beginning of the lap. Kelso was okay and walked away after a big highside. Midway through lap 2, a lead group of 6 formed with the rest of the pack behind led by Dutch wonderkid Collin Veijer. Bertelle got back up into 3rd getting by Moreira.
Masia and Sasaki were over a second clear of the group behind. Sasaki sat patiently behind Masia with a long way still to go in this Grand Prix.
Turn 1 at the beginning of lap 4 and Bertelle crashed out from 3rd place. It was a disaster for Bertelle after such a strong weekend getting his first-ever front-row start in Moto3. Bertelle will be looking to bounce back next weekend in Japan.
The gap to Toba in 3rd is 1.88 seconds from Masia and Sasaki leading away at the front. As it stood Holgado would be dropping to 3rd in the championship, 7 points behind on lap 5. Holgado and Alonso were on a charge and battling with each other as they tried to steamroll through the field to the front. Alonso got up the inside of Moreira at turn 8, only to nearly come off two corners later. Moreira got straight back through on Alonso and up to 5th.
With a quarter of the race done, there was a lead of 2.620 seconds with Masia and Sasaki ahead of Kaito Toba and Veijer battling for the final podium position in 3rd and 4th place. Coming up along the big straight Alonso got the slipstream and breezed by Moreira up the inside into turn 4 to retake 5th. The riders seemed spread out across the lap all battling for positions.
9 laps to go we had Masia and Sasaki still way out in front. A 2.3 seconds gap to Veijer in 3rd. The Husqvarna Intact GP team were set for a double podium here in India unless Toba, Alonso and Holgado could catch them.
At the halfway mark Ayumu Sasaki set the fastest lap of the race. Masia led from Sasaki in second with a 2.475 gap lead to teammate Veijer in 3rd. Toba still tried all he could to keep up with Veijer in the hunt for the final podium position. With the riders all spread out,  it looked increasingly unlikely that Alonso, Rossi and Holgado could catch the groups up ahead.
Holgado was up ahead of Rossi and Alonso now and up into 5th. Holgado had too big of a gap here to those in front and may have to settle for 5th. A great recovery starting from the 6th row of the grid.
6 laps to go now and Sasaki appeared to of made an error as Masia had a gap now of 0.735 seconds to Sasaki in 2nd. Tatsuki Suzuki and Ogden went down at turn 12 as Sector 4 lit up in yellow flags. A horrible crash but both riders were okay and thankfully walked away from the incident.
With 4 laps to go Masia now had a gap of 1.925 seconds to Sasaki in 2nd and it looked like Masia wasn't slowing down either.  Sasaki dropped further back from the Spaniard and only 0.489 seconds clear of teammate Veijer in 3rd. Would Veijer hold station behind Sasaki in the closing stages given what's at stake in the Moto3 championship? Toba wasn't giving up on a podium either, still trying all he could to catch the Husqvarna Intact GP teammates ahead.
Even with the temperatures as high as they were in India, the tyre wear was minimal and grip levels remained high throughout the race.
3 laps to go and Masia is well clear now at the front of the race, with Husqvarna riders Sasaki 2nd and Veijer in 3rd. Veijer on Sasaki's back wheel and Toba arriving into the mix for the battle for 2nd, 3rd and 4th places.
As Deniz Öncü moved up into the points into 15th, Masia was way out in front leading the race with two laps to go. Sasaki was clinging onto 2nd with Toba up into 3rd and Veijer in 4th.
Onto the back straight and Toba was all set to attack Sasaki, into the slipstream and Toba took the inside line and went up the inside of Sasaki into 2nd. Into turn 4 and Toba ran wide for Sasaki to come back through into 2nd. With the dicing at the front the championship lead was ever-changing between Sasaki and Masia at the top of the standings.
THE LAST LAP
Onto the last lap and Masia was over 5 seconds clear to Sasaki in 2nd. Sasaki was clinging on to second resisting the pressure from Toba and Veijer behind. Onto the back straight again and Toba pulled up alongside but was unable to take the place from Sasaki.
Veijer, Toba and Sasaki all diced and swapped places.  Mid-way through the lap, Veijer went up the inside of Sasaki only to collide with the back wheel of Sasaki and be taken out on the last lap. Disaster for Veijer after a superb performance in the race. Toba swept through to take 2nd place from the colliding Husqvarna teammates with Sasaki eventually finishing in 3rd.
A superb performance from Leopard Racing Teams Jaume Masia. Total dominance in Delhi from start to finish!
We head to Japan next weekend with a championship on fire! Just 1 point separates the top 3 riders in the championship. After crashing out in last year's race in Motegi, Holgado will be looking to bounce back with a win and take control again in the championship.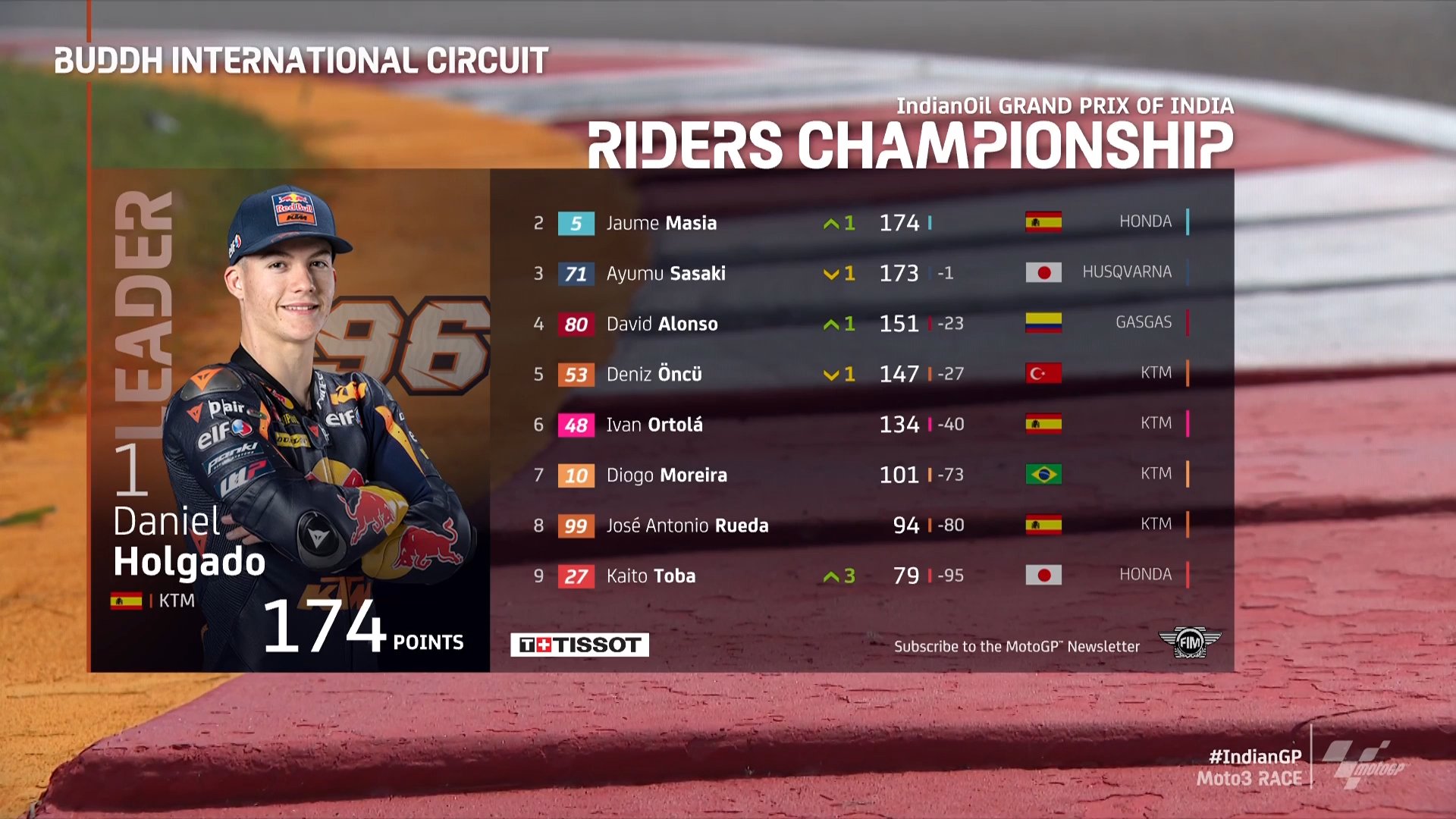 Image Credit: MotoGP
Race Classification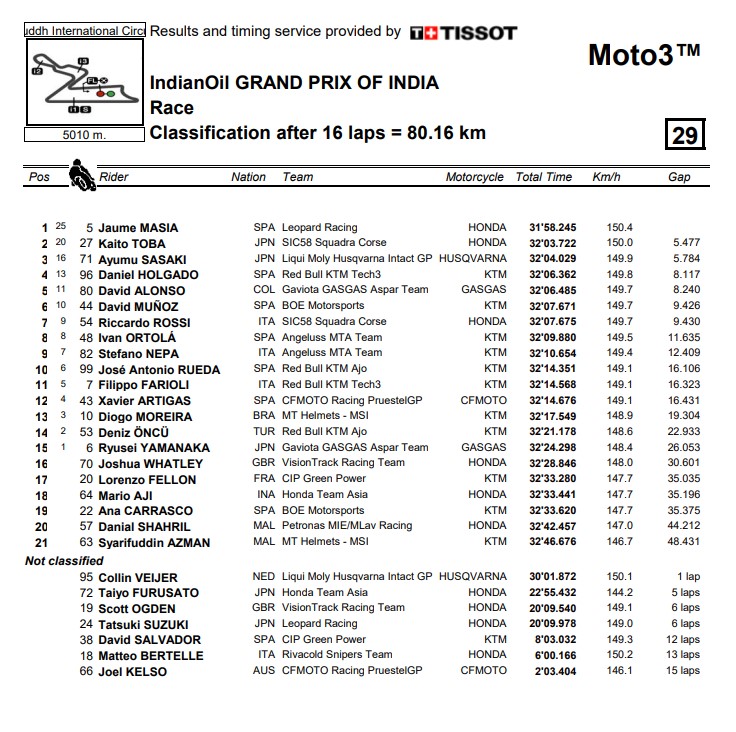 Image Credit: MotoGP