While it's natural to remember Jules Bianchi around the Japanese Grand Prix, as Ferrari Week here at The Pit Crew Online falls near the second anniversary of his death it's fitting to look back at the life and career of one of Maranello's former rising stars.
Born in Nice in 1989, Bianchi arrived into a family that was already well-acquainted with motorsport. His grandfather Mauro raced GT cars in the 1960s and participated in three Grands Prix in 1961. His great-uncle Lucien drove in 19 Grands Prix between 1959 and 1968, scoring a handful of points, and achieved victory at Le Mans in 1968 alongside Pedro Rodriguez. Given his great-nephew's affiliation with Ferrari, there's a certain irony that Lucian's Le Mans victory came behind the wheel of a Ford GT40, which broke Ferrari's early 1960s string of Le Mans victories. Jules was not the first Bianchi to die in motorsport; Lucian was killed during testing at Le Mans in 1969. Jules' father Philippe owned a karting circuit, providing a young Jules an early platform to begin honing his skills. At 15, Jules made the decision to pursue racing as a profession and at 17 signed a management contract with Nicolas Todt.
Looking back over Bianchi's career, he seemed destined for Formula One. Having proved his skills in karting, placing first in multiple series in 2005 and 2006, Bianchi moved into the junior formulae. He made his single-seater debut in 2007, the final season of the French Formula Renault 2.0 series, driving for SG Formula. He secured a comfortable first place with 5 wins and 11 podiums, finishing 49 points ahead of the second place finisher Mathieu Arzeno.
2008 saw Bianchi move up to the Formula 3 Euro Series, driving for ART Grand Prix, where one of his teammates was Nico Hülkenberg. During his deubt season, he placed third overall with two wins and seven podiums for 47 points as well as placing first in the Masters of Formula 3. He continued competing with ART in 2009, his teammates including Valterri Bottas and Esteban Gutiérrez. That season Bianchi claimed the title, earning nine wins and twelve podiums and ending the season with 114 points.
2009 also saw the BBC and James Allen, among others, link Bianchi with a race seat at Ferrari due to Luca Badoer's disappointing performance. Though this never materialized, December 2009 saw Bianchi become the first recruit to the Ferrari Driver Academy after the young drivers' test at Jerez. Maranello clearly found Bianchi a worthy investment, and he was to remain a member until his death. The Ferrari Driver Academy still officially acknowledges that Jules was the most promising young driver that has participated in the program thus far.
Interviews during this period paint a picture of an affable young man, aggressive and ambitious on the track but aware that he's still learning and maturing. He is quick to give credit to his influences, crediting his grandfather and manager for their help in his formation as a racing driver, as well as his fellow drivers for the self-management techniques he learned from them.
He progressed up the ladder to GP2 in 2010, again racing for ART Grand Prix. In his debut season Bianchi placed third in the championship with 52 points. Though he claimed three poles and was on the podium four times, he won no races this season.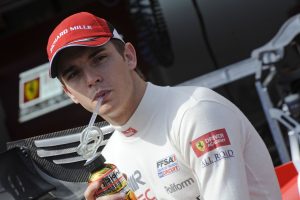 For 2011, despite remaining third overall he improved his record by claiming one win and six podiums. He totaled 53 points in the 2011 season. Significantly, 2011 also saw Bianchi debut as a Formula One test driver for Ferrari, coming closer to a coveted race seat.
In 2012 Bianchi competed in the Formula Renault 3.5 Series, driving for Tech 1 Racing. He placed second in the championship, with three wins and eight podiums, and a total of 185 points. He continued his Formula One testing career, this time on loan to Sahara Force India from Ferrari. During his tenure as Force India's test and reserve driver, he participated in 9 Friday free practice sessions, gaining valuable track time.
Bianchi's big break arrived in 2013. Though Force India selected Adrian Sutil to replace Nico Hülkenberg upon his departure to Sauber, another seat opened when Marussia driver Luiz Razia's sponsors failed to meet their financial commitments to the team. Jules had finally achieved his race seat, opposite Max Chilton. Though Marussia ran solidly at the back of the field and Bianchi retired in Monaco, Germany, and Japan, he nonetheless finished ahead of his teammate in every remaining race other than India and finished the drivers' championship in 19th place, 4 places above Chilton. Marussia finished 10th in the 2013 Constructors Championship, securing much-needed prize money.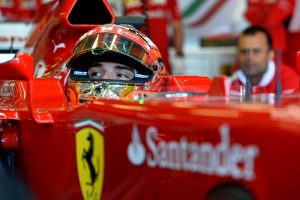 2014 saw Bianchi continue opposite Chilton with Marussia. Despite an inauspicious beginning to the season, failing to complete 90% of the race distance in Australia and retiring in Malaysia due to brake failure on lap 8, Bianchi continued to outperform his teammate. In a major step forward for the team he brought in both his own and Marussia's first points at Monaco. While good fortune in the form of a number of retirements doubtless contributed to his 9th place finish, and his own illegal serving of a 5-second penalty under the Safety Car cost him 8th place, Bianchi and Marussia were justifiably pleased with the results. Though forced to retire when Chilton collided with him in Canada, he finished ahead of his teammate for most of the season other than a retirement late in the Belgian Grand Prix due to a gearbox failure.
And then came Suzuka.
The category four Typhoon Phanfone brought significant rain to the Suzuka Circuit on Sunday October 5th, but due to the Russian Grand Prix being scheduled for the following week freight concerns prevented organizers from delaying the Grand Prix until the next day. Charlie Whiting suggested that the race start time be changed, but both the circuit owners and FIA opposed changing the both to allow spectators to arrive at the circuit and due to television coverage concerns. The race began under the Safety Car and was suspended after two laps, then restarted under the Safety Car 20 minutes later. Conditions slowly improved, but there was still significant standing water on the track and heavy rain again began to fall in lap 36.
Adrian Sutil lost control of his Sauber and crashed at Dunlop Curve on lap 40. One lap later, Bianchi lost control at the same place and slid partway under the crane that was recovering Sutil's Sauber. Striking the crane at 123 km/h, the impact was forceful enough to jolt the crane off the ground and cause the Sauber to drop back to the ground. In the crash, Bianchi's Marussia sustained massive damage on its left side and its roll bar was destroyed. Later analysis determined that the impact generated a peak of 254 g. Bianchi was unresponsive, and was determined to have suffered significant head injuries.
As the medical helicopter was unable to land at the designated hospital, Mie Prefectural General Medical Center in nearby Yokkaichi, Jules was transported instead by ambulance, arriving 32 minutes later. He was rushed into surgery to reduce the severe bruising to his head. His first visitors included Graeme Lowdon, Marussia's CEO, team principal John Booth, Ferrari team principal Marco Mattiacci, and Bianchi's fellow driver Felipe Massa. Bianchi's parents, siblings, and a close friend arrived over subsequent days.
Bianchi's management team also visited Bianchi in hospital. FIA Medical Commission president Gerard Salliant was also present, and Ferrari continued to show its support for Jules by requesting that Sapienza University of Rome neurosurgeon professor Allesandro Frati travel to Japan. Ferrari's outgoing president Luca di Montezemolo further told the media that Bianchi was to be the third Ferrari driver should the then-possible shift to three-car teams become a reality.
The Bianchi family publicly expressed appreciation for the support Jules had received thus far, as well as confirming that Bianchi had suffered a diffuse axonal injury in the crash. At this time, Bianchi was in critical but stable condition.
Though Marussia originally entered their reserve driver Alexander Rossi, the team elected to only run Chilton in the Russian Grand Prix. As a show of support, the team prepared and had Bianchi's car scrutineered at Sochi, but did not race it. Perhaps Marussia's fate would have been different had they raced Rossi. Perhaps Marussia's financial backer Andrei Cheglakov would have continued to fund the team had Rossi turned in a respectable performance, but the tribute was fitting, expressing the hope that Bianchi would recover and rejoin the team.
The Formula One community, indeed the entire motorsport community, rallied in support of Bianchi. The day after the crash, Fellow Frenchman Jean-Éric Vergne arranged for all the drivers to wear stickers proclaiming "Tous avec Jules #17", and the Marussia team added #JB17 to their livery. The successor Manor team continued this through the 2015 season. The hashtag #ForzaJules proliferated across social media, and along with #JB17 was even made into stickers in the physical world. Fans across the world used these stickers to visibly express their support for Jules. Moments of silence, race win dedications, and other tributes flowed from the community.
The FIA conducted an investigation into the incident, determining that while there were many contributing factors there was no single root cause of the crash. While Bianchi clearly hadn't slowed enough under the double waved yellow, 'enough' wasn't clearly defined. Bianchi lost control less than two minutes after Sutil, and the recovery crane had almost cleared the barriers, so the double waved yellow was considered enough under accepted practices. The crane's presence itself wasn't considered unusual, even though Martin Brundle nearly collided with a similar crane 20 years previously. The brake-by-wire system's failure to cut off the throttle wasn't definitively determined to have played a significant role, as Bianchi's pressing the brake and throttle together may have been within acceptable parameters. Given the forces involved in the crash, no reasonable changes to the chassis could have helped.
Sadly, all the hope and support proved to be in vain. Though Bianchi was removed from an induced coma in November 2014 and able to breathe on his own, and was subsequently moved to Centre Hospitalier Universitaire de Nice, he did not regain consciousness. His supporters, his family chief among them, initially took hope from Michael Schumacher's improvement after his skiing head injury, however slow, but over time this hope waned.
Just over two years ago, on 17 July 2015, Jules Bianchi died. He never regained consciousness. A moment of silence, with the Bianchi family present, was observed at the Hungarian Grand Prix on 26 July.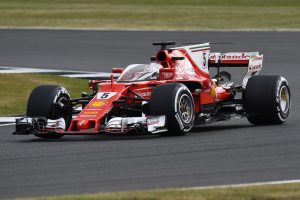 Bianchi's legacy includes positive safety developments ranging from improved rules and procedures such as the Virtual Safety Car and changes to recovery procedures, to additional head protection, including informing the process that led to 2018's Halo. With the support of Prince Albert of Monaco Jules' father Philippe created the Jules Bianchi Foundation to provide funding for promising young drivers. The Jules Bianchi #17 Association was also created to support the Unité de Soins des Cérébro-Lésés(Unit for brain damage) at Hôpital l'Archet in Nice.