After several rounds of qualifying and two semi-finals, the twelve fastest MotoGP 18 riders arrived in Valencia for the final of the 2018 MotoGP eSports Championship.
Ahead of the final race of the second season of MotoGP eSports, there was a ten-minute qualifying session, in which reigning champion Trastevere73 took pole position on the factory Ducati GP18. EleGhosT555 (EG 0,0 Marc VDS Honda) and Cristianmm17 (Repsol Honda) joined him on the front row for the final. Meanwhile, paul_ig7 (Monster Tech 3 Yamaha), AndrewZh (Movistar Yamaha MotoGP) and Luigi48GP (Gresini Racing Aprilia) made up row two; Vindex813 (Givi LCR Honda), ADRIAAN_26 (Pramac Ducati) and timothymcgarden (Red Bull KTM Factory Racing) completed the third row. The fourth and final row of the grid featured Davidegallina23 (Angel Nieto Team Ducati), RLLORCA26 (Reale Avintia Ducati) and XxBoMbeR_45xX (Ecstar Suzuki) who completed the grid, 0.5 seconds off pole position.
Between qualifying and the race, pole sitter Trastevere73 received his Tissot pole position watch from Jorge Lorenzo.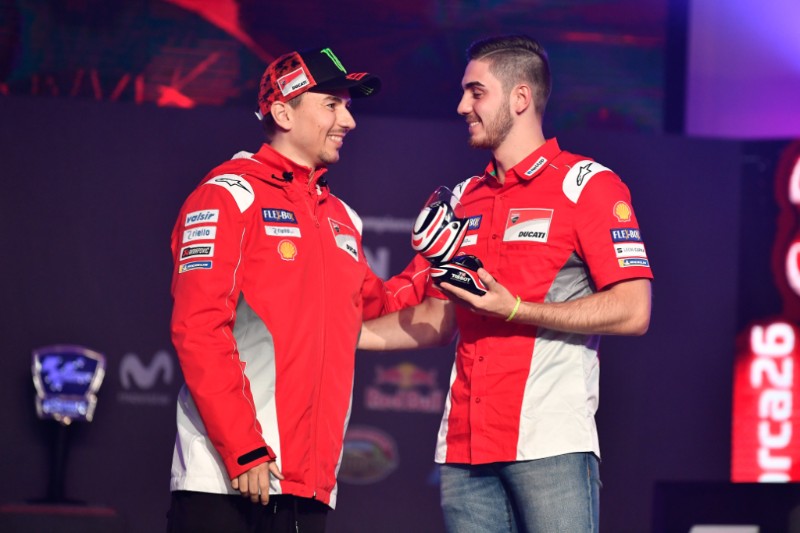 The start of the ten lap race was extremely action-packed, with two riders going down before the first two turns: Cristianmm17 dropping the Repsol Honda in turn one, before Davidegallina23 crashed the Angel Nieto Team Ducati on the exit of the first turn. It was unclear from the cameras, but it seemed like contact may have been involved in both of these incidents. This isn't surprising with such a tightly-compacted group going into the opening corners, and the pressure involved in a situation like this too; a pressure which was only heightened by the addition of Marc Marquez in the commentary box.
From an early stage, it was clear that Trastevere73 and EleGhosT555 had a pace advantage on the field, maybe with the exception of AndrewZh. The gap between the Ducati Team rider and the EG 0,0 Marc VDS pilot went back and forth for the entire race, and it never looked like any other rider could get involved.
What became clear were three things: track limits, with all riders looking to maximise their lap time; the pace between all the riders was very close, as had appeared in qualifying; and that in turn caused overtaking to be extremely tough. Especially because of the incredibly short braking zones, and the high amount of time the riders were spending on the side of the tyre, at maximum lean angle.
From experience playing this year's MotoGP game, I can say that it is not possible to brake a little bit later than your limit because you lose the front very fast and have no chance to save it. Since these riders were on the absolute limit (the front tyres were completely locked for 20 metres or more on almost every corner entry), braking later was not much of an option. The slipstream effect also seemed almost completely negligible from more than a bike length or two. So, the riders found it difficult to get alongside one another in a straight line to make a pass. EleGhosT555, therefore, spent the entirety of the MotoGP eSports Final staring down the virtual exhaust pipe of Trastevere73, unable to do anything about it.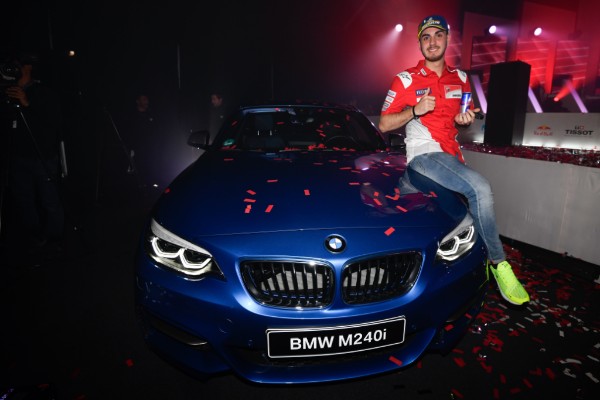 So, with a lights to flag win, Trastevere73 took the second MotoGP eSports crown in history, and the second of his career. If you like, it was also Ducati's first MotoGP World Championship since 2007, and their first win at Valencia since 2008. It also seemed like a precursor to Sunday's premier class race, which Andrea Dovizioso won for Ducati to end the 2018 season.
EleGhosT555 was just 0.298 seconds away from the MotoGP eSports crown in second place, ahead of AndrewZh who completed the podium.
Fourth place went to timothymcgarden, ahead of paul_ig7 in fifth; then came Luigi48GP, Cristianmm17, Vindex813, RLLORCA26, XxBoMbeR_45xX, Davidegallina23 and ADRIAAN_26 who was the last of the 12 riders.
eSports tends to get flack from some motorsports purists, but whatever your opinion on it, you cannot deny that the emotion is there. Trastevere73's celebrations were a prime example of that. For a lot of people video games are just that: games, but for the elite players, who dedicate themselves to it, it is a way to show their talent. Now with MotoGP eSports it is possible for these gamers to showcase their skills on the world stage, in front of a live audience who are the same as them: MotoGP fans (as well as people like Marc Marquez and Paolo Ciabatti).
Like what you just read? Then follow us on Twitter (@CrewOnTwo) for article notifications and all things two-wheeled.