Kurt Busch battled hard with Kyle Larson and younger brother Kyle Busch in the final half of stage three going from third to first, passing Kyle Larson in turn two with eight to go, to slam dunk his way to his first ever win at Kansas Speedway after 33 tries and score his first win with 23XI Racing.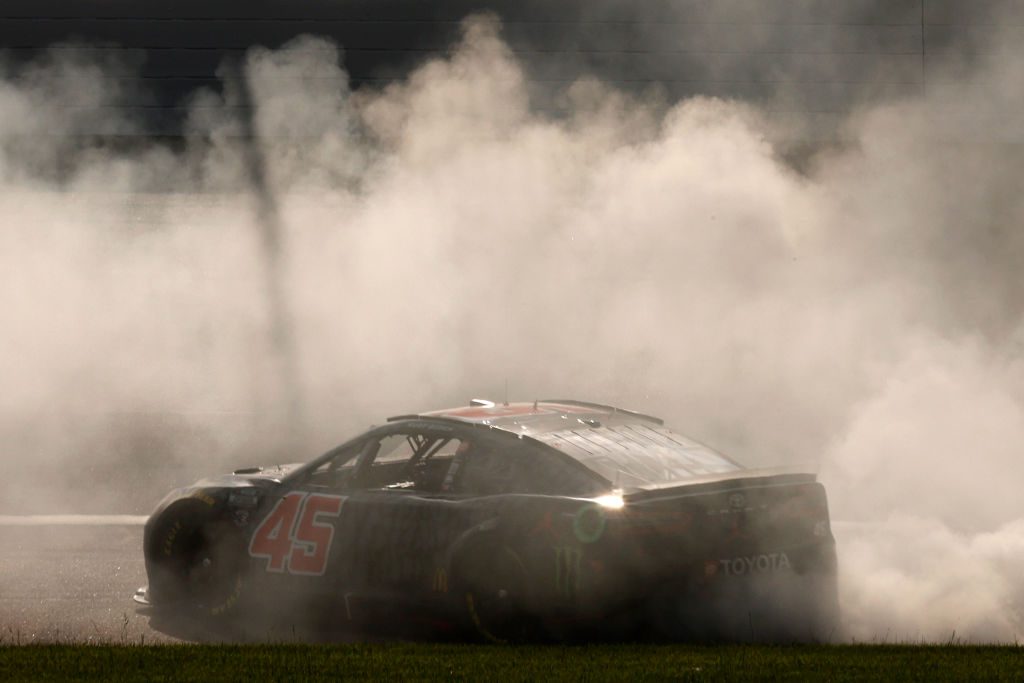 Kurt Busch would lead the most laps, 116 in total, and win stage two before earning his 34th NASCAR Cup Series career victory.
Kurt Busch was appropriately sporting a sharp looking Jordan brand primary paint scheme for the race, winning for the first time for co-team owners NBA legend Michael Jordan and Joe Gibbs Racing's Denny Hamlin.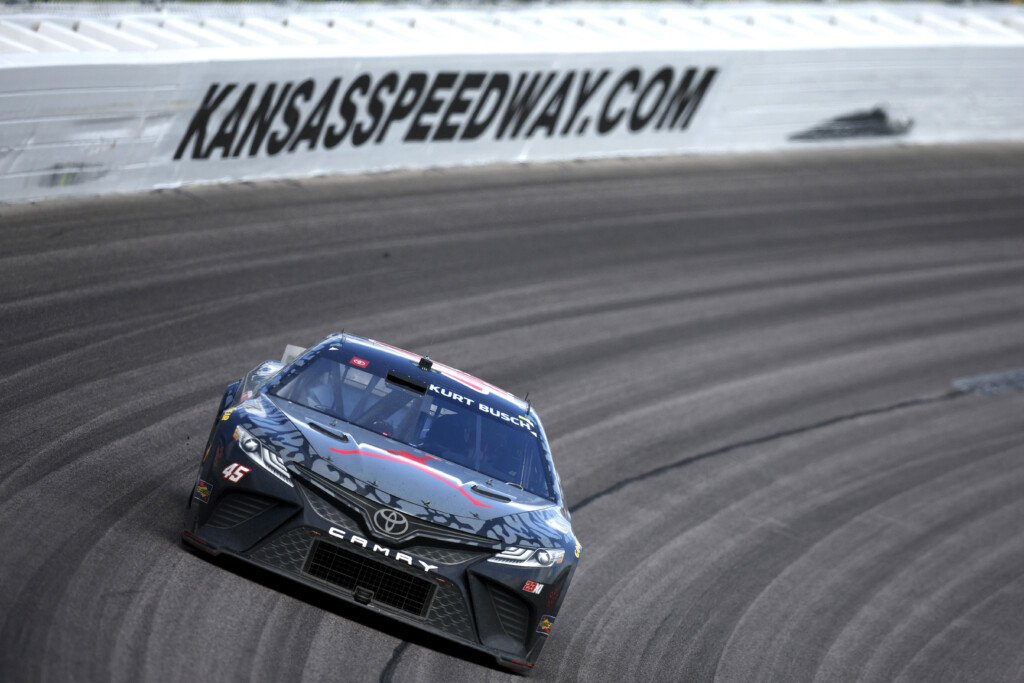 Speaking to FOX's Jamie Little Kurt Busch said: "With the Jordan brand on the hood, I felt like I had to play like the goat, race like the goat, and I had to beat the Kyles, I had to beat both." Busch said he was sporting Michael Jordan's colours, when Jordan won the Slam Dunk Contest in 1988.
With 86 laps to go, Larson had attempted the slide job on Kurt Busch for the lead but after getting by on the inside he got loose and began spinning sideways and slid into the wall before saving it as Kurt Busch got back around him.
On the next restart, after a caution came out for Chase Elliott losing a tyre and wildly spinning down the race track, Kurt Busch and Larson battled side by side for the lead for two laps before Larson tagged the turn four wall, allowing Kurt Busch to hold the lead.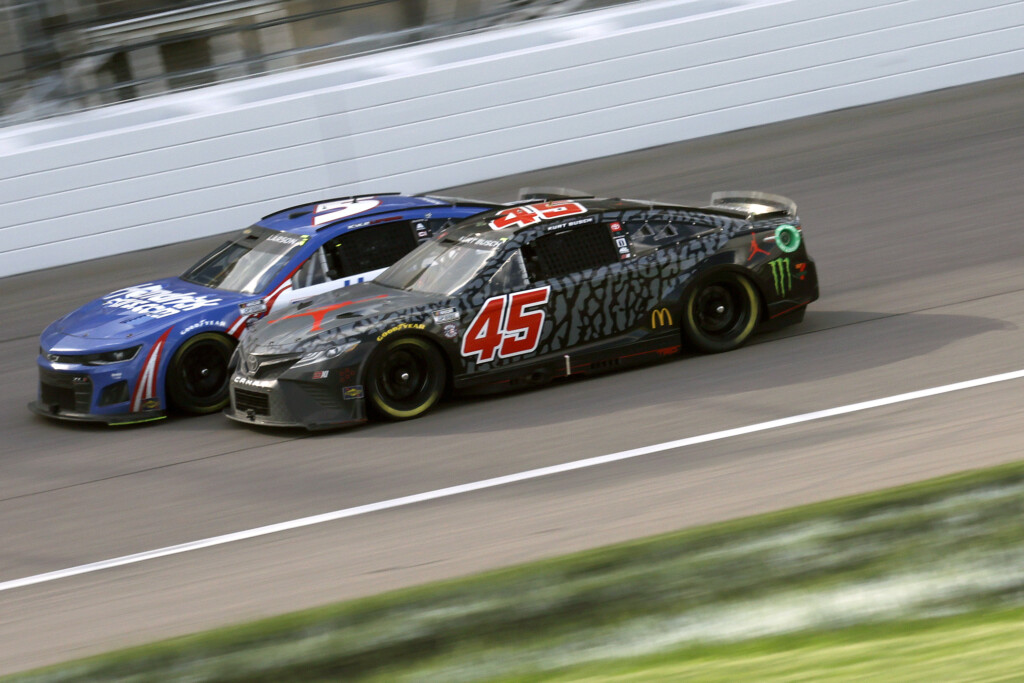 Kyle Busch, after a speeding penalty at the start of stage three that had sent him to the rear, had worked all his way up to second and was three seconds behind his older brother. Another caution with less than 40 to go, this time for what NASCAR said was fluid on the front straightaway, saw the field bunch up again and the following laps saw a three-way battle for the lead with Kurt Busch and Larson leading the charge with Kyle Busch closely following the pair.
Larson and Kyle Busch would both get past Kurt Busch but with 22 laps to go, with Kyle Busch unable to find a way past Larson, Kurt Busch would sail past on the back straightaway and quickly close down Larson.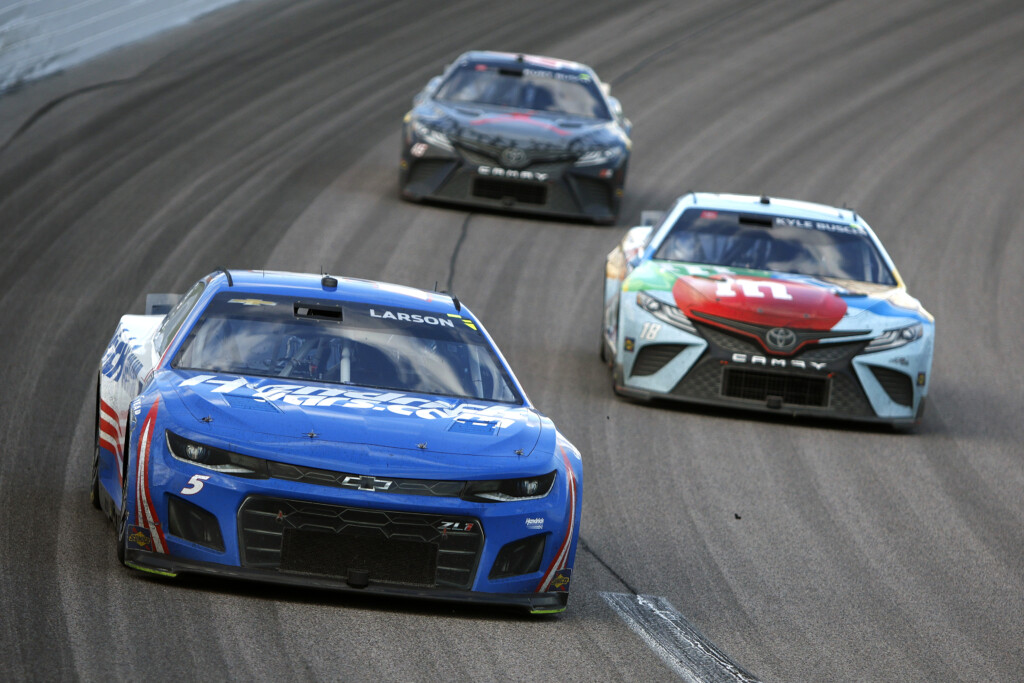 With eight to go, Kurt Busch would run Larson tight but fair up against the turn two wall. Larson slid briefly into the wall allowing Kurt Busch to take back the lead and win.
Kyle Larson would finish second and Kyle Busch would finish third. After having an up and down day, Denny Hamlin would finish fourth. Kurt Busch's 23XI teammate Bubba Wallace would finish 10th.
It was a very successful day for Toyota overall, with four Toyota's making up the top five finishing positions with Bell finishing fifth and six Toyota's making up the top-10 with Martin Truex Jr. finishing sixth.
Denny Hamlin and Kyle Busch would both congratulate Kurt Busch on pit road as he drove to victory lane.
This was also Kurt Busch's first win with Toyota in the Cup Series, now making him a NASCAR Cup driver to have won with four different manufacturers; them being Ford, Dodge, Chevrolet and now Toyota.
Kansas week also marked the 22nd anniversary of the tragic passing of NASCAR driver Adam Petty, who was just 19. Before the start of the 2022 season, Adam Petty's father Kyle Petty had given his blessing to 23XI Racing for the use the No. 45 number, the number that Adam Petty raced with. After the race Kurt Busch said: "It's a small spiritual connection."
The start of the race saw a green race track due to rain the previous night and that morning, with pole sitter Christopher Bell leading the opening nine laps before Tyler Reddick would get by on the next restart as Bell slid up the race track.
As the track rubbered in, the top lane became the preferred lane as the bottom and middle lanes lost grip due to the rubber build up.
Larson took the lead away from Reddick on lap 34 but on the next restart after losing positions on pit road, Larson got fender damage in traffic and fell outside the top 10. Bell led the middle half of stage one before discovering under caution that he had a flat left rear tyre.
Bell was not the only driver to have flat left rear tyre issues, as B. J. McLeod and Daniel Suárez would bring out cautions for spinning out with flats. Suárez was running fourth on lap 62 at the time when he hit the turn four wall and spun.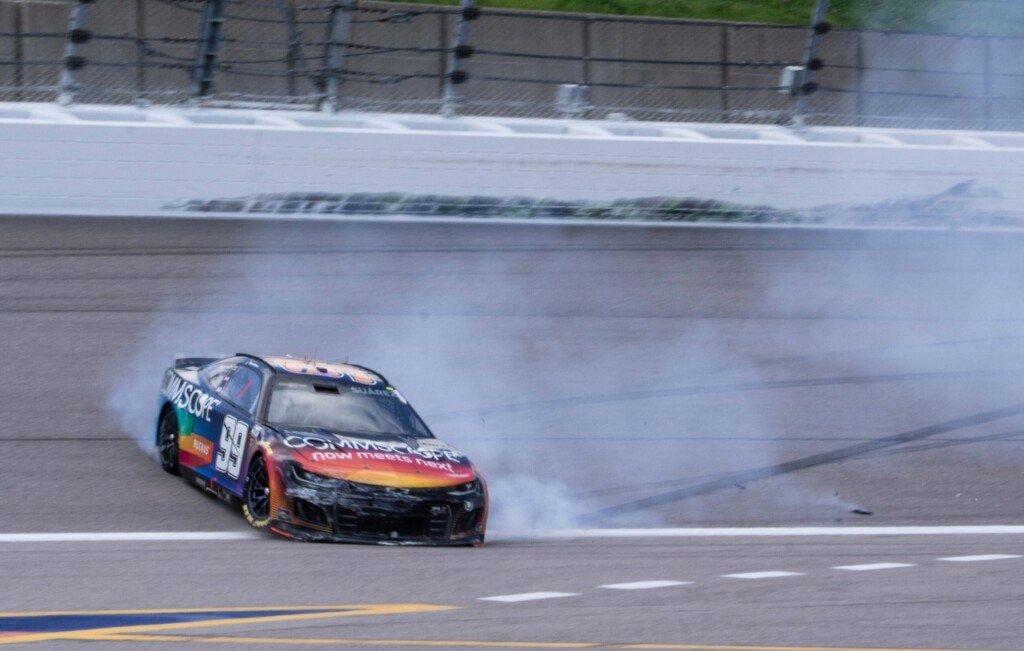 With 13 laps to go, Kyle Busch would take the lead and fend off Ross Chastain for the final seven laps to win stage one.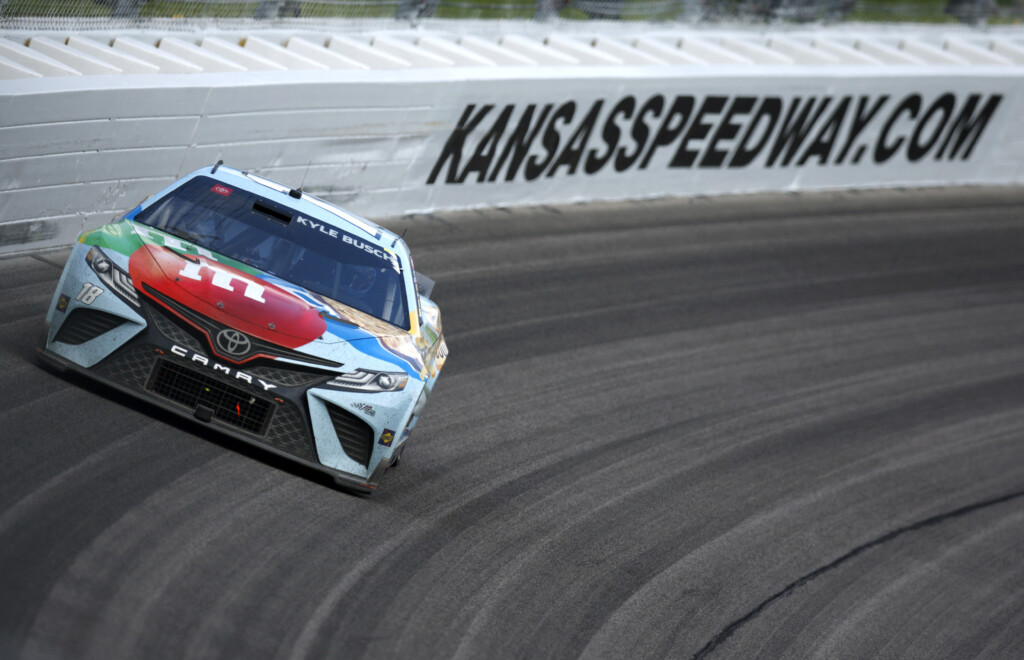 The start of stage two saw the No. 43 Petty GMS Racing team relentlessly try to get Erik Jones's right rear tyre off. Saws, hammers and drills were used to try to get the tyre off with FOX's Mike Joy saying: "That's truck stop torture right there." They settled on cutting away the wheel to get access to the lug nut which they eventually did and free the tyre from the car. Jones would return to the track seven laps down.
Stage two continued the theme of flat right rear tyres, as now leader William Byron who had recently taken the lead over from Chastain and Truex Jr. at the start of stage two, had to take to the apron and give up the lead due to one. Tyler Reddick got a flat after slapping the wall too many times. Truex Jr. would also get a flat left rear tyre at the end of stage two and be forced to give up fourth position.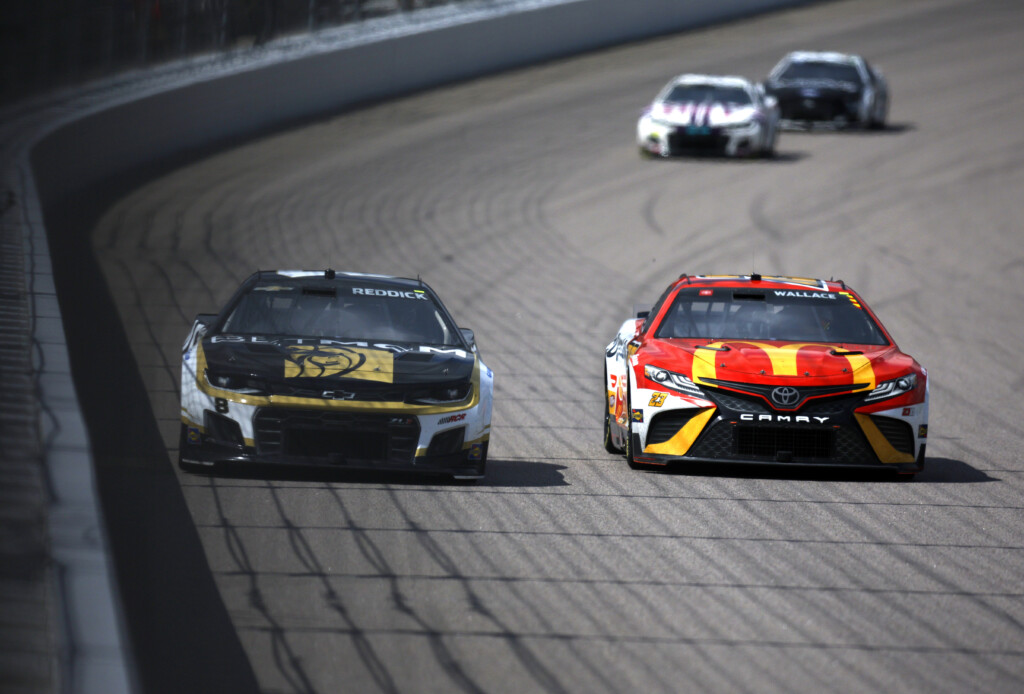 Chastain would lead the following laps until Kurt Busch, who had only managed 12th in stage one, would take the lead for the final 50 laps to win stage two. Kurt Busch was the first driver this season to win both stage two and the race, ending the curse.
The Busch brothers continue their recent dominance at Kansas Speedway. Kyle Busch appropriately won last spring's fan named "Buschy McBusch 400" at Kansas despite the race being named after the Busch beer company that primarily sponsor Kevin Harvick. Kyle Larson nearly went back to back as he won last fall's Kansas race.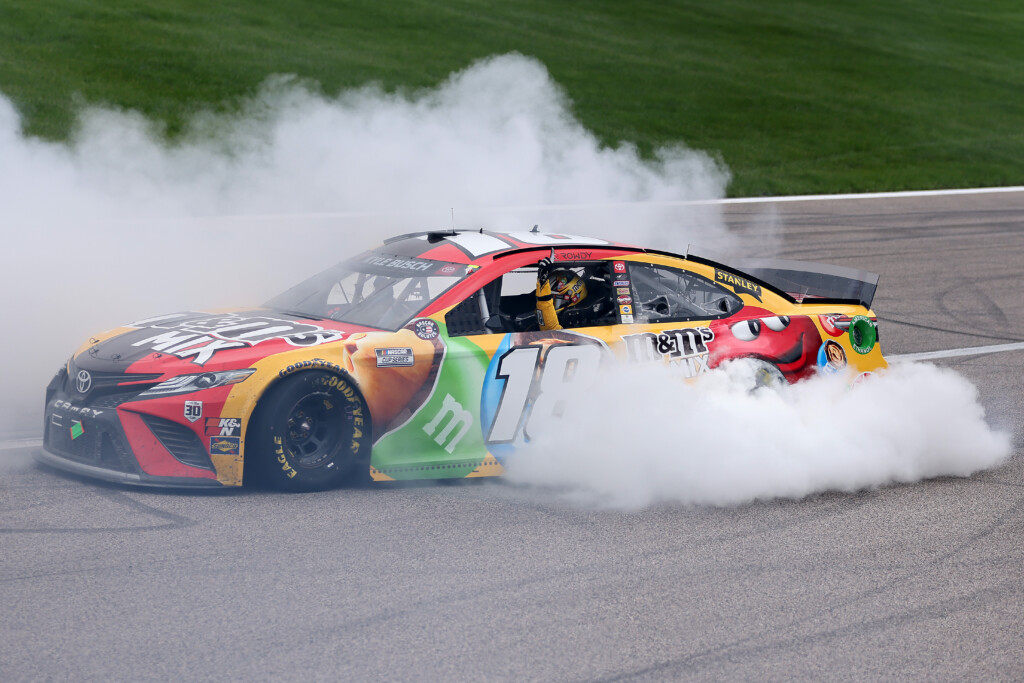 It was special race week all around for the Busch family as Kyle and Samantha Busch welcomed their second child, Lennix Key Busch into their life on May 10th.
Full race results: (1st) Kurt Busch, (2nd) Kyle Larson, (3rd) Kyle Busch, (4th) Denny Hamlin, (5th) Christopher Bell, (6th) Martin Truex Jr., (7th) Ross Chastain, (8th) Ricky Stenhouse Jr., (9th) Alex Bowman, (10th) Bubba Wallace, (11th) Austin Cindric, (12th) Ryan Blaney, (13th) Austin Dillon, (14th) Brad Keselowski, (15th) Kevin Harvick, (16th) William Byron, (17th) Joey Logano, (18th) Noah Gragson, (19th) Corey Lajoie, (20th) Ty Dillon, (21st) Harrison Burton, (22nd) Cole Custer, (23rd) Michael McDowell, (24th) Chase Briscoe, (25th) Todd Gilliland, (26th) Aric Almirola, (27th) Chris Buescher, (28th) Josh Bilicki, (29th) Chase Elliott, (30th) Tyler Reddick, (31st) JJ Yeley, (32nd) Erik Jones, (33rd) Daniel Suárez, (34th) Cody Ware, (35th) Justin Haley, (36th) B. J. McLeod.
Top 10 in stage 1: (1st) Kyle Busch, (2nd) Ross Chastain, (3rd) Chase Elliott, (4th) Tyler Reddick, (5th) William Byron, (6th) Martin Truex Jr., (7th) Bubba Wallace, (8th) Erik Jones, (9th) Ryan Blaney, (10th) Alex Bowman.
Top 10 in stage  2: (1st) Kurt Busch, (2nd) Kyle Busch, (3rd) Ryan Blaney, (4th) Austin Cindric, (5th) Chase Elliott, (6th) Kyle Larson, (7th) Ross Chastain, (8th) Denny Hamlin, (9th) Joey Logano, (10th) Bubba Wallace.
Top 10 in points standings: 1st Chase Elliott (475), 2nd Ryan Blaney (423), 3rd Kyle Busch (417), 4th William Byron (415), 5th Ross Chastain (407), 6th Martin Truex Jr, (400), 7th Joey Logano (396), 8th Alex Bowman (386), 9th Kyle Larson (376), 10th Christopher Bell (359).
Featured Image: Kurt Busch, driver of the No. 45 Jordan Brand Toyota, celebrates in victory lane after winning the AdventHealth 400 at Kansas Speedway( Photo by Chris Graythen/Getty Images)