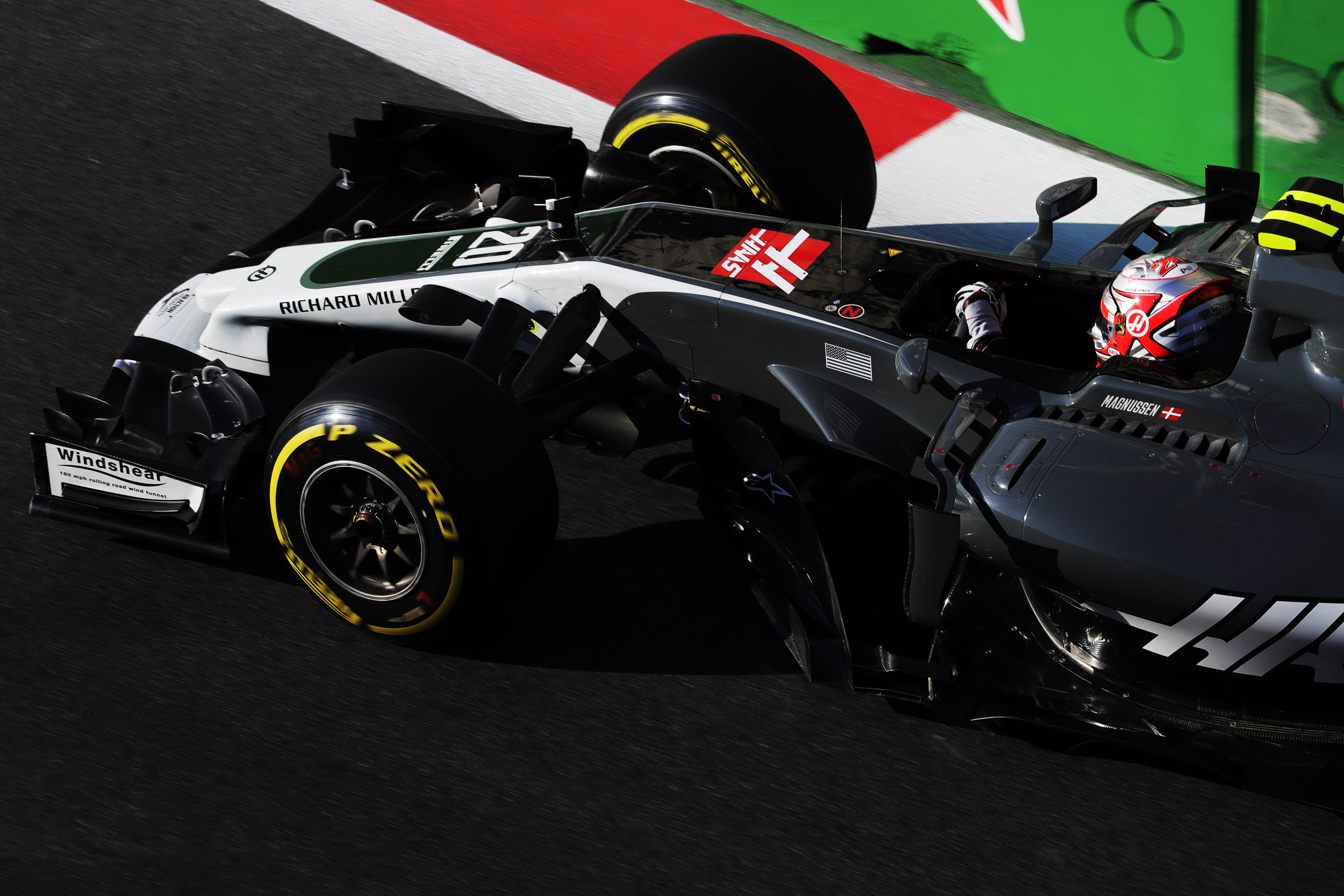 Kevin Magnussen says Haas have "made improvements and taken small steps forward", while Romain Grosjean focused on "geting back to decent level"
Following a season best P7 finish for the team by Kevin Magnussen in Azerbaijan, Haas F1 Team moved to 7th in the constructors standings with 21 points, a three-point margin ahead Renault and 12 points behind sixth-place Toro Rosso. That gives Haas points-finishes in the last four consecuitive Grand Prix's having not scored in only two race's so far this season.
Next is the Austrian Grand Prix at the Red Bull Ring in Spielberg, this beginning a five-race European tour leg of the Formula 1 Championship. The 4.326-kilometer (2.688-mile) Austrian circuit uses a smaller layout of the Österreichring, which held Formula One races from 1970 until 1987. In last year's Austrian Grand Prix, Haas F1 Team driver Romain Grosjean finished a strong seventh to pick up six points
It's a very short circuit wtih just ten turns – the fewest in Formula One and is relatively easy on brakes. For Haas F1, brakes have been the one issue that has come up in the team, but in 2017 it seems Kevin Magnussen has had more fortune with Brembo brakes than Romain Grosjean. Following previous GP weekend in Azerbaijan, those frustrations of the French driver seemed to reach a boiling point, with the team too offering comment on the situation. Grosjean spent most of the Azerbaijan weekend struggling again with the Brembo brakes on his VF-17.
"The brake feeing has been terrible all weekend long but Kevin's got he same comment and he can drive around [it], that's why I'm saying I don't want to blame anything. Braking is my strength, since Formula Renault. But when things are not working as I want, it's my biggest weakness" Grosjean said.
Guenther Steiner however suggested later in the week it was driving styles which was the difference.
"It's not that Kevin didn't have the problems with the brakes," Steiner said.
"With his driving style for him it's easier to drive around it, or make it less evident. He was not happy ith the brakes in FP2. For the race he had to lift and coast as well, because we had some issues. With Romains driving style, the brakes need to be perfect, or as close to perfect as can be. At the moment, we are not there."
"I think it's driving styles. Maybe Romain brakes later and harder and then turns and maybe Kevin brakes into it and turns already. Maybe it's easier to feel the brake, but I am not a race car driver so for me I can just see it from data and from my eperience to see what people do, but that is my gut feeling, that that's what they do. Kevin can drive around it a little bit more." Steiner said.
These issues are definitely to watch for in Austria, and whether Grosjean can keep calm otherwise the brakes become a more mental issue than anything.
Though most of the lap is easy on brakes the Red Bull Ring's main overtaking spot will be at turn 2, a heavy braking first or second gear corner after a steep hill climb from turn one where Nico Rosberg and Lewis Hamilton famously crashed on the last lap in 2016. Turn 5 kink will be flat out this year followed by two very fast corners of 6 and 7, the quicker of the two. Turn 10 is also critical because it is blind for the drivers, it will be important for both Haas drivers to get this become comfortable with their braking markers here. If Haas can score double points it should give them a more comfortable cushion to Renault behind and keep the pace with their target Toro Rosso.
Pirelli will bring its three softest tire compounds for this Grand Prix weekend – P Zero Yellow soft, P Zero Red supersoft and P Zero Purple ultrasoft – to the Austrian Grand Prix making it the fifth time this season this package has been offered.
by Jeremiah Doctson