We've all been there: Race Weekend.
The thrill and excitement. The smell of the fuel. The sound of the engines. The anticipation for the race to start. The energy building. The lights going out. The speed of the racers. The elation when the racer you support wins or the deflation when they don't. We as fans feel it all.
But, how did Silverstone get to where it is today?
Built in 1942 and used up until 1947 as RAF Silverstone, its sole purpose was for Wellington Bombers in WWII to take-off at the airfield that used to occupy the space. At the end of the war it was left abandoned.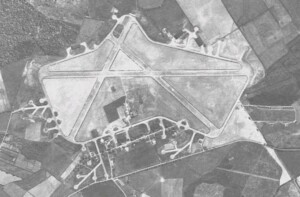 In 1948 the Royal Automobile Club were thinking of bringing back motor racing to England and chose the abandoned airfield located in Northamptonshire as the start of their journey. 30th June 1948 a one-year lease had been secured and later that year in October the first international Grand Prix was held. Behind the scenes a lot of effort took place, 620 marshals were hired, 170 tonnes of straw bales were used and 10 miles of signal writing put into place. The event drew in an audience of 100,000 spectators. The RAC Grand Prix victory went to Luigi Villoresi.
We couldn't speak about Silverstone's rich history without Formula One. During an F1 race there is an average of 52 laps to complete at Silverstone and the circuit length is: 306.198km/ 190.263miles.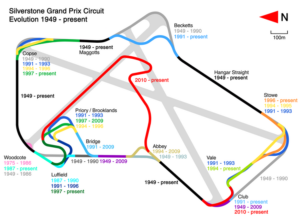 Notable F1 moments:
1950 – King George VI and our now Queen (Elizabeth II) visited and watched the racing. This was the one and only time that a reigning Monarch had done so. The race was won by Giuseppe Farina.
1960 – Graham Hill was cruising to victory ahead of Jack Brabham but with only 5 laps till the chequered flag, Hill spun off, leaving Brabham to take the win.
1971 – Jackie Stewart won that years race and along with it a new lap record.
1983 – Alain Prost hailed victorious, claiming his first win at Silverstone.
1998 – Michael Schumacher oddly won that years race whilst being stationary in the pits.
2008 – Local-boy Sir Lewis Hamilton took victory (and would go on to win 8 times).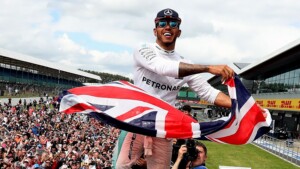 2022 – F1 will return to Silverstone 1st – 3rd July.
F1 British Grand Prix 2021 | Silverstone – Link to tickets.
Notable track moments:
1964 – Trying to improve safety for the competitors and their mechanics, a new pit lane separate to the main track was put in place.
1975 – Brand new pit garages were erected and a chicane was added at Woodcote.
1987 – The s-bend was removed and replaced with a sharp left – right bend on approach and larger pit garages were also added.
1990's – A massive renovation took place to the circuit, which remains today – extra seating was erected and changes were made to the layout of the track eg. run-off at Copse was increased and Stowe became tighter. Further alterations have since followed.
2000's – A new pit and paddock complex was built between Copse and Abbey and a new "arena" complex was ready for the 2010 season.
2018/19 – In 2018 the track was resurfaced but drainage issues forced the Moto GP race to be cancelled. Ahead of the 2019 race, the track was resurfaced yet again.
It has become the home of iconic British Racing, with it's incredible history stretching back all the way to those days in 1948. It is instantly recognisable and is one of the fastest tracks on the racing calendar.
But, it wasn't all about cars. Britain had a taste for Motorbike racing also. During a motorbike race there is an average of 20 laps to complete at Silverstone and the circuit length is: 5.89km. With 8 left-hand corners, 10 right-hands and a 770m long straight.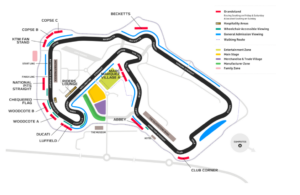 On the weekend of 13th August 1977 the British Motorcycle Grand Prix debuted. It was to be legend Giacomo Agostini's final race, he finished a respectful 9th and American Pat Hennon on the Texaco Heron Team Suzuki took victory.
Notable Moto GP moments:
1978 – Another American won, this time it was Kenny Roberts (Yamaha) who took the win, in-front of two Brits – Steve Manship and Barry Sheene.
1979 – 1981 – Americans dominated the podium: Kenny Roberts took a second victory (1979) and a third (1980). Kenny Roberts and Randy Mamola took 2nd and 3rd behind Jack Middleburg (Suzuki) (1981).
1986 – Australian Wayne Gardner (Honda) took the top-spot. Some may recognise the name – 2021 Moto 2 Champion Remy Gardner's Father.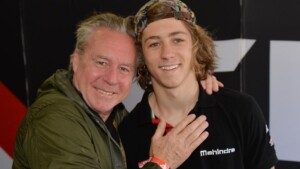 1987 – Eddie Lawson won from Wayne Gardner and Randy Mamola. The racing then left Silverstone in favour of another British track: Donington. But returned in 2010 with modern-day Moto GP.
2010 – Jorge Lorenzo (Yamaha) took the flag from Andrea Dovizioso (Honda) and Ben Spies (Yamaha).
2011 – Another Australian lifted the trophy this time it was Casey Stoner's (Honda) turn. With Andrea Dovizioso (Honda) and Colin Edwards (Yamaha) third.
2013 – All Spanish podium consisted of: Jorge Lorenzo (Yamaha), Marc Marquez (Honda) and Dani Pedrosa (Honda).
2015 – All Italian podium: Valentino Rossi (Yamaha), Danilo Petrucci (Ducati) and Andrea Dovizioso (Ducati).
2016 – Maverick Vinales (Suzuki) took the win ahead of British-man Cal Crutchlow (Honda). The first time a Brit in Moto GP had stepped onto the podium since 1984. Valentino Rossi (Yamaha) was third.
2018 – The race was cancelled due to torrential rain and the circuit having drainage issues.
2020 – Cancelled again this time due to Global Pandemic – Covid-19.
2021 – Current Moto GP Champion Fabio Quartararo (Yamaha) took victory from Alex Rins (Suzuki) and Aleix Espargaro (Aprilia).
2022 – Moto GP will return to Silverstone 5th – 7th August.
British Grand Prix MotoGP | Silverstone  – Link to tickets.
Silverstone also hosted for a brief while the World Superbikes Championship, from 2002 – 2007 and then again 2010 – 2013.
Notable World Superbike moments:
2002 – First time at Silverstone and American Colin Edwards (Honda) won race one with Australian Troy Bayliss (Ducati) winning race two.
2003 – Neil Hodgson was victorious for both race one and two.
2006 – Troy Bayliss won both race one and two.
2007 – Once again Troy Bayliss won race one but race two was cancelled. WSBK didn't return again until 2010.
2010 – Celebrations were in order as Cal Crutchlow (Yamaha) triumphantly won both races.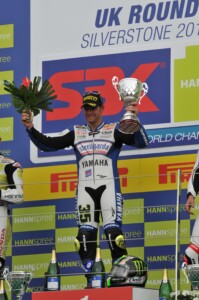 2011 – Carlos Checa (Ducati) decided to check-out and won both races that weekend.
2013 – Jonathan Rea (Honda) took first in race one and Loris Baz (Kawasaki) claimed the win for race two.
Donington became the new home for WSBK afterwards.
Silverstone Race Circuit also has hosted the British Superbike Championship from 1998 – present.
Notable British Superbike moments:
1998 – James Haydon (Suzuki) wins the first BSB race at Silverstone with familiar name Troy Bayliss (GSE Racing bike) winning the second race.
1999 – Troy Bayliss (Ducati) won both races for the weekend.
2000 – Two Brits dominated this time round – Neil Hodgson (Ducati) won the first race and Chris Walker (Samsung Crescent bike) won the second race.
2006 – 2007 – Ryuichi Kiyonari (Honda) spectacularly won all four races.
2012 – Alex Lowes (Honda) claimed both race victories.
2019 – Tarran Mackenzie (Yamaha) took to the podium and took his maiden victory in the second race. Whilst Josh Elliott (OMG Racing UK.com) took the first race win.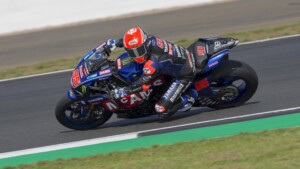 2022 – BSB will return to Silverstone 15th – 17th April.
British Superbike | Silverstone – Link to tickets.
As we immerse ourselves in the racing, witnessing wheel-to-wheel fighting and cheering on the competitors, we say the names given to parts of the circuit but never think twice about where these names originated from.
The story behind the name:
Abbey and Luffield – Luffield Abbey remains were discovered 200 metres from Stowe corner.
Becketts and Chapel Curve – Ruins of the chapel of Thomas Beckett are close to the circuit.
Stowe Corner – Named after the school which resides not too far away.
Maggotts – Maggotts Moor Field is also close to the track.
Copse – A small wood used to be adjacent to the corner.
Club Corner – In honour of the RAC Club.
Woodcote – Named for the Country Club, located in Woodcote Park in Surrey.
Hangar Straight – Two aircraft hangers originally lined the circuit where the straight sits.
Hamilton Straight – Named in 2010 in honour of the achievements of British racing driver Sir Lewis Hamilton.
Village – Commemorating Silverstone Village.
Ireland – Named for Innes Ireland (GP driver and President of the British Racing Drivers Club).
Wellington Straight – Vickes Wellington Bombers were based at RAF Silverstone.
Brooklands – Named for the world's first purpose-built circuit at Weybridge, Surrey.
The Loop – Simply the shape of the corner.
The names may change over time and the circuit may yet again see change and growth. But one thing is for sure, racing unites fans and brings them together to enjoy the absolute ecstasy of the event. We all have our personal memories of a certain race at this legendary track, whether we were there in person soaking in the atmosphere or watching on TV – sitting on the edge of our seats. The magic of Silverstone will always live on.
Featured image: 2019 race win. Courtesy of: Ultimate Motorcycling Magazine