Christian Iddon lined up on the grid at the start of the 2022 British Superbike season onboard the Buildbase Suzuki ran by Stuart Hicken's Hawk Racing Team after landing a ride at the 11th hour. It was confirmed to Christian he wouldn't be retained by the Paul Bird Motorsport team, and effectively being replaced by incoming rider to the championship Tom Sykes.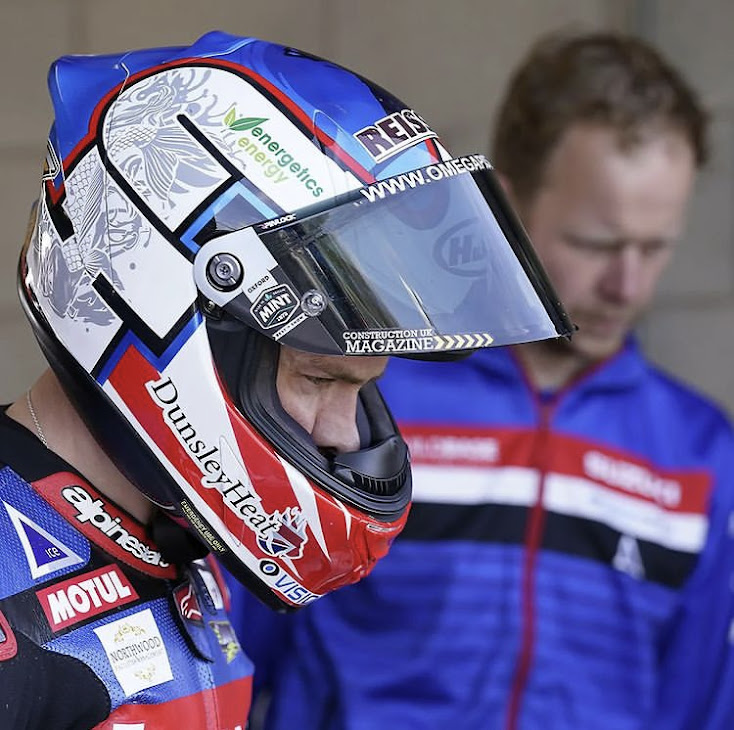 There were lots of rumours surrounding the team at the end of 2021 about 3 rider teams and Iddon wasn't under the impression Sykes was brought in as a replacement, especially after Paul told trackside commentators he had retained both Christian and Josh for 2022, but Paul Bird himself says the team weren't sure they would run by the end of the year after losing the title sponsorship of Vision Track after they moved over to Moto3 with Michael Laverty and also providing sponsorship to Lee Hardy Racing with Leon Haslam.
PBM's decision to go with Brookes and Sykes left Iddon staring down the barrel of not having a deal in place for 2022 when the music stopped due to the late nature of the situation. All this after challenging for the British Superbike title throughout 2021 and finishing 4th overall in the standings.
Christian found himself signing with Hawk Racing as late as Feb 2022, a handful of months prior to the start of the season when it was announced the team needed a rider when Gino Rea decided to take up an option to race in the World Endurance championship. (At the time of writing this, Gino is injured after a crash at the Suzuki 8hr Endurance race and I stand with the racing community as a whole in praying for his recovery and hoping for some positive news as soon as it's available).
Racing Armchair sat down with Christian Iddon to discuss our thoughts on the season so far and how it looks moving forward.
Racing Armchair – After a strong start on the GSXR1000, with regular points finishes, how did you feel when you first rode the Suzuki and how have you settled into the team?
Christian Iddon – Well I wouldn't call it a strong start for sure. Regular points aren't what I'm about when over the last 2 years I have gone into the last round with a chance to win the championship. My expectations have been far higher than what we have currently achieved. It's been a weird season so far. In round 1 I didn't feel fully prepared. I hadn't quite gelled with the bike by the time we got to round 1 but we had made massive headway by the time we got to Oulton. With the double summer break, it has been a strange one. We planned to do quite a lot of riding but in the first part of the summer break the team went off to do the road races and so we planned to do our testing in the second part of the summer break but then I injured myself at Knockhill and after that I wasn't able to do any riding, so I feel like the season has been really disjointed up to now. We are about to head into the crux of it and it's all going to go very quickly from here. So yes, I'm less than impressed with my performance up to now.
Racing Armchair – I can understand why you say that Christian due to the two very strong years on the Ducati. I would imagine you've had to extend your trophy cabinet massively over the last couple of years?
Christian Iddon – Yes! Exactly! You sort of get to a point where you get fed up of getting them. Well not fed up of getting them but it becomes very hard to find somewhere to store them. I'd do anything for another one right now though. It's just been one of them really. We have had a few technical issues and I made an error, a big error at Knockhill which has cost us. I'm pretty confident had we not had all the things we've had, we would be in the showdown positions. At the moment we aren't out of contention, but we would have been within that fight had it not been for a few things. The Suzuki GSXR1000 is completely different to the Panigale V4, but that's obvious as it's a completely different concept of motorcycle. The Suzuki is a great "all-rounder" and I do believe it can win races. The championship at the moment is being dominated by one bike and those bikes are stretching the field quite a lot. I still think I've got more to extract from the Suzuki, and I think a lot of that will come from being more comfortable on it. The disjointed nature of the season and the lack of bike time is what has hindered that process, I feel.
Racing Armchair – And how have you settled into the team? The people, management and your teammate etc?
Christian Iddon – Yes, all good. At this point in my career, I have been in a lot of different teams and every single one does something better than the rest while every single one also does something worse than the rest. If you could pick and choose all the different points, you could put something incredible together, but it never really works like that. The Hawk Racing team has been around since the beginning of time in terms of BSB. It's probably the longest standing team in the championship. [It was founded in 1996] They're a no-frills set up which is fine by me coming from my own off-road background. That was the one thing I struggled to get used to when I first came to short circuits. All the bumpf and the bits that surround it. I'm a grassy field type of person so their setup suits me well and I've got confidence in my crew around me. As a racer that is the main thing really.
Racing Armchair – Suzuki have announced their withdrawal from MotoGP and World Endurance. Would this have any bearing on the Suzuki brand within the British Superbikes? Do you get factory support from Suzuki etc? Or is it a case of Hawk buy the bikes and that's where Suzuki's involvement stops?
Christian Iddon – I don't actually know if it has bearing as I don't know what deals the team has. I'm pretty sure the deal is with Suzuki GB so any worldwide withdrawal from motorsport shouldn't affect us. If anything, it could free up some budget but that's something else to be seen. I think it was more of a shock when Suzuki pulled out of World Endurance because that's to do with the road bikes which are very different to the prototype bikes. The endurance project is based around something they sell, so them withdrawing from that is more of a concern in my eyes. Again, in terms of the support Hawk receive, I don't know the full extent of it. The team work quite closely with Yoshimura, who are a big technical partner, not exactly interlinked with Suzuki but they're pretty knowledgeable with the brand. They swap information quite a lot and work closely together. Suzuki withdrawing caught mine and the team's attention quite strongly, but with BSB the products/info any team receives from a manufacturer, there's nothing there that any team cannot obtain. There are no factory teams as such, that have access to something that is unobtainable from somewhere else apart from there might be some things that are obtainable earlier if you are the 'official team' but there's nothing I am aware of that one team could purchase that another team cannot. If you've got the money and start a privateer team, you can buy the same bike that I'm riding. You could also go and buy the same bike that Paul Bird runs or FS3 for example. That's pretty much the way BSB works and that's also why all the teams can start at a good level because there's nothing super special to one team.
Racing Armchair – You've touched on the broken arm at Knockhill. There was no footage on the TV of what happened. Can you walk us through it?
Christian Iddon – It was a real weird one. It was on the sighting lap, not even the warm up lap. As you go round from the pits to the grid I came towards the hairpin, not at race pace but not a million miles off it. I could see Josh Owens up ahead of me, which was no problem. As I came into the brake zone and started to brake, I thought he was going a bit slow but it was still no problem. I got nearer to him where he was occupying the racing line over to the left-hand side of the track and I started to think of get out clauses. First option for me was to do a 'fly by' down the outside as it's always the safest option, but it wasn't available because Josh was far over to the left-hand side. I didn't want to go down his inside at that point because if he had tipped in, it would have been a big crash, which I definitely wouldn't want to do. So I decided to stay on the same heading, behind him. I was pretty convinced he was going to tip into the corner before I got to him, but then I got really close to him and I realised now he was doing almost no speed whatsoever and he never tipped in. I tried to take avoiding action at the very last moment and didn't quite manage it and took Josh down with me. It was a pretty big crash to be fair. It was just one of them moments where you just cannot believe what has gone on, in the gravel wondering if it's just some kind of bad dream. It's never happened to me before and I don't want it to ever happen to me again. So I picked the bike up, which was in a bit of a state and managed to get it back to the pits for the team to fix it. I started the race from the back of the grid but there was no strength in my arm. Not that the pain was too much, I just had no strength. So I pulled in and retired from the race.
Racing Armchair – And so off to hospital for an X-Ray and that was that?
Christian Iddon – Yes. I had broken the top of my Humerus. Not across it but vertically up it as the ligament has pulled a section of bone off the main bone, basically like a chunk has come off at the top. That's why I had no strength because the top of my arm wasn't attached to my shoulder. Even now I still can't lift my arm over shoulder height, and it's taken a lot longer to heal up than I would have hoped. I'm still in a lot of discomfort from it and it's still bothering me. It's just a huge frustration. I have to hold my hands up to it as I rode into the back of Josh [Owens]. Josh did come over and apologise for riding so slowly, which he is well within his rights to do so as it's only the sighting lap and it's on me not to run into the back of someone. I don't think I would ever be going that slow on the racing line because I would always be nervous of someone coming out of the previous corner, unsighted. He wasn't unsighted to me, it just caught me absolutely unawares that he was going so slowly. It caught me completely off guard. I don't think I have ever come across anyone going that slow on a track.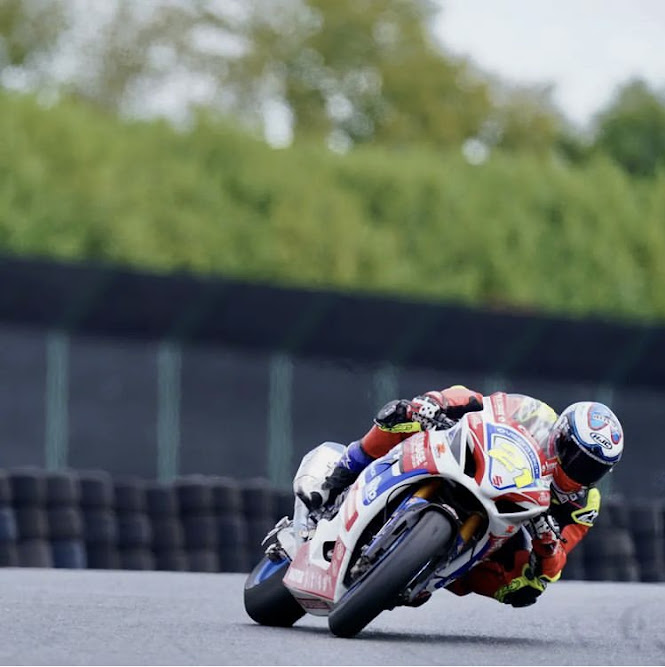 Racing Armchair – I'm getting an image in my head of travelling 70mph on the motorway and suddenly happening on someone doing 10mph?
Christian Iddon – Pretty much that. When I came across him, it felt like he was at walking pace. He obviously wasn't but the speed differential made it feel like that. I was trying to scrub off a head of speed and there was just no way! You only have a split second to make your decision. If I had gone down the inside, then I'd have missed him completely and run wide and nothing would have happened. At the time though, my thought process was if he does tip in, then I'm going to collect him and hurt him, which I really didn't want to do. I took the flyby option hoping he would tip in and I could go straight past but that didn't happen either. Option three happened and it didn't work out too well. A real frustration for me as I don't mind having a crash when you're pushing on. These things happen, crashing race bikes and injuring yourself, but to do both things and lose three races worth of points in a such a way, that was just a disaster. We lost all three races at Knockhill. We have had two mechanicals that, although haven't pulled me out of the race, they did severely hinder my point scoring opportunities in those races, which makes five and a daft crash at Brands Hatch so that's six races where I have had issues.
Racing Armchair – Speaking of Brands Hatch… I noticed the crash in free practice and DNF in Race 2. Were those crashes a result of the arm or not related?
Christian Iddon – Unrelated. Just one of them things. Although the crash I had in FP2 (turn 10 left hander at Stirlings) the lap earlier a thought had gone through my head along the lines of "My arm feels much better now, it's loosened up". FP1 had been difficult and then FP2 I was on a really good lap, my best of the whole weekend which looked good enough for top four and I lost the front on the exit of the corner. Stirlings isn't a corner you would normally crash at, and I hit the barrier hard and really hurt my arm again. After that FP3 was just a case of getting through it. I think it finished something like 22nd. That FP3 crash meant going from feeling good, to not feeling good at all, but the funny thing is I didn't have the feeling with the bike that I wanted in FP2. I trusted that it would stick [racing terminology that the bike wouldn't slide out and crash] but after that I didn't trust it. It's amazing how one tip off can turn your weekend around. I only qualified 15th as a result which made Race 1 difficult and finished 7th which was pretty good. From there I started to rebuild the weekend and then Race 2 coming into the same corner I didn't get my backshift. I knew it hadn't backshifted! I had a quick look down at the dash and it said 3rd. I thought "don't try and shift down at the wrong moment" as even going from 3rd to 2nd can unsettle the bike. So just roll round the corner in 3rd and then take the backshift to get back on the gas. As I took the backshift after the corner, the back end just rolled round on me. I had absolutely no idea what had gone on. When we checked the data, the bike had dropped into neutral, meaning when I took the backshift it dropped into first, not second gear. Due to only doing one flying lap, I started the next race in 24th on the grid with no hope of doing anything from there.
Racing Armchair – How did that affect the confidence going into Race 3?
Christian Iddon – Confidence wasn't knocked at all really. That 2nd race crash was just ridiculous. It was caused by the bike saying it was in one gear when it wasn't. It was my mistake but the information I had at the time was telling me different to the reality. If the bike had said neutral, I'd have done something different with it.
Racing Armchair – I think you're being hard on yourself there. I'd say that's a mechanical error rather than your mistake. You've just said, you only have a split second to make decisions. I wouldn't think at those speeds you're sat staring down at the dash mid-corner?
Christian Iddon – It's just one of those things, but we need to not be having them things. It didn't knock my confidence, but it was pure frustration which had already been building for a while because I am not where I expect to be in the season. The trouble being you don't ride well when you're frustrated anyway. Race 3 wasn't too bad considering. Up to 9th but really dropped off towards the end with my arm and finished 11th from 24th. A good effort in such a field. I need to start shaping up though and scoring some better results.
Racing Armchair – How's the fitness/recovery going now? Were you set back by Brands?
Christian Iddon – It definitely set me back. The longer this goes on, I might have to have some work done after the season is finished. We are absolutely in the thick of it now, so there's no chance that's going to be done before the end of the year. For now, I have just got to get on with it and worry about that at a later date. I can ride through pain more or less but it's the weakness that could be a struggle at the moment. Just have to look forward now and make the most of it. I am not one for giving in. I have no plans to do that, so we will do the best we can.
Racing Armchair – Three rounds left before the showdown, and only 26 points from Taz in 8th covering you, Haslam, Brookes, Buchan and Hickman, to me that means you are in a good position with nothing to lose?
Christian Iddon – We definitely have nothing to lose now. Until one round ago Taz wasn't even in the showdown. He wasn't until Brands that he had and all of a sudden, he's looking great. If there's anyone I think might not make it in, it would be Tommy Bridewell based on the Ducati not being an out and out race winner at the moment. When I look at the points, I am not looking at Taz in 8th as its highly likely he will climb the standings. It's Tommy I am looking at in 7th. At the moment, the thought process hasn't changed from the last few years. Race as hard as you can and the points take care of themselves and what will be, will be. I try my best at every round. It's only when you feel safe, you might have a few rounds where you take a safe finish. We aren't in that scenario. For us it's go and race as hard as you can and take as many points as you can.
Racing Armchair – In the hands of fate now. Hoping for some good luck and perhaps hoping to gain some advantage from someone else's misfortune further up the grid?
Christian Iddon – Yes I suppose. Look, I've given you my story for the year but I'm sure every rider you interview up and down the grid will give you a tale of woe. We all have 'ifs, buts and maybes' but in motorsport, any of those riders can have a mechanical issue or a crash or something that could lose them quite a lot of points. The main thing for me is to be scoring top finishes, podiums and not be far off the podium.
Racing Armchair – Thruxton next. A good round for you? Last year a podium, DNF with Lee Jackson taking you out and a top 10 in the wet. Are you looking forward to it?
Christian Iddon – It's the biggest unknown for everyone in the series. Anyone coming there aims to make the tyres last. For me it's the least important track to go fast at so it's definitely the most interesting one in terms of being an unknown. I think it will suit the Suzuki pretty well and Danny Kent had a podium there last year so I'm looking forward to it.
Racing Armchair – The run-up to the showdown also includes Snetterton and Cadwell Park. How do you feel about those circuits?
Christian Iddon – I was at Cadwell the other day on a track day but it was hard to get some free track time. That considered we still did a pretty good lap time. Snetterton has been good to me for the last couple of years. It's more about trying to understand my bike around these circuits and maximise what we have. There isn't really a track I look forward to more than any of the others. They all have their good points etc. Generally you're a fan of any circuit when things go well and you hate them when things go bad. I hated Snetterton and then I got my first win there, so all of a sudden I was like "Oh, I quite like this place" so it can change pretty quick. Somewhere as technical as Cadwell Park can be like that. It's horrendous there if you're not flowing with your bike but if you are flowing, it's probably the best place EVER. You don't really know though until you turn up on the weekend which way it's going to go or how it's going to feel.
Racing Armchair – Can that differ from year to year on the same brand of motorcycle? For example two years on the Ducati.
Christian Iddon – Not really. If it does, then you know it's down to you that's for sure.
Racing Armchair – Is it too early to be looking at contracts for next year? I would imagine you don't want a repeat of last year, waiting for the finalisation of the PBM Ducati team?
Christian Iddon – To be fair it's impossible to have a repeat of last year because he didn't keep me waiting. We were done. We had the same handshake that we'd had the year before. In my mind we were done. It's not about having a repeat of that. The only way we can have a repeat of that is if someone does what he [Paul Bird] did to me. It's a situation that I wish hadn't happened. I get on with all them boys in the PBM team, it's just the fact he dropped me so late on and the timing was a problem. Thankfully the Hawk team were on hand to take me on. I think it's going to filter down once Rory Skinner and Tarran Mackenzie decide what they're doing as it all goes from the top down and the house of cards comes into play.
Racing Armchair – I think with Tarran wanting to go to World Superbikes last year, he found out exactly how much it was going to cost and how much he needed to find from his sponsors, and he's used this year to raise the funds. The rumours are Tarran is adamant he wants to go to World Superbikes next year, so that would leave a seat at McCAMS up for grabs and there are a lot of people saying Rory is nailed on for Moto2 next year, so there's another bike in the mix to shake things up.
Christian Iddon – Exactly. Last year we all waited to see what Taz and Jason O'Halloran did and like I said, it usually goes from the top down.
Racing Armchair – Thanks Christian.
Christian Iddon currently sits 13th in the championship only 26 points off from the showdown positions with 3 rounds to go. 225 points are available between now and the chequered flag at Cadwell Park at the end of August after the three superbike races per weekend. Christian not only needs points to reach the showdown but will want podium credits too, so as not to start the showdown in 8th place. I wish Christian the best of luck to remain injury free for the year and hope to see his season turn around in the run up to the Showdown.
Thanks for reading. Hope you enjoyed it.
You can find me on twitter using @racingarmchair