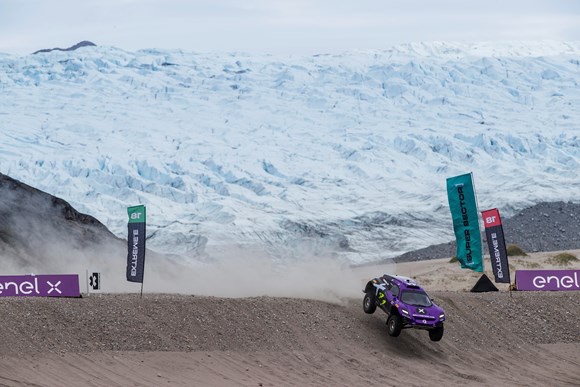 image courtesy of ExtremeE
X44 topped an incredible day's qualifying yet again as the Arctic XPrix weekend gets into full swing.
It was the new girl, Emma Gilmour, who kicked off qualifying in Q1 for the Veloce team. Coming in for the occupied Jamie Chadwick, Emma set a strong pace for teammate Stephane Sarrazin to build upon. Stephane had an uneventful run and, after a 10 second penalty was awarded for Emma knocking over a flag, Veloce Racing set a benchmark time of 14:19.436.
JBXE's Mikaela Ahlin-Kottulinsky was next out on track and was going strong until the suspension broke as she went over the rocks. Their Q1 session ended without Kevin Hansen getting in the car.
Xite Energy Racing and ABT Cupra followed as both teams had incident free runs to go 3rd and 1st respectively, with ABT Cupra posting a superb time of 13:48.947, some 30.48 seconds quicker than Veloce's initial time.
With ABT Cupra the new benchmark it was the turn of championship leaders Rosberg X Racing to take to the track. Johan Kristoffersson was the first of their two drivers to tackle the track and was several seconds up as he got to the halfway point of the lap. At that point disaster struck. As Johan went over a bump, the motor suddenly cut out. It took a few crucial seconds to reboot the car, and, as the car cut out twice more, they were left over a minute down when Molly Taylor took over. Yet more bad news for the RXR team as, just a short way into the lap, Molly rolled the car, sustaining huge bodywork damage in the process. Somehow, she was able to continue and brought the car home 1:40.69 seconds down on ABT Cupra's time.
Sara Price got Chip Ganassi's qualifying off to a flyer, handling the track superbly to give the team a lead coming in to the changeover. Last event's super sector dominator, Kyle Leduc, came into the car and stormed the track to give the team a lead in this weekend's super sector and provisionally fastest qualifier. However, at some point in the lap, Leduc hit a flagpole and was given a 10 second time penalty. This put them just behind ABT Cupra in the standings.
X44 were fastest qualifiers in both the previous rounds coming in to this weekend and they made a strong case to do so again. Both drivers had clean yet fast runs and they went quickest by about 3 seconds, with a time of 13:45.235.
Andretti United and Acciona Sainz finished off the first qualifying session in Kangerlussuaq, Greenland as both teams looked to set themselves up nicely for the races tomorrow. Acciona Sainz had a careful run and went 6th quickest, some 55.64 seconds off the pace. Unfortunately for Andretti United, the car shut off as Timmy Hansen came into the braking zone for the change over, losing him a minute of time. Catie Munnings was only able to claw back a bit of the deficit as the American outfit finished Q1 in 7th position.
Classification standings and points following Q1:
X44 13:45.235 9 points
ABT Cupra +3.71 8 points
Chip Ganassi +6.39 7 points
Veloce +34.20 6 points
Xite Energy +51.74 5 points
Acciona Sainz +55.64 4 points
Andretti United +1:29.95 3 points
RXR +1:44.40 2 points
JBXE DNF 1 point
Stephane Sarrazin kicked off Q2 for Veloce but problems started almost immediately for the Frenchman. By the time he had reached the first turn, the power steering had broken. He tried to reset the system but was unable to fix it and the team were only able to set a benchmark time of 16:51.810
Kevin Hansen then did his first and only lap of the whole of qualifying for the JBXE team. He was initially very quick but more issues struck as the car shut down coming in to the braking zone for the switch over, just as it did for his brother Timmy. Once they'd got the car going again, Mikaela jumped in and had a solid lap that saw the team go fastest so far with a 14:42.102.
Problems seemed to be the theme of the day as the next three teams all failed to complete their Q2 runs. Xite Energy's Oliver Bennet suffered techincal issues, meaning he was unable to complete a lap. ABT Cupra's Ekstrom made it a little further but came in to the switch zone with both rear tires punctured. The team were unable to change them and Jutta Kleinschmidt did not finish the run. Chip Ganassi's Kyle Leduc didn't even make the halfway stage as the rear left suspension broke going over a jump.
Next it was the turn of the Q1 quickest, X44. Loeb set the pace early, handing over to teammate Gutierrez with a 10 second advantage over JBXE. Christina had a steady run and brought the car home to provisionally top the session with a time of 14:37.598.
The rest of the qualifying session was uneventful as Andretti United, Acciona Sainz, and RXR all had solid runs to round off qualifying 3rd, 5th and 1st respectively.
Classification standings and points for Q2:
RXR 14:26.647 9 points
X44 +10.951 8 points
Andretti United +14.917 7 points
JBXE +15.455 6 points
Acciona Sainz +30.377 5 points
Veloce +1:56.163 4 points
ABT Cupra DNF 3 points
Xite Energy DNF 2 points
Chip Ganassi DNF 1 point
For the final qualifying classification the points from both qualifying sessions were added up, with ties being settled by who had the fastest super sector times. X44 topped the classification, going on to compete against Veloce and Acciona Sainz in Semi Final 1. ABT Cupra, RXR, and Andretti United will compete in Semi Final 2. The first 2 finishers in each semi final will progress to the final. The last spot in the final will be contested between Chip Ganassi, JBXE, and Xite Energy.
Final Qualifying Classification:
X44 17 points
ABT Cupra 11 points
RXR 11 points
Andretti United 10 points
Veloce 10 points
Acciona Sainz 9 points
Chip Ganassi 8 points
JBXE 7 points
Xite Energy 7 points
RXR's lead at the top of the championship has weakened slightly following qualifying as X44 close to just 12 points away. Points that count in the championship are awarded by the position in qualifying, with the fastest, X44, receiving 12 points, and the slowest, Xite Energy, receiving just 4.
Here's how the championship looks heading in to the races tomorrow:
RXR 81 points
X44 69 points
JBXE 49 points
Andretti United 46 points
ABT Cupra 46 points
Acciona Sainz 43 points
Xite Energy 41 points
Veloce 39 points
Chip Ganassi 36 points
With qualifying completed, we're finely poised for an exciting day of racing tomorrow!