It's time for the big one! This is it. The WRC is heading for the iconic roads in Finland. Formerly known as the 1000 Lakes Rally, this very fast event includes the super-fast Ouninpohja, a stage that you must have absolute faith in the car and the pace notes that will guide you through its jumps and, run twice on Saturday, it features jumps and blind crests over its 24.38km's! One key difference this year is that this stage will be run in the opposite direction compared to last year.
Last year saw Kris Meeke and Paul Nagle win during their part time season with Citroen. This year has certainly not been what they wanted, with a single victory in Mexico, and various other problems causing retirements, including mechanical problems and mistakes from Kris. He sat out the last round in Poland, but is back for this one.
In the Jipocar squad, Mads and Ola have parted and so for this round, he'll have a new co-driver called Torstein Eriksen alongside him.
Here are the details of the stages.
RALLY FINLAND SCHEDULE(GMT+3)
THURSDAY JULY 27
8.00am: Shakedown – Ruuhimäki (4.62km)
6.42pm: Start (Jyväskylä)
7.00pm: SS1 – Harju 1 (2.31km)
7.25pm: Parc ferme (Jyväskylä)
FRIDAY JULY 28
6.05am: Service A (Jyväskylä – 15 mins)
7.12am: SS2 – Halinen 1 (7.65km)
7.45am: SS3 – Urria 1 (12.75km)
8.48am: SS4 – Jukojärvi 1 (21.31km)
10.06am: SS5 – Halinen 2 (7.65km)
10.38am: SS6 – Urria 2 (12.75km)
11.42am: SS7 – Jukojärvi 2 (21.31 km)
1.37pm: Service B (Jyväskylä – 30 mins)
3.00pm: SS8 – Äänekoski-Valtra 1 (7.39km)
4.13pm: SS9 – Laukaa 1 (11.76km)
5.11pm: SS10 – Lankamaa (21.68km)
6.09pm: SS11 – Äänekoski-Valtra 2 (7.39km)
7.22pm: SS12 – Laukaa 2 (11.76km)
8.30pm: SS13 – Harju 2 (2.31km)
9.00pm: Flexi Service C (Jyväskylä – 45 mins)
SATURDAY JULY 29
7.20am: Service D (Jyväskylä – 15 mins)
8.58am: SS14 – Pihlajakoski 1 (14.90km)
10.06am: SS15 – Päijälä 1 (22.68km)
10.49am: SS16 – Ouninpohja 1 (24.38km)
12.02pm: SS17 – Saalahti 1 (4.21km)
1.27pm: Service E (Jyväskylä – 30 mins)
2.55pm: SS18 – Saalahti 2 (4.21km)
4.08pm: SS19 – Ouninpohja 2 (24.38km)
5.16pm: SS20 – Pihlajakoski 2 (14.90km)
6.24pm: SS21 – Päijälä 2 (22.68km)
8.39pm: Flexi Service F (Jyväskylä – 45 mins)
SUNDAY 30 JULY
8.00am: Service G (Jyväskylä – 15 mins)
9.25am: SS21 – Lempää 1 (6.80km)
10.08am: SS22 – Oittila 1 (10.12km)
11.47am: SS23 – Lempää 2 (6.80km)
1.18pm: SS24 – Oittila 2 Power Stage (10.12km)
2.21pm: Service H (Jyväskylä – 10 mins)
3.00pm: Podium
All of this adds up to 314.20 km's of action. Let's hear then from the drivers.
M-Sport WRT
Sébastien Ogier said:
"Rally Finland is most definitely a highlight in the season. The Finns certainly know how to deliver a good rally, and these gravel roads are tailor-made for rallying.
"It's fast – really fast – and the big jumps and high grip levels offer an incredible sense of speed that every driver looks forward to. At that pace, you're fighting for tenths of a second and I'm expecting a very close battle.
"The weather looks as though it could be a little unsettled, so we'll have to wait and see how that plays out, but we want to be in the fight at the top. That demands a near-perfect performance throughout the weekend with no mistakes and a set-up that delivers confidence in the driving.
"We had a two-day test this week and, although it was cut short and I'm sorry for my teammates who were unable to continue, the car felt fantastic. I'm really looking forward to the rally now – where we hope to secure a good result for our championship defence."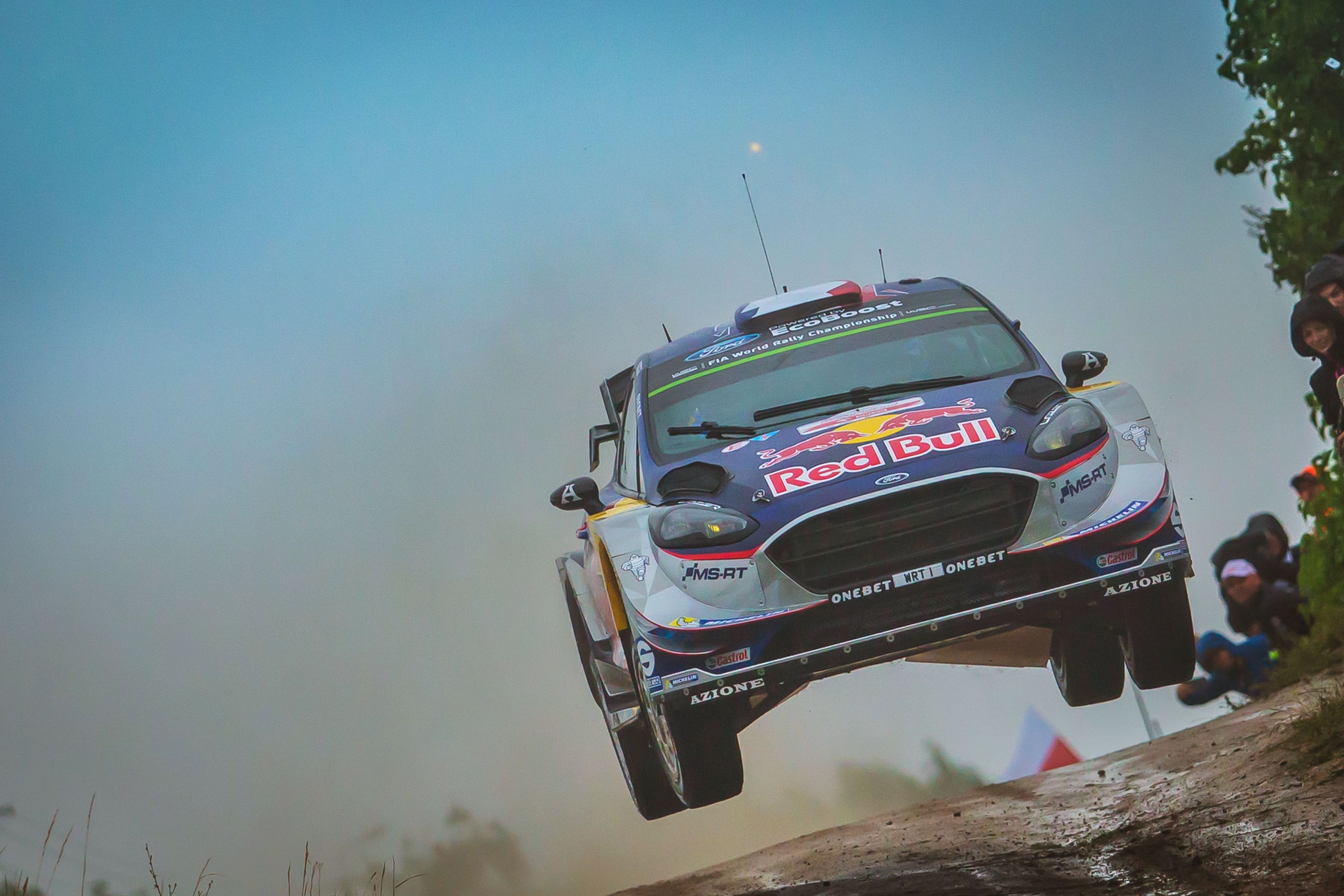 Ott Tänak said:
"Poland didn't end the way we wanted it to, but we know that we have the pace and we'll be looking to take that forward to Finland – another high-speed rally and another of my favourite events.
"I think every driver looks forward to Rally Finland. When you're on it and hook up the perfect stage there really is no better feeling – and we'll be hoping for plenty of that next week.
"The roads are really fast with blind corners after big jumps and a surprising amount of grip. You need to be brave and confident in yourself. If you don't feel completely comfortable it's almost impossible to push to the maximum and you'll lose time – something that's not easily gained at these speeds.
"We completed a two-day test in Finland this week – working to find the best set-up – and I'm confident that we'll be able to fight at the head of the field again. I'm looking forward to it and I'm excited to see what we can do."
Teemu Suninen said:
"It's always nice to start to my home rally, and it will be especially nice this year as we're behind the wheel of a world rally car.
"We were brought up on these roads, which are incredibly fast, but many people forget that I actually don't have a lot of experience at Rally Finland. I've driven the stages of Rally Poland quite a few times with a four-wheel drive car, but the Finnish stages not so much – and I've never driven Ouninpohja in this direction!
"Of course, I'm excited to be competing on home soil, but the goals remain the same as they would on any other rally and we will need to drive well to secure the result we want.
"In Poland, we aimed to be in the top six and finished sixth. Losing a position on the final stage felt like a small disappointment, but that does not change my approach for Rally Finland. We'll need to be on the top of our game from the start if we want to achieve our goals, and that is certainly the aim."
D-Mack WRT
Elfyn Evans said:
"Rally Finland is one of the most enjoyable events of the year and I think everyone is looking forward to this year's encounter. With these new cars, the spectacle will be something very special and I'm looking forward to seeing what we can do.
"We're keen to get back to the sharp end and at the moment the weather looks as though it could be a little unsettled so we'll have to wait and see how that works for us – hopefully the conditions won't be as challenging as they were in Poland.
"The stages are so fast and you need to have precise Pacenotes and the confidence to drive to the maximum. The high speed combined with the technical nature of the stages is incredible and when you get into a good rhythm it's a phenomenal feeling.
"It's not all fun and games though as the margins for error are so fine. That said, we've shown some pretty good speed here in the past and, if everything works in our favour, anything is possible."
Hyundai Motorsport
Thierry Neuville said:
"We were delighted with both our own and the team's performance in Poland. We hope that it can be a real catalyst for further success moving towards the end of the season. The car is looking very strong and with two wins on gravel already this season it has shown how competitive we can be. We are confident that we can continue to challenge for the Championship. We know that Finland can be a tricky event and that the margin of error is minimal due to the high speeds and complexities of the track, but we are confident of putting on a good show."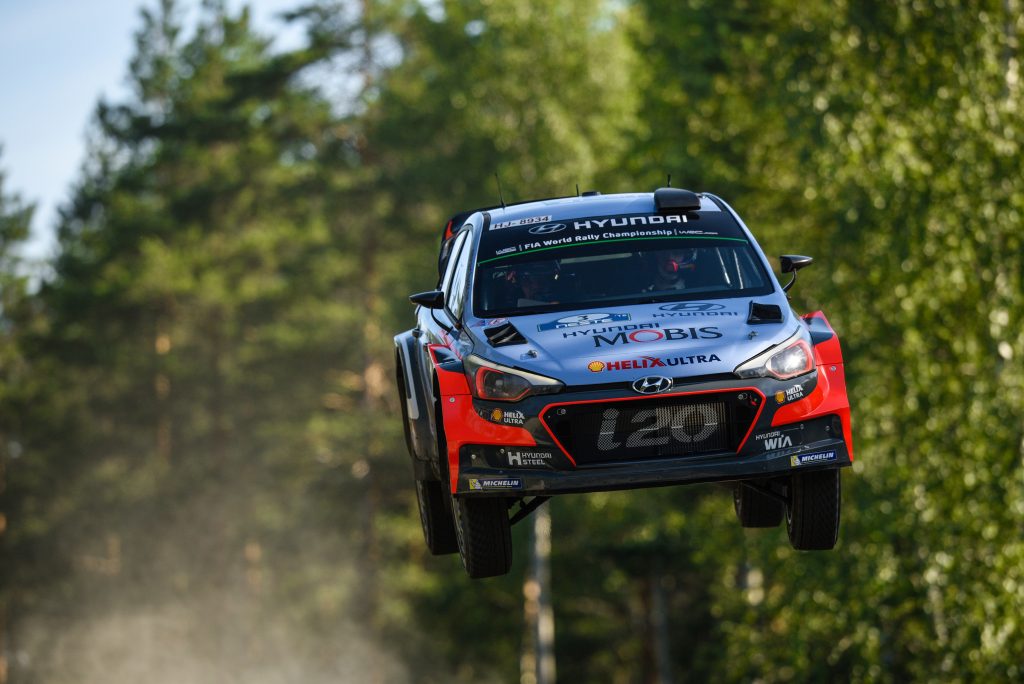 Hayden Paddon said:
"Finland is definitely a rally that I enjoy, it's very fast and it has got a lot of history. We know how tricky an event it can be, given the speeds that we reach and some of the difficult jumps and corners that come up during the event, but I've done it eight times now, so it's good to have that experience. It's a rally where I feel at home, so we want to put on a really good show for everyone watching. That Polish podium has given us a big confidence boost, and we can't wait to get back out on the stages and look for a similar result."
Dani Sordo said:
"Having come close to a podium in Poland, we are hopeful that in Finland we can claim a top-three finish. It has been a mixed season for us so far with some positive results and a few challenging moments. We have had a few issues in some events that have hindered our progress but we are as determined as ever. We want to continue the second half of the season on a positive note. Finland is a tough event, but we will do all we can to get the most out of the car and ourselves to score more points for the Drivers' and Manufacturers' Championship."
Toyota Gazoo Racing WRT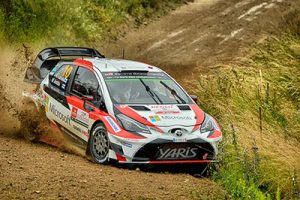 Jari-Matti Latvala said:
"Along with Monte-Carlo, Finland is the rally that everyone wants to win; especially if you are Finnish. There's pressure to do well, but it's a positive pressure. No doubt about my target: victory. I'm feeling confident, but I don't think there's such a thing as a big home advantage for Finnish drivers anymore. Now that so many of the stages are used every year, the other drivers have got a lot of experience as well. I'm expecting a big fight."
Juho Hänninen said:
"Finland is the rally I have done more than any other, so I'm feeling quite confident. I don't want to set any specific targets but I'm definitely going to push hard from the start and see how high we can finish. There's no choice in Finland: the speeds are so fast that you don't have time to build up to speed; you have to be awake from the first corner. The work we did on the test was mainly on the suspension and now it feels really good. I also had some rain at the start of my test but this is positive as it means that the roads should be really compact and in the right condition for the rally."
Esapekka Lappi said:
"It's going to be really exciting to take part in my home event for the first time with a World Rally Car. I think there's a chance that if we have a perfect rally we could be on the podium, but everything would have to go without a hitch because the gaps in Finland are normally so small. Our car should be very well suited to the roads in Finland: I think the aerodynamics and engine are really our strong points. This rally is a big job for my co-driver Janne too as he'll be calling out the pace notes at speeds that are much faster than we have ever experienced in Finland before."
Citroen Abu Dhabi WRT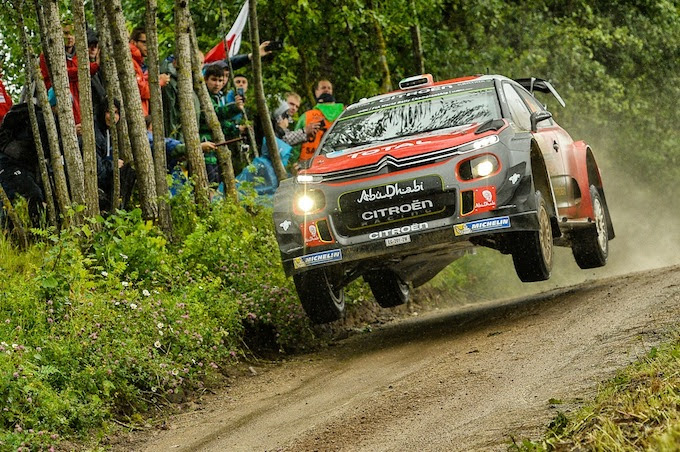 Kris Meeke said:
"Rally Finland has always been one of my favourite events, but it became even more special after my win here last year. You have some of the best gravel roads in the world here and it can be an awful lot of fun drive on them. I'm pleased to be back behind the wheel of the C3 WRC, although I'm expecting it to be a tough rally. Our test sessions were mostly held in the rain and with cool temperatures. It looks likely that we'll have similar conditions for the rally, so my being tenth in the running order won't be an advantage if the roads are covered in mud! Whatever happens, we'll do our very best to secure a good result for the team."
Craig Breen said:
"This rally is one of the ones where I feel most comfortable. I have very fond memories of last year's rally, where I secured my first World Championship podium. After a frustrating Rally Poland, I can't wait to get started here and will be aiming for a good result. After four fifth-place finishes, obviously, I'd like to go one or more better. We'll just have to wait and see whether or not the racing conditions enable us to fight at the front. I'm also pleased to have the latest upgrades on the Citroën C3 WRC."
Kalid Al Qassimi said:
"Finland is an extremely fast rally and the jumps can be difficult to negotiate. My aim will be to maintain a good pace in the C3 WRC. We'll need to work well during recce, in order to have precise pace notes. My day of testing gave me the chance to re-familiarise myself with the quick roads here, and discover the latest upgrades made to the car. I would like to wish Kris and Craig the best of luck and hope that they can once again secure the best result possible."
Jipocar WRT
Mads Østberg said:
"I am looking for a new permanent codriver after we agreed with Ola to go separate ways earlier this summer. Torstein has been a part of our team organisation since 2012, he knows my pacenote system and he has been with me in the car during testing. He is a very competent codriver, but the challenge for him is to adjust from the speed of the R5-cars he is used to the full 2017 spec WRC-Fiesta. I`m sure he will manage well".
"Finland is really something else, and you need to be extremely mentally tough with yourself to cope with the highspeed nature of the event. You sometimes need to go beyond what your brain tells you is the "sensible" approach. But if you start braking that little split-second early, you immediately will lose a lot of time. The fight is always very close in Finland, a few seconds in either way can mean the difference between a top or a mid-field position. I have been on the podium in this rally before, and if things go according to plan I will aim to fight for many points this time"
"First and foremost, we were happy with finishing Poland relatively problem-free, and we had good speed on the fastest bits. Finland is however different with all the jumps. On some stages, you feel you are in the air most of the time. Of course, it isn`t so, but it makes for a really special challenge"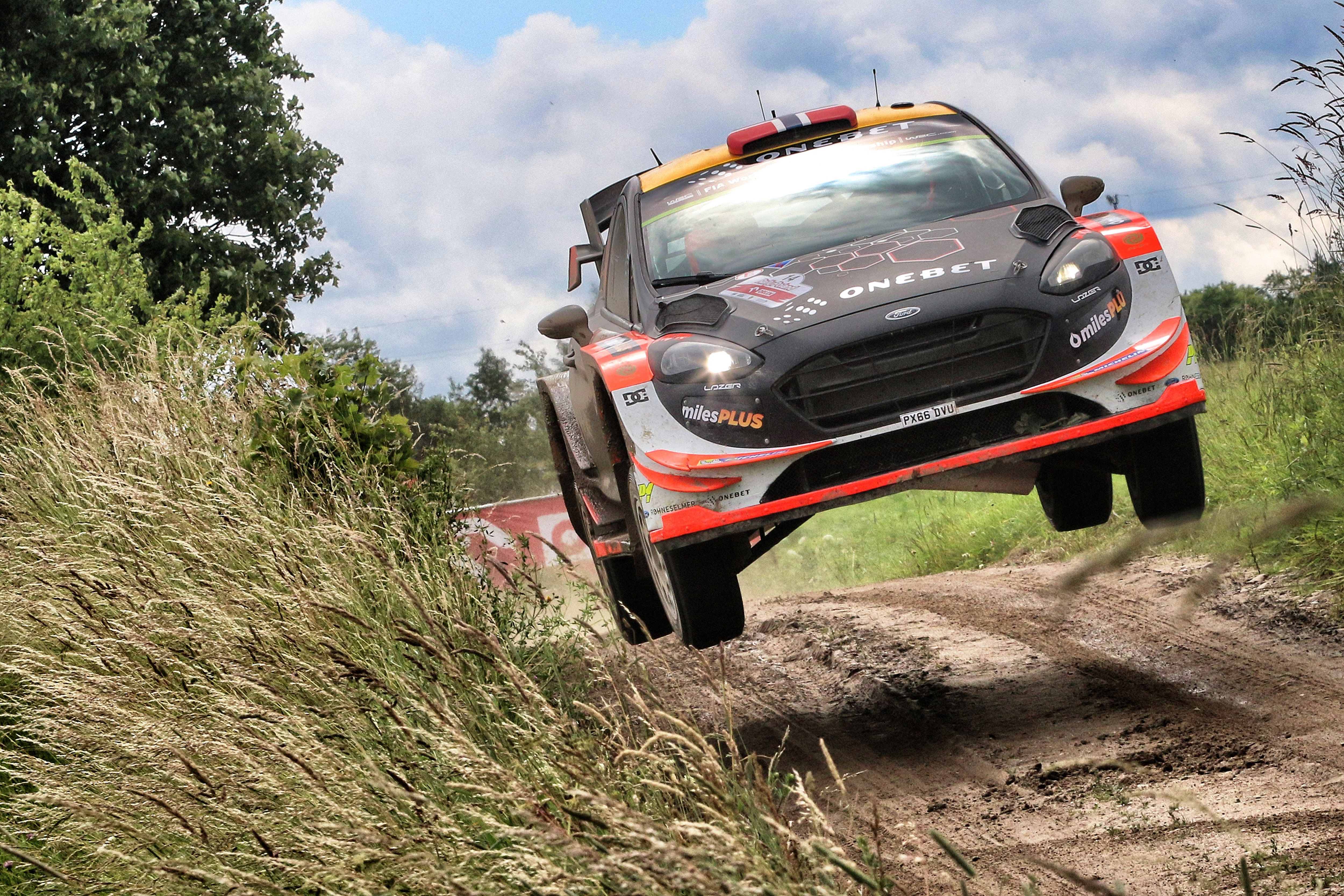 Just a few days to go then and what an amazing event this will be. There's some uncertainty about the weather, with some reports of possible rain throughout the three days. This would make running at the front as Seb, Thierry and Jari-Matti less of a disadvantage. Both Seb and Jari-Matti have won on these roads, but Thierry will want to give Hyundai their first podium and perhaps it will be a win.
This is last year's result.
Kris Meeke / Paul Nagle (DS 3 WRC) 2:38:05.8
Latvala / Anttila (VW Polo R WRC) +29.1
Breen / Martin (DS 3 WRC) +1:41.3
Neuville / Gilsoul (Hyundai i20 WRC) +1:45.9
Paddon / Kennard (Hyundai i20 WRC) +1:48.2
Østberg / Floene (Ford Fiesta RS WRC) +2:04.6
Mikkelsen / Jaeger (VW Polo R WRC) +2:22.4
Lappi / Ferm (Skoda Fabia R5) +4:53.8
Abbring / Marshall (Hyundai i20 WRC) +5:22.4
Suninen / Markkula (Skoda Fabia R5) +5:35.5