Let me take you back in time. In 1997, the reigning F1 champion was Damon Hill. He'd won the title when driving for Williams-Renault, but had lost his seat to Heinz-Harald Frentzen at the end of 1996.
Nineteen ninety-seven was tough for Damon, but there came a moment in that year's 11th round in Hungary. He qualified 3rd on the grid with only Michael Schumacher and Jacques Villeneuve ahead. After qualifying, he was in a bullish mood and was clearly up to the fight for the win.
After the start, Michael and Damon were running first and second. Do remember that the Arrows were running Bridgestone tyres and most of the others were on Goodyear's. From lap five to lap ten, Damon started to close the gap to Schumacher's Ferrari, and at the start of lap ten, Damon pounced and took the lead at turn one.
The reason for Michael's lack of pace? Well, the Goodyear tyres were blistering in the relentless hot weather that day in Hungary.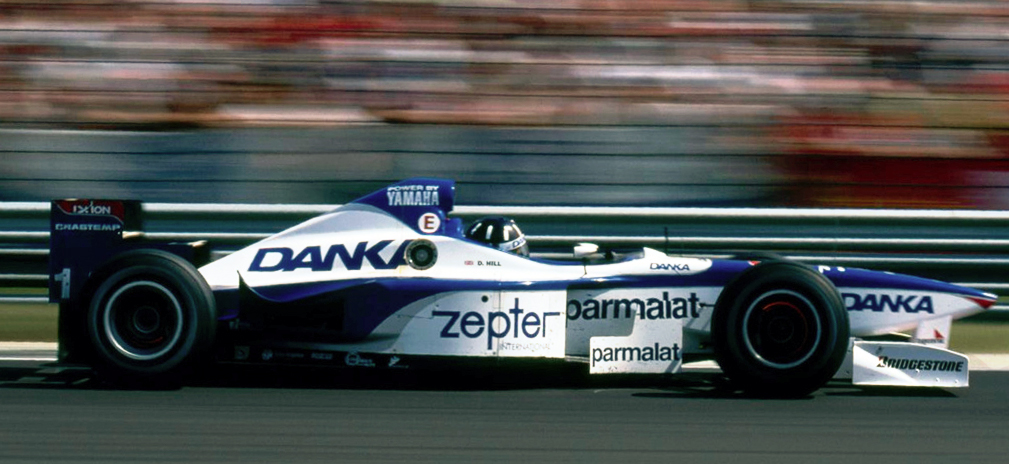 So, what happened next? Well, after 15 laps, Damon had a 7.9 second lead over Jacques. He was in the groove! On lap 19, he lapped his teammate, Pedro Diniz who was in 19th place. Twenty-two laps into the race, and the gap between Damon and Jacques was 5.1 seconds.
Lap 23, and Jacques and DC in his McLaren pitted for new tyres and fuel. Damon pitted at the end of the same lap. All the other teams made their stops and Frentzen was in the lead at the start of lap 27, but heading into lap 28, he would start to get a problem with his car, which was highlighted with flames coming out of the rear. At the end of this lap he made his stop for tyres and fuel, but the team would retire the car.
Damon was back in the lead at the start of lap 30, with 47 still to go. Pole sitter Michael was down in 4th. Jacques, David and Michael were running together, 33 laps into the race, contesting 2nd, 3rd and 4th.
However, Michael pitted at the end of that lap, leaving JV and DC to fight.
At the start of lap 36 Damon's lead over the remaining Williams Renault was now over 12 seconds. The top five was now, Hill, Villeneuve, Coulthard, Herbert, Schumacher. Into lap 40 and the lead was now 18 seconds. Just a remarkable drive from the reigning champion.
Lap 44, and Damon's lead was now 21 seconds over JV, who was continuing to fight to keep David behind him. Such was Damon's dominance, he even lapped Jean Alesi during this lap.
Over the next few laps, the lead would grow larger between Damon and JV. Damon and Jacques would make their second pitstops on lap 51. The lead that Damon had was now 26 seconds. To explain how big this lead was, Damon was already turning into the first corner, whilst Jacques and DC were in the penultimate corner.
Fifty-three laps down, and Jacques was 27 seconds down on the leader. We started to believe that we would witness a famous victory. What could stop Damon and Arrows-Yamaha?
Just as JV and DC lapped Pedro Diniz, Damon's teammate retired from the race. Lap 57 and Damon was now 29 seconds ahead of second placed Jacques, with DC keeping him close company. How far back was Michael? 54 seconds! Just incredible.
We were in the final stages of the race and there were around 17 laps to go. Brothers Michael and Ralf were fighting over fifth position and Johnny Herbert was ahead of them both in 4th place. Damon's lead was now over 30 seconds.
On the 65th lap, David retired from the race. Johnny in his Sauber was promoted to 3rd place. With twelve laps to go, the top five was, Hill, Villeneuve, Herbert, M. Schumacher, R. Schumacher.
Damon's lead had increased again and was now 32 seconds. In fact, it continued to grow with each lap. On lap 72 the lead was now 35 seconds. There were just five laps left. Fourth to seventh was covered by just a few seconds with Michael leading Ralf (Jordan), then Eddie in the other Ferrari and finally Nakano in the Prost Mugen-Honda. Just three laps remaining! I remember thinking, this is it. Damon's going to do it!
He started lap 75….. He started having problems accelerating and you could see the car was visibly slower. The car had suffered hydraulic failure and it was stuck in fifth gear.
Jarno Trulli unlapped himself at the end of lap 76. Then Gerhard Berger as well, who was in 8th position.
The Arrows was still moving though and it was the last lap. After turn three Jacques took the lead in spectacular style, putting two wheels on the grass! The dream of victory was over for Damon and Arrows. Now it was all about making sure he finished on the podium. JV crossed the line and celebrated his victory, Damon finished in second place and Johnny Herbert third for Sauber. Jacques winning margin in the end was 9 seconds.
It was a remarkable race, which will always remain in my memory and shows just how good Damon was at developing a car. This would also be the last time a driver from Arrows would stand on a podium.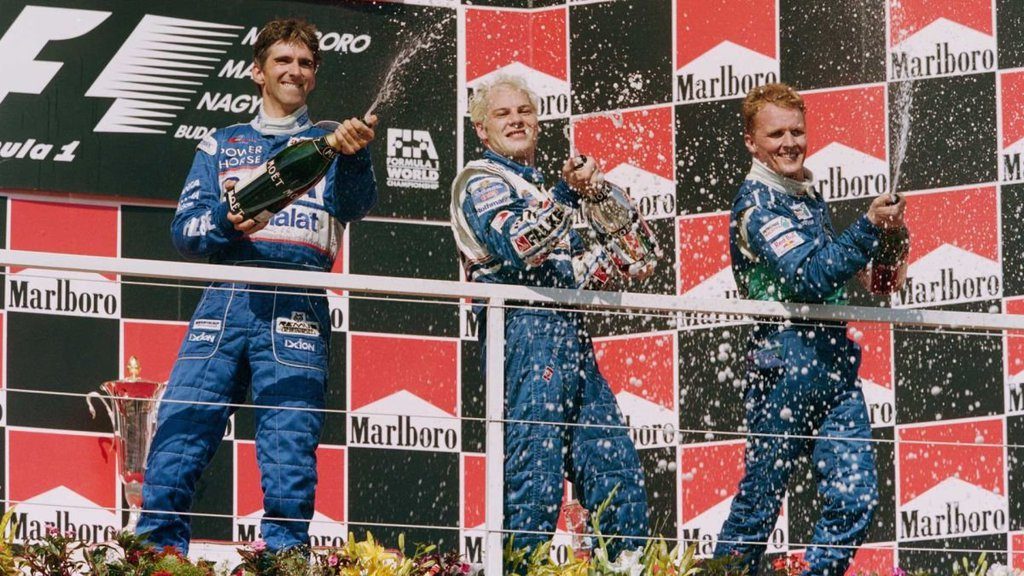 Finishing positions
1st.    J. Villeneuve
2nd.   D. Hill
3rd.   J. Herbert
4th.   M. Schumacher
5th.    R. Schumacher
6th.    S. Nakano
7th.    J. Trulli
8th.    G. Berger
9th.    E. Irvine
10th.  U. Katayama
11th.  J. Alesi
12th.  T. Marques
13th. M. Salo
Those that retired.
Coulthard       Lap 65    Electrical
Verstappen   Lap 61     Gearbox
Diniz                  Lap 53    Electrical
Fisichella        Lap 42    Spun out
Frentzen         Lap 29    Fuel system
Barrichello     Lap 29    Engine failure
Hakkinen        Lap 12     Hydraulics
Morbidelli       Lap 7       Engine failure
Magnussen    Lap 5      Steering