William Byron won Sunday's Goodyear 400 at Darlington Raceway by avoiding two huge pile-ups and keeping his car inside the top 10 all race long, to secure his seventh career win and third win of the season while lots of drivers' good days, including teammate Kyle Larson, were ruined by being caught up in multi-car pile-ups caused by Ross Chastain and Martin Truex Jr. 
Another Blow to Larson's Quest for Darlington Cup Win
Chastain Overdrives into Truex
Truex wrecks Logano
Bubba Wallace Comeback
Rest of Race Recap
Full Race Results
Points Standings
Byron snuck past the carnage caused by Truex Jr. and Joey Logano wrecking in turn one on a late race restart that created a pile-up behind them, moving Byron up into third place, where he had spent much of the race until a slow pit stop with less than 40 laps to go saw him fall back to ninth.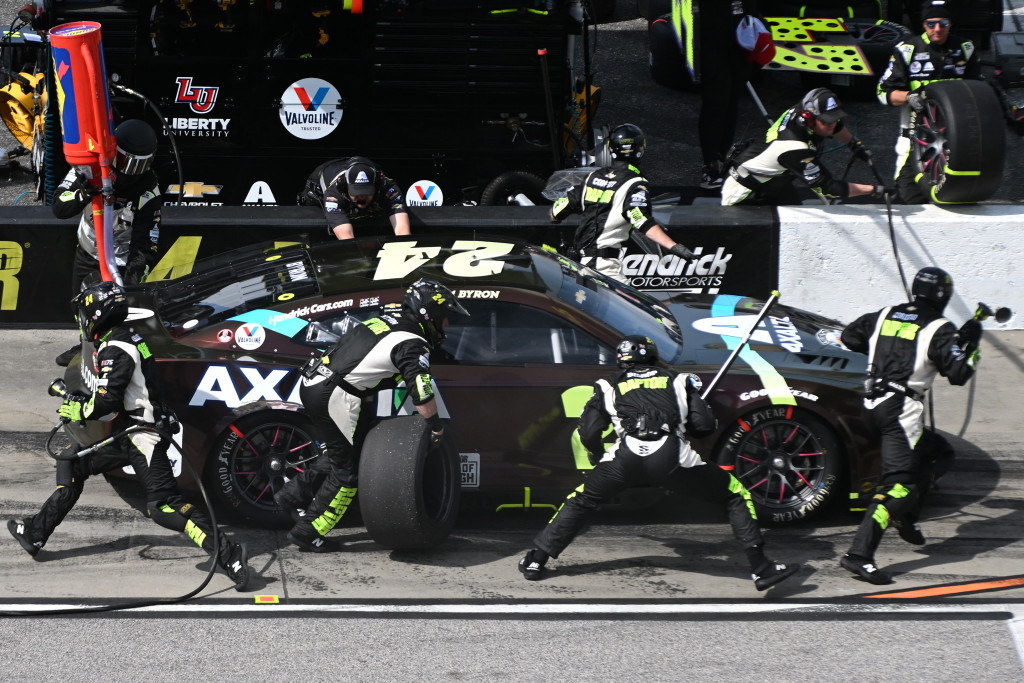 He found himself taking the lead via another pile-up on the very next restart with six laps to go as Chastain and Larson wrecked in turn one much like Truex Jr. and Logano had.
Byron easily fought off Harvick in the two-lap overtime shootout as Harvick's car had suffered front-end damage from the first pile-up, to take the chequered flag in what was a moment of redemption for Byron as he had lost last year's Spring Darlington race to Joey Logano via a bump and run in turns three and four on the final lap.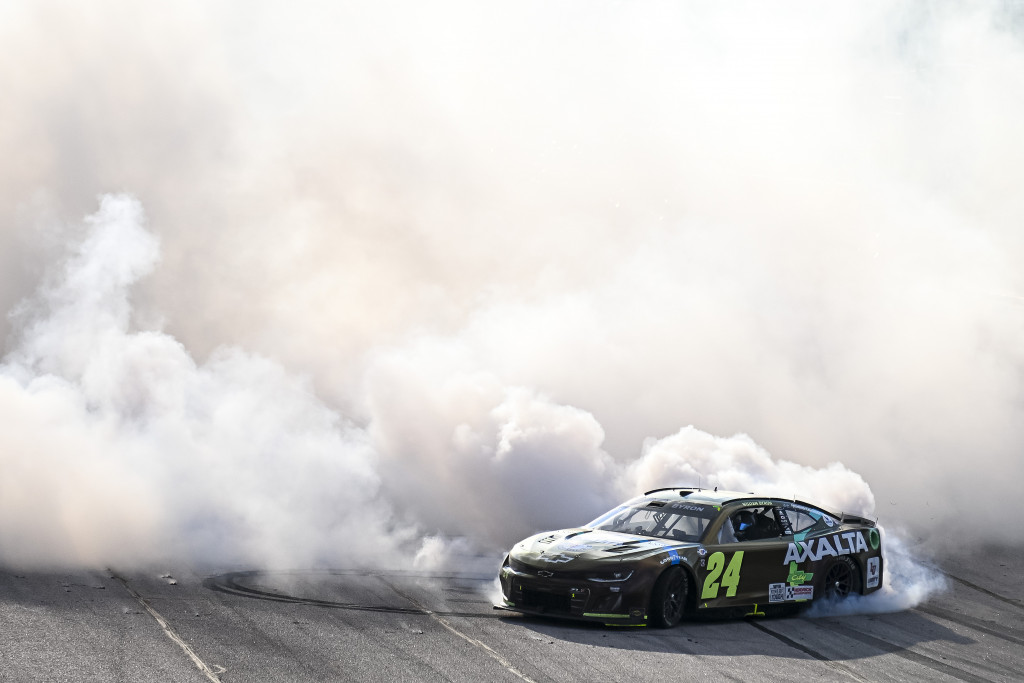 Byron said: "My grandad passed away on Thursday, and just, man, I wish my family could be here. Just things have a way of working out, honestly. It just worked out that way today. We didn't have the best third stage. We just kept battling, and things just kind of come back around."
As part of NASCAR's Throwback Weekend at Darlington's Raceway on its 75th anniversary, William Byron's No. 24 team was running a throwback paint scheme to four-time Cup champion and Hendrick Motorsports Vice Chairman, Jeff Gordon's shiny 1998 All-Star Race DuPont (now AXALTA) Chromalusion/NASCAR 50th anniversary car.
Byron's redemption Darlington victory appropriately secures the No. 24 car it's 100th win in NASCAR, with Jeff Gordon having scored 93 of them.
Another Blow to Larson's Quest for Darlington Cup Win
Kyle Larson fell short of a Darlington Cup Series win once again, after marching through the field and appearing to have the best car, only to be taken out by Ross Chastain who while also having one of the strongest cars in the race, failed to stop himself from causing multiple pileups from asking too much out of his race car.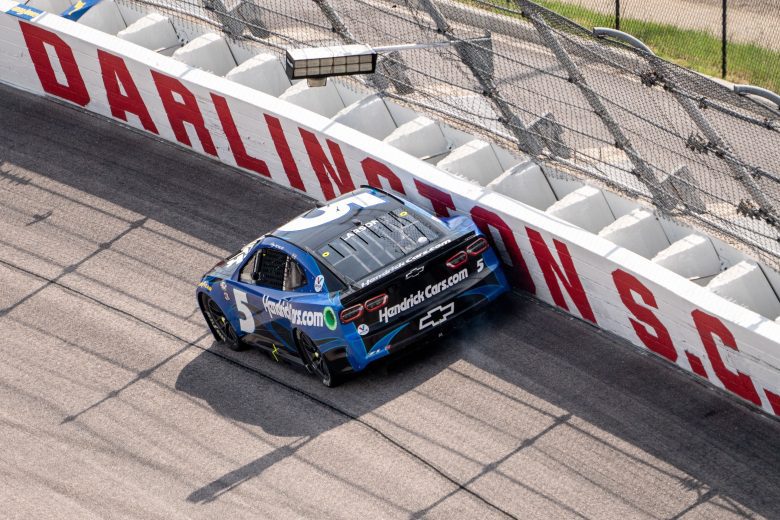 Larson, Saturday's Darlington Xfinity race winner, became buried back in traffic after having a slow pit on lap 39 in stage one but went from 29th to 12th by the end of the stage.
Larson impressively cut through the field all the way up to third by the end of stage two and was a threat for the win as he jumped race leader Ross Chastain during the final green flag pit stop on lap 246, and led over 20 laps until a caution for returning Cup Series veteran Ryan Newman saw the field be restacked with Larson and Chastain lined up together for the lap 281 restart.
As Truex and Logano wrecked behind them, Larson lost the lead as Chastain had inched ahead on the inside from the last scoring loop the two had past prior to the caution.
The next restart saw the pair race tightly side-by-side into turn one before Chastain sailed up into Larson and spun off Larson's nose causing a pile-up behind with Larson pushing Chastain sideways out of turn two, dashing both their hopes for a Darlington win with Larson and Chastain ending up 20th and 29th.
Rick Hendrick, owner of Hendrick Motorsports and Kyle Larson's No. 5 Chevrolet post-race said regarding Chastain's aggressive driving: "It's hard to win a championship when you got a lot of paybacks out there. Dale Earnhardt Sr. said 'he got all the talent. He just doesn't know how to race. [Chastain] is making a lot of enemies out there."
Chastain said: "I got really tight and drove up and turned myself. I wanted to squeeze him. I wanted to push him up. We'd been racing back and forth all day. But I definitely didn't want to turn myself."
Larson did make contact with Chastain prior to the incident as they battled over the race lead as Truex Jr. and Logano wrecked behind them on the previous restart.
It's yet another one that got away for Larson's Darlington Raceway quest for a Cup Series win at The Lady In Black after previously amassing three runner up finishes, in 2019 and in both 2021 races as well as finishing third in the 2016 and 2018 Darlington races. 
It's the third time this season that Chastain has had a coming together with Larson that cost them the chance at a win, previously at Dover and Talladega.
Chastain Overdrives into Truex
Chastain had ran inside the top-five for much of the race and led over 100 laps before crashing into Larson. After finishing fourth in stage one, Chastain drove like he had been shot out of a cannon following the green flag pit stop halfway through stage two that saw him fly by Byron for second on lap 147 and race leader Truex Jr. four laps later as was able to hold off a late charging Truex for the final 11 laps to win stage two but not without controversy.
In turn three on the final lap Chastain broke hard behind a lapped car and bounced off the wall and into Truex who was sent spinning down the track and would finish 10th while Chastain would win stage two.
Truex's car remained tight for the remainder of the race, with Truex putting it down to a bent toe link in the right front as a result of the contact.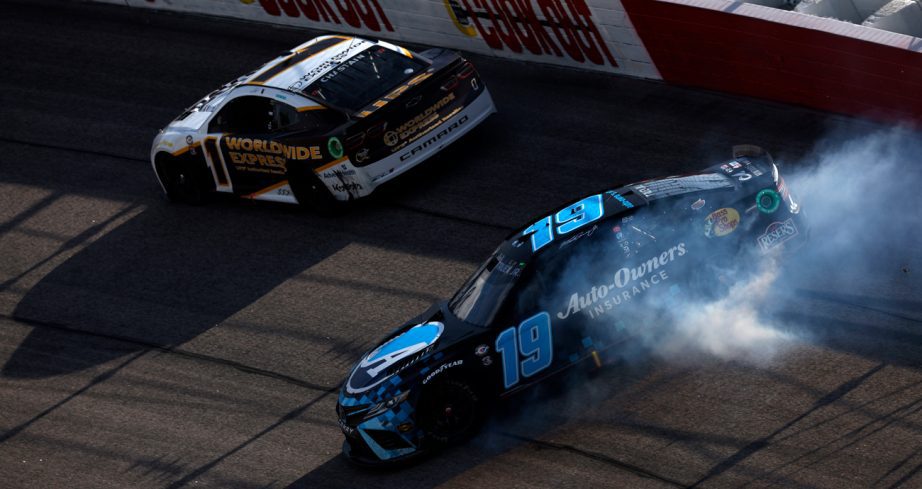 All this comes just days after Chastain's fighting incident with Legacy Motor Club driver Noah Gragson following the Kansas Cup race where he decided to land the first punch on pit road post-race after Gragson was displaying his displeasure towards him for running him into the turn four wall during the race.
Truex Wrecks Logano
Martin Truex Jr. started on the inside of Logano on row two for the lap 281 restart but got tight underneath him in turn one and ran Logano into the wall, and spun off of Logano's Ford Mustang causing an eight-car pile-up and all but ended what had a been a strong day for the polesitter having led 145 laps.
Truex said: "Like I said, knocked the toe out in the right front. Pretty crappy from there, and then on that restart, I guess I just got real tight and I don't even know who I squeezed into the wall, but I apologize to them. Probably my fault, just got real tight and couldn't stay down the track."
Logano and Truex Jr. would finish 18th and 31st respectively. Logano was running a distinctive 1973 Mark Donohue throwback scheme for the race that had got Team Penske their first NASCAR Cup Series win at Riverside.
Bubba Wallace Comeback
Bubba Wallace came back to a fifth place finish after plummeting to 18th from third during the stage one break following a slow pit stop due to a lug nut issue.
Wallace had qualified second and dominated stage one with Truex until Byron passed Wallace for second with 10 laps to go in stage one.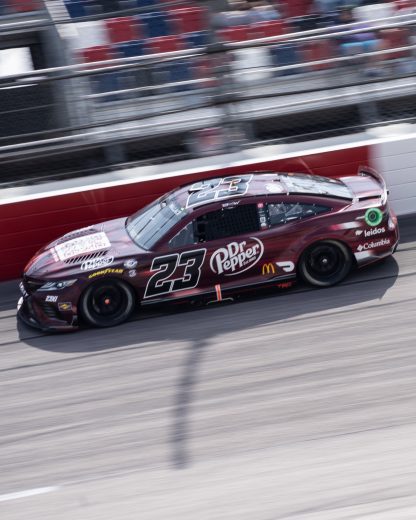 Wallace found himself stuck during stage two unable to move forward much as only managed 15th at the end of stage two.
Avoiding being caught up in the late race drama saw Wallace earn valuable points with the fifth place finish.
Rest of Race Recap
The drivers to give command for Sunday's race were none other than the drivers from NASCAR's 75 Greatest Drivers list, all of which had been selected and revealed throughout the year up until the throwback weekend with drivers who could attend it in person such as Richard Petty, Jeff Gordon, Dale Jr., and Kevin Harvick giving the command to start engines.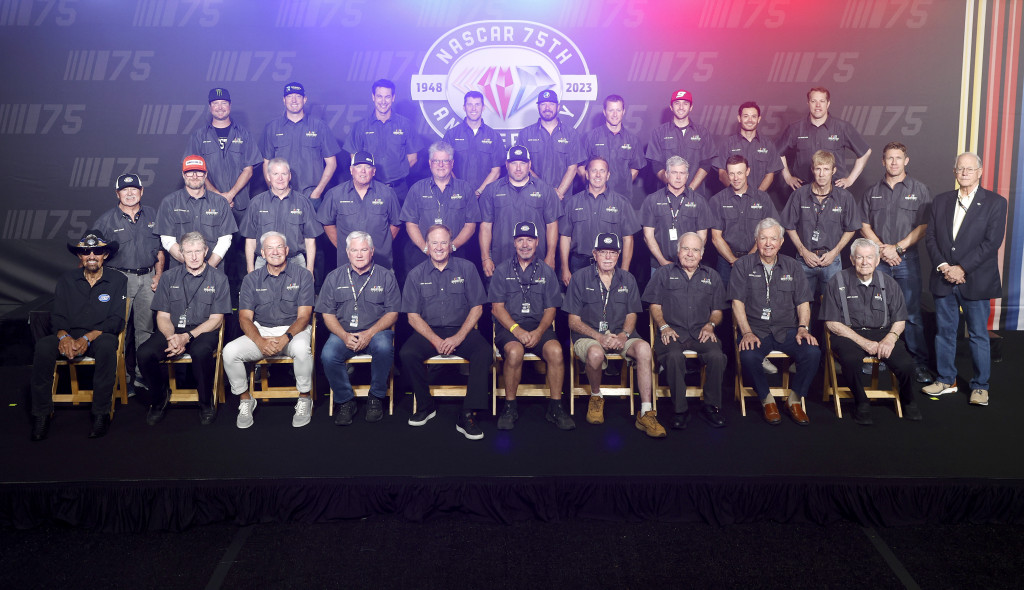 Truex Jr. following the last lap spin in stage one, led the first half of stage two keeping ahead of Byron, despite Byron pitting lap earlier for fresh tyres, bringing the gap down from over four seconds to 1.4.
Lap 194 saw Erik Jones crash into the pack off turn two on a restart due a loose wheel coming away from under him, causing a nine-car crash that took Austin Dillon, and Daniel Suarez out of the race.
Jones, who was running a 1968 Richard Petty Daytona 500 throwback scheme, had worked his way up inside the top 15 from a 28th starting position.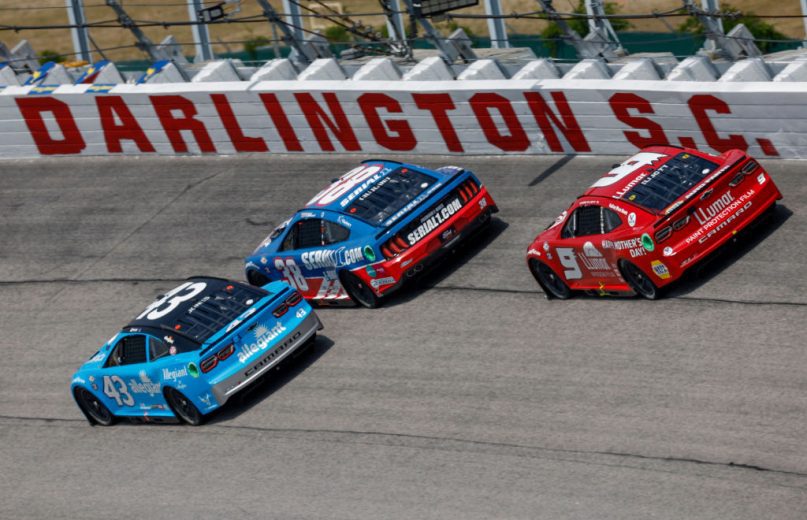 A few laps into the final stage saw Ricky Stenhouse Jr. who had ran as high as sixth throughout stage one, spin out in turn three bringing out another caution.
With 78 laps to go on the next restart, Chastain and Kyle Busch, who had been inside the top ten all race, led the field back to green but Busch slid up into the turn two wall dropping down to fourth.
There was a three car battle in Chastain, Byron and Larson inside of 50 laps to go that saw Larson come out on top following the final green flag pit stop.
Three time Darlington Southern 500 winner Denny Hamlin stayed out for several laps during the final green flag pit cycle in a hope for a caution that would drag the field down pit road with him but did not come in time before Larson took the lead back from Hamlin on fresher tyres.
Christopher Bell was running second to Larson inside of 20 to go but a loose wheel from the pit stop forced him back down pit road under caution following Newman's spin, which saw him start from the rear.
Due in part to the two late race pile-ups, the final top 10 was somewhat new compared to the rest of the race with Chase Elliott finishing third after a steady march through the field, Harrison Burton sixth, Justin Haley eighth, and Chris Buescher tenth.
The next race for the NASCAR Cup Series sees them return to the legendary and freshly renovated North Wilkesboro Speedway in Wilkes County, North Carolina this Sunday for this season's All-Star Race with the All-Star Open last chance qualifying starting 5:30pm ET and the All-Star Race starting at 8pm ET.
Full Race Results 
William Byron
Kevin Harvick
Chase Elliott
Brad Keselowski
Bubba Wallace
Harrison Burton
Kyle Busch
Justin Haley
Ryan Blaney
Chris Buescher
Todd Gilliland
Denny Hamlin
Ricky Stenhouse Jr.
Christopher Bell
Ryan Preece
Ty Gibbs
Chase Briscoe
Joey Logano
Austin Cindric
Kyle Larson
Aric Almirola
Tyler Reddick
AJ Allmendinger
Corey LaJoie
Erik Jones
Noah Gragson
Ty Dillon
Ryan Newman
Ross Chastain
Josh Berry
Martin Truex Jr.
BJ McLeod
Michael McDowell
Daniel Suarez
Austin Dillon
Brennan Poole
Stage 1 Top 10
Martin Truex Jr.
William Byron
Bubba Wallace
Ross Chastain
Kyle Busch
Brad Keselowski
Ricky Stenhouse Jr.
Kevin Harvick
Tyler Reddick
Christopher Bell
Stage 2 Top 10
Ross Chastain
Kyle Busch
Kyle Larson
William Byron
Brad Keselowski
Christopher Bell
Kevin Harvick
Ryan Blaney
Ricky Stenhouse Jr.
Martin Truex Jr.
Points Standings
Ross Chastain – 429
Christopher Bell – 402
Kevin Harvick – 400
Denny Hamlin – 393
William Byron – 387
Martin Truex Jr. – 385
Ryan Blaney – 381
Tyler Reddick – 371
Brad Keselowski – 365
Kyle Larson – 363
Kyle Busch – 353
Joey Logano – 334
Chris Buescher – 329
Ricky Stenhouse Jr. – 325
Bubba Wallace – 293
Chase Briscoe – 275


---

Daniel Suarez – 262
Ty Gibbs – 260
Austin Cindric – 248
Michael McDowell – 241
Todd Gilliland – 240
Corey LaJoie – 238
Justin Haley – 225
Erik Jones – 221
Aric Almirola – 221
AJ Allmendinger – 214
Chase Elliott – 212
Ryan Preece – 201
Harrison Burton – 176
Austin Dillon – 166
Noah Gragson – 138
Ty Dillon – 110
BJ McLeod – 70
Featured Image: DARLINGTON, SOUTH CAROLINA – MAY 14: William Byron, driver of the #24 Axalta Throwback Chevrolet, reacts after winning the NASCAR Cup Series Goodyear 400 at Darlington Raceway on May 14, 2023 in Darlington, South Carolina. (Photo by Logan Riely/Getty Images)