————-
 Slightly Mad, Beautifully Authentic
 ————-
Project CARS 2 is a sequel to the original game released in May 2015. Once more developed and published by Slightly Mad Studios, the game doubles in car size, now boasting 182 cars from 38 different manufacturers with additions from Ferrari and Porsche. Electronic Arts lost their exclusive contract with Porsche recently, the manufacturer now appearing on all new driving releases, Slightly Mad used RUF in 2015.
__________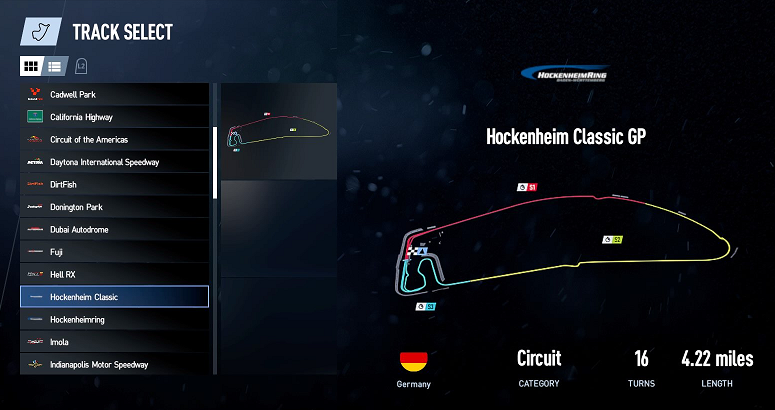 ————-
It now holds the record, taking it from the first edition for most tracks, 46 locations and 121 different formats, Knockhill in Scotland, Long Beach in America and historic tracks such as the high speed Hockenheim in Germany which you can see above.
 ————-
It is the first game in recent years to have secured a contract with Verizon who own Indycar, boasting the full 2016 car roster and liveries with the I
ndy 500 as an official event. This is a tier 1 category in career mode. All cars and tracks are available on single player and online from the start so no need to do any unlocking if you are a casual gamer.
 ————-
The weather/physics system they use, Livetrack, is in its third form a truly dynamic approach to rain, and especially to dirt and snow taking a leaf from Codemasters' critically acclaimed DiRT series with Rallycross entering the fray.
 ————-
Because of such unique situations, where puddles form and dry out individually, the track never seems static, always evolving in the process throughout the race. A true challenge especially in the lower categories. As you can see below the spray in the Formula rookie series around Watkins Glen. You can also see from this the lovely graphics the game has and graphical interface of position on track, track map and speedometer.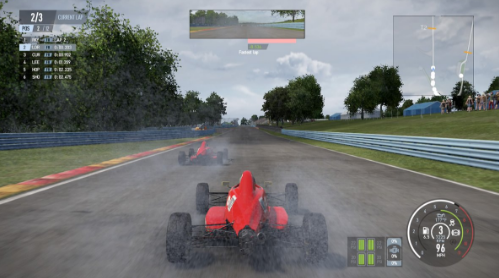 The career mode which was such a success on the first game is just polished further, having the tiers of category, starting low down in tier 6 with Go-Karts or Formula Rookie, heading towards the heights of Indycar and the World Endurance series.
————-
Depending on your success, you will be invited to a series of invitationals, so much so you might do a Nico Hulkenburg or Fernando Alonso and attempt the historic events of the Le Mans 24 Hours and Indy 500, of which if you fancy can be the full duration, but shortened down to a smaller time if you wish.
 ————-
The most fine tuned cars on the gaming market. The noise and handing of them are so realistic, the way you could tune the setups for the cars is amazing. There are probably thousands of different setups, where a 0.1psi change on a tyre makes a huge difference.
 ————-
They have also got eSport interest and will be streaming events on the internet. Qualification for these events will begin shortly. For all you gamer nerds the achievements on Xbox and trophies on Playstation are a slight challenge, but doing these give you the full appreciation of the game.
 ————-
Project CARS 2 is everything you wish for a sequel to be, bigger, better and amazing. One of, if not the best driving simulator I have ever driven on! Further DLC is announced, so more tracks and cars to get aswell! Gaming at its highest level.
 ————-
Chris Lord
 ————-
Pictures are captures on a Playstation 4, from @C_Lordy91 twitter.  This game is out on PC, PS4 and Xbox One from 22/09/2017.