The final day then and with 56km's over four stages, could Elfyn hold on and take victory or would Ott be able to fight back and take a second win of the year? Meanwhile, Esapekka would be looking to take third, unless anything would happen in front of him. Also, there was the battle between Kalle and Seb to settle. Finally let's remember that all crews were out there and competing for Craig.
The first stage then, SS17 Trakošćan – Vrbno 1 – 13.15 km and Kalle was fastest from Seb by 3.7 seconds whilst Elfyn was third and with Ott down in sixth, the gap widened between the top two. The Finns pace meant that he passed Seb and moved into fourth overall. In WRC2 Yohan continued to lead, with Nikolay now 14 seconds behind and holding second place and reigning WRC champion Emil in third.
Onto SS18 Zagorska Sela – Kumrovec 1 – 14.09 km and Thierry was fastest from Kalle by just nine tenths of a second and Seb third. The gap was widening with the Finn going a little faster than his teammate. Meanwhile, Elfyn continued to lead Ott by a slightly reduced margin of 29 seconds but was looking comfortable in the lead. Top three in WRC was unchanged and Yohan was also looking comfortable with a 13 second lead.
The penultimate stage then, SS19 Trakošćan – Vrbno 2 – 13.15 km and Kalle was again fastest from Seb and Ott. Esapekka was still holding third overall despite only setting the sixth best time on this one, but the Finn had a good gap to Kalle of 34 seconds.
The final stage then, SS20 Zagorska Sela – Kumrovec 2[Power Stage] – 14.09 km and the top five was Thierry, Kalle, Seb, Takamoto and Esapekka. Elfyn and Scott took victory at last, their first win since Rally Finland 2021. We did not see the normal celebrations at the end and instead saw a very poignant and low-key podium, with Elfyn and Scott holding an Irish flag, and the all the drivers joining the top three on the podium, whilst the Republic Irish National Anthem was played.
Let's take a look at the top ten and hear from the drivers.
Final Overall Classification – Croatia Rally
| | | | | |
| --- | --- | --- | --- | --- |
| 1 | E. Evans | S. Martin | Toyota GR Yaris Rally1 Hybrid | 2:50:54.3 |
| 2 | O. Tänak | M. Järveoja | Ford Puma Rally1 Hybrid | +27.0 |
| 3 | E. Lappi | J. Ferm | Hyundai i20 N Rally1 Hybrid | +58.6 |
| 4 | K. Rovanperä | J. Halttunen | Toyota GR Yaris Rally1 | +1:18.3 |
| 5 | S. Ogier | V. Landais | Toyota GR Yaris Rally1 Hybrid | +1:28.0 |
| 6 | T. Katsuta | A. Johnston | Toyota GR Yaris Rally1 | +2:22.5 |
| 7 | P. L. Loubet | N. Gilsoul | Ford Puma Rally1 Hybrid | +4:22.6 |
| 8 | Y. Rossel | A. Dunand | Citroën C3 Rally2 | +7:51.3 |
| 9 | N. Gryazin | K. Aleksandrov | Škoda Fabia RS | +8:07.4 |
| 10 | O. Solberg | E. Edmondson | Škoda Fabia RS | +9:16.7 |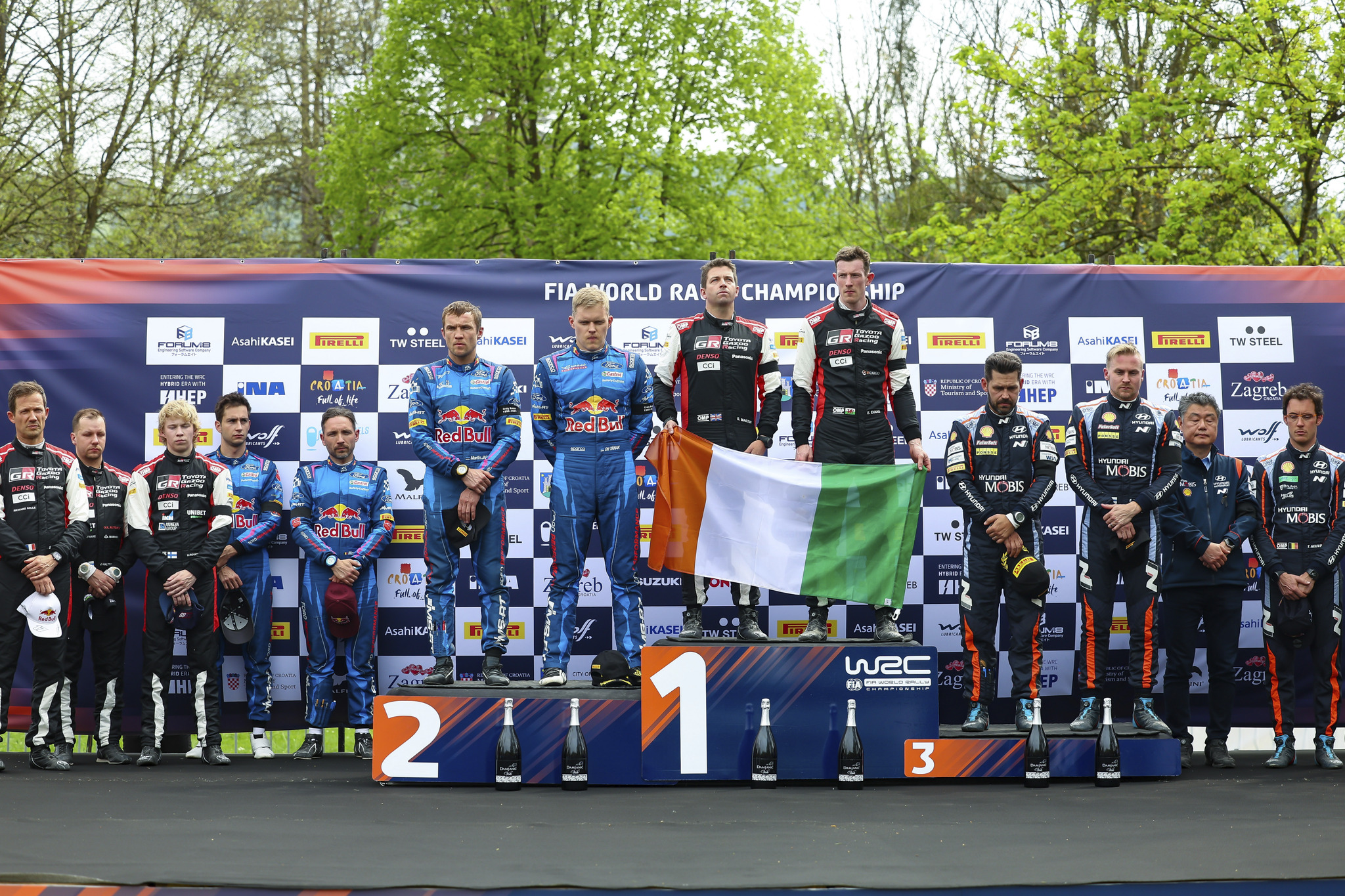 Toyota Gazoo Racing
Elfyn Evans (1st)
"Obviously we have been working for another win like this for a long time but that doesn't mean so much right at this moment. It's been a tough week for everybody and the whole WRC family can be proud of how everyone has come together and paid tribute to Craig. Competition went on as usual, as he would have wanted. It seemed a bit of a tall order to win here with our road position on Friday with the amount of dirt on the road, but some others hit trouble and that gave us an opportunity to fight for the win. Scott and myself promised Craig's family that we would enjoy this weekend and we've been able to do that. Now it's all over, our thoughts turn back to them."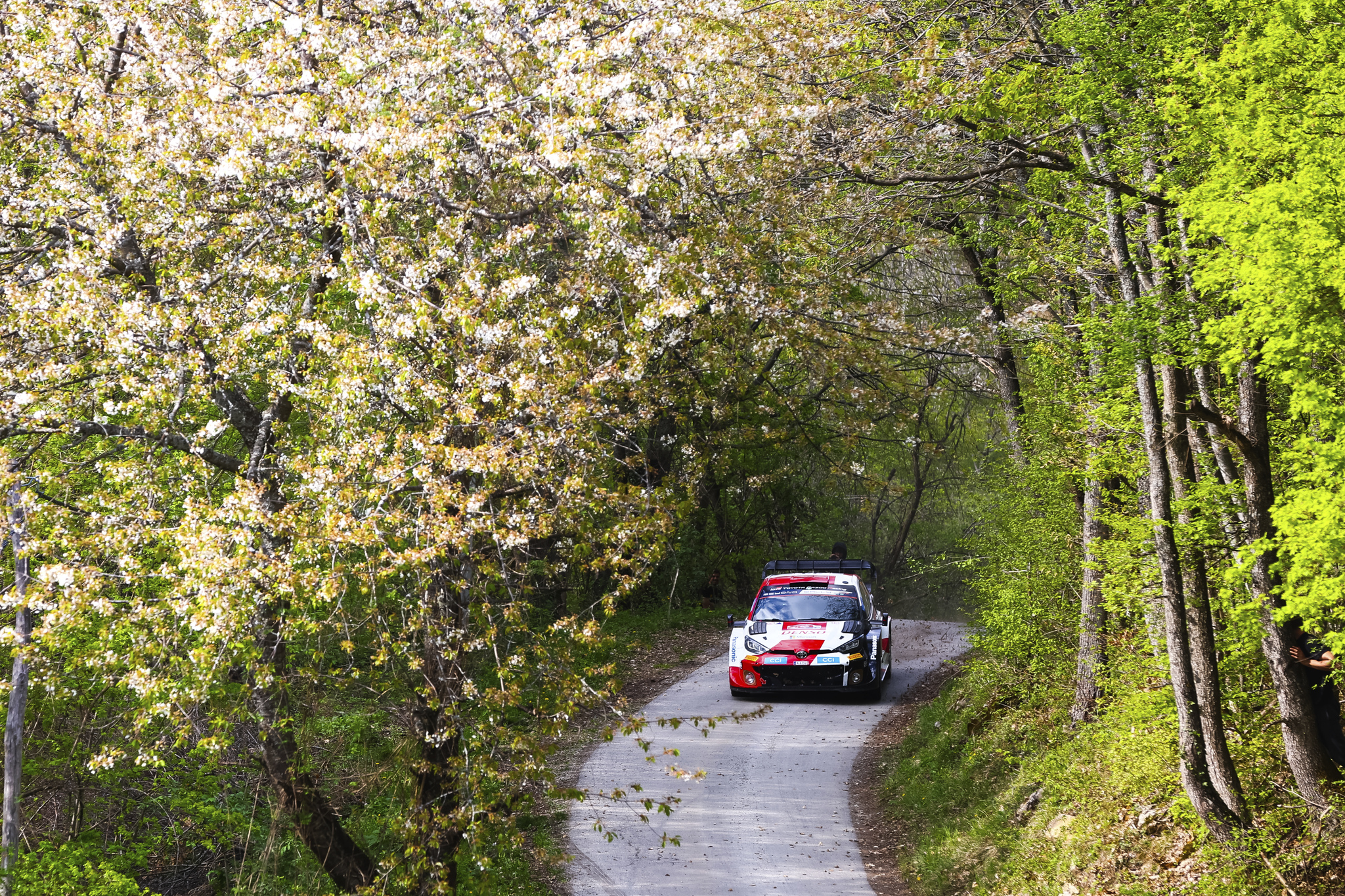 Kalle Rovanperä (4th)
"It has not been a great weekend in terms of result but in the end, we did what we could. It was a great fight with Seb and to come out on top is not so bad. Of course, we don't want to be fighting for fourth, but that's all we could really do after Friday. We didn't start the weekend well; we made a small mistake with the setup, but after that the car was good so thank you to the team. We tried to push hard on the Power Stage and got some good points at the end of the weekend."
Sébastien Ogier (5th)
"It has been a tough week. From a sporting point of view, we had the pace to do much better, but things did not go our way this weekend. That's motorsport sometimes. It was quite difficult today, but I have to say that Kalle was really fast, and I didn't have the same pace as him on this final day. Of course, the Power Stage was still a target, but we made a wrong decision with the tyre strategy, and I had a lot of moments in the stage, so I was glad to cross the finish line and still bring some points to the team."
Hyundai Motorsport
Esapekka Lappi (3rd)
"I don't know where to start. Big thanks to the team. It was not an easy decision to come here for most of us, but we appreciated the opportunity to drive again. I know it's been really tough, arguably one of the hardest weeks ever. We kept our heads together with a smart drive that enabled us to be on the podium. It's a very important result for us and for the team this week, so thank you."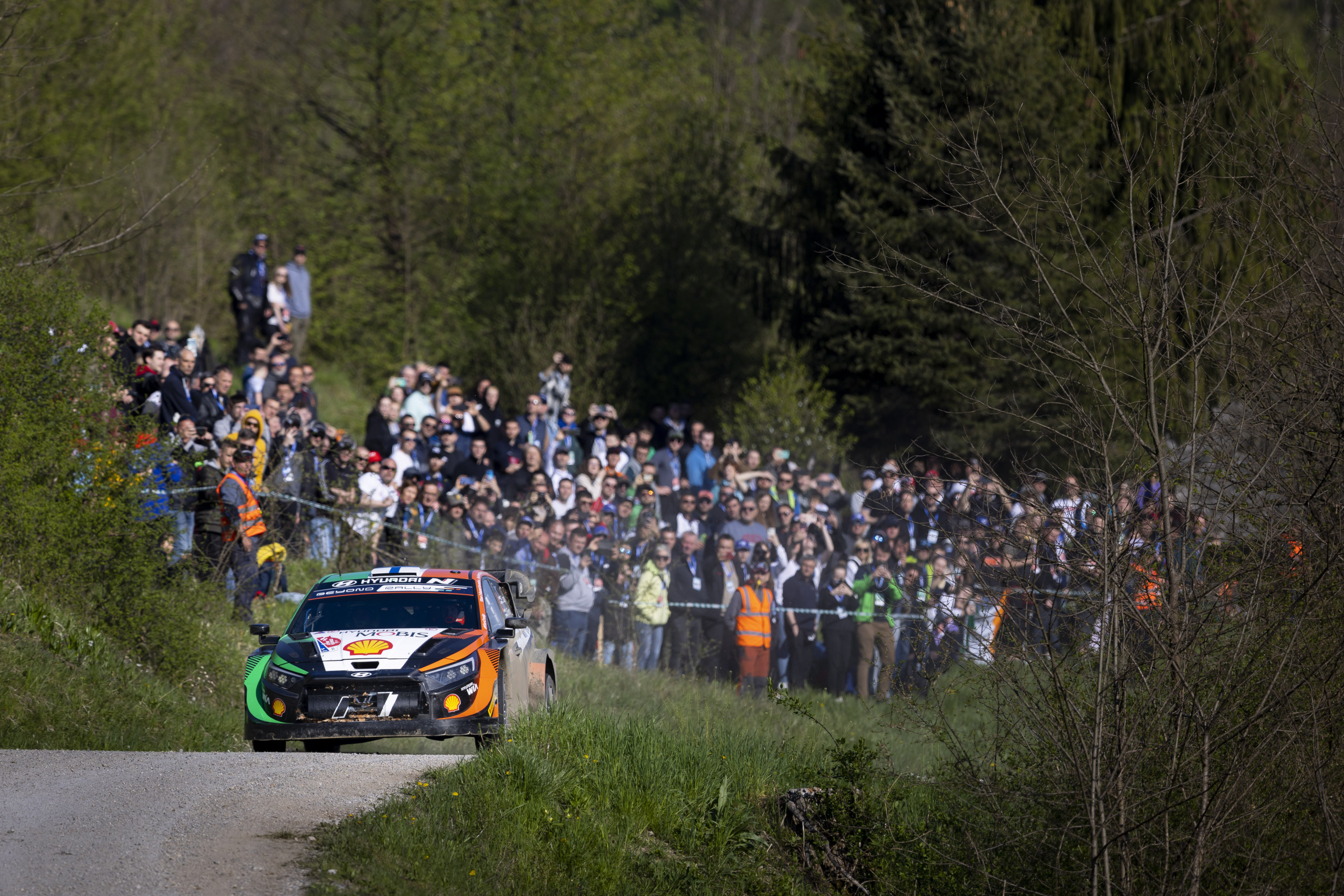 Thierry Neuville (33rd)
"I don't know what to say. I am just so disappointed for the team, for us, after everything that has happened. It is a tough moment, so we really wanted the victory to make Craig proud. Unfortunately, we missed the opportunity with our retirement from the lead on Saturday. We have had to give more than 100%, and when you are on the limit you can't always avoid such mistakes. We re-joined the rally this morning determined to fight in the Power Stage. We gave absolutely everything and that was for Craig."
M-Sport Ford WRT
Ott Tänak (2nd)
"The car has the pace, we can see that from the times, but the operating window seems very small, and it has been difficult for me to understand where the sweet spot of the car is. Up until now the team has been working very hard and I have managed to stay in touch with the competition, but we need to continue working hard on finding more so we can keep involved in this exciting battle for the championship. I am happy to be only four points off the lead of the championship and second this weekend is still a very good result along with the two stage wins. The test for Portugal is next week and now my focus turns to preparing as best as possible and working with the team to get us as prepared as possible for the next important event."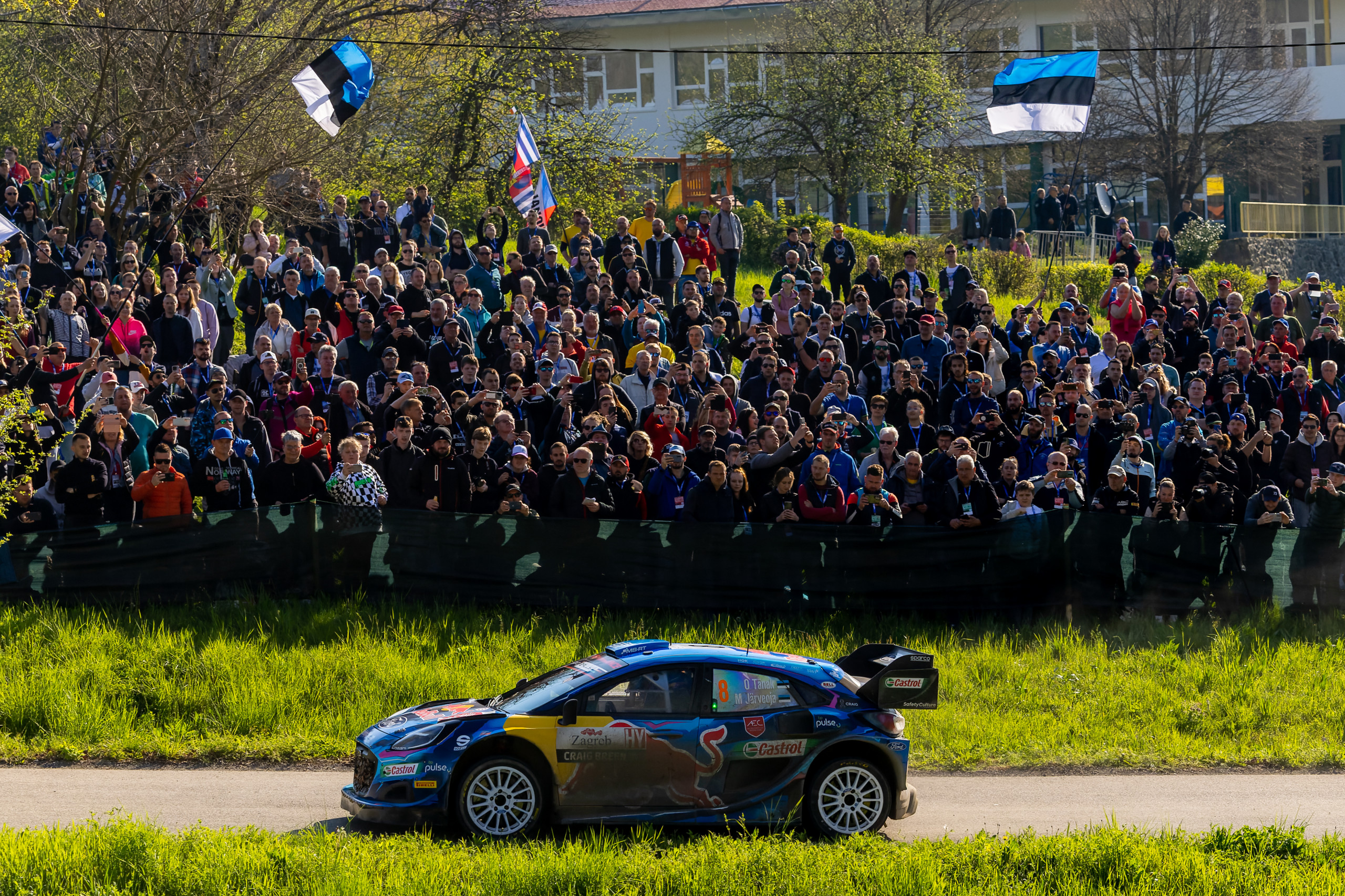 Pierre-Louis Loubet (7th)
"I am pleased with the performance, some places we have been fast, showing the potential is there, but I have missed some consistency. I made a bad tyre choice on Friday losing us time, however on Saturday it went well, and we were up to fourth but unfortunately with a couple of issues we dropped to seventh by the end of the event. But let's keep positive, I know if I can get the consistency back, I can finish in the top five or even the podium in the coming events."
Adrien Fourmaux – Fifth in WRC2
"I'm really happy about the weekend and performance of the car. We had a really good time on the power stage, where we scored valuable points for the championship. We got the car going so much better over this weekend, it was a bit tricky on Friday with a mechanical issue where we lost one minute but I was pleased to be back driving fast on Tarmac with no drama, we were really able to push. It was quite hard for all the drivers with all the emotion over Craig's loss. It was a really tough weekend for everyone and it's nice to finish on something positive and have the right feeling with the car going forward for the rest of the championship."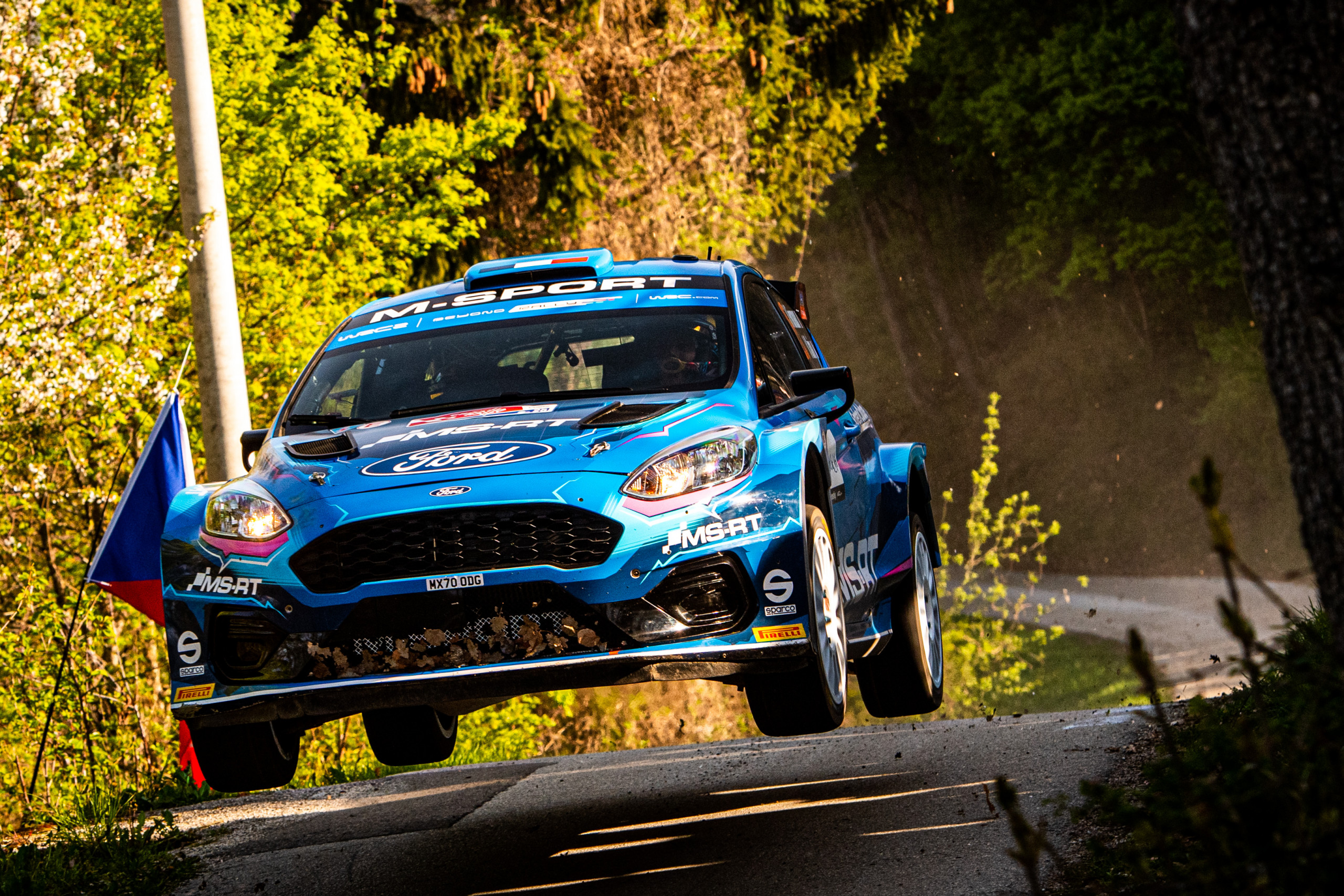 Gregoire Munster – 26th Overall
"Not the best weekend for us, we had a mechanical issue on Friday which lost us some time. Following that I made a mistake which led to a small off, and then we had a small fire when we restarted the car. Luckily the mechanics were able to repair it so we could go out and grab some more experience on Saturday and Sunday. These kilometres were really important for me to get, as we don't yet have so much mileage with the car, so this gave us some experience on Tarmac which is a really positive point."
Oliver Solberg (10th)
"It has been a tough one," said Oliver. "When I tested, we had so much rain, the roads were so wet – in the recce it was the same, I had such a good feeling with the car, I decided to go to a wet set up with the transmission. The transmission is sealed at scrutineering which was on Wednesday. "If it continued to rain, I had the perfect car!" Sadly, the sun came out.
"It was really tricky in the dry. I took the gamble, and it didn't work. Basically, you have to make a choice on the transmission set-up, and I didn't trust so much to the weather predictions and when the roads dried, my car wasn't so good.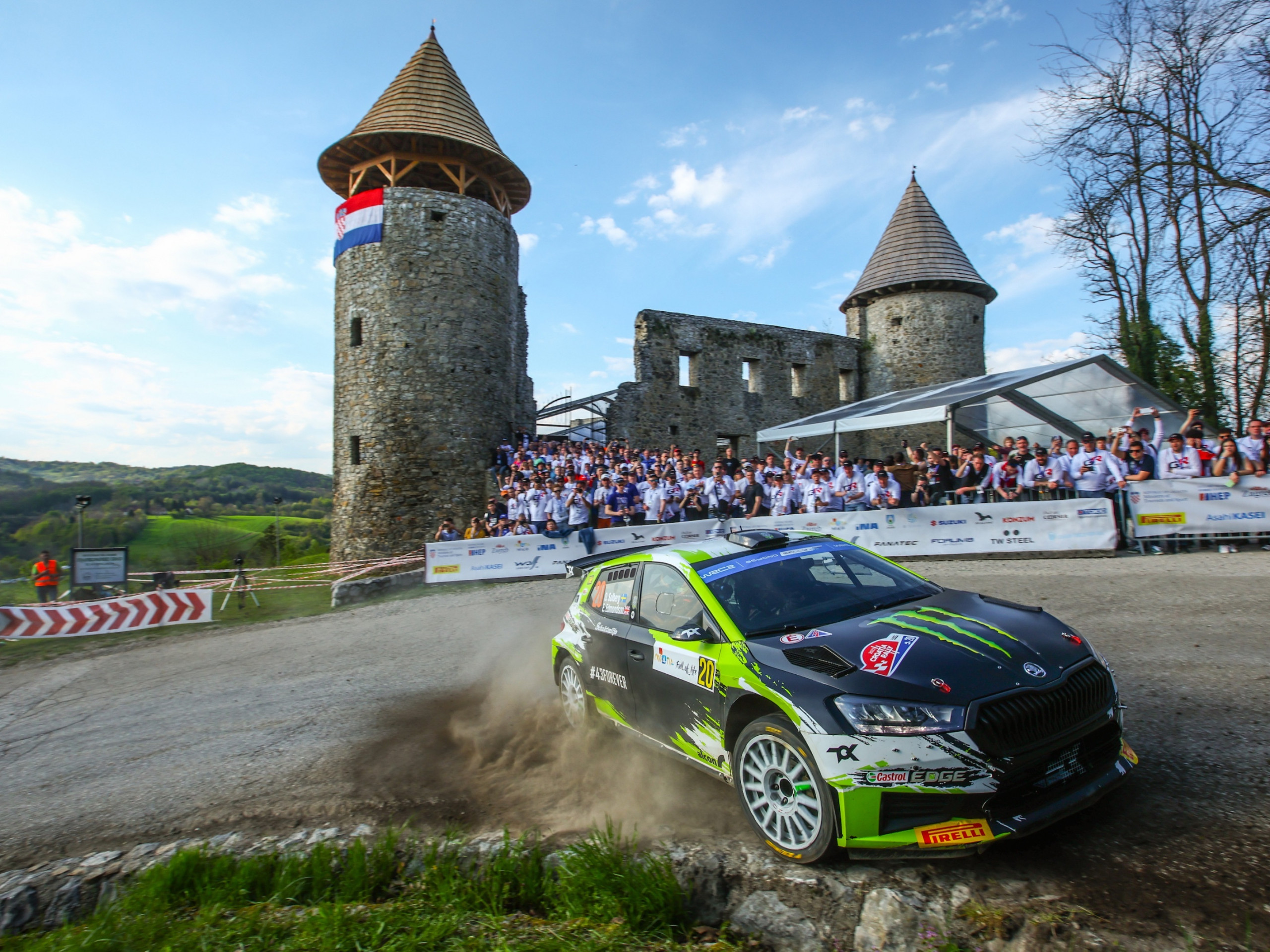 "The differential set-up for the wet is kind of more progressive, with the diffs more open – I didn't have the same pull I needed from the diff. It was a mistake I made. It's frustrating, but the positive is some fastest times. When the road got a bit more dirty with more mud pulled out, I won some stages – not as many as I would have liked, but some.
"We took some good experience. I did this rally in full wet last year and now full dry this year, so I understand it quite well now."
"Craig was such an amazing person," continued Oliver. "He had such love and such passion for this sport – he loved all of the old cars and he loved to talk about rallying all of the time. But above all of that, he was one of the nicest and most positive people I know – that's what I'm going to take forward with me when I think about this great guy."
2023 FIA World Rally Championship for Manufacturers'
After round four
| | | |
| --- | --- | --- |
| 1 | Toyota Gazoo Racing World Rally Team | 161 |
| 2 | Hyundai Shell Mobis World Rally Team | 132 |
| 3 | M-Sport Ford World Rally Team | 108 |
2023 FIA World Rally Championship for Drivers'
After round four
| | | |
| --- | --- | --- |
| 1 | S. Ogier | 69 |
| 2 | E. Evans | 69 |
| 3 | K. Rovanperä | 68 |
| 4 | O. Tänak | 65 |
| 5 | T. Neuville | 58 |
| 6 | E. Lappi | 31 |
| 7 | C. Breen | 19 |
| 8 | T. Katsuta | 18 |
| 9 | D. Sordo | 17 |
| 10 | P.L Loubet | 14 |
Summary
Well, what a rally. It was good that it went without incident and great that Elfyn and Scott took victory. If it could not be one of the Hyundai crews, then Elfyn and Scott as close friends of Craig was definitely a great result. Of course, Scott was Craig's co-driver for many years, and they took their first ever podium in 2016 in Finland.
I'm going to leave it at that and give Craig the final words –
"Don't let anyone ever put you down, because only you know your true potential."
Craig Breen, Rally Sweden, February 2023