Scott McLaughlin led nearly half the race to take his first career IndyCar win after holding off Álex Palou in the final two laps. Starting from the pole, he led the first 25 laps before a yellow came out for rookie Malukas hitting the wall coming out of turn 3. Scott Dixon led 26 laps but was on a three-stop strategy while McLaughlin led the two stop drivers out on track. McLaughlin retook the lead with 22 laps to go when Dixon made his final stop after a 41 lap stint.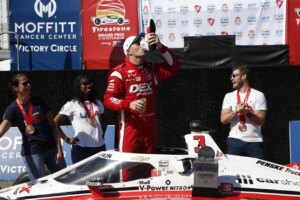 A crucial moment that led to McLaughlin's victory was a successful overcut by the Kiwi on Rinus VeeKay on lap 65, who had been leading the middle stage of the race, after making his final stop and just barely getting out in front.
In the final 20 laps, we saw a performance out of McLaughlin that was very reminiscent of his Supercar days, the Australian series that he won three years in a row with Team Penske, and promoted him to the IndyCar Series. Reigning champion Palou kept him honest and the gap to under a second. Both were barely able to use push-to-pass due to a lack of fuel. With two laps to go, Palou was piling on the pressure, before McLaughlin caught backmarker rookie Devlin DeFrancesco who refused to move out of the way. McLaughlin and Palou were still trapped behind him in the final corner but McLaughlin held off Palou in the hairpin and took the chequered flag.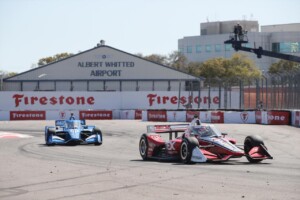 The only yellow of the day came out for rookie David Malukas on lap 25 when he hit the outside wall after he ran across the marbles coming out of the first chicane. This flipped the field order as the top 12 drivers had yet to make their first stop which handed the lead to Alexander Rossi.
Will Power came home in third and was hovering at four seconds behind the leaders for the last 10 laps of the race in no man's land. Power was the only driver to start the race on the primary black tyres and got squirrelly as he lit them up when taking the green flag. Power lost the position to Palou on the restart when he was the only one on the softer red tyre. The street course masters' outright pace combined with a unique strategy that allowed for easier overtaking throughout his runs, resulted in two Roger Penske cars on the podium.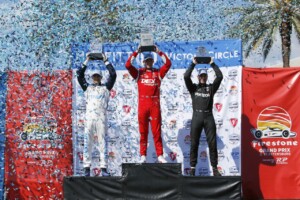 Colton Herta came home in fourth position but perhaps we could have seen him closer to the front three. Herta was frustrated to learn halfway through the race that his team pitted him extra early due to not getting enough fuel in the car on the first stop, denying him from being able to get the most out of his primary black tyres.
Romain Grosjean had a great Andretti Autosport debut coming in fifth place however one heart raising moment for him came on pit road during the first wave of pit stops when Marcus Ericsson hip-checked Graham Rahal into Grosjean and narrowly avoided being put into the pit wall. Veekay managed to convert his three-stop strategy to one less after pitting on lap 61 earning him sixth place. Rounding out the top 10 were Rahal, Dixon, Ericsson and Takuma Sato in his debut for Dale Coyne Racing with RWR.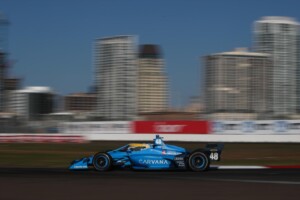 Christian Lundgaard had a quiet race but was the highest finishing rookie in 11th place. Jimmie Johnson had his best IndyCar race to date and was legitimately competing over 15th place at one point but came home in 23rd place in the end. Tatiana Calderón also had a successful debut and had multiple battles with her teammates Dalton Kellett and Kyle Kirkwood. Kellett fell well off the lead lap in the latter stages due to gearbox issues. Malukas retired from his crash on lap 25.
Full finishing order: (1st) Scott McLaughlin, (2nd) Álex Palou, (3rd) Will Power, (4th) Colton Herta, (5th) Romain Grosjean, (6th) Rinus VeeKay, (7th) Graham Rahal, (8th) Scott Dixon, (9th) Marcus Ericsson, (10th) Takuma Sato, (11th) Christian Lundgaard, (12th) Pato O'Ward, (13th) Jack Harvey, (14th) Helio Castroneves, (15th) Simon Pagenaud, (16th) Josef Newgarden, (17th) Felix Rosenqvist, (18th) Kyle Kirkwood, (19th) Callum Ilott, (20th) Alexander Rossi, (21st) Conor Daly, (22nd) Devlin DeFrancesco, (23rd) Jimmie Johnson, (24th) Tatiana Calderón, (25th) Dalton Kellett, (26th) David Malukas.
Featured Image: Scott McLaughlin celebrating in victory lane (Photo by Chris Jones/IndyCar Media)