Well, after a long-awaited return, including two cancelled attempts in 2020 and 2021 due to the pandemic, the championship is heading to the land of the rising sun, with an all-new tarmac event. This has 283km over 19 stages
Toyota head there having secured the manufacturers world championship last month in Spain, to go with the driver title that Kalle and Jonne took in New Zealand.
Now the last time this rally featured in the championship was in 2010 and there are two drivers going there this year that competed all those years ago. Seb Ogier and Dani Sordo. However, there are no carry over stages, as 12 years ago, this event was an all-gravel rally.
Let's take a look at the stages and hear from the drivers.
Rally Japan begins on Thursday evening with 2.75km stage in Kuragaike Park
Friday is the longest day of the event in terms of distance, with the two loops of stages totalling 130.22km.
The itinerary on Saturday consists of seven stages, including two passes of the super special Okazaki City (1.40km).
Five stages, including the Asahi Kougen Power Stage (7.52km), bring the event to a close on Sunday.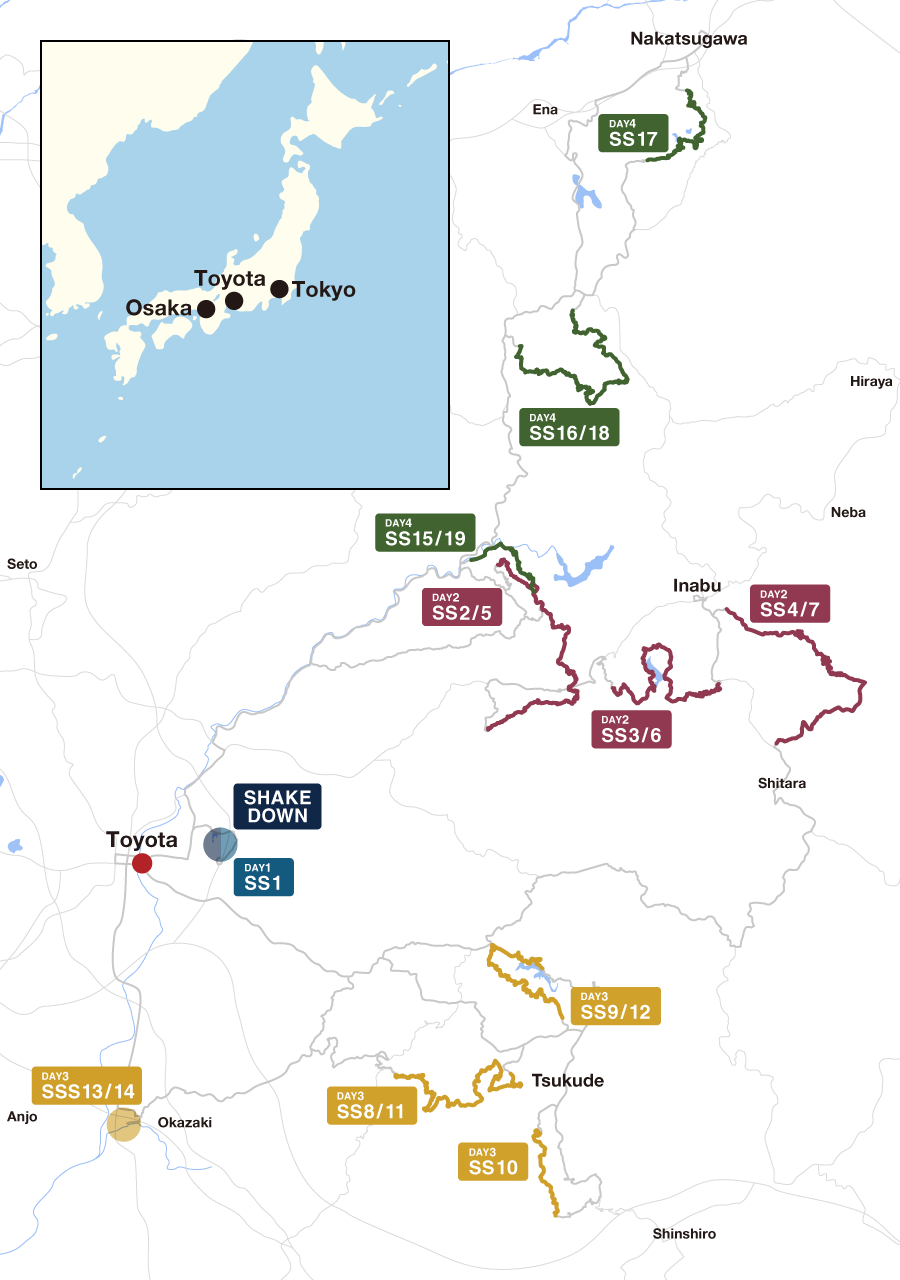 Toyota Gazoo Racing WRT
Kalle Rovanperä
"It's going to be very nice to finally be able to go to Rally Japan, and especially after a season like we have had with the team this year with such good results and the championships already in the bag. It means the team can go to Japan more relaxed and enjoy this home rally, and we will try to push hard and hopefully have a really good result at the end of it. Having seen some stages there three years ago, I think it's going to be a really tricky event. There are some wider and smoother roads as well as some very narrow forest sections which can also be quite dirty. So it's going to be a difficult recce before the rally with roads that we're not used to and a lot of new pacenotes to write."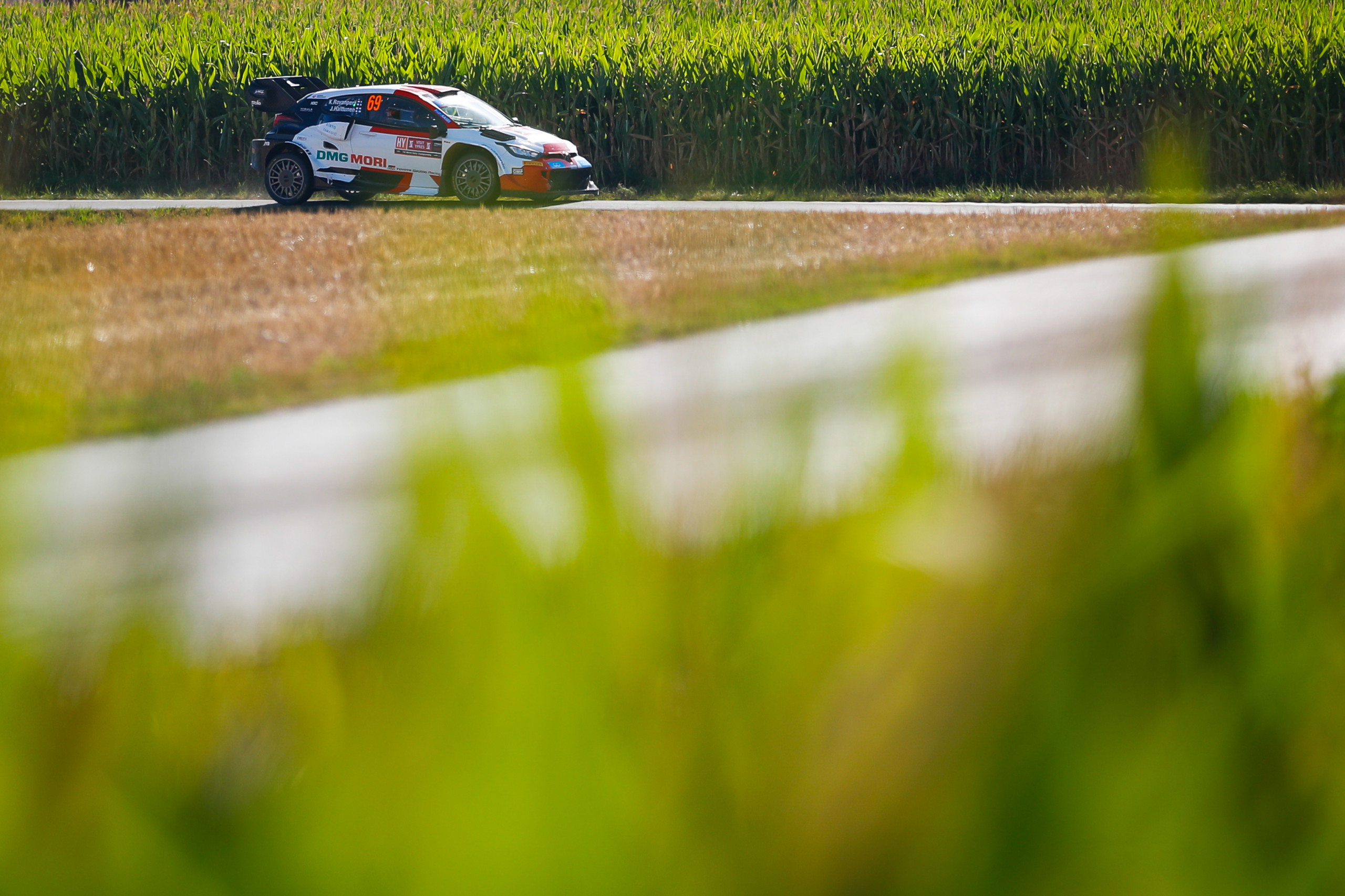 Elfyn Evans
"I think the whole team is looking forward to finally have the chance to compete at Rally Japan. Of course, the target will be to try and get a good result on home ground for TOYOTA GAZOO Racing. Personally, the last round in Spain was not the best for me but hopefully we can use the rally in Japan to find some improvements and prepare for next year in a good way. I was there in 2019 to recce some of the stages around the area of the rally and from what I remember the roads were very demanding with sections that were extremely twisty and narrow and others which were more fast and flowing, so there will probably be a lot of changes in character to deal with during the rally."
Sébastien Ogier
"I'm really excited for Rally Japan. It was quite a big disappointment the last two years that this rally had to be cancelled as we definitely see it as a highlight for us as TOYOTA GAZOO Racing drivers. I love the country itself and have some good memories from there: I only competed there once before but it was a win, so there is also some pressure to try and keep my 100 per cent record! This rally will be totally different to before though and probably quite a demanding one from what we have seen so far. But I always like the challenge of a completely new rally where everybody starts from scratch and has to adapt as quickly as possible. I'm sure the experience is going to be a special one and I'm looking forward to it."
Hyundai Motorsport
Ott Tänak 
"Rally Japan is going to be a challenging one for us because it's a new event, so I personally don't have too much information on what to expect, but we will gather all the info we have available with the recce and prepare for it as much as possible. After three years with Hyundai Motorsport, this is going to be my last one with them, so I hope that we can find a good feeling on the roads and finish the season and our partnership on a high note."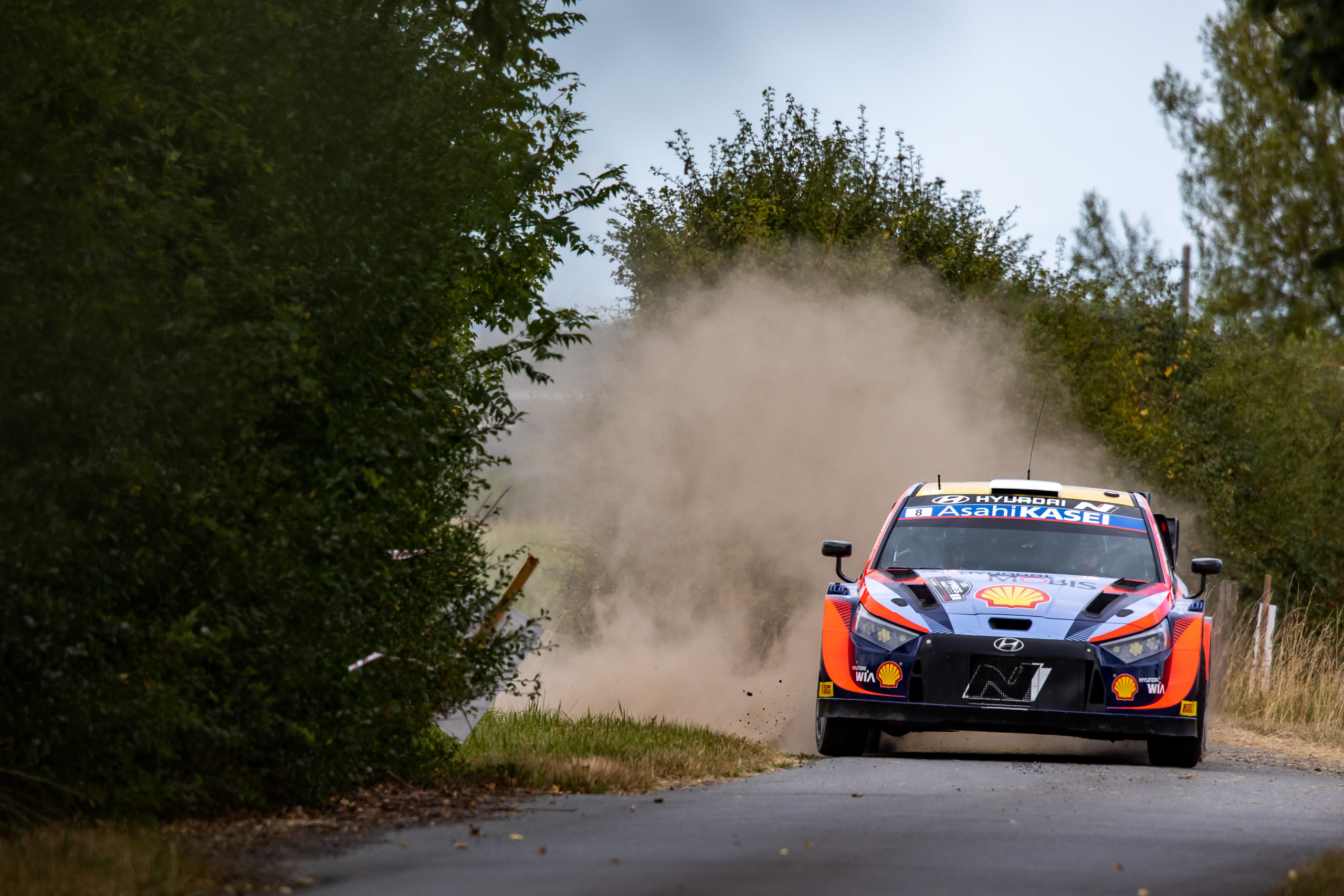 Thierry Neuville 
"New country, new rally, new adventure. Other than knowing it will be tarmac stages we have no clue what is waiting for us. This obviously makes it a bit more difficult to prepare but most of the time I have done better when the rally is new than when it is one, I have done before. We always want to finish in the highest place possible at the end of the season, as it gives you a nice feeling going into the winter break and helps motivate you for the next year. So, the target will be to give the best of ourselves, get the most out of the car, and then see where we end up."
Dani Sordo 
"I have rallied in Japan back when it was on gravel, but I am excited to try the new tarmac stages, which I have been told are very narrow and difficult. When you don't know what to expect it is always more challenging, as all you can do to prepare for the stages is to watch videos. Once we are at the event, the recce and pace notes will be important to producing a good weekend. As always, our goal is to get on the podium at a minimum and deliver the best result possible for the team."
Hyundai WRC2
Teemu Suninen
"I had a taste of Rally Japan back in 2019 when I did the recce of the candidate event and I have been looking forward to coming back ever since. It is a unique rally with nice smooth tarmac, but it can be surprisingly slippery. There are many slow sections, which creates a big challenge for the drivers and the car has to be good in the slow corners. It's going to be a fantastic experience to rally in Japan as the fans there are amazing."
Fabrizio Zaldivar
"I am happy with how we have performed this season and hope that we can finish the year with another good result. At each event I feel like I have learned more about the car and improved my feel and pace in it. I have never competed in Japan before, but I am really looking forward to it. I have also heard that the fans are very passionate, so hopefully we can put on a good show for them."
M-Sport Ford WRT
Craig Breen
"It is the last rally of the year and a new rally for everyone. From what we can see so far, the roads look challenging; incredibly twisty and technical. It looks like it will be up there as one of the most difficult rallies that we've seen on Tarmac so far. Still, it should be a nice challenge, Spain got better and better as the weekend went on, I felt like we made some good progress and changes with the car. Hopefully we can hit the ground running here in Japan and try to bring home a good result to end the season."
Gus Greensmith
"Japan as a country itself is a place I've always dreamed about visiting, the fact I am able to go and compete on there and then enjoy the country after is a double bonus. We feel we will have a strong package coming into this weekend. It's going to be a good weekend; we want to round out the season on a high."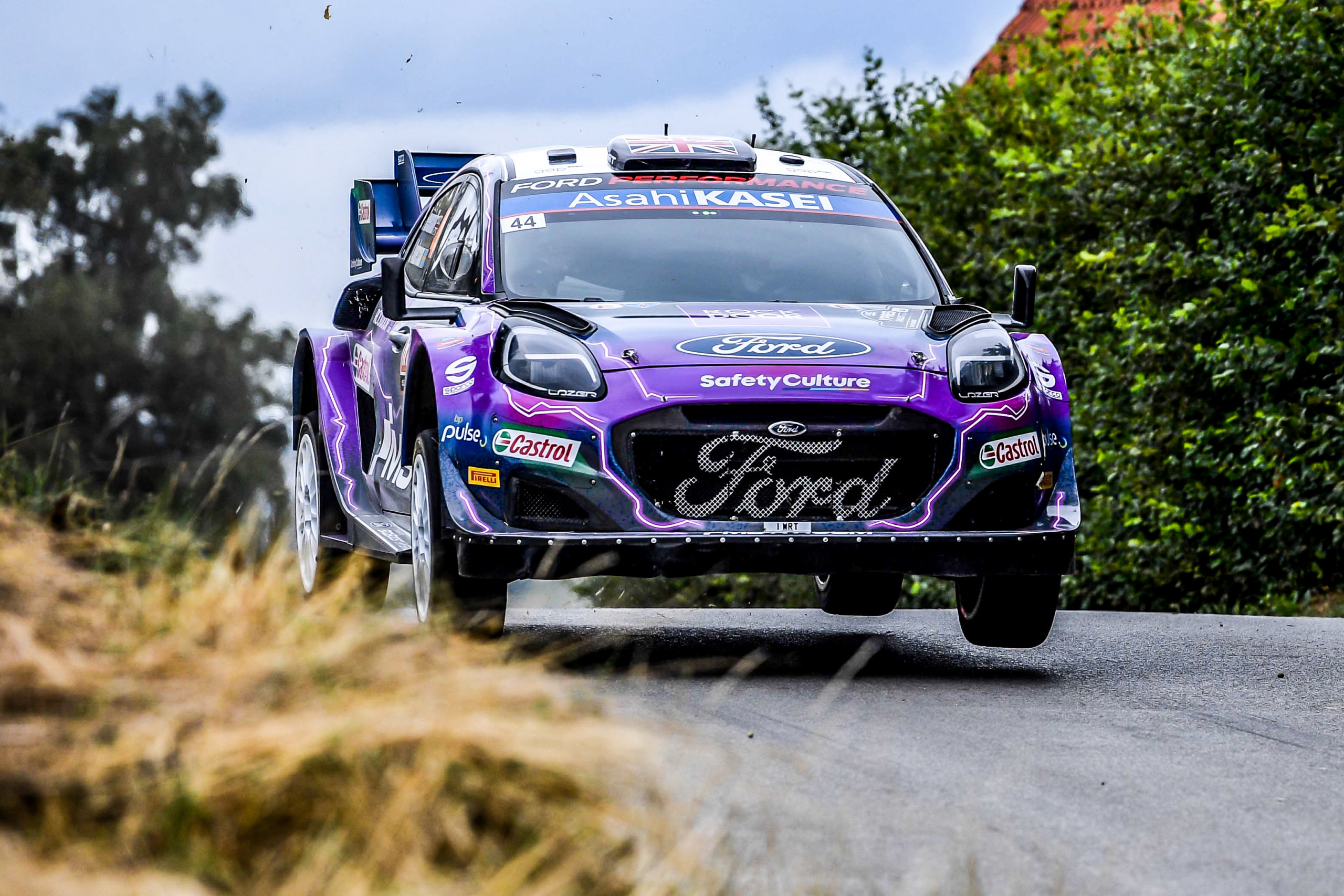 Summary
Well, we are set for a big end to this year's championship, and although the titles are wrapped up, I still recommend following the rally through my reports and also if you can, follow the coverage either live, or watching later on WRCPlus. We are looking at similar time difference to the New Zealand stage times.
You might ask why follow the rally? Well, with all drivers not worrying about titles and getting points finishes for their teams, we might well see a no holds barred approach to the stages from all the top crews and this with the predicted to be very technical stages that make up this year's route, we are likely to have a very spectacular rally!
My last word on this? Enjoy!