F1 esports has seen a changing of the guard this year. Brendon Leigh, driving for Mercedes AMG Petronas, took the title in 2017 and successfully defended the crown in 2018 in dominant fashion, before Scuderia Ferraris David Tonizza took the title to Italy for the prancing horse in 2019, narrowly fending off the advances of Denmarks Frederik Rasmussen. Since then, the wonder-Dutchman Jarno Opmeer has held dominion in the F1 esports arena, taking the crown in 2020 and 2021, both times seeing off fierce competition, and both times Rasmussen taking the second spot in the championship.
Mercedes and Redbull have been the teams to beat throughout F1 esports history (that sounds familiar), with two titles each (there was no constructors championship awarded in 2017). The constructors this year has already been sealed, McLaren Shadow will be crowned 2022 F1 esports constructors champions following the great work from Scotlands Lucas Blakeley, and the Man from Iranhaveari Boroumand.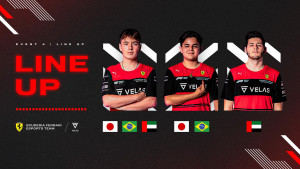 So who are the main contenders for Opmeers title this year?
Lucas Blakeley
Hailing from the highlands, Blakely was signed by BWT Racing Point in 2019. This would prove to be a somewhat difficult start to Blakeleys esports career, despite proving himself a very capable driver in the league racing scene. Whilst the speedy Scotsman did score a podium in 2019, he only raced anoBlakeley'sces that year, with results that did not reflect his talent. He was retained by Racing Point for 2020, in which he raced almost every race, but again the results didn't go as expected. When Aston Martin took over Racing Point for 2021, Blakeley was now really getting into his stride, finishing third in the season, and this year, he has been a major component in McLaren Shadows championship winning season, and leads the drivers championship.
Thomas Ronhaar
The new rising star from The Netherlands is Ronhaar. He absolutely stormed the league racing scene and currently drives in Haas colours. Ronhaar sits just five points behind Blakeley, and has been doing everything to win his debut championship and keep the title in Dutch hands.
Frederik Rasmussen
You can never keep a good man down, or a good diver back. Rasmussen has finished in the top three in the drivers championship in every year F1 esports has existed, and was a force in league racing before 2017 as well. The great Dane has been in the Redbull family since being signed by Toro Rosso in 2018 and moved over to the main squad in 2019, where he has been ever since. Only 14 points separates him to Blakeley, and the competition is as fierce as ever.
Bardia Boroumand
The man from Iran has been in the league racing scene a long time, and is no stranger to competing at the front, but didn't enter the F1 esports world until 2020, where he was the third driver for Mercedes behind Leigh and Bono Huis. Boroumand only raced once that year, and after moving to McLaren in 2021, he has gone from strength to strength. A regular points scorer and occasional podium saw Bari finish fifth in 2021, and this year he has scored a far bigger haul of podiums, and a win at Spa, all of which sees him fourth in the standings, just 16 points behind teammate Blakeley.
Jarno Opmeer
A man that is known throughout the F1 esports and league racing world, he hit the ground running, being signed by Renault in 2019 and coming home in fourth in the championship, before commencing his dominance in 2020 with Alfa Romeo and continuing with Mercedes in 2021. The champion is still mathematically able to retain the crown, but with a 34-point deficit to Blakeley, it will need a big helping of luck to swing the momentum his way
With two races still left, Brazil and Abu Dhabi, the stage is set for a thrilling conclusion to a season that has seen a huge shake-up in the establishment.