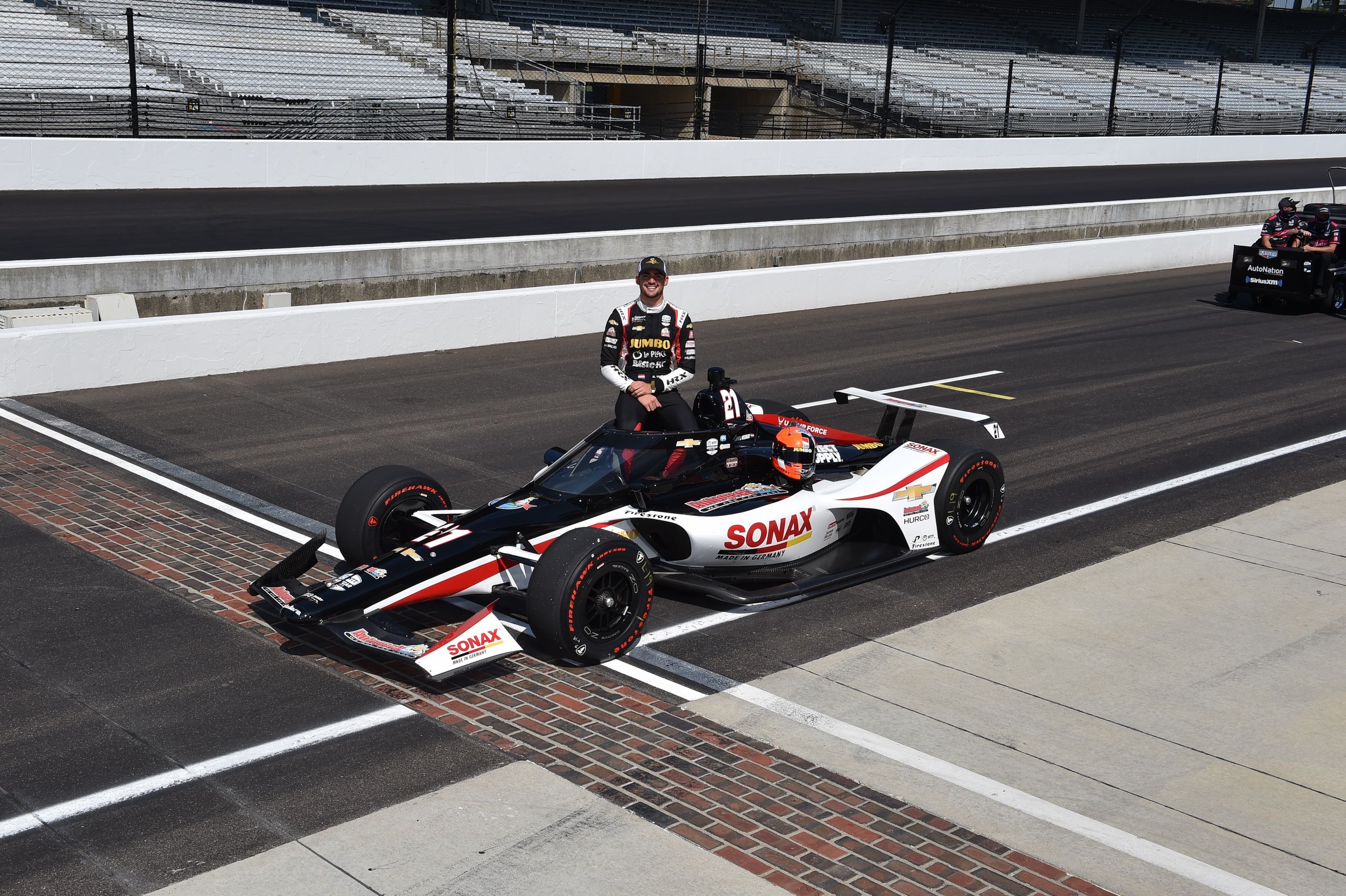 Rinus VeeKay image courtesy of IndyCar
The first time I took notice of this young Dutchman, he was leading the F3 Asian Winter Series competing with the likes of Williams test driver Dan Ticktum and F3 heavy-hitters David Schumacher and Ye Yifea. I didn't know much about him at the time, but I was mightily impressed with his performances ultimately dominating the championship twenty nine points ahead of his nearest rival.
Now, he is starting fourth in the Indianapolis 500, the highest placed rookie.
It has been a whirlwind twelve months for Rinus VeeKay to say the least, a name he adopted after coming to compete in the US, his real name: Rinus Van Kalmthout. Since his incredible performance in the Indy Lights series he has been catapulted into motorsport stardom with the Ed Carpenter Racing team for the NTT IndyCar series for the 2020 season.
For the Netherlands, it is a seismic moment. The first Dutch driver in top tier American Open wheel racing since Robert Doornbos in 2009. Doornbos and only four other Dutchman have ever raced in IndyCar including two time Indy 500 winner Arie Luyundyk Sr, his son Arie Luyundyk Jr, Cornelius Euser and Jan Lammers.
Having waited so long for another star in the IndyCar series, they were treated to a miraculous sight last Sunday, seeing Rinus blasting through turn one of the Indianapolis Motor Speedway clocking in at just over 240mph. One of the fastest unofficial speeds ever recorded at the Indy 500.
The previous day he knocked many big names out of the 'Fast Nine' shootout, including the likes of Will Power, Josef Newgarden, Helio Castroneves and Fernando Alonso to name but a few. This is no mean feat. However, rather than let the pressure get to him, he put in a fantastic four-lap average (230.704mph) during the 'Fast Nine' to start on the fourth row alongside Ryan Hunter-Reay and James Hinchliffe.
I was fortunate to sit down with Rinus on Wednesday 19th August, four days before he is due to take the starting grid in 'The Greatest Spectacle in the World'. The aim: to get an insight into the nineteen-year-old Dutchman, to reflect on his fantastic performance so far.
Adam (Q):

Hi Rinus! How are you feeling? Are you OK?
Rinus VeeKay (R):
Yeah, I'm feeling great. It's been a crazy few days, but I'm very happy with the result and it's been a crazy weekend, but it's also been the best weekend.
Q:
So Rinus, first of all, congratulations on such a magnificent performance at your first Indy 500. Through to the 'Fast Nine', starting fourth, the highest placed rookie. That is the highest starting position for a Dutchman in 21 years since the 1999 Indy 500, which was your mentor, Arie Luyendyk, who started on pole that day.
That must be something you are immensely proud of. How do you reflect on such a fantastic debut performance?
R:
Yeah, I'm really proud of it. Of course, I did not really expect it. Of course, I knew we had a good car, but the Hondas were looking strong and I was really happy to make the 'Fast Nine'. But then, yeah, having such a good qualifying run; that almost front row was possible was amazing.
Q:
Absolutely and you're the only Chevrolet powered car through to the 'Fast Nine', which is incredible as well. Many have commented on the lack of speed by Chevy and that you guys were running a low downforce set up in order to negate the power of the Hondas. However, you hit 240 miles an hour going through into turn one.
My question has two parts here. One, what was it like running at such an incredible speed? Have you experienced anything like that ever in your career?
And secondly, would you be running a similar low downforce set up during the race? And what can you expect to get out of the race with that?
R:
Well, it was amazing touching 240 miles per hour, that's kind of a dream come true. It's amazing speed, of course, I had a bit of a tailwind. It was cool, turning in to turn one staying flat to 240 miles an hour. Never experienced that before, but this definitely is my land speed record.
For the race, you need more downforce to run in traffic in the race, and the tyres will not last if we keep it on that low downforce. So yeah, we will go for more downforce on a kind of race trim that everyone will be on. And yeah, we have a really strong race car. I know that. And we are ready for the 500.
Q:
Fantastic. You seem to have had quite a lot of success at the Motor Speedway. You came third here at the Freedom 100 in Indy Lights and you seem to done well at the road course in both Indy lights and IndyCar. What is there about the Motor Speedway you find so special?
R:
It's super special, it's like the racing mecca. The feeling driving here, if you just drive through the gates, it's just like heaven.
It's amazing and I really enjoy driving here. Of course, you need a bit of luck to be successful, but I love the speedway and of course, also the IMS road course has been amazing this year with my highest IndyCar finish so far.
Q:
Some of our readers may be hearing about you for the first time, but they will be eager to learn a little bit about your amazing journey into IndyCar. So, you know, I've got a list here of some of your accolades.
Second in US F2000 National Championship (2017),
Second in the BOSS GP series (2017),
Third in the MRF Challenge Formula (2017),
First in the Pro Mazda Championship (2018),
First in the F3 Asian Winter Series (2019),
Second in the Indy Lights Series (2019).
Some may be wanting to know why you chose to go round the US motorsport route rather than the European circuit and follow people such as Max Verstappen going to Formula One.

What was it that drew you to America? And I have heard that there are some perceptions that it's more down to talent in the US. Is that a fair assumption?
R:
Yes, that's quite fair to say. The Road to Indy is known for their scholarship program and I won the 2018 Pro Mazda Championship and because of that I had the funding to go to Indy Lights. Then it just all happened from there on. So actually that win in 2018, made possible, by The Road to Indy, just made it possible for me to drive in my car eventually.
it's been tough to go this way. It's not always been easy but it's been a great few years and to make it to IndyCar in this rapid way is great.
Q:
One question I had from one of our contributors was about your time in the BOSS GP Open series. He wanted to ask. It's one of the more lesser known categories, one could say, but it hosts so many historical sports cars. It sounds like such an amazing series to be a part of. Did you learn anything in particular in your time in that series? And what benefits did you find in doing it?
R:
Yeah, my goal to do that was, I was 16 years old, when I did that. I did a few races there I didn't do the full season. But to get experience at that young age with, well, I had 680 horsepower. Wow. That's something very educational. And it's something important to master when you're younger. And I think that's really helped me getting used to high power, high breaks, high downforce when I was only 16 years old.
Q:
Fantastic. Do the likes of people like Max Verstappen, Robin Frinjs in Formula E, Nick de Vries who is F2 Champion, and of course yourself. Does that give you hope that motorsport in the Netherlands is on the rise? It seems like Dutch motorsport is in a really good place right now.
R:
Yeah, it really is. We have some great drivers. Robin Frinjs who is a great driver in DTM and Formula E. Nyck De Vries who is a great driver in Formula E. Max Verstappen of course and then on the other side of the ocean, it's me in IndyCar. It's great to have so many drivers in the top categories of open wheel racing, and it's just great to be part of it.
Q:

It's like you said, you don't get many Dutchmen in IndyCar. What is it like trying to get the attention of motorsport fans from the Netherlands to watch you in IndyCar? Do you think that you have a lot of attention right now from the Netherlands?
R:
Yeah, the attention is really getting better and better. Of course, it's been a little tough because everyone was super 'Formula One minded'. Now they've seen my qualifying performance and of course now with the internet, Twitter, everything, it rolls like a snowball. Everyone starts to get really excited. I think most of the country is going to watch the 500 next weekend, so it's going to be really cool. I think especially the attention towards IndyCar is really on the rise now.
Q:
It certainly has been with my family we've been sat around the whole sofa watching it for the past few weeks. So you've provided some fantastic entertainment, especially during lockdown.
In the lower categories, you had a competitive rivalry with the likes of fellow rookie Oliver Askew. You two alongside Alex Palou and Dalton and Pato will be going for the Rookie of the Year title on Sunday. Do those sorts of things motivate you as a driver? And will competing well against the likes of Oliver be an extra bit of motivation for you come the race on Sunday?
R:
I've had a long rivalry with Oliver. He's a great driver and he's always been a benchmark whenever you go to the track. We have a lot of quick drivers in IndyCar now so Oliver is a quick rookie but also Alex, Patricio, Dalton Kellet, they are super quick here. We've got some really strong rookies this year and it feels good to be kind of the best rookie and so that gives me a huge amount of confidence.
Q:
How would you rate your IndyCar season so far? You've had a few unfortunate accidents here and there but on the whole your performances have been really positive and certainly the qualifying here at Indy 500 surely should give you confidence for the rest of the full IndyCar season. So how would you reflect on the season so far and your hopes for the future?
R:
Yeah it's been a weird season. Of course with COVID to start off with and then my first race at Texas was very immature, very rookie, but I really learned from that. It was one of my biggest lessons in my career. And then from then on, as a driver I made huge steps.
Of course after that we had Indy IMS Road Course where I had my first top five finish. That was great with a great strategy. And then at Road America we struggled a little, I also had some engine issues in the race so that was unfortunate. And in Iowa we were on our way possibly to a victory in race 1 until, well you know what happened with Colton. That was very unfortunate. In race 2 we had some pit lane issues so it's not been the luckiest year. But, well let's hope we can make a turnaround from here.
Q:
For all your prospective fans out there as I am sure after this weekend you will have many. What can we expect from you come this Sunday?
R:
I'm gonna just give it my all. I know we have a great race car. Of course a lot of the race is about strategy, so that will be important, a lot of thinking. But I think we can make the people at home, make then sit at the top of their seats and enjoy the race. I really want to make sure that this year, when there are no fans, they still really enjoy it.
Q:
And that's another good point that there will be no fans this year at the 500. Does that feel a little bit strange do you think that's going to be weird come Sunday?
R:
It feels a little strange yeah. You are so used to having so many fans here at Indy. The fans make the event what it is and you miss that. You can feel that the atmosphere is not like that. Of course, it's still the 500, you still have the speed and the sensation but yeah the fans are a gift when they are here.
Q:
I mean I'm sure that even though they are not going to be there there's going to be thousands more at home tuning in watching at home live so don't worry there's going to be lots of people supporting you back at home.
I think that's pretty much all we have time for that's the fifteen minutes. So thank you so much Rinus it's been a real pleasure talking to you. Thank you for giving up some of your time to speak to us. We wish you so much luck for the race on Sunday and we really hope you have a good turnout and a good result come this Sunday?.
R:
Thank you very much. I'll make sure everyone will enjoy the race, and me too and hopefully drink the bottle of milk at the end!