Qualifying:
Marc Marquez was back with his incredible skills at saving his Honda from crashing, once again during the qualifying.
It was Jorge Martin (Ducati) who pipped him to the post to take his 3rd pole this season and an all-time lap record (1:27.767), with Marquez following closely behind him. Finishing the front row was Francesco Bagnaia (Ducati) and the other championship contenders Fabio Quartararo and Aleix Espargaro behind him, in 5th and 6th.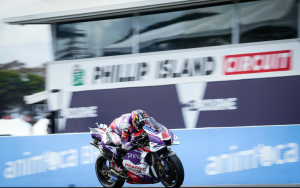 If qualifying was anything to go by, we were going to be in for a treat on Sunday.
Race:
Rain had poured during the night, but it was glorious sunshine that greeted everyone at Phillip Island in the morning. This race had been 3 years of anticipation and audiences were excited to see what was in store:
Lining up on the grid Bagnaia appeared to have trouble with his start device, he just about managed to sort the issue before lights went out. When the lights went green, it was Martin who led Marquez and Espargaro into turn 1. Bagnaia went backwards to 4th place but by turn 2 he was up to 3rd, passing one of his championship contenders.
Home-Hero, Jack Miller (Ducati) started to carve his way through the pack and on lap 2 of 27 he had made his way up to 6th, passing Alex Marquez (Honda) and Luca Marini (Ducati) in the process. His championship hopes weren't quite done with yet.
Marini fought back on 'Miller Corner' (having been named after Jack during the weekend). Miller soon took the place back though, knowing he couldn't let the championship leaders get away. By lap 3 he had managed to also pass Espargaro to sit behind his teammate. Would team orders come into play?
The answer is no – Miller passed Pecco to take 3rd a lap later. But Pecco was having none of it and fought back.
Meanwhile, behind them Quartararo lost another place to Marini but seconds later Fabio made a mistake and was forced to go onto the grass verge, entering back into the race in 22nd place, behind his teammate Franco Morbidelli.
While this was all happening Alex Rins (Suzuki) had taken fastest lap and was up into 7th place behind Marini. He soon passed him to take 6th. Rins was seemingly on a charge. Not content with his new spot, he soon took another one, this time from Espargaro in 5th. Could he make it to the podium?
With 22 laps still to go Martin led Marquez and Bagnaia.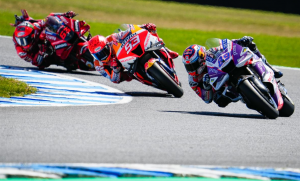 All eyes were on Suzuki-man Rins as he caught Miller by surprise, claiming his spot too (for 4th) and on lap 8 he also passed Bagnaia for 3rd. Could he manage to conserve his tyres to make it to the end of the race after pushing so hard? Only time would tell.
Miller seemed to be in the wars as Espargaro passed him for 5th (and took fastest lap), on lap 9. Marco Bezzecchi (Ducati) also managed to push Miller back to 7th. Alex Marquez tried his luck too but instead he hit Miller from behind, narrowly avoiding hitting Marini as well, sending them both into the gravel, on 'Miller Corner' ending both their races early. (It was later confirmed that A. Marquez would get a long-lap penalty next round for 'riding in an overly aggressive manner').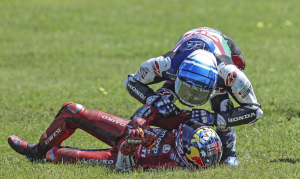 Back at the front of the race Rins and Bagnaia had a tussle for 3rd with Bagnaia being the victor this time round.
By lap 10 Fabio had made it up into the points positions (15th) but on the next lap on turn 2 he made a mistake and crashed out of the race, taking zero points at Phillip Island. Has the dream for a second championship gone?
On the same lap Rins managed to pass Bagnaia and Marquez. Martin then led Rins, Marquez and Bagnaia into lap 12.
Rins was clearly up for fighting for the win and on lap 14 he saw his opportunity to get into the prime position, taking 1st from 'The Martinator' smoothly. While positions were being swapped behind him – Bagnaia passed Marquez and Martin and then Marquez also passed Martin – he had gone from 1st to 4th in only 2 turns.
Marquez was the only rider though to have taken a gamble with a soft rear tyre. Would the gamble pay off?
Martin soon lost yet another place, this time to Bezzecchi and in-front of him Bagnaia had had enough of watching Rins and had taken the lead. On the next corner Marquez also followed suit and passed Rins.
With 13 laps to go Bagnaia led Marquez, Rins and Bezzecchi. How much more drama could there possibly be? If crowds weren't on the edge of their seats already, they soon would be: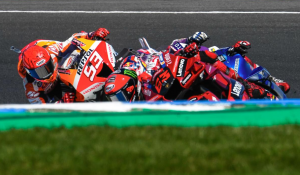 Just 11 laps until the end and Rins seizes his opportunity to pass Marquez for 2nd and Martin passes Bezzecchi back. Blink and you would miss the action!
Martin had found his second wind and managed to also pass Marquez for 3rd but lap 19 Marquez got his spot back and brought Bezzecchi with him, who managed to also claim a position from Martin, pushing him back to 5th. On the next lap a battle commenced between Bezzecchi, Marquez and Martin. Bezzecchi managed to claim Marquez's spot and Martin also passed him, but Marquez fought Martin off to keep 4th. While back at the front Rins had managed to claim first position.
With only 8 laps to go Rins now led Bagnaia, Bezzecchi and Marquez.
So much action on track, no-one knew where to look!
Yet there was still more to come:
Bagnaia powered past Rins on the start-finish straight to re-take the lead and to start lap 21. Rins then got swallowed up by both Bezzecchi and Marquez to go back to 4th. The same thing that had happened to Martin moments ago.
With 6 laps to go Rins and Marquez fought for 3rd but it ended with Marquez going wide and Martin passing through, sending Marquez back to 5th. Could he still put up a fight with his soft rear tyre? If there was an issue with the soft tyre Marquez was ignoring it as he soon passed Martin back for 4th.
Bezzecchi seemed to be in trouble with Rins, with 3 laps until the end on turn 2 Rins managed to make his pass stick and was soon hunting down Bagnaia again. Meanwhile Marquez had also passed Marco to take 3rd. Marquez wasn't letting Rins get away – they tussled for 2nd place, but Rins won.
Last lap:
Bagnaia led Rins, Marquez and Bezzecchi over the line but Rins passed Bagnaia shortly after and Marquez followed him. Could Marquez make the pass to snatch victory?
No, he couldn't – Alex Rins took the chequered flag for a fairytale win for Suzuki. Followed closely by Marquez and Bagnaia.
Top Ten Finishers:
| | |
| --- | --- |
| 1st | A. Rins |
| 2nd | M. Marquez |
| 3rd | F. Bagnaia |
| 4th | M. Bezzecchi |
| 5th | E. Bastianini |
| 6th | L. Marini |
| 7th | J. Martin |
| 8th | J. Zarco |
| 9th | A. Espargaro |
| 10th | B. Binder |
It was such a close race between the top ten racers. But it was all about celebration: Rins became the 7th different winner this year, Marquez took his 100th premier class victory and Bezzecchi became Rookie of the Year!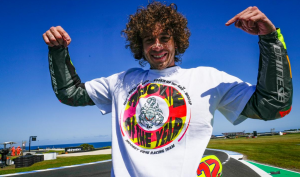 Top Four in Championship:
| | | |
| --- | --- | --- |
| 1st | F. Bagnaia | 233 points |
| 2nd | F. Quartararo | 219 points |
| 3rd | A. Espargaro | 206 points |
| 4th | E. Bastianini | 191 points |
We have certainly missed Phillip Island these past 3 years – but wasn't it worth the wait?!
(Featured image: courtesy of: Moto GP website).