This weekend Formula One heads to the mighty Nurburgring for the 2020 Eifel Grand Prix. As it's been seven years since F1 last raced at the Ring, we're throwing things back to its most recent visit—the 2013 German Grand Prix.
Taking a quick glance down the grid, 2013 doesn't look too far removed from present-day F1. There are seven drivers from 2013 that are still racing in F1 today: Lewis Hamilton, Sebastian Vettel, Kimi Raikkonen, Valtteri Bottas, Daniel Ricciardo, Romain Grosjean and Sergio Perez (or eight, if you include Racing Point stand-in Nico Hulkenberg).
Of those that aren't, Fernando Alonso will be returning next year, and it wasn't that long since we last saw the likes of Felipe Massa, Jenson Button and Nico Rosberg either.
But of those seven drivers still in F1 today, only Hamilton at Mercedes is still with the same team as in 2013. Back then, Vettel was still the reigning champion at Red Bull-Renault, while his future Ferrari teammate Raikkonen was in the second year of his F1 comeback partnering Grosjean at Lotus.
Meanwhile, Bottas was a rookie at Williams, Perez was enduring his ill-fated McLaren season, and Ricciardo was still cutting his teeth in a Ferrari-powered Toro Rosso before his Red Bull break a year later.
As for F1's current crop of drivers, the likes of Carlos Sainz, Esteban Ocon and Alex Albon were all racing in Formula Renault categories in 2013. As for Max Verstappen, Charles Leclerc, Lando Norris and George Russell, they were all still in karts.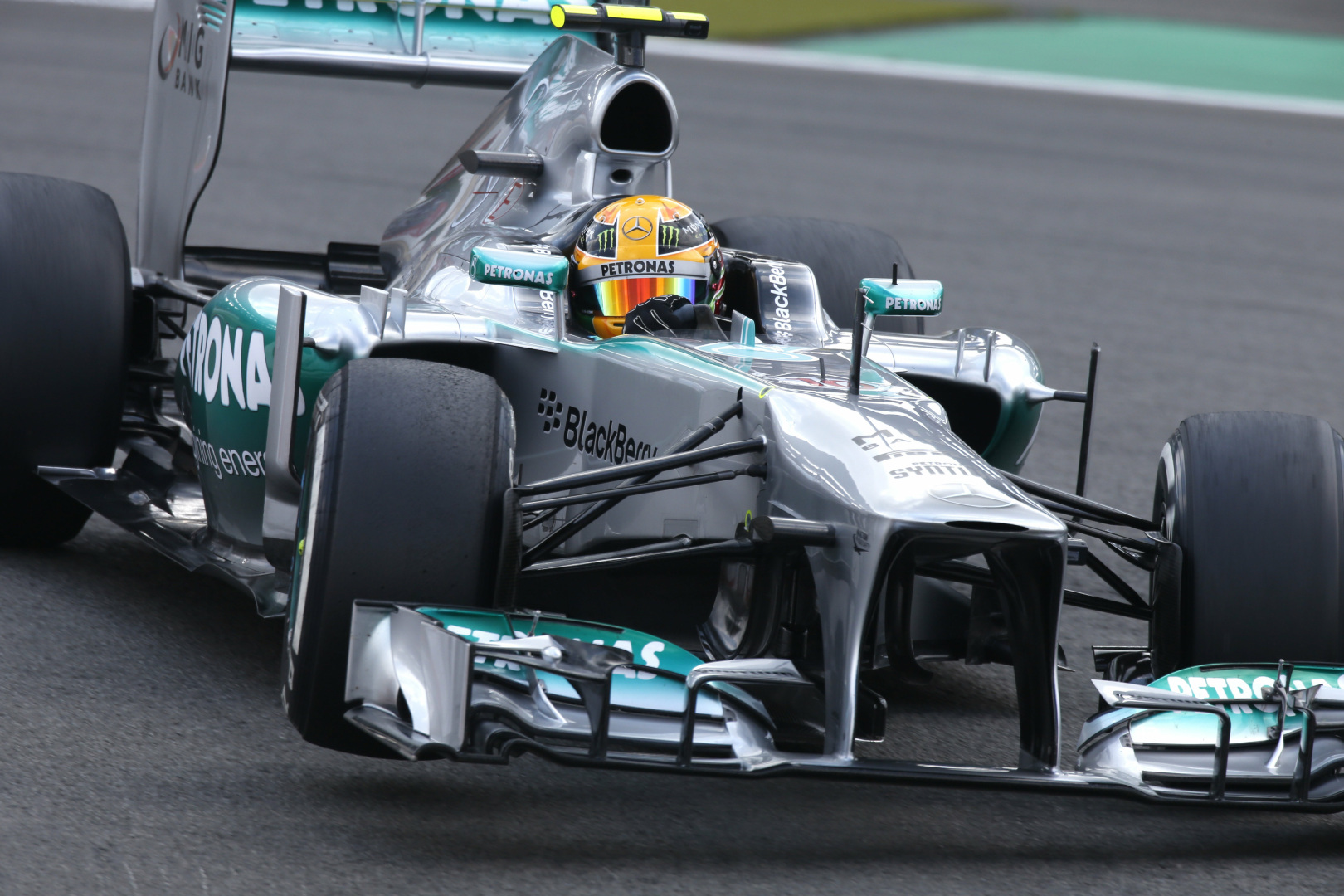 One thing that will be familiar for today's F1 viewers is that the 2013 German Grand Prix started with Hamilton on pole for Mercedes. However, the Mercedes W04 was a far cry from the juggernauts that its turbo-hybrid successors would be.
The W04 was undoubtedly fast, and between Hamilton and Nico Rosberg had taken six of the season's nine pole positions at that time. But a common theme of 2013 was Mercedes qualifying well only to struggle with tyre temperatures early on in the race and fall back through the field.
And that's exactly what happened at the Nurburgring, as Vettel and Mark Webber (starting from second and third respectively) both got the jump on Hamilton into Turn 1. Meanwhile, Hamilton dropped back behind Grosjean and Raikkonen, whose James Allison-designed Lotuses were famously very gentle on their Pirelli tyres compared to the Mercedes.
With Vettel and Webber's pace out front, Red Bull looked set for another 1–2 finish. But that fell apart when Webber came in to change tyres on lap 14 and left his pitbox with his right-rear not properly attached.
As Webber got away, the wheel detached and bounced down the pitlane—it hit FOM cameraman Paul Allen, who suffered a broken shoulder and cracked ribs and was taken to nearby Koblenz hospital for treatment. Allen later recovered fully and Red Bull were given a €30,000 fine for the incident.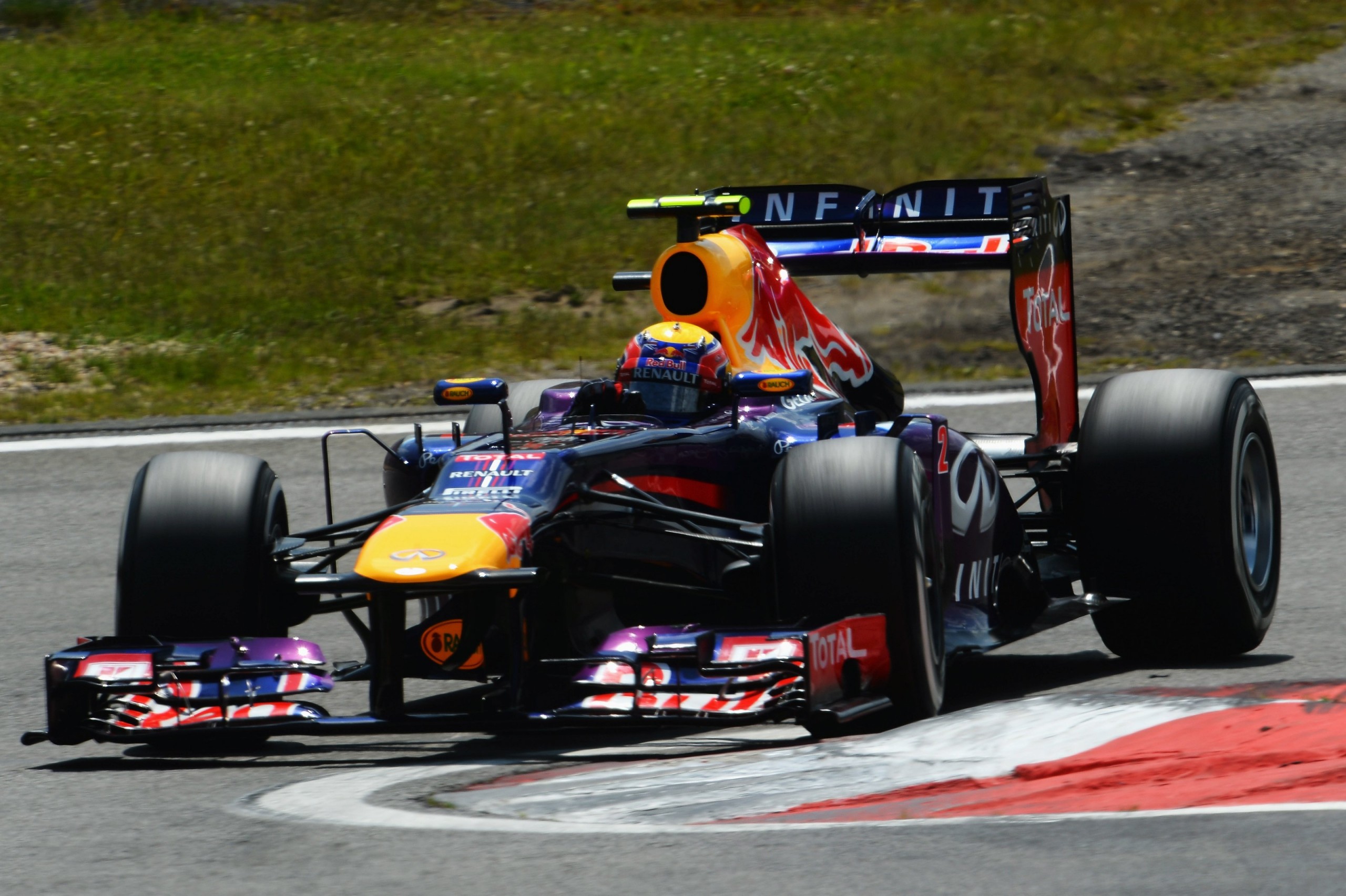 Webber was able to rejoin the race, as he stopped just outside his pitbox and was promptly wheeled back and fitted with new tyres. But when he returned to the track he was a lap down on Vettel, while Grosjean and Raikkonen were closing in after setting multiple fastest laps.
On lap 23 the safety car was deployed when Jules Bianchi had to stop his Marussia with an engine fire. This allowed Webber to get back onto the lead lap. But after making initial progress when the race resumed, Webber then got stuck behind Sauber's Esteban Gutierrez for ten laps, and was forced to make another stop after eating through his tyres trying to get by.
Raikkonen took the lead of the race on lap 41 when Vettel and Grosjean both made their third stops, and Lotus extended his stint until lap 49. This left Raikkonen with much fresher soft tyres for the final laps of the race and gave him the best chance of hunting down Vettel for the win. With this and the championship in mind (Raikkonen was then third in the standings behind Vettel and Alonso), Lotus instructed Grosjean to let the quicker Raikkonen by for second.
But despite his pace, Raikkonen was unable to stop Vettel taking his first home Grand Prix victory. The win was also the 30th of Vettel's career, making him only the sixth driver in F1 history at the time to score more than 30 wins (the others being Michael Schumacher, Alain Prost, Ayrton Senna, Fernando Alonso and Nigel Mansell).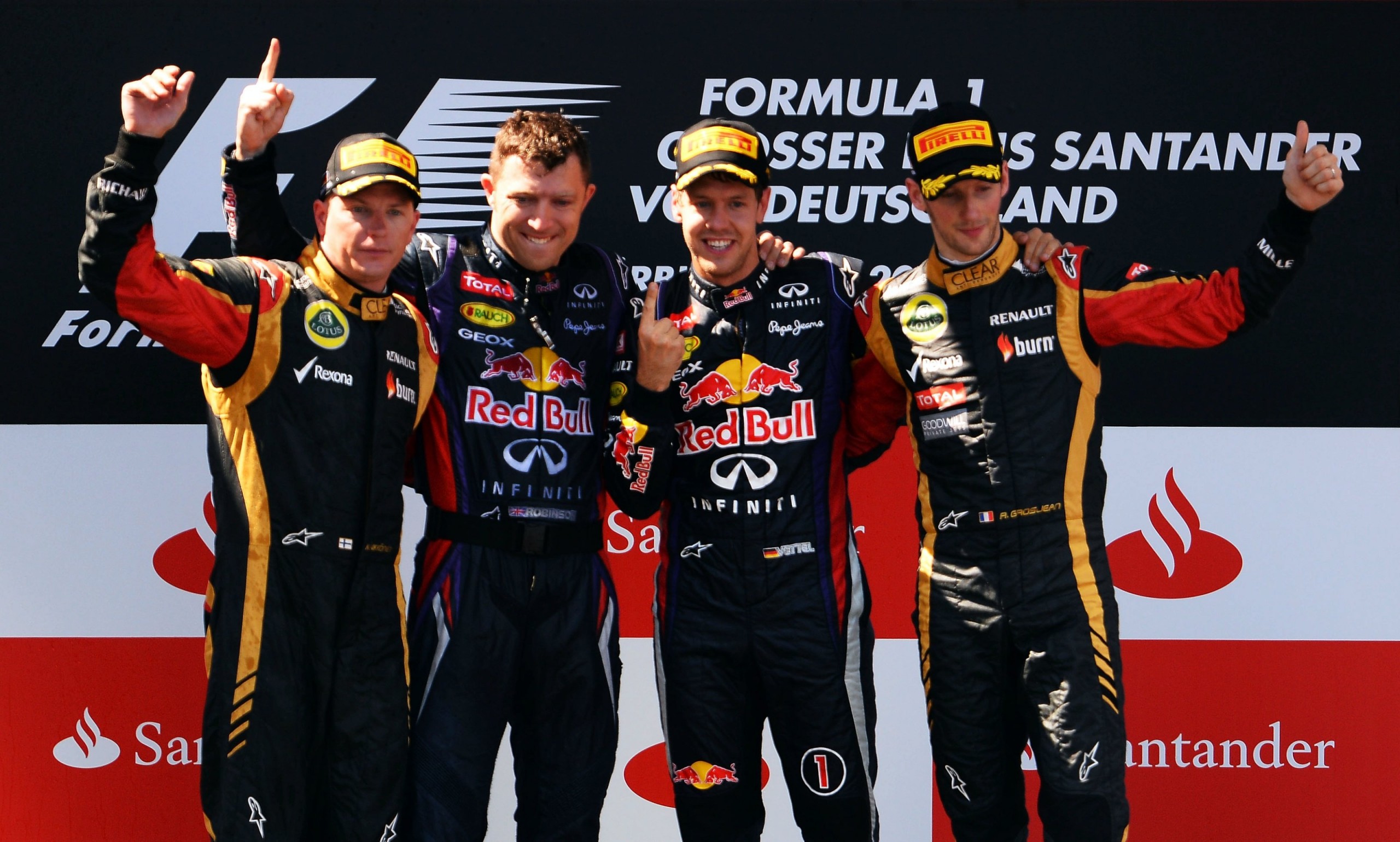 Raikkonen finished second and Grosjean third ahead of Alonso. Hamilton's race stabilised in fifth, while Webber recovered to seventh between the McLarens of Button and Perez. Rosberg and Hulkenberg rounded out the points for Mercedes and Sauber respectively. Williams had looked set to finish in the points in what was their 600th Grand Prix, only for wheel gun problems in the pit stops to drop Pastor Maldonado and Bottas down to 15th and 16th place respectively.
The 2013 German Grand Prix was an enthralling race, but it was also a fascinating look back at F1's recent history. It shows a Sebastian Vettel at his peak en route to a fourth consecutive World Championship. It shows the early signs of the Mercedes success to come, back when Lewis Hamilton only had one title and 21 wins to his name.
But more importantly for F1 today, it shows that the Nurburgring can provide some excellent racing and drama throughout the field, which can only bode well for the Eifel Grand Prix on Sunday.