With the long Summer break finally over, all riders have returned fresh and ready for battle. The championship was left with very little space between the top two riders, but what will happen now?
A fantastic historical venue to start the second part of the season: Silverstone – it surely won't disappoint.
Qualifying: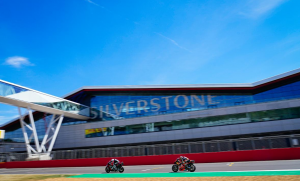 The news of the weekend was that Fabio Quartararo (Yamaha) would have to complete a long-lap penalty (due to irresponsible riding at the Dutch GP, taking Aleix Espargaro (Aprilia) with him into the gravel).
Following on from his strong performance in Assen, Espargaro is still on a high and knowing that Fabio has to complete this penalty, could he maximize on this?
It seemed maybe this would be a tall-order to do, as during the qualifying session he had a massive high-side, being thrown from his Aprilia and hurting his ankles. He didn't let this deter him too much as he then went on to take provisional pole, but it was taken away seconds later by first Jack Miller (Ducati) and then from nowhere Johann Zarco (Ducati). A further surprise saw Maverick Vinales (Aprilia) swoop in to take 2nd.
Zarco made a new all-time lap record – 1:57.767 for his pole position – could this be his moment?Could he finally win a Moto GP race? Vinales lined up beside him and taking the last spot on the front row was Miller.
Race:
Glorious sunshine dowsed the former RAF track for race-day, but it wasn't just the weather that was heating up. Soon the race would be underway:
Zarco got a great start and kept his lead from Fabio, who instantly took two places. The two factory Ducati's remained close behind. Vinales didn't seem to have the same luck and went backwards to 6th. He soon took 5th place back though from Alex Rins (Suzuki).
The second lap – Quartararo was told he must take his penalty – he had 3 laps to complete it by. He pushed hard to try and create space between himself and the following Ducati's but Miller in 3rd took fastest lap, hampering any advances.
By lap 3 Rins managed to claim 4th place (pretty impressive start considering he started 11th on the grid). Where could the Suzuki-man get to?
Leaving it until his 4th lap, El Diablo decided he must take his long-lap penalty – he does it flawlessly and re-joined the race in-front of Vinales, slotting into 5th.
At the front – Zarco lead Miller and Rins, with the fastest lap going to Rins, he was clearly pushing hard. When suddenly Zarco threw his lead away, slipping into the gravel – the dream win, yet again falling away from him, turn 8, lap 5. Leaving Miller to lead from Rins and Francesco Bagnaia (Ducati).
Rins wasn't sitting around in 2nd for very long though and the next lap saw him overtake Miller to become the new leader of the race. Making up ten places in just six laps. Slightly further back Jorge Martin (Ducati) passed Vinales for 5th.
Rins seemed to be on top-form and with 14 laps to go had created a buffer (0.794 seconds) between himself and Bagnaia, who had passed his teammate for 2nd place. If Miller wasn't having a bad enough time with Bagnaia passing him, another fellow Ducati passed him also – Martin, to take 3rd. Miller re-took it though when Martin made a mistake, forcing him to go wide.
Meanwhile the championship leader seemed like he might be in trouble as Vinales looked like he was setting up to pass him. But it was Vinales' teammate that got overtook first by Joan Mir (Suzuki) just behind. It didn't take long for Vinales to pass Fabio though and was soon through to take 5th. The Aprilia power proving to much for the Yamaha.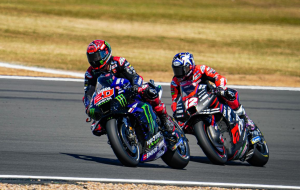 Only ten laps to go and Bagnaia had eaten into Rin's lead, already down to 0.274 seconds, could the Ducati make it two wins in a row? Who had conserved their tyres better?
Two laps later saw Bagnaia charge past Rins, leaving him to deal with Miller in 3rd. But Bagnaia wasn't the only Ducati on the move, Enea Bastianini in 10th place took fastest lap. Always a late charger, what could Enea do?
Barely any time separating all top ten riders – Vinales decided to make yet another move forwards, this time claiming fourth from Martin, with seven laps to go.
The tyres played a massive part this late on in the race and it was unfortunately Alex Rins who struggled the most, after doing so well. The Suzuki went wide on a couple of corners, making it an easy pass for not only Miller but Vinales as well.
Meanwhile, Bastianini had moved up to 7th place, passing Espargaro and Mir. Moments later Mir took to the gravel behind him, trying to keep up.
Audiences were on the edge of their seats, as they watched yet another pass by Martin, re-taking 4th place from Vinales. Bastianini and Quartararo also tussled for 6th.
The battle continued between Maverick and Jorge with Maverick coming out on top this time. Eventually Bastianini also won his fight with the current champ, leaving him to deal with Miguel Oliveira (KTM), who was gaining fast.
Fresh from claiming a new place from Martin, Vinales soon took a further position from Rins. Martin also took his opportunity to take yet another position from the Suzuki, forcing him to fifth spot – lap eighteen.
With all this action happening behind him, Bagnaia managed to create a small gap from Miller, Vinales and Martin.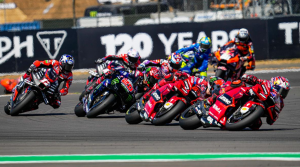 The racing wasn't done yet though. With 2 laps until the end, "Top Gun" passed "Thriller" to take second place. The Aprilia was working wonderfully around Silverstone. What more could he do?
Falling into the clutches of Bastianini, Rins lost yet another place, as did Quartararo to Oliveira. But it was all eyes at the front as Vinales became the 5th leader of the British Grand Prix. Bagnaia was not going down without a fight though and re-took the lead.
Last lap – Seemingly anything could happen:
The Ducati power of Bagnaia was just enough and it took him to the finish line, but behind him it was Oliveira that passed Rins, Bastianini who passed Martin and Esparagaro took Quartararo (but his maneuver didn't stick).
Meaning it was back-to-back victories for Bagnaia, with Vinales taking second (his best finish so far for Aprilia) and Miller in third.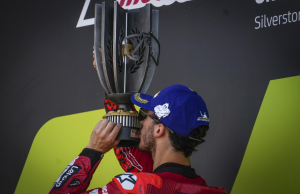 Top 10 Finishers:
| | |
| --- | --- |
| 1st | F. Bagnaia |
| 2nd | M. Vinales |
| 3rd | J. Miller |
| 4th | E. Bastianini |
| 5th | J. Martin |
| 6th | M. Oliveira |
| 7th | A. Rins |
| 8th | F. Quartararo |
| 9th | A. Espargaro |
| 10th | M. Bezzechi |
With the top two in the championship collecting less points than thought going into the race, the championship has bubbled up yet again:
Top 4 Championship Standings:
| | | |
| --- | --- | --- |
| 1st | F. Quartararo | 180 points |
| 2nd | A. Espargaro | 158 points |
| 3rd | F. Bagnaia | 131 points |
| 4th | E. Bastianini | 118 points |
All the action during this superb race meant that it was the second closest ever top-ten finish (all within six seconds of eachother). No wonder fans were screaming and cheering and the atmosphere was electric.
What a great start to the second half of the 2022 season, with action right from the start to the very end. What can we expect from the next round?
Featured image: Courtesy of Moto GP website