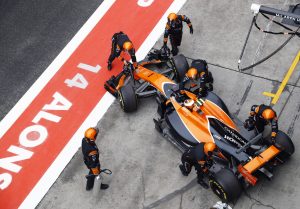 According to German media, the contract between McLaren and Honda has been terminated. McLaren is set to take the last details of the contract with Renault, while Toro Rosso switched to Honda.  Fernando Alonso will stay at McLaren.
For few days now, media stations reported the divorce between McLaren and Honda. Now the very reliable Michael Schmidt from 'Auto Motor und Sport' told in his latest video that the ex-dream partnership broke down on Monday.
While the whole world of F1 is waiting daily for an announcement of news in the engine drama, the teams and manufacturers are planing the last details in their contract, for example the drivers and payments.
According to Schmidt McLaren's plan to "blackmail" the FIA, in terms of leaving Honda and say that they are need a engine in hope to receiving a Ferrari or Mercedes engine, failed. The ruleholders showed the british team the regulation that say, that every team has to tell the FIA his engine partners before the end of may.
The decision of being with Renault next year will be a indicatory for McLaren. CEO Zak Brown told Sky Sports that this will be probably the most important decision for the woking based team ever. Now it seems to be done.
For more information what this deal mean: We already reported a week ago about the scenario:
Alonso will stay at McLaren – First signs on Twitter?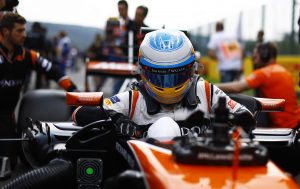 Also Schmidt is saying, that after that new engine deal is done, two time worldchampion Fernando Alonso will stay at McLaren.
The Spaniard maybe showed the first signs of the lost trust in Honda and the end of the McLaren-Honda era on Twitter.
While he had a picture on his twitter baner, with his first kart that is coloured in the original iconic red-white of the McLaren-Honda  alongside the real MP4/4 in his museum, there are now his own Fernando Alonso carts on the baner.
Also he doesn't following Hondas twitter pages anymore – Ironically the same happened as he leaved Ferrari back in 2014. Back then he unfollowed the twitter page of the italian brand before the whole story got official.