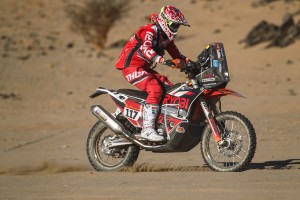 I had the absolute privilege of speaking with Kirsten and was able to ask some questions which she very kindly took the time to answer.
Kirsten is South Africa's top female enduro racer and has been riding since the age of 8 years old when she started riding dirt bikes for fun with her uncle and cousin round their garden and then her dad started to take her to the track on a Sunday which quickly progressed to both Saturdays and Sundays. Kirsten started riding professionally at the age of 22 and has now truly made a name for herself worldwide in the hard enduro racing scene.
Indeed Kirsten has been the first female rider to finish races such as Redbull Romaniacs silver class, Redbull Sea to Sky, Redbull Megawatt 111, Redbull Braveman & the Roof of Africa. Whilst competing at the top level of her sport all over the world, and most times being the only lady to do do, Kirsten has achieved her South African Springbok colours!
As a tomboy growing up and wanting to keep up with the boys, Kirsten loves the challenge of being a female rider competing against the boys on rough terrain and describes herself as very competitive even off the track – she will race to the front door and even race the dogs to the swimming pool! To say Kirsten excels in her sport is an understatement and the list of achievements is pretty impressive!
2018:
X-Race Namibia, Expert Class : 2nd overall, 1st lady
Redbull Romaniacs, Bronze Class : 15th overall, 1st lady
Sea to Sky, Turkey : 31st overall, only lady competitor in the Gold Class
WildWood Rock : 6th overall, 1st lady
Roof of Africa Gold class Finisher : 25th overall, 1st lady
2017:
IMPI Gold class finisher : 25th overall & highest placed female finisher
Powasol Timberland Extreme Enduro : 14th overall in gold class, first lady finisher
Redbull Romaniacs Silver Class : 45th overall, first lady finisher
South African Overall Silver Class National Champion in a male dominated class
Roof of Africa Gold class : 33rd overall
2016:
King of the Hill : 28th overall in expert class; made history being the first lady to ever finish expert class
FIM Super Enduro World Series, Prague: 4th in world championship
Alfie Cox Redbull Invitational Extreme Enduro:Kirsten was the only female to compete, making it into the semi- final and ranked 15th amongst the best male extreme enduro riders in South Africa
Redbull Romaniacs : 48th overall; the first Female in history to finish the race in silver Class
Redbull Braveman : 2nd in Silver class; only female to finish
Redbull 111 Megawatt Poland : 30th overall out of over 1000 entries, only female to qualify and finish
Redbull Sea to Sky : 24th overall in Gold class, reaching the top of Mount Olympus, bettering her previous years position by over 30 positions
South African National Enduro Championship:Kirsten raced a consistent season finishing on the podium at all rounds, but finished 2nd overall. This is the best Kirsten has done in all her years racing the National Enduros.
Roof Of Africa : This was Kirsten's first attempt at Gold class, going out on a whim & no expectations, Kirsten made history again and became the first ever woman in the 49 year history of the Roof Of Africa and finished the Gold class, completely unassisted
2015
Redbull Romaniacs : Kirsten attempted silver for the first time but due to complications, she didn't manage to finish.
Redbull Sea to Sky : 56th overall, becoming the only woman in history to ever finish a gold class at any extreme hard enduro event
Redbull Braveman : 1st overall in silver class (only riding against men)
Roof of Africa : 32nd overall in the silver class, first lady finisher
National Enduro Series : 3rd overall in the mens silver class
2014
Redbull Romaniacs : 47th place in bronze class out of 160 bronze riders and first lady home
Roof of Africa : 23rd in silver class, first placed female finisher unassisted
National Enduro Championship : 4th place in silver class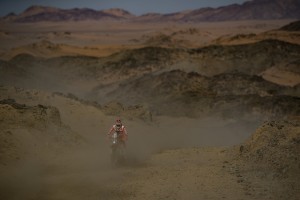 In 2020 Kirsten competed in the Dakar and finished 55th overall and was the 3rd female finisher. What is the Dakar, I hear you ask?
The Dakar Rally, or "The Dakar" was formerly known as the "Paris–Dakar Rally" and is an annual rally raid organised by the Amaury Sport Organisation. Most events since the inception in 1978 were staged from Paris, France, to Dakar, Senegal, but due to security threats in Mauritania, which led to the cancellation of the 2008 rally, events from 2009 to 2019 were held in South America. Since 2020, the race has been entirely in Saudi Arabia. The rally is open to amateur and professional entries, amateurs typically making up about eighty percent of the participants.
The rally is an off-road endurance event and the terrain is much tougher than that used in conventional rallying. The vehicles used are typically true off-road vehicles and motorcycles, rather than modified on-road vehicles. Most of the competitive special sections are off-road, crossing dunes, mud, camel grass and rocks. The distances of each stage covered vary from short distances up to 800–900 kilometres per day.
In the Dakar 2021 there were 108 bike entries, only 63 of which finished the event. Just to finish the event is an achievement in its self.
Kirsten was considering taking part in Dakar 2021 but was unsure about doing the Dakar back to back and then due to the Covid pandemic the economy in South Africa took a downturn and Kirsten was unable to get the funding she needed to take part. As it turned out Kirsten may have been unable to take part had she got the funding as whilst training on the bike one session, Kirsten took a nasty fall and dislocated her shoulder which put her out of action for four months.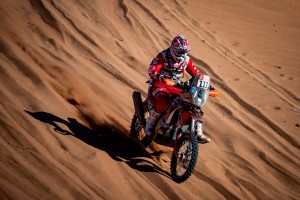 Kirsten's next challenge is to compete in the Dakar 2022 in the Malle Moto class. What is that, I hear you say!
Malle Moto, which is French for 'Trunk Motorbike', is a category in the Dakar which riders of motorcycles and quads are almost completely unassisted. There are very few riders who take on this added challenge and it is considered to be the toughest category you can possibly compete in.
Competitors are allowed to pack one Malle (trunk) (there are restrictions on the maximum dimensions) which the organisers will transport to each bivouac. The trunk should contain their spare parts, tools, equipment and any necessary personal belongings. The organisers will also transport one spare headlight, one set of wheels and tyres, a tent and a travel bag.
Every day, the riders must prep their bike for the next stage without any outside assistance which may take a few hours, depending on the condition of the bike. They must also prepare their own road books before every stage and there is a common canteen to eat from. This all has to be done by the rider after each stage, which can run for many gruelling hours. After the rider has done all this, they then need to get enough sleep to be ready for the next stage. It is not uncommon for competitors to survive on just two or three hours of sleep everyday, for two weeks!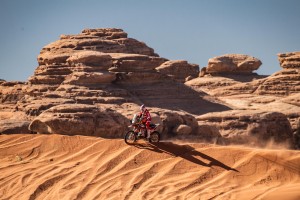 Although Kirsten can do a lot of her own bike maintenance already, she is unable to take apart an engine and fix it or work on anything electrical so preparation is already underway with Kirsten learning these new skills in preparation for Malle Moto.
Kirsten knows that time management will play an important role in this. I asked if she was worried about taking part in such an arduos event by herself with no assistance – Kirsten is not really worried about doing it by herself as knows the route having taken part in Dakar 2020 and she is really looking forward to the challenge of doing the event by herself. New challenges excite Kirsten, the harder the challenge is, the better it is.
I asked Kirsten who her inspiration was and she said it was Laia Sanz who is known as The Queen of the Desert. Laia is the best female motorcycle rally racer in history, has won the title of best Dakar racer five years in a row and was the only woman to finish the race at all in two separate years. She is also the three-time Women's World Enduro Champion. WoW!
Surprisingly, well to me anyway, Kirsten does not ride her motorbike on the road, she finds road bikes uncomfortable and feels that riding on the roads local to her to be somewhat dangerous. Kirsten is far more at home on her dirt bike riding through the mud. Although Kirsten lives in a beautiful place, her two most favourite places to ride are Romania, where she has competed five times and went back again just for some casual riding and La Sutu, which is a country within her country with beautiful mountain ranges and extreme riding.
Kirsten's best feeling about being on a motorbike is the feeling of accomplishment, knowing that she has achieved the end of the race and got to the finish line. It is the sense of adventure she loves, the fact that she is outdoors, loving the nature around her and being lucky to have such great roads to ride on and travelled the world in the process. Kirsten has made some very passionate lifelong friends through her love of riding with that unspoken rule that as you ride a motorbike, you just get along, the people are just so cool.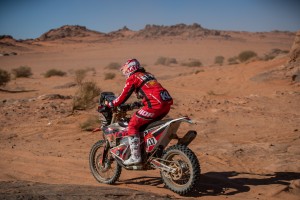 So Kirsten, what is the one thing people would never know about you just by looking at you? Baking. Kirsten loves to bake cakes, muffins and cooking in general, she is a big foodie and finds that when she is baking she can switch off from her riding and relax. I, myself can totally relate to that but unfortunately I like to eat my baking too!
Kirsten's most embarrassing moment on a motorbike came when she was competing in an event and was absolutely desperate for a wee so she pulled over, popped the bike on the stand and walked round to a bush. Just as she was mid flow, another competitor stopped to see if she was okay and walked round and caught her peeing! Ooops!!!
As a youngster Kirsten was a tomboy and used to live in a big smallholding which had a massive garden. When she was around 8 or 9 years she was running around the garden with a friend pretending they were characters from the Jungle Book, they got hold of some matches and decided to make a fire like their characters. When they finished playing they thought they had put the fire out but during the night the wind caught up and the whole garden ended up on fire nearly spreading to the next door property. The fire brigade came and put the fire out thankfully but that is probably the worst thing Kirsten's mum caught her doing as a kid!
I asked Kirsten if she has a lucky thing/ritual before the start of a race as it seems a lot of racers do. Kirsten is no exception, she always puts her left knee brace on first and then her right one and then puts her right boot on first and then her left one. Kirsten will then sit on the bike, put her head on the handlebars and say a prayer.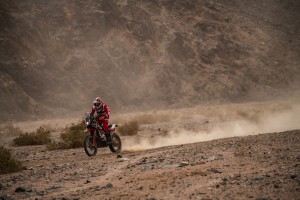 The first motorbike Kirsten owned was a Yamaha PW80 which was a limited edition bike. Unfortunately the bike was sold many years ago and has now become a collectors item. Kirsten has been looking for one for a while now with the idea of restoring it and then putting it in her house on display. I definitely like that idea, how cool would that be to have your bike on display in your house.
If Kirsten hadn't been a racer, she would have liked to become a vet. Kirsten is an animal lover and has five rescue dogs that live with her and has re-homed so many more animals. Kirsten is part of the Saving Animals Movement (SAM) and raises money to help animals who are malnourished, overbred or in dire need of help and helps provide them with medical assistance and finding them new forever homes.
Would Kirsten ride pillion? Even if Valentino Rossi offered to take her out pillion on the road, she would say no! She is absolutely terrified of going out on the road! Now if you were to offer Kirsten a pillion ride on the track, she would happily go with you as long as you were an experienced rider on track.
I asked Kirsten what her friends and family would assume she had done if she got arrested and there was no hesitation in saying that it would be because she had got into an argument with someone over an animal. If Kirsten sees an animal being treated unfairly, she does get very emotional which may have led to one or two arguments in the past ……..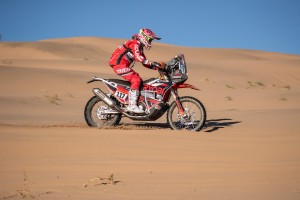 You can check out Kirsten's website at Kirsten Landman and follow her progress with her preparations for the Malle Moto 2021. You can also follow Kirsten on Facebook and Instagram at : Kirsten Landman.
Thank you Kirsten for taking the time to speak with me, I really appreciate it and wish you good luck for the Dakar next year.
BK