Chase Elliott, after outdueling Ross Chastain, led the final 53 laps of the DuraMAX Drydene 400 at Dover Motor Speedway on Monday to get his first NASCAR Cup win of the season and end his 26 winless streak. It had been 46 races since Elliott's last oval win; that being at Phoenix in 2020 when he won his first Cup championship.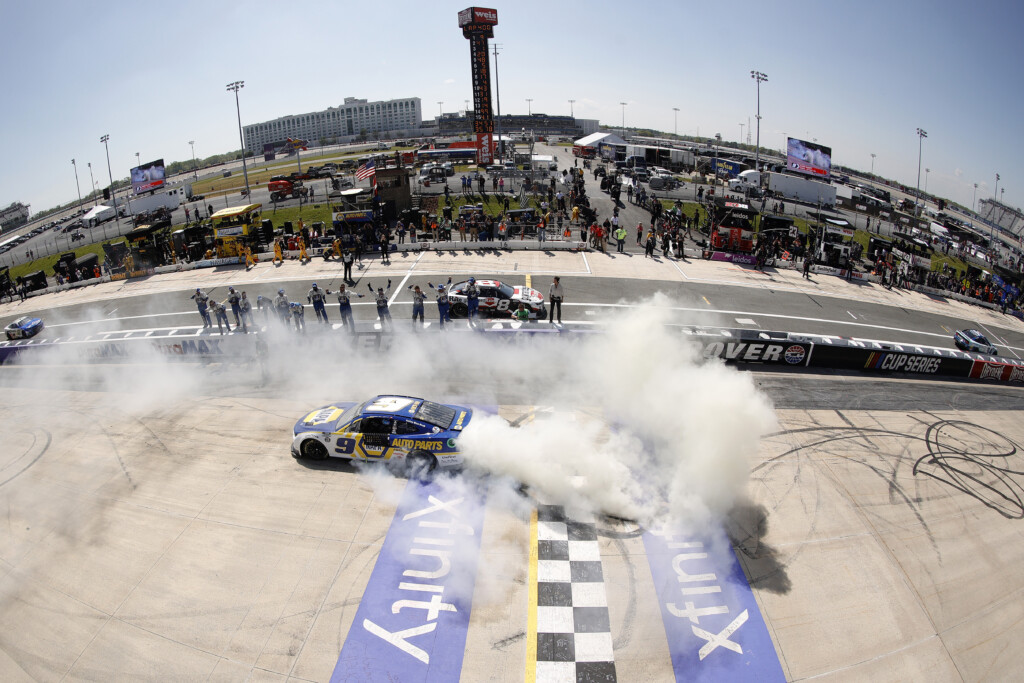 The final stage of the race had been led by Kyle Busch and Elliott's Hendrick teammate Alex Bowman but an ill-timed caution with 77 laps to go when both were making their final green flag pit stops of the race, saw them both go a lap down and be forced to take the wave around under caution and start at the tail of the longest line. Bowman would bring the No. 48 Ally Chevrolet home in fifth with Kyle Busch finishing seventh.
2022 two-time winner Ross Chastain had assumed the lead of the race after the ill-timed caution but with 60 to go on a restart, he dueled side by side with Chase Elliott for three laps with neither giving an inch before another caution came out. The next restart saw Elliott power past Chastain on the inside and would lead from then on to take the checkered flag.
Talking to FOX's Jamie Little, Elliott said they "had some good circumstances finally. We've had some tough races over the last four or five months" and also said it was great to get NAPA and Hendrick Motorsports back to victory lane.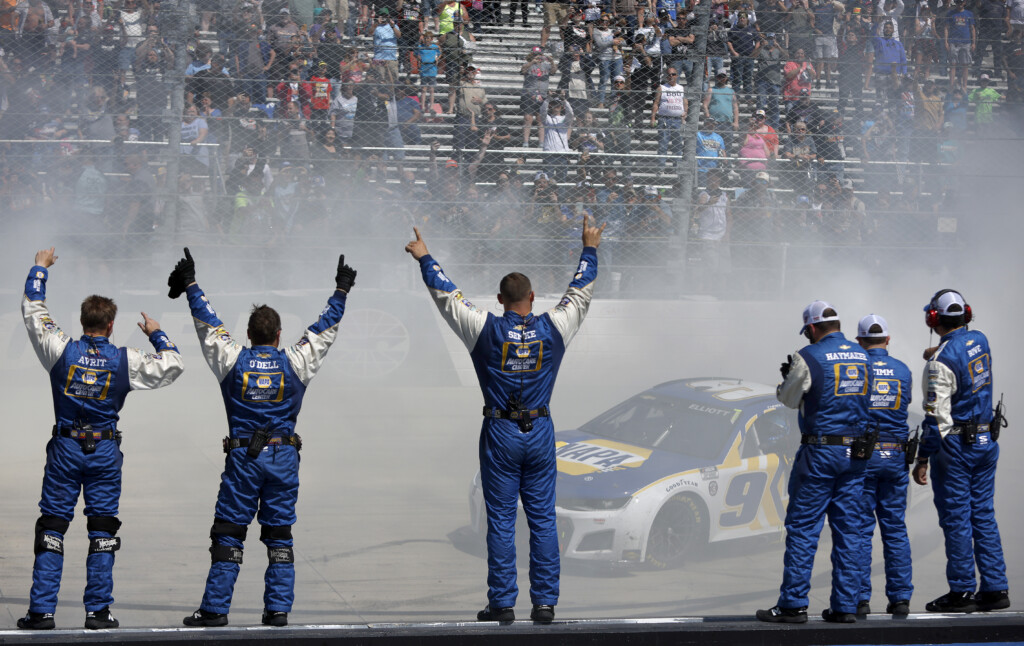 Elliott joins the rest of his Hendrick teammates in being a 2022 Cup winner and comes out of Dover retaining the points lead in the regular season championship.
Elliott's win has made history for Hendrick Motorsports by making them the first team to have four different drivers win a Cup race in the first 11 races of the season. Hendrick also had a one-two-three-four finish at Dover in the 2021 Cup race, which made it the fourth time in NASCAR history that the same organization swept the first four positions in a Cup race.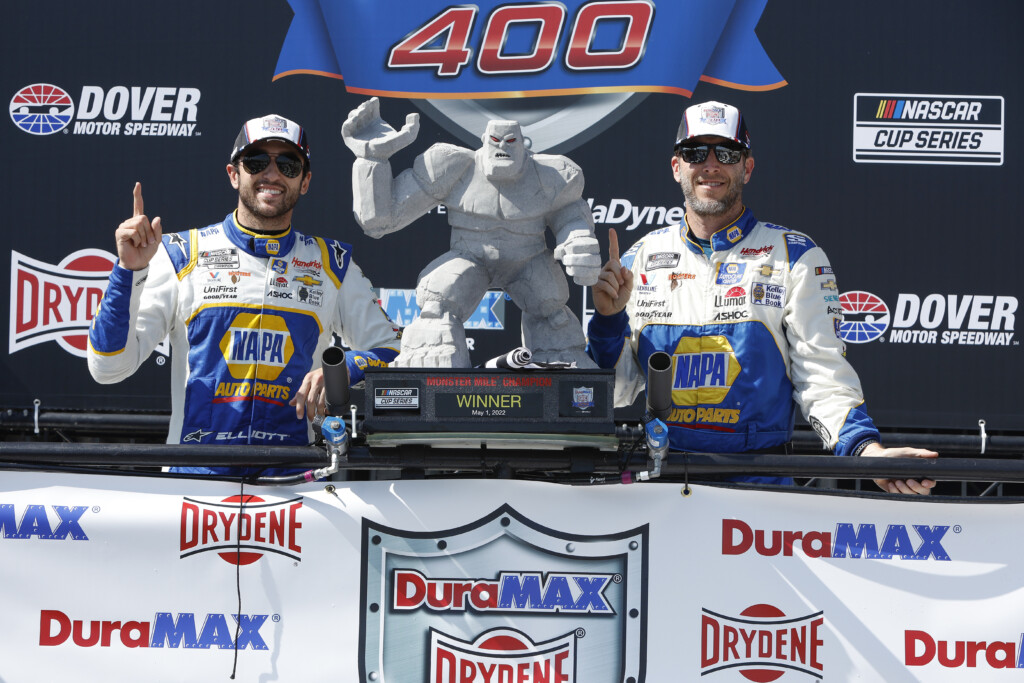 Kyle Busch led the most laps of the day, leading 133 of the 400 laps, but the ill-timed caution for a loose tyre out on the race track and loss of track position was too much for the birthday boy to overcome. It also ended Busch's two for two streak of winning when a Cup race fell on his birthday.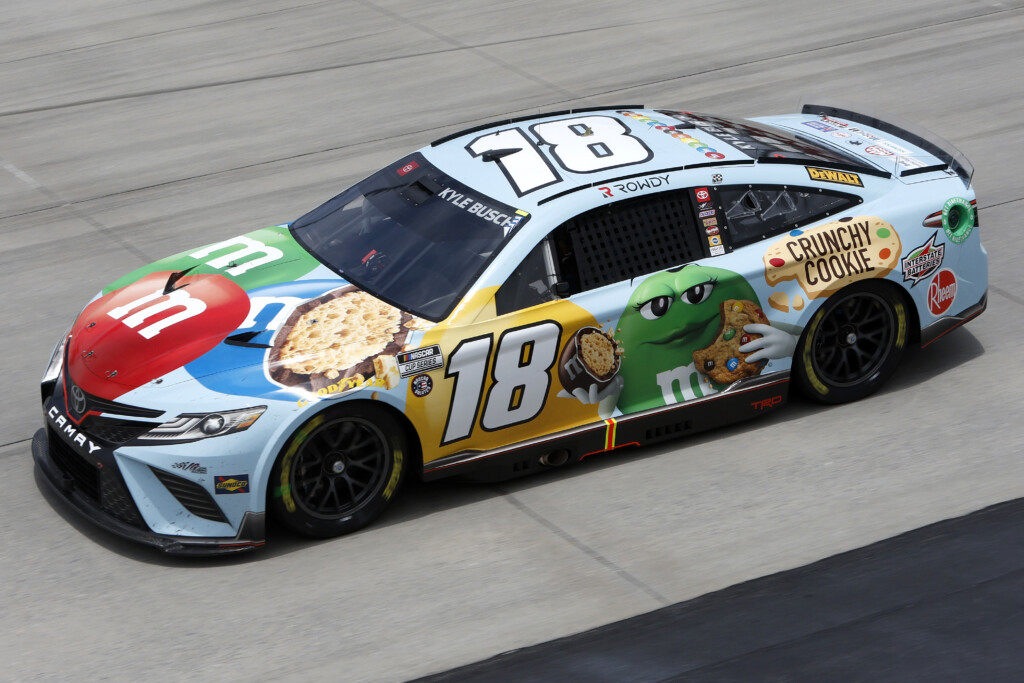 The race had originally got under way on Sunday afternoon, with pole sitter Chris Buescher leading the first 18 laps before being overtaken by Denny Hamlin. The caution came out on lap 68 for rain and ten laps later the red flag was brought out and the cars were parked on pit road. With the rain intensifying and Dover Motor Speedway not having any floodlights, NASCAR postponed the continuation of the race until Monday at noon.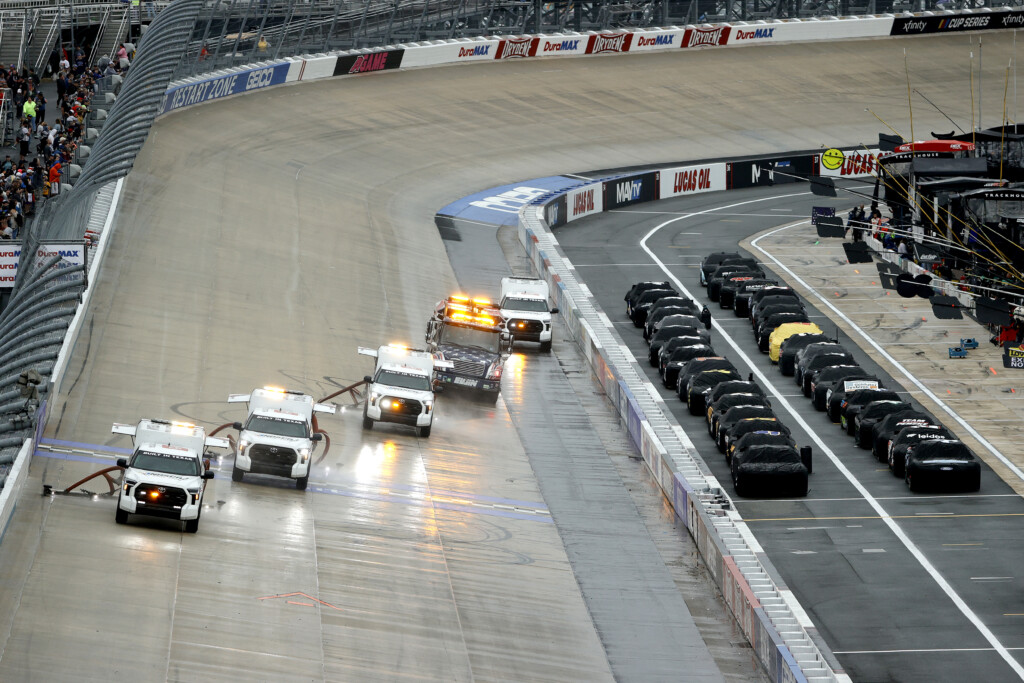 When they got going again after pit stops, Kyle Larson would take the lead of the race for a few laps before a caution would come out for a spinning Austin Cindric who lost the back end of his car coming out of turn two and would make contact with the outside wall. His day ultimately ended due to the team going over the six minute repair vehicle damage policy on pit road.
Elliott would take over the lead from Larson on the restart and would hold the lead until there were 10 laps to go in stage one when Hamlin would pass him on the inside and go on to win the stage.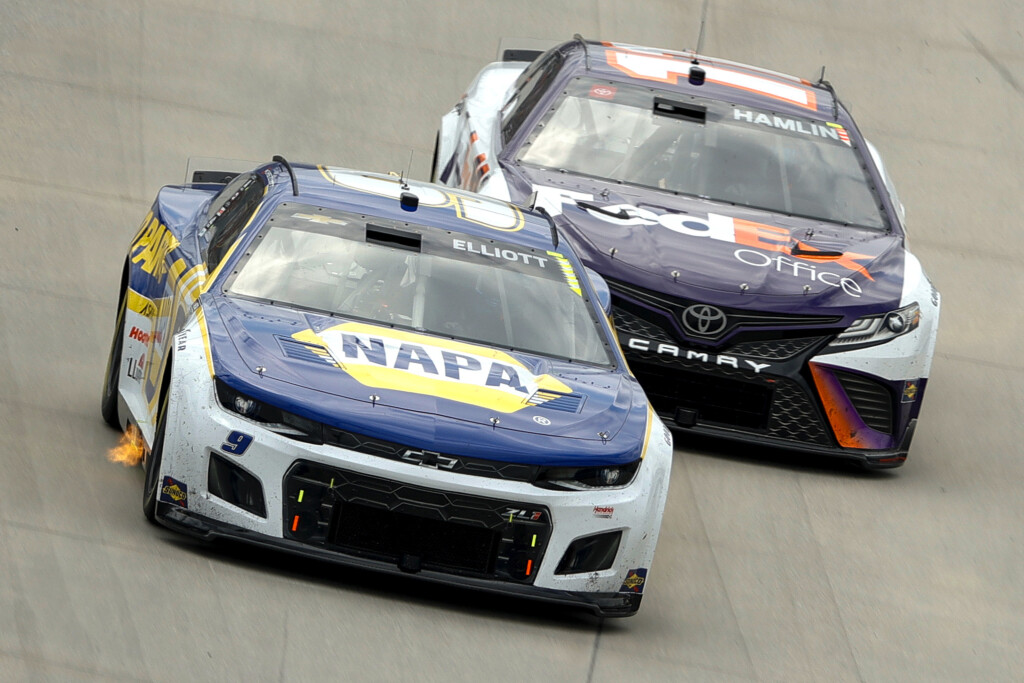 Hamlin would lose the lead during the stage break as Hamlin's team made a costly mistake on pit road of not getting the lug nut on Hamlin's left front tyre resulting in Hamlin having a race off pit road with his own tyre rolling alongside him and was consequently penalized and sent to the back of the field for the restart.
Stage two saw a roller-coaster of events. Ross Chastain would lead the first part of stage two before Kyle Larson spun in turn four and ended up backwards on the front straightaway, also blowing a tyre in the process.  Over halfway through stage two, with Chastain still leading, Kurt Busch would get tagged from behind by AJ Allmendinger out of turn two that would send him spinning on the back straightaway, making minor contact with the inside wall.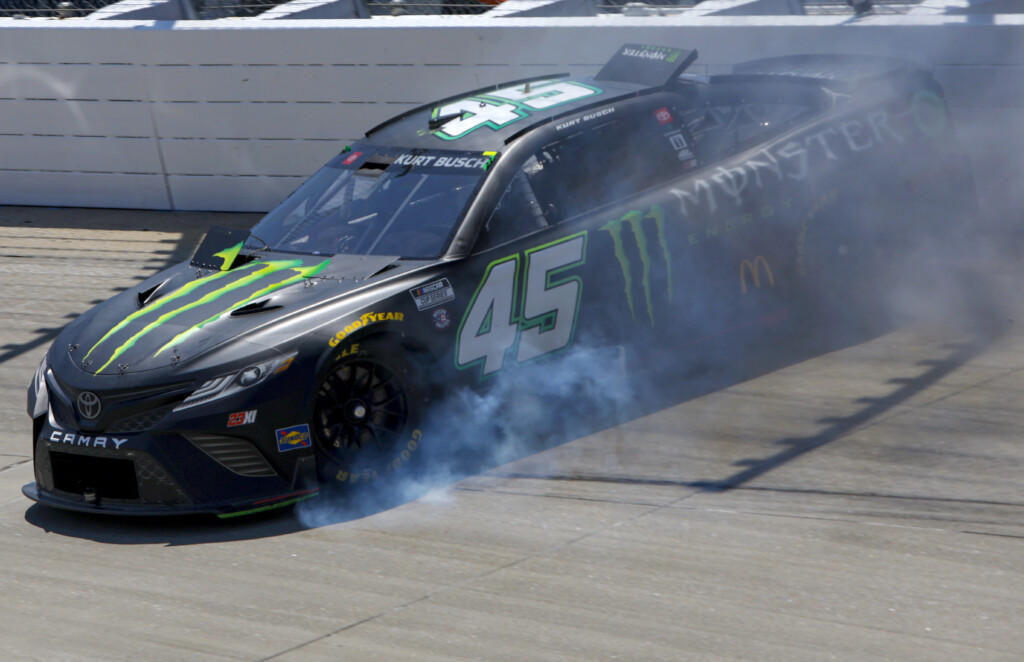 Under caution, Justin Haley, who had been legitimately been running inside the top five earlier in the stage, would stay out. A lap after the restart, Joey Logano would bring out the next caution after getting shoulder barged out of the way by Erik Jones heading into turn one, and ending up colliding with the turn one outside wall.
A few laps after the next restart, 2021 winner Bowman would relinquish the lead from Haley. With less than 40 to go Kyle Busch would take over the lead but a caution later inside of 15 to go saw his Joe Gibbs teammate Hamlin getting collected on the front straightaway by a spinning Cody Ware in front of him. Ryan Blaney would stay out on tyres when the rest of the field pitted and with three laps to go, was able to hold off Kyle Busch for the stage two win.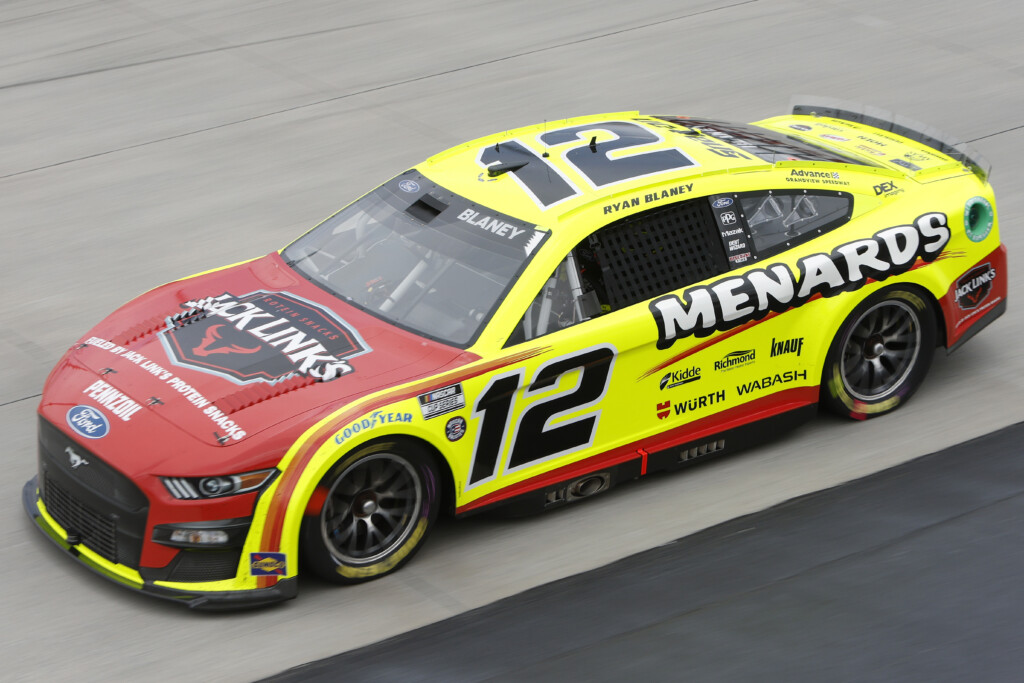 In the final stage Kyle Busch would lead until the ill-timed caution sending him tumbling down the order. Ricky Stenhouse Jr. would run inside the top five for the final stage and did so well as to bring home the No. 47 Frozen Farmer Chevrolet in second place, a huge day for JTG Daugherty Racing . He overtook Chastain for second place after Chastain had lost the lead to Elliott but was unable to get to Elliott, only closing the gap to 1.6 seconds within 30 to go after Elliott came upon lap traffic.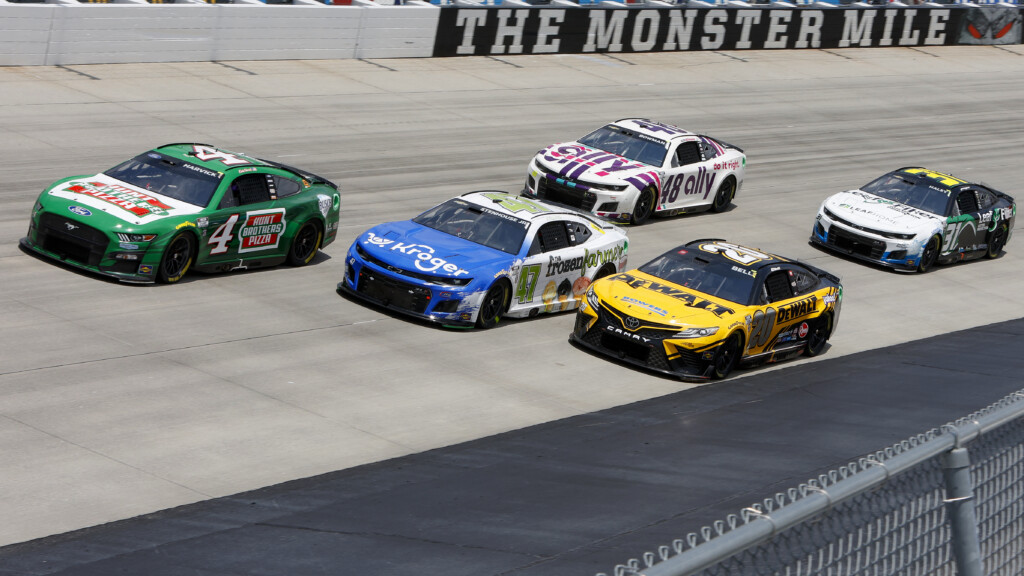 On the final lap, Ross Chastain find himself in trouble with Truex Jr., who he had been racing around for much of the race, when he came up to block him out of turn two. Truex Jr. made contact with Chastain's rear before getting loose and spinning out, falling from fourth to 12th. On Chastain's post-race interview with FOX's Jamie Little, Chastain jokingly said "We were just talking about fishing there".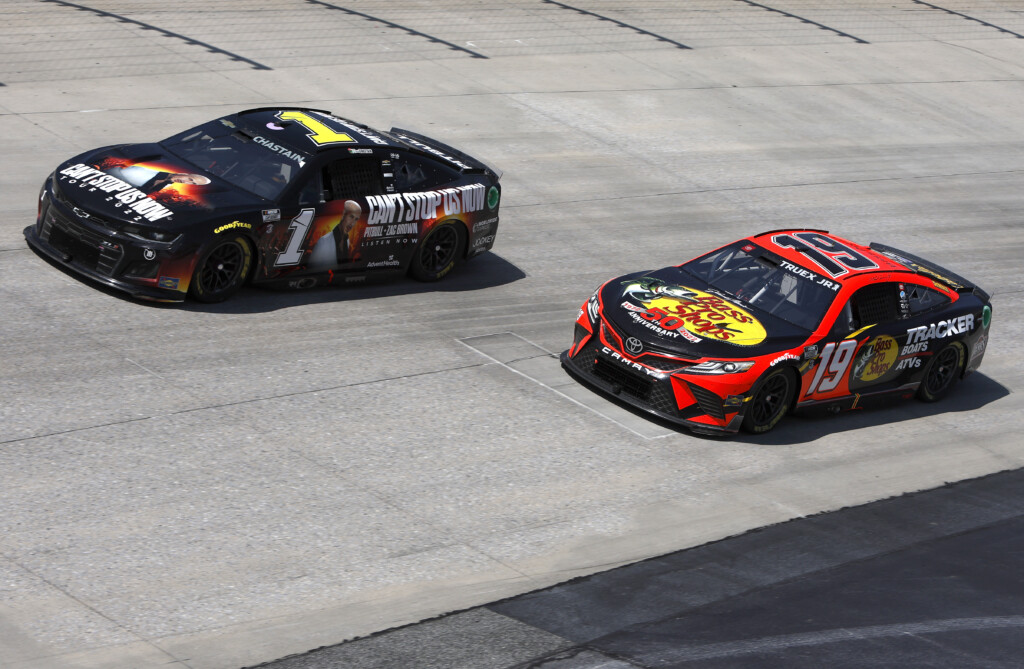 Full finishing order: (1st) Chase Elliott, (2nd) Ricky Stenhouse Jr., (3rd) Ross Chastain, (4th) Christopher Bell, (5th) Alex Bowman, (6th) Kyle Larson, (7th) Kyle Busch, (8th) Chris Buescher, (9th) Kevin Harvick, (10th) Erik Jones, (11th) Justin Haley, (12th) Martin Truex Jr., (13th) Chase Briscoe, (14th) Daniel Suárez, (15th) Cole Custer, (16th) Bubba Wallace, (17th) Michael McDowell, (18th) Corey Lajoie, (19th) Aric Almirola, (20th) Brad Keselowski, (21st) Denny Hamlin, (22nd) William Byron, (23rd) Austin Dillon, (24th) Harrison Burton, (25th) Ryan Preece, (26th) Ryan Blaney, (27th) Ty Dillon, (28th) Todd Gilliland, (29th) Joey Logano, (30th) Tyler Reddick, (31st) Kurt Busch, (32nd) Josh Bilicki, (33rd) AJ Allmendinger, (34th) Cody Ware, (35th) BJ McLeod, (36th) Austin Cindric.
Top 10 in points standings: 1st Chase Elliott (418), 2nd Ryan Blaney (368), 3rd William Byron (353), 4th Kyle Busch (353), 5th Alex Bowman (349), 6th Ross Chastain (338), 7th Martin Truex Jr. (336), 8th Kyle Larson (335), 9th Joey Logano (316), 10th Christopher Bell (284).
Featured Image: (Right) Chase Elliott, the No. 9 NAPA Chevrolet and (left) Ross Chastain, the No. 1 Pitbull Tour 2022 Chevrolet, dueling for the lead (Photo by Sean Gardner/Getty Images)