Qualifying:
Wet conditions during the qualifying saw some unexpected results.
Starting in Q1 Fabio Di Giannantonio/ DiGi (Ducati) went through to Q2 along with Marc Marquez (Honda).
During Q2 Marquez high-sided his bike on turn 2, landing hard on his head and shoulder. The bike caught on fire and the accident caused the qualifying to be red-flagged early on in the session.
But, it was the Rookie, Di Giannantonio who finished in pole with 1:46.156 alongside another Rookie – Marco Bezzecchi and his teammate Luca Marini (VR46 Ducati).
An all Italian front row in Italy, the fans were sure to see something special on Sunday.
Race:
The rain stayed away for Sunday, but there was further drama unfolding: big news was confirmed that Marquez would be undergoing another operation on his shoulder during the coming week. With this breaking news, speculation was spreading about if he should even be starting the race.
At lights out DiGi got away well but it was the VR46 rider Marini who quickly took the lead from fellow Italian, leading the whole first lap until back on the home straight when Bezzecchi re-took control.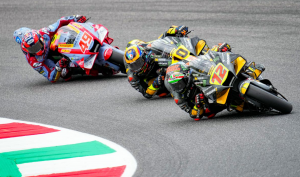 Francesco Bagnaia (Ducati) had a poor start and went from 5th position to 8th, by the second lap he had gained back one place and had started to hunt down Johann Zarco (Ducati).
Fabio Quartararo (Yamaha) took 3rd place but DiGi fought back on the straight, starting lap 3. Quartararo wasn't having any of it and quickly re-took the position back. Meanwhile, Bagnaia made his way into 5th, having already passed Zarco earlier in the lap.
Close racing on the iconic track led to the fastest lap going to Bagnaia who was looking to pass DiGi for 4th place.
Marini had been holding strong in 2nd but Quartararo was stronger, taking the position from him on lap 4. How was the rookie in 1st going to handle El Diablo closing up fast behind him?
19 laps till the end and Bagnaia managed to pass DiGi. Both Quartararo and Bagnaia were on a mission from the start. Bezzecchi was pushing hard at the front, claiming fastest lap and leading Quartararo, Marini and Bagnaia.
So much action had already occurred early on in the race, but more action was yet to come: Lap 5, turn 9 Pol Espargaro (Honda) ended his race early while Bagnaia passed both Marini and Quartararo in the same corner to take 2nd place and the fastest lap of the race once more.
Pecco now had Bezzecchi in his sights, how would the Rookie fair?
On another Ducati, further down in the field Jorge Martin set a new record (fastest ever top-speed at Mugello) – 226.2mph.
It was the Aprilia rider Aleix Espargaro though who was moving through the pack, taking 5th position from DiGi, who was going backwards.
For the second time in a row Joan Mir (Suzuki) crashed out of the race, lap 8, turn 1. On the same lap, just moments later, his teammate continued the bad luck and also crashed out for the second time in a row at turn 12. Suzuki's year was just getting worse.
Starting lap 9 of 23, Bagnaia finally passed Bezzecchi to take the lead. Meanwhile the original leader and pole-man had fallen down the positions to 9th place.
Bagnaia was quick to start eeking out his lead. He was soon 0.964 seconds ahead of the pack. Quartararo could see him getting away and soon took another place, going to 2nd. Could he catch up to Bagnaia?
With 13 laps to go, Bagnaia led Quartararo, Bezzecchi, Marini and A. Espargaro.
The close racing continued however and Marini took 3rd from his teammate going into lap 12.
By the next lap the VR46 boys had swapped positions again, while Bagnaia continued his get-away and was now 1.164 seconds ahead of the Yamaha in 2nd.
Drama continued to reek havoc at Mugello as last race winner – Enea Bastianini (Ducati) took a tumble into the gravel on lap 14, turn 4 from 6th position.
Lap 15 saw A. Espargaro pass Marini to take 4th place. While Zarco and Martin fought for 5th spot, Zarco finally claimed it.
Two laps later and A. Espargaro's calculations of trying to pass Bezzecchi come to fruition and he made the pass to go into 3rd. Could he make further history for Aprilia and have 4 podiums in a row? With only a few laps to go, audiences were on the edge of their seats.
Bezzecchi tried desperately to hold onto his new position (4th) but with only 3 laps until the chequered flag it looked likely that Zarco would pass him.
Last lap: Zarco had formulated exactly where to pass Bezzecchi and he did so, claiming the top independent rider spot. While at the front Bagnaia crossed the line in 1st to take that all important win! An Italian, on an Italian bike, in Italy – A Mugello Dream Come True! Bagnaia decided to celebrate his win with the fans by throwing his gloves and boots into the crowd.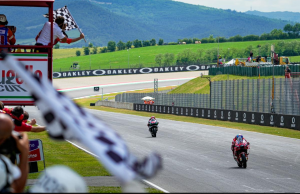 Top 10 race finishers:
| | |
| --- | --- |
| 1st | F. Bagnaia |
| 2nd | F. Quartararo |
| 3rd | A. Espargaro |
| 4th | J. Zarco |
| 5th | M. Bezzecchi |
| 6th | L. Marini |
| 7th | B. Binder |
| 8th | T. Nakagami |
| 9th | M. Oliveira |
| 10th | M. Marquez |
It was an impressive ride from Marc Marquez considering the news regarding his shoulder surgery. Wishing him all the best in his recovery period (he will be having 4 – 6 months rest), hoping to see him back to full fitness soon.
It was also an impressive ride from both the VR46 riders, managing to remain in the top ten by the end of the race.
Top four Championship standings:
| | | |
| --- | --- | --- |
| 1st | F. Quartararo | 122 points |
| 2nd | A. Espargaro | 114 points |
| 3rd | E. Bastianini | 94 points |
| 4th | F. Bagnaia | 81 points |
History is constantly being written: Bagnaia took his first win at Mugello and A. Espargaro managed to get Aprilia their first 4 podiums ever in a row in the premier class.
The 2022 season is so unpredictable and constantly surprising us. With the next round only next Sunday we haven't got long to wait for even more action.
Featured image: Courtesy of Moto GP website.