---
Sunday saw JTG Daugherty Racing's Ricky Stenhouse Jr. win the 65th Daytona 500 in a double overtime finish beating Team Penske's Joey Logano to the caution flag as the field wrecked behind them. It was the longest Daytona 500 being 212 laps (530 miles) compared with 2020's 209 lap race. The two Kyle's of Busch and Larson missed out again while Travis Pastrana came home 11th in his first Daytona 500.  
Key moments
Rest of race recap
Full results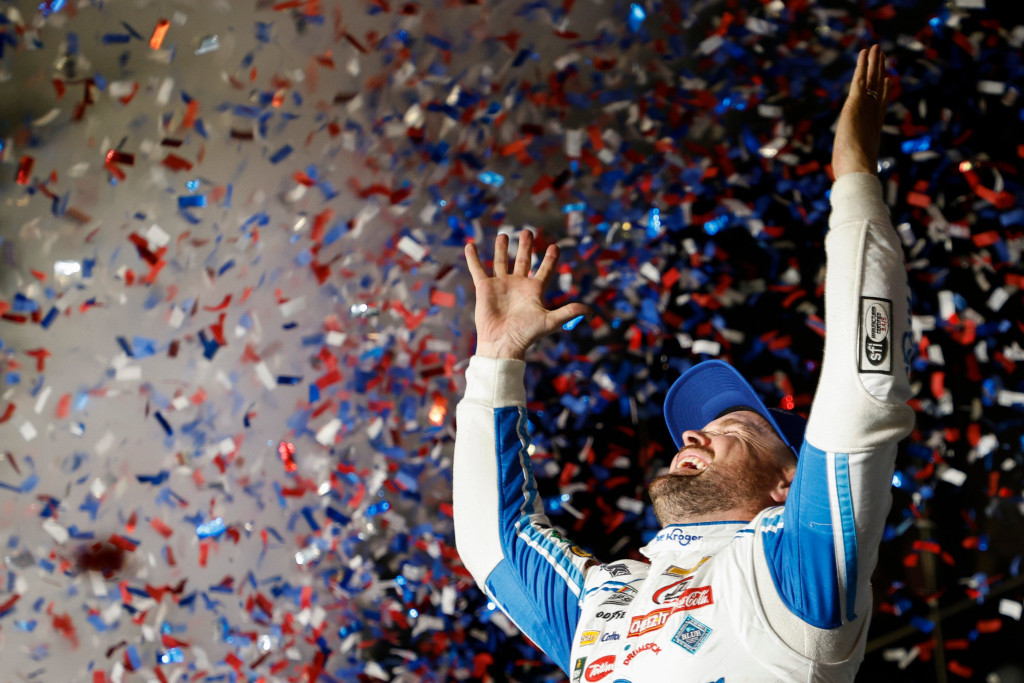 After starting 31st with 20 laps to go after receiving a penalty for speeding exiting pit road, Stenhouse Jr. methodically worked his way back through the field to take the lead away from Kyle Busch during the first of two overtimes.
In the final overtime, he held off Kyle Larson and inched in front of Joey Logano on the white flag lap at the time of caution as nearly the entire field wrecked behind them after Almirola turned Pastrana down into the pack.
Two minutes later, NASCAR declared Ricky Stenhouse Jr., of Olive Branch, Mississippi, the winner of the 65th running of the Daytona 500; his 12th attempt at winning the Great American Race.
It ends a 199-winless streak and earned the Mississippi native his third career win, all coming at restrictor plate tracks, including the 2017 summer Daytona race. This was Stenhouse's first season back with his old crew chief Mike Kelly, who he won the 2011 and 2012 Xfinity Championships together with.
Stenhouse Jr. said: "everything played out perfectly for us at the end of that. It's the Daytona 500. It's a long race. You're going to have good parts and bad parts, but we just kept pushing through."
For most of the race the pack was tightly strung together two-wide 15-plus rows deep. While any aggressive maneuvers and sudden movements often came close to causing the big one, there was perpetual energy changes in the two lanes leading to 52 lead changes in the race shared amongst 21 drivers. Prior to overtime, there was only four cautions for cause.
Joey Logano had been upfront throughout the race including leading the pack for most of the final 18 laps of stage two. Logano retook the lead with 13 laps to go before losing it to AJ Allmendinger two laps later.
Logano circled around the top five for all of overtime including in the first before the big one happened when William Byron and Austin Dillon spun back into the pack in turn three after Byron had sent Dillon into a spin.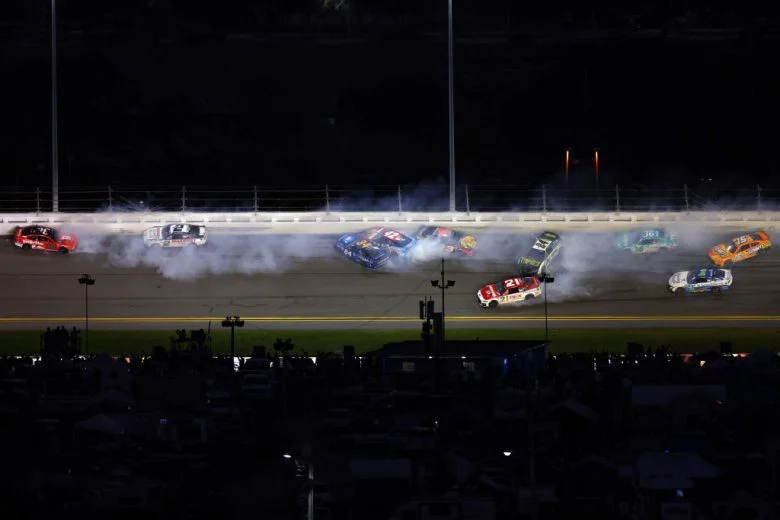 In the final overtime finish Logano was ahead of Stenhouse Jr. when the field began wrecking behind them but by the time the caution was thrown five seconds later, Stenhouse Jr. had surged back ahead.
Logano, speaking about his decisions afterwards said: "Second is the worst, man. You're so close. Leading the white flag lap there, I was up front. Kyle gave me a good push. I knew if I went to the bottom my car didn't handle good enough. I already got pushed off the bottom once and I thought, if I go down there, I'm probably going to get wrecked, and I don't know if I can get down there in time to throw the block [on Stenhouse] and so I didn't want to wreck my car either."
Richard Childress Racing's Kyle Busch had taken over the lead with teammate Austin Dillon in tandem inside of three laps to go, slingshotting around the Roush Fenway Keselowski Ford's of Brad Keselowski and Chris Buescher.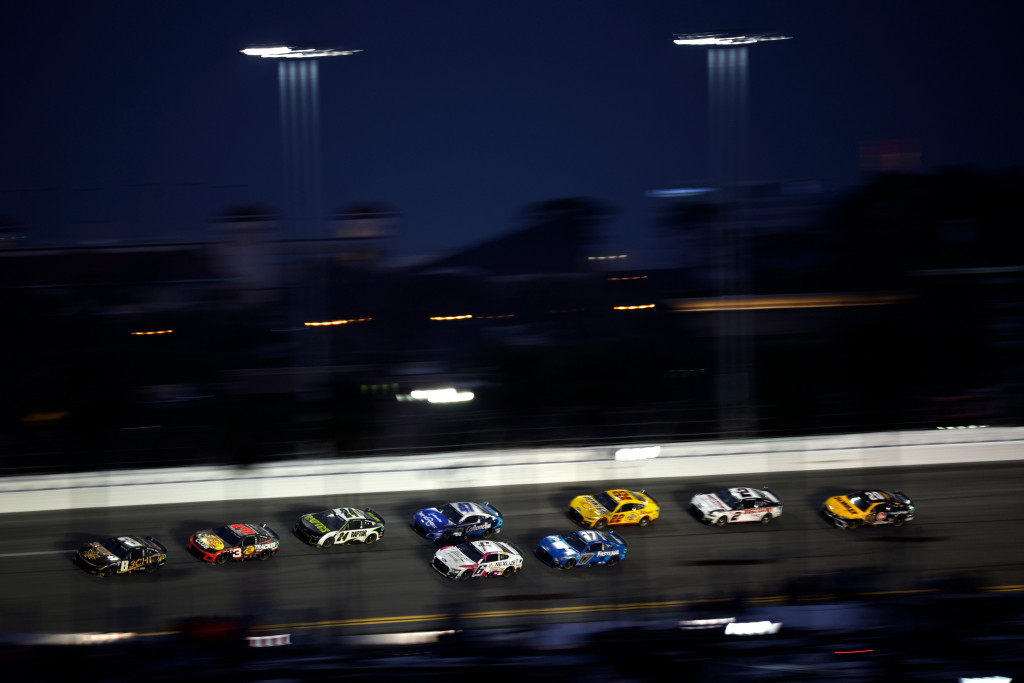 The RCR camp offered Stenhouse an olive branch on the restart when a drop to the bottom lane from the top by Busch to allow Dillon in to push saw Logano's and Stenhouse Jr.'s outside led lane out-drag them down the backstretch. Busch would be collected in the final wreck sending him tumbling down the finishing order to 19th.
Busch had a stereotypically rowdy race. In his 18th attempt to win the Daytona 500, he had to start in the rear due to going to a backup car after Thursday night's duel crash but worked his way up to the top-10 after the first green flag pit stops. Busch was caught speeding on pit road on lap 107 and served his drive through penalty under green, consequently being caught by the pack laps later.
After being the lucky dog on lap 132, putting himself back on the lead lap, Busch worked his way up to inside the top five with 15 laps to go, only to wreck out of the Daytona 500 again when Kyle Busch spun off of Bubba Wallace's nose in the final wreck.
Rest of race recap
Kyle Larson led the opening lap of the race, pipping polesitter Alex Bowman to the line. Larson, while staying in contention, would only be at the front again in the second overtime, lining up alongside Stenhouse Jr. for the restart. Larson would finish 18th after being taken out in the final crash.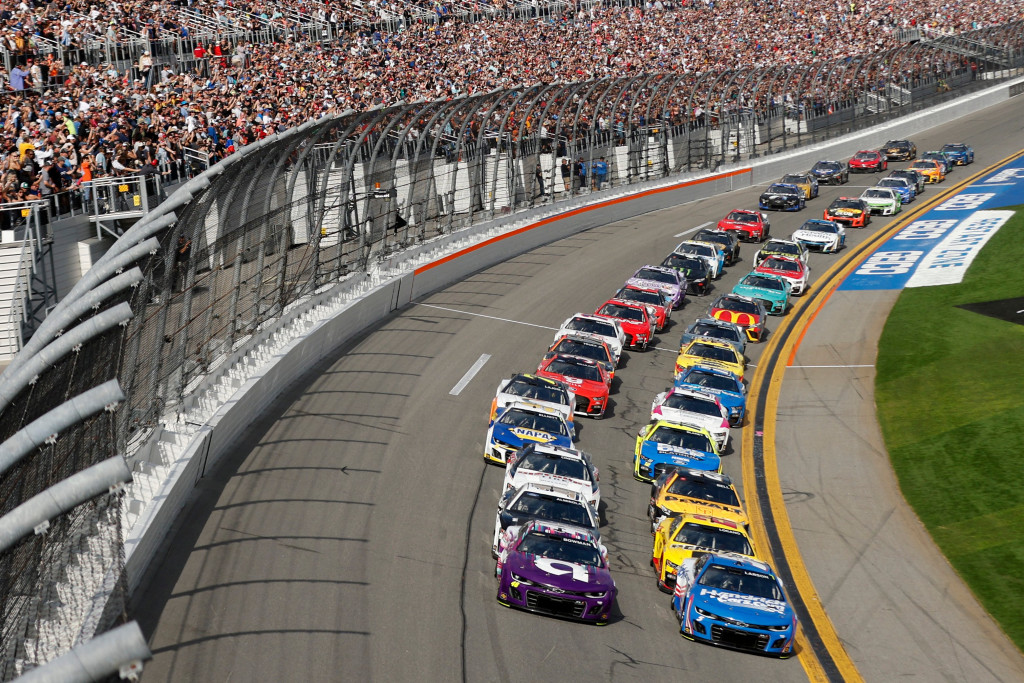 The first stint of the race was smooth sailing apart from a spinning Riley Herbst in the infield grass on lap 38, but the race stayed caution free. After the first green flag pit stops were complete on lap 45, the four Toyota's found themselves in the top-five in 23XI Racing's Bubba Wallace leading with teammate Tyler Reddick followed by Joe Gibbs Racing's Denny Hamlin and Christopher Bell. Wallace had to come to pit road from the lead after a light bump from Truex Jr. sent him into the wall and would go down a lap. 
With six to go in stage one it was a JGR one-two-three in Martin Truex Jr, Hamlin and Ty Gibbs but were sitting ducks to the RFK and Stewart-Haas Racing Ford's of Brad Keselowski, Ryan Preece, Chris Buescher and Kevin Harvick. The blue ovals pounced on the final lap with Keselowski winning the stage.
Keselowski also led much of the halfway part of the race. At lap 100 Erik Jones, in his striking Guns N' Roses sponsored No. 43, was up to fifth, and Jimmie Johnson, the two-time Daytona 500 winner who finished eighth in stage one, was up to sixth.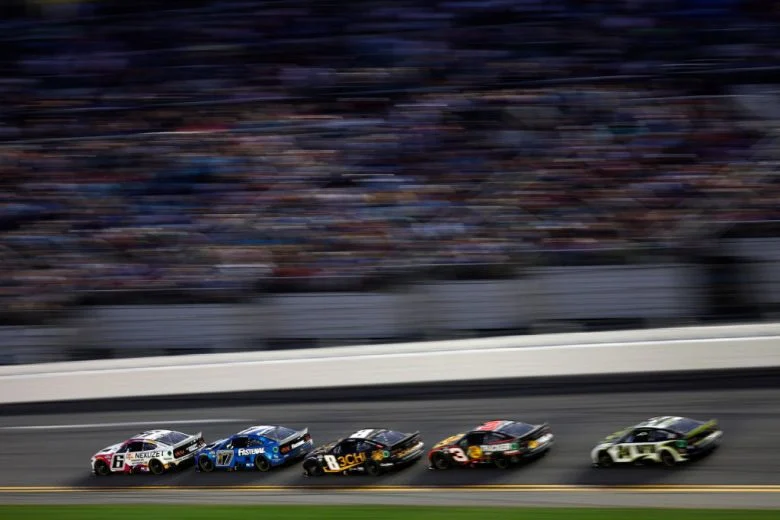 Lap 118 saw the first major incident of the race when Harvick gently pushed outside leader Reddick into a spin down into Blaney and Truex Jr. before careering into the turn four wall causing the field to check up behind. Blaney would whack the outside wall also but would continue after repairs while Jones would spin into Chase Elliott taking both, along with Reddick, out of the race. Wallace ironically would get the free pass following his teammate's crash.
A six-lap shootout to end stage two saw Ross Chastain drag-race Alex Bowman to the green chequered flag to take the stage win.
Wallace would lead the start of the final stage after staying out under yellow. Wallace had no top-end pace on the restart and quickly fell back through the pack as Aric Almirola took over the lead.
A seven-car crash came just after the final scheduled green flag pit stop's with 19 laps to go when part of the mid-field stacked up behind Keselowski leading to 14th place running Preece, the fifth car in line, spinning out from Michael McDowell's rear contact, taking out himself and SHR teammate Chase Briscoe from the race.
Harrison Burton and Logano briefly led at the front before Kaulig Racing's AJ Allmendinger took over the lead from Logano while Burton squeezed Busch into the frontstretch wall. The RFK Ford's of Keselowski and Buescher took back the lead with 10 to go before an eight-car breakaway developed inside of five to go, with Busch and Dillon tucked in behind the RFK Ford's.
A spinning Daniel Suarez coming off turn four into the infield grass helped lead to the double-overtime finish that saw Ricky Stenhouse Jr. win his first Cup race since 2017 and Chevrolet win their first Daytona 500 since RCR's win with Austin Dillon in 2018.
The mayhem at the end and good incident avoidance led Rick Ware Racing's Riley Herbst to come home in 10th in his first Daytona 500 start, despite being a part of the first overtime crash, and X-Games gold medallist Travis Pastrana finish 11th in his first Daytona 500. Jimmie Johnson was forced to retire from the race after being caught up the first overtime pile-up and would finish 31st.
This Sunday sees the NASCAR Cup Series travel to Fontana, California for the second race of the season, the Pala Casino 400 at Auto Club Speedway starting 3:30pm ET.
Featured Image: Ricky Stenhouse Jr., driver of the #47 Kroger/Cottonelle Chevrolet, and crew celebrate in victory lane after winning the NASCAR Cup Series 65th Annual Daytona 500 at Daytona International Speedway on February 19, 2023 in Daytona Beach, Florida. (Photo by Chris Graythen/Getty Images)
Full race results 
Ricky Stenhouse Jr., Chevrolet, 212.
Joey Logano, Ford, 212.
Christopher Bell, Toyota, 212.
Chris Buescher, Ford, 212.
Alex Bowman, Chevrolet, 212.
AJ Allmendinger, Chevrolet, 212.
Daniel Suarez, Chevrolet, 212.
Ryan Blaney, Ford, 212.
Ross Chastain, Chevrolet, 212.
Riley Herbst, Ford, 212.
Travis Pastrana, Toyota, 212.
Kevin Harvick, Ford, 212.
Zane Smith(i), Ford, 212.
Cody Ware, Ford, 212.
Martin Truex Jr., Toyota, 212.
Corey LaJoie, Chevrolet, 212.
Denny Hamlin, Toyota, 212.
Kyle Larson, Chevrolet, Accident, 211.
Kyle Busch, Chevrolet, Accident, 211.
Bubba Wallace, Toyota, Accident, 211.
Aric Almirola, Ford, Accident, 211.
Brad Keselowski, Ford, Accident, 211.
Austin Cindric, Ford, Accident, 210.
Noah Gragson, Chevrolet, 210.
Ty Gibbs, Toyota, 210.
Harrison Burton, Ford, 210.
Todd Gilliland, Ford, Accident, 208.
Michael McDowell, Ford, 208.
Conor Daly, Chevrolet, 206.
BJ McLeod, Chevrolet, 204.
Jimmie Johnson, Chevrolet, Accident, 203.
Justin Haley, Chevrolet, Accident, 203.
Austin Dillon, Chevrolet, Accident, 202.
William Byron, Chevrolet, Accident, 202.
Chase Briscoe, Ford, Accident, 182.
Ryan Preece, Ford, Accident, 182.
Erik Jones, Chevrolet, Accident, 118.
Chase Elliott, Chevrolet, Accident, 118.
Tyler Reddick, Toyota, Accident, 117.
Ty Dillon, Chevrolet, Engine, 26.
Stage results 
Stage 1 –
Brad Keselowski
Ryan Preece
Chris Buescher
Kevin Harvick
Michael McDowell
Ty Gibbs
Aric Almirola
Jimmie Johnson
Martin Truex Jr.
Todd Gilliland
Stage 2 –
Ross Chastain
Alex Bowman
Ricky Stenhouse Jr.
Joey Logano
Austin Cindric
Martin Truex Jr.
William Byron
AJ Allmendinger
Chris Buescher
Christopher Bell