Alex Bowman set a blistering lap speed of 181.686mph to secure his third career Daytona 500 pole. Jimmie Johnson and Travis Pastrana locked themselves into Sunday's race.
Bowman was the last car to go out in single- car qualifying's final round and had to beat Hendrick Motorsport teammate Kyle Larson's lap speed of 181.057mph. Both Bowman and Larson make up the front row for the Great American Race for two years in a row except it was Larson on pole for last year's race.
Bowman, who announced a contract extension earlier in the day that sees him through to 2026 with Hendrick said: "This Ally 48 Camaro is obviously really fast. I don't really have a lot to do with qualifying here, so just fortunate to qualify some really fast race cars."
Hendrick drivers have won eight of the last nine Daytona 500 poles, and Chevrolet drivers have won the last 11.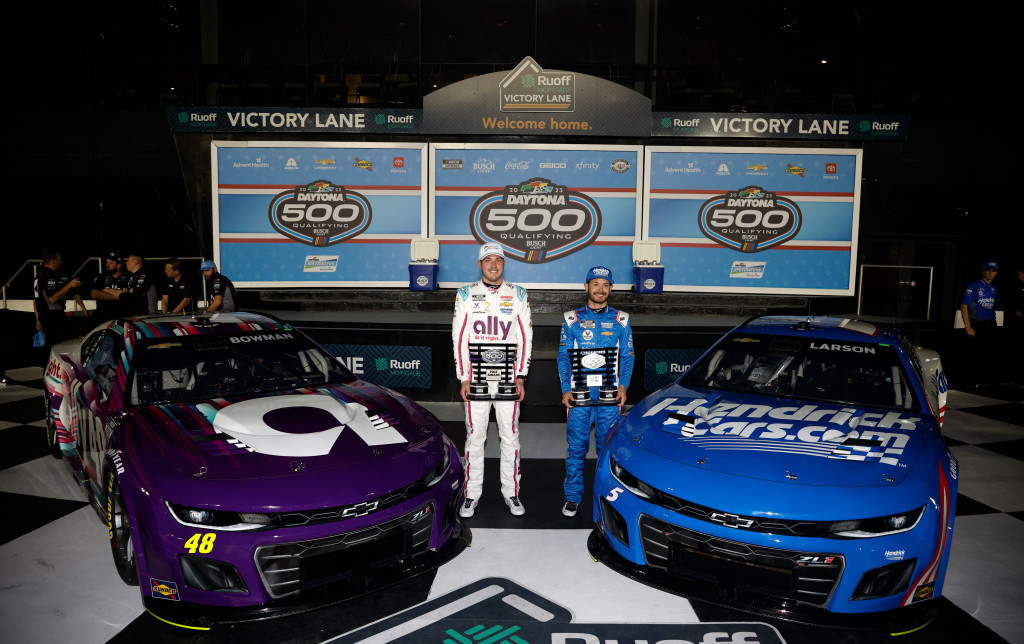 It was a Hendrick one-two-three at the end of qualifying with William Byron coming in third with a lap speed of 180.727mph. Unlike his teammates, his starting position for the Daytona 500 will be decided in the duel races as only the front row is locked in for the Daytona 500 ahead of the duels.
It was all Ford's from fourth to ninth in Almirola, Logano, Briscoe, Blaney, Cindric and Burton. Kyle Busch had his initial top-five time disallowed for dipping his Richard Childress Chevrolet below the double yellow lines on the frontstretch, having to settle for 10th out of the 10 cars in the final round.
Jimmie Johnson and Travis Pastrana were the top two non-chartered cars, qualifying 23rd and 25th with near equal lap speeds; 179.276mph and 179.254mph respectively. There'd been no practice prior to qualifying so it was all the more impressive to see Johnson, the seven-time Cup champions' first qualifying session with the New Gen Car and Pastrana, making his first Daytona 500 run, lay down competitive lap speeds.
Pastrana said: I just can't say enough about this 23XI team. And this TRD motor and being able to get on the [simulator], that was everything. Can't give them enough credit for this opportunity."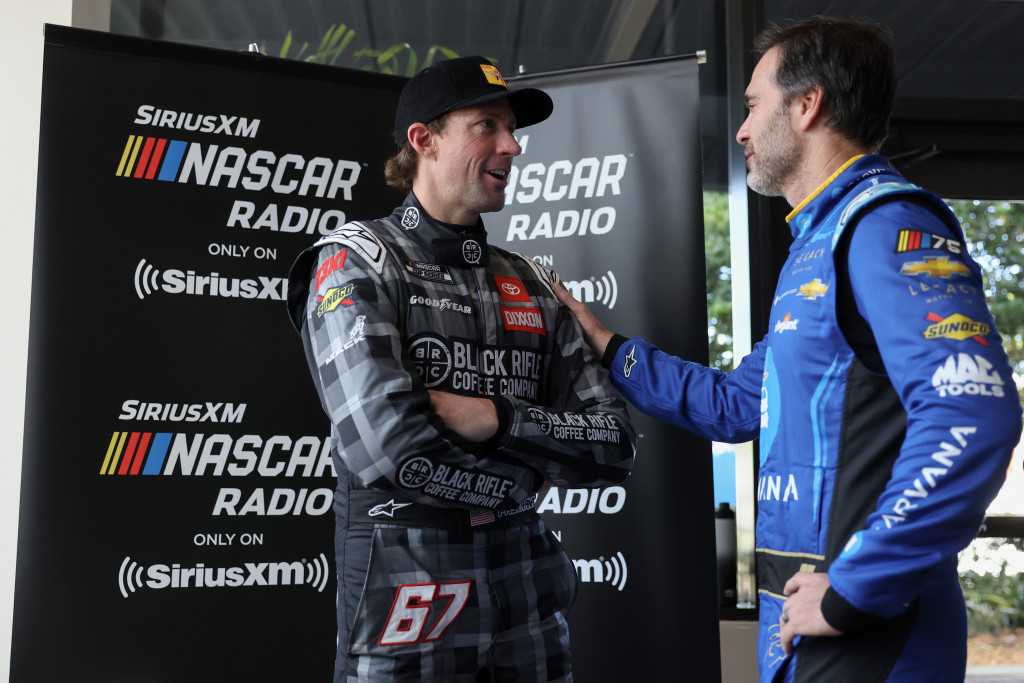 It means that Conor Daly, Chandler Smith, Zane Smith and Austin Hill will have to race their way into the Daytona 500. Daly, who led laps in last year's Indy 500, was unable to go out to qualify due to a broken oil line. The Money Team Racing car was completely disassembled during qualifying while they awaited the arrival of a replacement oil heater. He consequently qualified 42nd.
Front Row Motorsport's Zane Smith was the best of the rest of the non-chartered cars qualifying 29th with a lap speed of 178.862mph. Austin Hill and Chandler Smith qualified 32nd and 41st.
The single-car qualifying results decide where each driver will start in the Blue Vacations Duel 60-lap qualifying races to determine the starting positions for the Great American Race. The qualifying field will be split into two duels, with the odd numbered qualified cars racing in duel one and even numbered qualified cars in duel two.
The highest finishing non-chartered car from each duel that isn't locked in from single-car qualifying will lock themselves into Sunday's race.
The Blue Vacation Duels begin 7pm ET time Thursday night.
Full qualifying results
(48) Alex Bowman, Chevrolet, 181.686 mph.
(5) Kyle Larson, Chevrolet, 181.057 mph.
(24) William Byron, Chevrolet, 180.727 mph.
(10) Aric Almirola, Ford, 180.723 mph.
(22) Joey Logano, Ford, 180.712 mph.
(14) Chase Briscoe, Ford, 180.661 mph.
(12) Ryan Blaney, Ford, 180.054 mph.
(2) Austin Cindric, Ford, 180.014 mph.
(21) Harrison Burton, Ford, 179.748 mph.
(8) Kyle Busch, Chevrolet, 0.000 mph.
(23) Bubba Wallace, Toyota, 180.011 mph.
(99) Daniel Suarez, Chevrolet, 179.921 mph.
(17) Chris Buescher, Ford, 179.888 mph.
(9) Chase Elliott, Chevrolet, 179.881 mph.
(1) Ross Chastain, Chevrolet, 179.863 mph.
(41) Ryan Preece, Ford, 179.849 mph.
(4) Kevin Harvick, Ford, 179.684 mph.
(6) Brad Keselowski, Ford, 179.673 mph.
(54) Ty Gibbs #, Toyota, 179.616 mph.
(45) Tyler Reddick, Toyota, 179.612 mph.
(20) Christopher Bell, Toyota, 179.497 mph.
(19) Martin Truex Jr., Toyota, 179.347 mph.
(84) Jimmie Johnson, Chevrolet, 179.276 mph.
(34) Michael McDowell, Ford, 179.265 mph.
(67) Travis Pastrana, Toyota, 179.254 mph.
(11) Denny Hamlin, Toyota, 179.154 mph.
(43) Erik Jones, Chevrolet, 178.998 mph.
(42) Noah Gragson #, Chevrolet, 178.941 mph.
(36) Zane Smith(i), Ford, 178.862 mph.
(16) AJ Allmendinger, Chevrolet, 178.813 mph.
(31) Justin Haley, Chevrolet, 178.763 mph.
(62) Austin Hill(i), Chevrolet, 178.660 mph.
(3) Austin Dillon, Chevrolet, 178.525 mph.
(38) Todd Gilliland, Ford, 178.204 mph.
(47) Ricky Stenhouse Jr., Chevrolet, 177.925 mph.
(78) BJ McLeod, Chevrolet, 177.834 mph.
(51) Cody Ware, Ford, 177.169 mph.
(15) Riley Herbst(i), Ford, 176.849 mph.
(77) Ty Dillon, Chevrolet, 176.315 mph.
(7) Corey LaJoie, Chevrolet, 176.287 mph.
(13) Chandler Smith(i), Chevrolet, 175.022 mph.
(50) Conor Daly(i), Chevrolet, 0.000 mph.
Featured Image: Alex Bowman, driver of the #48 Ally Chevrolet, poses on the track during qualifying for the Busch Light Pole at Daytona International Speedway on February 15, 2023 in Daytona Beach, Florida. (Photo by Jared C. Tilton/Getty Images)