Despite recent improvements in participation, women in motorsport today are still very much a minority and in this, the last instalment of our interview with Emily Linscott, she was very clear about where she thinks the reasons for this stem from.
"If motorsport is something you want to do, and your parents aren't taking you karting or racing, then ask," she said. "I find the reason most girls are missing out on the chance to start racing is down to their parents. It's normally the boys who are offered the chance to drive and the girls are often overlooked.
"Once you're there, enjoy yourself. There's too much pressure to perform and not enough people are enjoying their sport for what it is – fun. Don't listen to anyone who gives you negative vibes, unless it's constructive."
When asked about what advice she would give to other young women trying to break into the world of motorsport, she said, "Dream big! Keep on doing your thing and if it's truly what you want to do, then you'll find a way.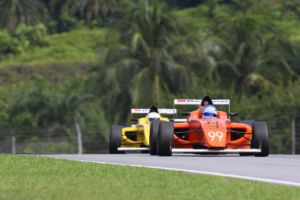 "Honestly, it's incredibly hard work behind the scenes and the level of disappointment is tough to manage, but it is the most rewarding job you'll do too. If you can deal with that then you've got a chance.
For girls and their parents, they shouldn't compare themselves against other girls, they should compare themselves against the whole grid. Once the helmet goes on, they're a racing driver, not male or female."
Emily also stressed the importance of surrounding yourself with the right kind of people. "One other thing which I've taken ages to realise (sorry mum and dad!) but which is very good advice, is to surround yourself with positive people, those who want you to succeed and not those who knock you or who aren't interested in what you do.
"Friends will rarely understand what it takes, why you're in the gym so much and why you're never going out with them – 'My mum drives a car and she doesn't go to the gym everyday!' is one of the best I've heard. But, keep on doing whatever it takes. Be professional but stay being you and don't change yourself too much. It's you that people want to see any not something manufactured."
All of us here at The Pit Crew Online wish Emily all the very best for 2019 and beyond, and thank her once again for taking the time out of her schedule to talk to us.
Parts one and two of our interview can be found here and here.