Racing Armchair sits down with Chrissy Rouse of Crowe Performance BMW in an exclusive interview to discuss his route to Superbikes, and the game plan for the upcoming weekend at Thruxton and beyond.
Chrissy Rouse has made his full-time debut in the British Superbike Category in 2022 in partnership with Crowe Performance BMW. Having previously dipped his toe into Superbikes back in 2018 with the Halsall Racing team, riding a Suzuki at the time, Chrissy has this year made a full time move into the series to compete and complete the 2022 season.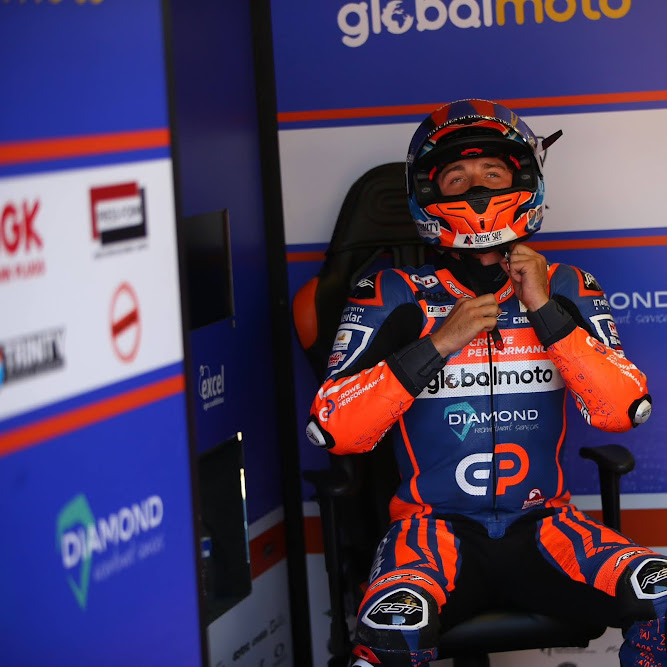 Chrissy has previously ridden under the Crowe Performance banner when he took the 2020 Superstock 1000 Championship and hopes a return to the familiar infrastructure Phil Crowe provides will be a successful combination and one that ultimately pays off for both rider and team.
Racing Armchair spoke with Chrissy in an exclusive interview recently to discuss how the season came to be, how it's going and what his aspirations are.
Racing Armchair – First and foremost Chrissy, you've made some career changes over the last few months. We all know you as the Motorcycle Racing math teacher. Why the career direction change?
Chrissy Rouse – So I decided to make some changes back in April. With entering the British Superbikes this year as a fully fledged privateer team, I've had a lot to organize. All the things in between rounds, getting to the races, setting up in the paddock etc. All these things wouldn't have been possible had I remained in the teaching role. I needed something more flexible. In fairness I wasn't "Just a teacher" working Monday to Friday. I was teaching 3 days a week, but I was also doing the Podcast, some commentary work for Eurosport and some other things but I found the teaching role really restrictive. I had to be in the classroom Monday, Tuesday and Wednesday. As it stands, that isn't going to work for me, so I had to make a choice and leave that behind for now. As a replacement for that role, I now work for the BSA brand of Motorcycles as a Franchise Manager in Coventry.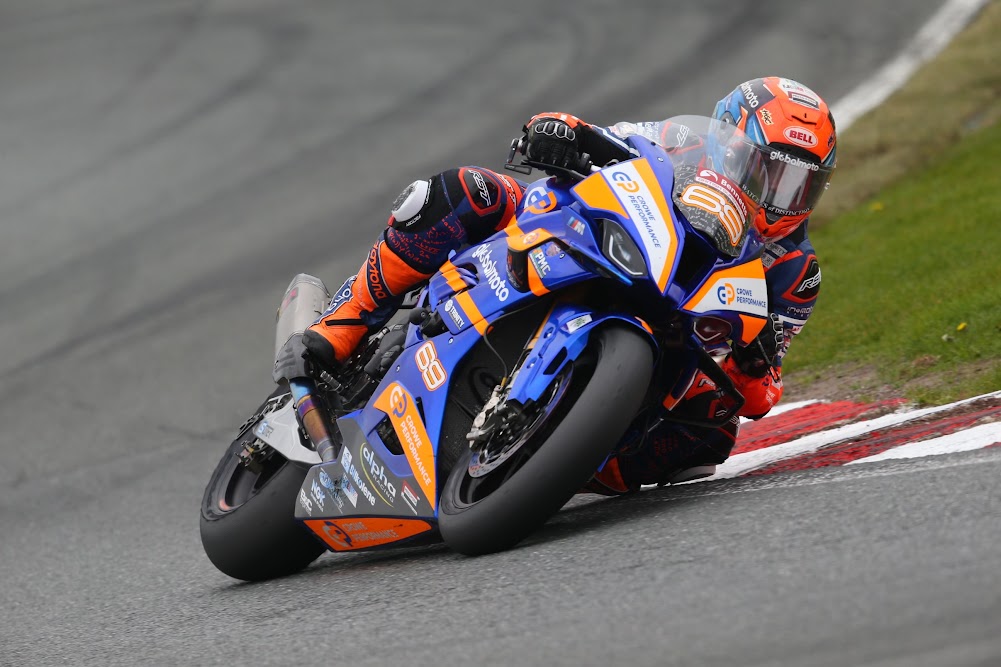 Racing Armchair – Is that in the line of a Sales Representative / Business Development Manager type of role? Approaching distributors and forging relationships and finding motorcycle outlets willing to stock and sell the motorcycles?
Chrissy Rouse – Absolutely. We have announced 7 dealerships and are currently in the process of building the dealer network. Once the dealership network is up and running, then the role is more of a "go-between" for the dealerships and the main brand.
Racing Armchair – Ok cool. Thanks for that. I'm sure all your fans wish you all the best in the role. Now touching on the Crowe deal, you obviously won the National Superstock 1000 Championship with Crowe Performance back in 2020, but for 2021 you signed with GR Motorsport on the ZX-10? Why was that?
Chrissy Rouse – In 2020, I was self-financing the running costs of going racing and as part of that, I had to take financial responsibility for the bike. So I was always riding knowing that if I crashed the bike, it was going to cost me a lot of money. Now obviously as a part time schoolteacher, I didn't have that kind of money. It was a lot of money to be playing with. I was offered the GR Motorsport ride [for 2021] and it was financially a much better position and therefore a much better decision for me. There was also a route to Superbikes as well. I had won the championship with Crowe Performance [in 2020] and there were no offers from teams and no available rides in the Superbike Championship but I thought if I rode for a Superstock team and defended the championship, that would maybe open the door for a Superbike ride. In hindsight it was a bad move on my behalf. In 2020 I was averaging 18 points a race and in 2021 I averaged 9 points a race.
Racing Armchair – Do you have any specific reasoning behind why that was?
Chrissy Rouse – In 2020 I felt like I was getting the best out of the BMW S1000 but the following season, on the ZX10, I was pushing just as hard but for some reason I just wasn't as competitive. The year that I won the championship, Tom Neave was 2nd on the Honda and Billy McConnel finished 4th in the standings on the BMW. The following season, Tom and Billy were 1st and 2nd in the championship and I was 7th. It's not like there were riders that just came in and beat us. So looking back, it was a bad move for me with GR Motorsport.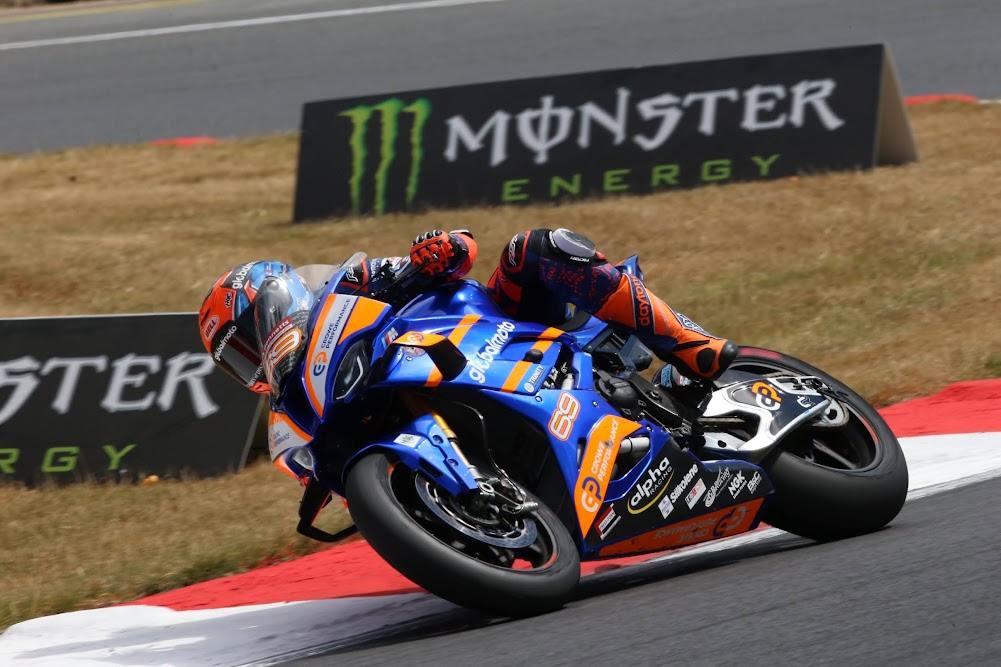 Racing Armchair – Well looking forward to 2022, you again have teamed up with Crowe Performance BMW. Can you tell me how that came about?
Chrissy Rouse – At the end of 2021, I didn't have any solid offers for a Superbike ride, and I really wanted to step up to the class. I won the championship with Crowe Performance and I feel very at home with the team as it's like a proper family team unit. The first thing was to try and finance it. We had a few meetings towards the end of the year, and I wasn't sure if I was going to be able to raise the required funds to cover it but I worked for months and months with my current sponsors. I picked up new sponsors. I worked as hard as I could to secure the finances and we decided to go for it.
Racing Armchair – Is there a magic number for the finances you had to find? Are you allowed to talk about the pound note value?
Chrissy Rouse – Yes absolutely but it isn't a set cost. Things change and move around. You have to account for things like crash damage and there are lots of things that need taking into consideration. I've budgeted myself for something like £10,000 a weekend. Well, £110,000 is what I have had to raise.
Racing Armchair – JESUS! So without £100,000 as a privateer, you are wasting your time trying to put a full season together?
Chrissy Rouse – No. That doesn't account for buying the bike, the truck and loads of other things. So if you were literally starting from scratch, you'd need way more than that. I'd say at least £200,000 to just get on the grid for every race. Just to clarify though, the team own the bike in my case. Crowe Performance own the BMW but I pay for and towards the running costs.
Racing Armchair – Now that you're a full-time rider, on the grid, is it harder than you thought it was going to be? I heard on your podcast that you mentioned you'd even surprised yourself with some of the people you've been lapping and racing with.
Chrissy Rouse – No I wouldn't say I am surprised. I would say, at times I am not doing as well as I could be and I don't feel like I have exceeded any of my own expectations yet.
Racing Armchair – Is that down to good old human nature though and being a driven person? Piling the pressure on yourself?
Chrissy Rouse – For me it's a very careful balance because I am wanting to learn and progress on the superbike but I have to be careful in my performance. I cannot be throwing the bike at the scenery every week. I would say I am riding within my limits all the time but for me the most important thing is steady progression and learning as much as I can.
Racing Armchair – I think you are progressing massively. After a somewhat difficult start to the year with a few DNF's here and there, it seems you are finding your feet and your points finishes are coming.
Chrissy Rouse – Well the first race of the year, my engine blew up. The second race, Tom Sykes fell off right in front of me and left me nowhere to go but to crash and I fully knocked myself out in that one, which really blew my chances early doors. So that was Race 1, 2 and 3 done. Then I missed the test at Oulton Park, so that ruined Oulton for me, including a DNF in race 3 where my clutch went. Donington Park was the first full and proper round I got. I feel my season started at Donington if I am honest. Brands weekend I also had a clutch go in race 1, so another mechanical DNF there too. That also meant I had to start at the back of the grid for race 2. We have had a few little gremlins and it hasn't been all plain sailing but the main thing is I have been staying on the bike and progressing.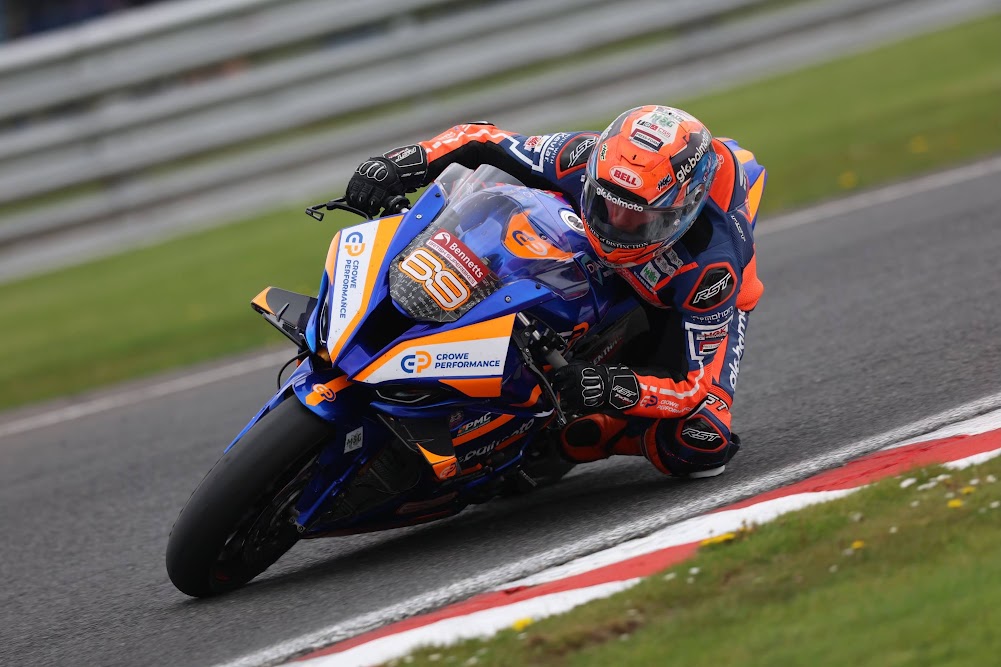 Racing Armchair – Again, I can see that. At Knockhill you were racing around with Sykes and Taz. At Brands you finished race 2 not far back from Danny Buchan and in race 3, I think you had something like 4/6 seconds between you and Andy Irwin / Danny Buchan.
Chrissy Rouse – If you compare against the other BMW's then look at Donington. I was very close to the Factory BMW's and managed to finish in front of them in one race. If you are looking at what was my best round, Donington were my best races. Another thing to mention though is at Brands Hatch, I didn't have my crew chief with me. I had my mechanics etc but I didn't have my crew chief.
Racing Armchair – So when you come back into the garage thinking the bike needs a click here or a turn there, how did you manage that situation?
Chrissy Rouse – I'm good mates with Steve Brogan. He helped out. He wasn't working for us over the weekend but he was at Brands, so Steve was coming into the garage during the sessions to help me with bike setup. Now he doesn't know anything about the way we had the bike set up, he has no experience with our bike on those tyres etc, but it was more for moral support. In fairness though, between sessions I do pester other teams now and then to get some help or a little guidance. FHO are really helpful. They help us out all the time. For example, before the next round I will speak to them and get some advice on what to do with the bike. I'm not just wheeling the bike out and riding it.
Racing Armchair – Is this like paddock lifestyle where other teams don't like to see people struggling when they can help?
Chrissy Rouse – Exactly, yes!
Racing Armchair – Is there a plan moving forward? I work on the assumption that any rider would have aspirations to move up the pecking order with more established teams, when perhaps their riders aren't performing as well as you?
Chrissy Rouse – I see what you're saying but I don't have a particular plan as such. Obviously a good option moving forward would be mainly to attract a bigger sponsor. I have everything I need to run a team. I have a truck, I have the garage equipment, I have some GREAT people and I really love my team. If I could get the financial backing to run my own team, I would absolutely love that. Failing that if there was an interest from a more established team, then that's something I would have to look at. I haven't got anything firmly fixed for next year just yet but I am open to suggestions.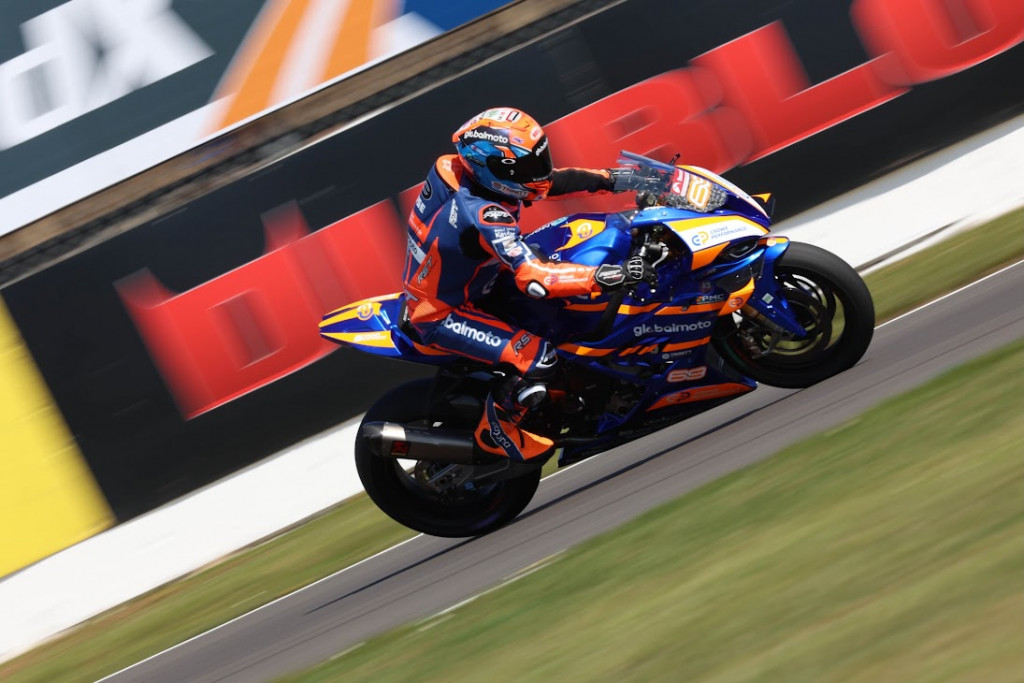 Racing Armchair – I guess if any established team rang any rider to have a chat, put the feelers out for next year, would I be right in assuming that every single rider on the grid would at least entertain having a conversation about it?
Chrissy Rouse – 100%. Yes!
Racing Armchair – OK, thoughts moving forward to Thruxton? You've had podium finishes there last year, although we didn't attend the circuit in 2020, in your championship winning year, how do you feel about the circuit?
Chrissy Rouse – To be honest, before ANY round I am always really excited. The whole weekend is what I live for, so I am never 'not' excited for a race weekend. Thruxton is a track that often throws up some anomalous results. It can work in your favor, or it can go the opposite way as well. I'm an optimist! I'm going to optimistically hopeful that there will be an anomalous result and I'll maybe get a bit higher up than usual, but obviously we will just go and try to do our best and I'm looking forward to the challenge. Trying to get the best out of the bike,  and the tyres and hopefully be there at the end of the race to pick up some more points. That's the aim!
Racing Armchair – There isn't much in it now between you and the riders above you. It's a handful of points in between yourself and established names in the series.
Chrissy Rouse – If you look at the championship, the 3 riders above me are Ryan Vickers, Storm Stacey and Tom Neave. Now Storm and Tom are only 1 point ahead of us. Now considering what a s**t run I have had, mechanical DNF's and missing races, I think to be 1 point behind them when they're in proper established Superbike teams, with proper support, and for both riders it's their actual job/career, for me to be anywhere near them is a massive win in my eyes. If I can beat them on track, that is also a massive win for me.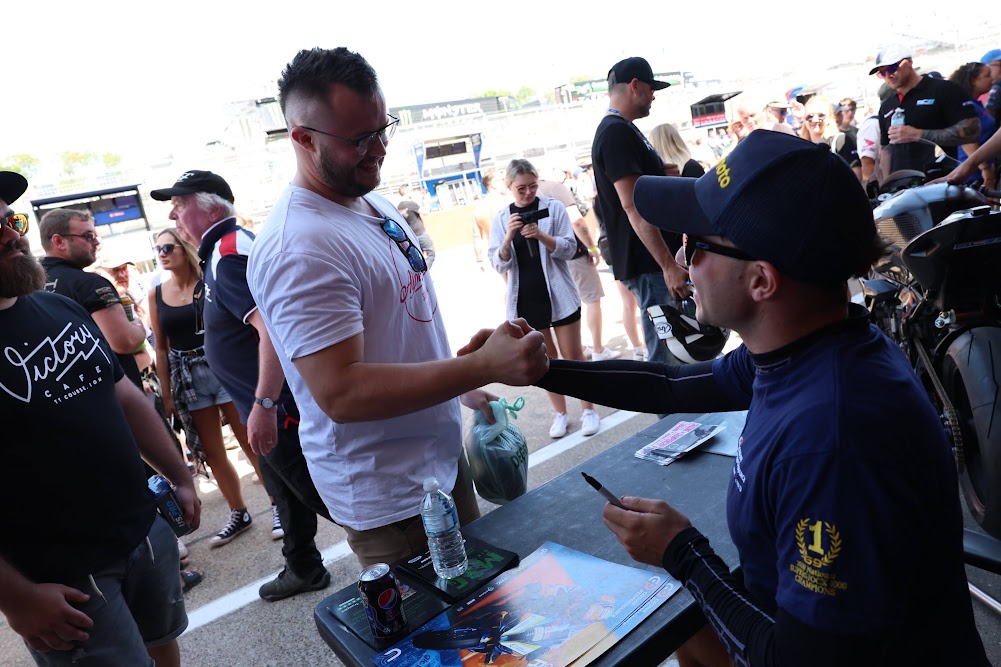 Racing Armchair – Chrissy, thanks for your time and good luck at the next round and moving forward in the championship this year.
To keep up with the latest information from Chrissy, you can visit www.chrissyrouse.com or follow him on his social media pages. Chrissy also hosts the Chasin' the Racing podcast with road racer Dominic Herbertson, which can be found on YouTube and all other podcasting platforms.