Qualifying:
Returning to Portugal for the second time this year it was Francesco Bagnaia's (Ducati) turn to take pole and with it a new lap record – 1:38.725 also claiming his fifth pole in a row. Teammate Jack Miller took 2nd on the grid from last years champion Joan Mir (Suzuki) in 3rd – taking his first front-row start in 2021.
This year's newly crowned champion however was down in 7th on the grid.
Race:
Clear weather conditions meant that the track was perfect for the race ahead.
Missing from this weekends race though was last weeks winner Marc Marquez (Honda), who unfortunately suffered from concussion during a training session mid week. Brad Binder rode in his place.
Starting from pole position, Bagnaia got a slightly poor start but it didn't stop him from going into first place from turn one. Leading from Mir and Miller. Joan took an early 2nd place from Jack, knowing full-well he needed to get a good start to his race.
Lap one, sector 2 saw an early finish for Danilo Petrucci (KTM) as he crashed out, ending his penultimate race before retiring from Moto GP.
The Portimao track is an undulating track with plenty of ups, downs and tight corners, meaning that mistakes are easy to do. There were a few riders that went wide by the end of lap 2, but one rider that seemed to be reveling on the circuit was home-boy Miguel Oliveira (KTM), who had a great start and was up into 10th, taking 7 places with 23 laps till the end.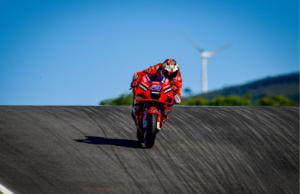 All eyes were on Bagnaia though, who was out in front. He had gained fastest lap and had already started to gap from Mir. Bad luck surely couldn't strike twice for the Italian? Having crashed from the lead last time out in Italy.
Newly crowned Moto GP champion Fabio Quartararo (Yamaha) soon took fastest lap in 6th place. While in front of him Alex Marquez (Honda) and Jorge Martin (Ducati) scrapped for their positions.
Pecco responded to Fabio, gaining fastest lap and soon took two fastest laps in a row. The Italian was not going to give up this win. Meanwhile, A. Marquez also didn't give up on his surprising 4th place fight with Martin and soon held firm with it, with Miller next in his sights. Marquez had chosen to have a medium front Michelin tyre and a hard rear, while all 3 riders in-front of him had opted for both medium. Would his tyre choice be a deciding factor later on in the race?
Lap 7, saw Iker Lecuona (KTM) fall foul to the track as he went wide, leaving his comfortable 8th place and rejoining the race down in 12th. Aleix Espargaro (Aprilia) was not so fortunate and also made a mistake, which caused him to crash out of the race on turn 1.
Meanwhile, at the front Bagnaia was metronomic and had managed to gap a slightly larger lead from Mir with a 0.663 second lead and Mir having a 0.944 second lead over Miller – who still had Marquez close behind.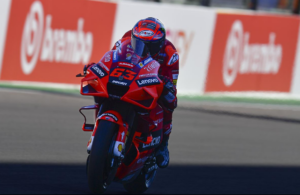 Lap 12 saw Marquez pass Miller for 3rd. Was Marquez finally getting to grips with his Honda? He was certainly having an impressive race. Whilst Quartararo and Martin battled for 5th position, Quartararo hit a bump on turn 13 and almost crashed, leaving him to wait a little longer before he could make another move.
Still in the lead and looking strong, Bagnaia was 1.501 seconds ahead of the Suzuki in 2nd and only half-way through the race could he keep this pace up?  Not only was Bagnaia's Ducati looking in good form, so were the other 3 Ducati's. Miller remained in 4th from Johann Zarco (5th) and Jorge Martin (6th). Keeping Fabio behind in 7th.
Bagnaia could indeed keep his pace up and was in complete control and was remaining consistent. With 11 laps until the end he had broke away from Mir and had a gap of 2.410 seconds. Mir was ahead of Marquez by 1.195 seconds. The front leaders were in their own race away from the rest of the pack.
But, Quartararo needed to make up spaces and soon found a way past the Ducati blockade, passing Zarco on lap 19. The two Frenchmen had a mini battle with Zarco being the victor and with that he also passed his teammate to take 5th place with 6 laps to go. Fabio followed suit and also passed Martin but on lap 21 of 25 (turn 5) he made his first major mistake of the season and crashed, creating his first DNF of 2021. After which, Martin also lost another place to Pol Espargaro (Honda).
Whilst all that was happening behind him, Miller was hunting down Marquez. Miller passed but Marquez passed straight back. On lap 22 Miller managed another pass and that time kept hold of it. Marquez was not going to let him have it that easy though and remained glued to the rear of the Ducati.
However, the race was quickly drawn to an end with marshals waving red flags. With only 2 laps until the checkered flag, Iker Lecuona tried to overtake Miguel Oliveira but ended up taking them both out. Both riders have been confirmed to be okay. As the race was more than three-quarters of the way through there was to be no restart and the results were as they were the lap prior:
Top ten race results:
| | |
| --- | --- |
| 1st | F. Bagnaia |
| 2nd | J. Mir |
| 3rd | J. Miller |
| 4th | A. Marquez |
| 5th | J. Zarco |
| 6th | P. Espargaro |
| 7th | J. Martin |
| 8th | A. Rins |
| 9th | E. Bastianini |
| 10th | B. Binder |
A. Marquez gained his best finish this year and with it the top independent racer this time out. Also worth noting was top Yamaha finisher Valentino Rossi who finished in 13th place, completing his penultimate race this year.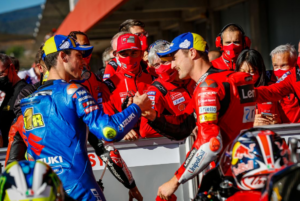 Bagnaia took his 3rd top spot on the podium for 2021, claiming that he "enjoyed every single session this weekend", Miller took his 4th podium of 2021 having looked confident and in great form all weekend.
Championship standings:
| | | |
| --- | --- | --- |
| 1st | F. Quartararo | 267 |
| 2nd | F. Bagnaia | 227 |
| 3rd | J. Mir | 195 |
| 4th | J. Miller | 165 |
Ducati also claimed the Constructors Championship this weekend and Zarco took Best Independent Rider of 2021.
The race may not have been the biggest of spectacles and may have seemed a little subdued but these races need to happen to make the truly special races stand out. One thing is for sure though audiences are witnessing history with Ducati coming back to their previous winning ways, new championship contenders coming forward and with only one race to wrap up the 2021 season – Valencia is sure to be a show-stopper.