When talking about legends of grand prix racing, the name of Casey Stoner is never far from anyone's lips. 
Stoner's early career is somewhat unremarkable in terms of results. From dirt-track racing in the Australian outback, to honing his short circuit skills in the junior ranks of BSB and then through the 125cc and 250cc grand prix classes. His natural speed on a bike and his skill to ride any machine was undoubted, but throughout his junior years there was concern by many over his consistency.
His debut season in MotoGP, in 2006, seemed only to emphasise this. A regular front-row starter with LCR Honda, Stoner struggled for consistency over longer races – sending himself and bike barrelling through gravel traps as he tried to chase down those on superior machinery.  A pole position and a podium finish towards the end of the season provided a glimpse as to what was to come.
With Honda's eggs at the time all devoted to Nicky Hayden and Dani Pedrosa, Stoner had to jump ship if he was to become a serious championship contender.
2007 – Ducati's Golden Year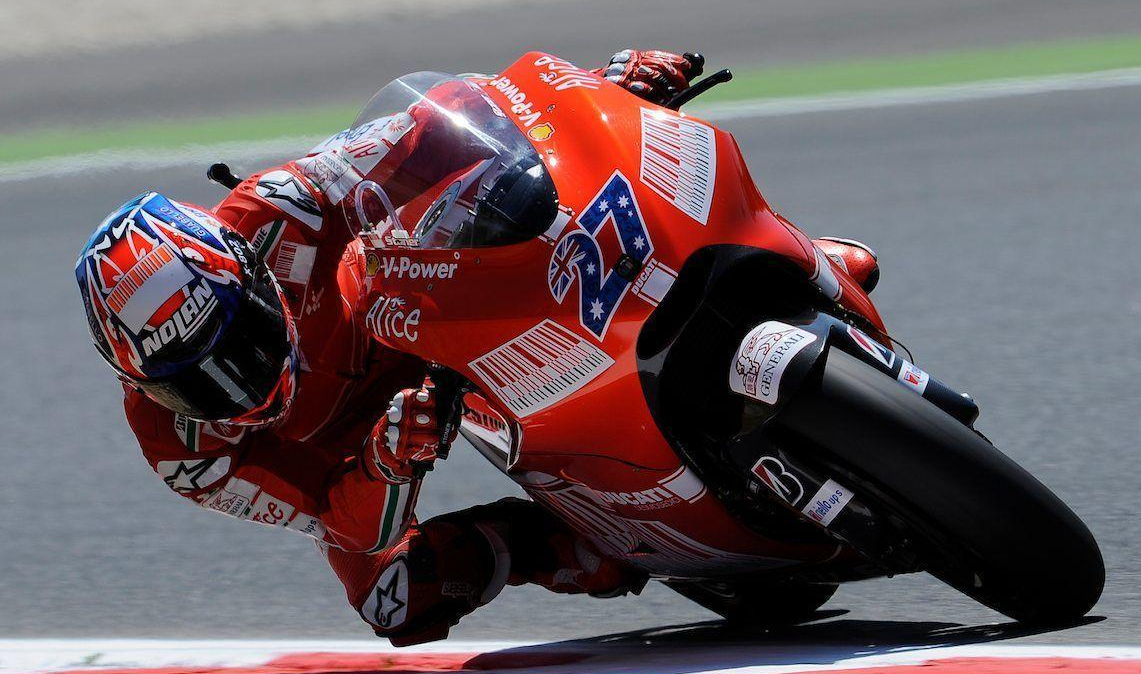 Stoner's arrival at Ducati was met with more than a few questioning murmurs from many quarters, after a difficult debut season with LCR Honda. The discontent was particularly vocal back in his home country. Despite having claimed a maiden win for the factory outfit, Troy Bayliss was shown the door to make way for his younger compatriot.
Stoner would be paired with Loris Capirossi, with the expectation that the Italian stalwart would initially set the standard, and the young Australian would gradually build to an even footing by the end of the season. 
Whether it was the plan, or a cryptic challenge from the team, Stoner's response on track was something else. 10 wins across the season, including an emotionally charged victory at Ducati's home race at Misano to wrap up his first world championship crown. 
Such was his relentless charge to the title, it's impossible not to draw similarities with Valentino Rossi. Was this a changing of the guard? The media couldn't help but stir that particular pot. It irked Rossi, and as the season drew on there was a growing sense of rivalry between them. Things came to a head at Laguna Seca when Rossi accused Stoner of breaking the track limits to force an overtake at the corkscrew. Rossi would famously 'repay the favour' the following season. Whilst the two would joust each other more often than not for top honours in the years to come, Stoner was too fast and too consistent to be stopped in 2007. 
The Desmosedici machine was undeniably fast – especially on low-fuel qualifying runs and in a straight line (the traditional strength of any Ducati). However, those doubting Stoner's racecraft were silenced as he hauled and wrestled a fully fuel laden Ducati around the circuits with relentless precision. When forced to cut through the field after a less than clean start, Stoner relied on the skills honed way back on the dirt tracks in Australia, as he dived, carved and – occasionally – bullied his way through the pack. 
The final standings for the season said it all – Stoner finished the season winning the championship by an astonishing 125 point margin. Capirossi, for the record, finished 7th and over 200 points behind. 
Stoner remains to this day Ducati's only MotoGP world champion.
2009 – Battle with Chronic Fatigue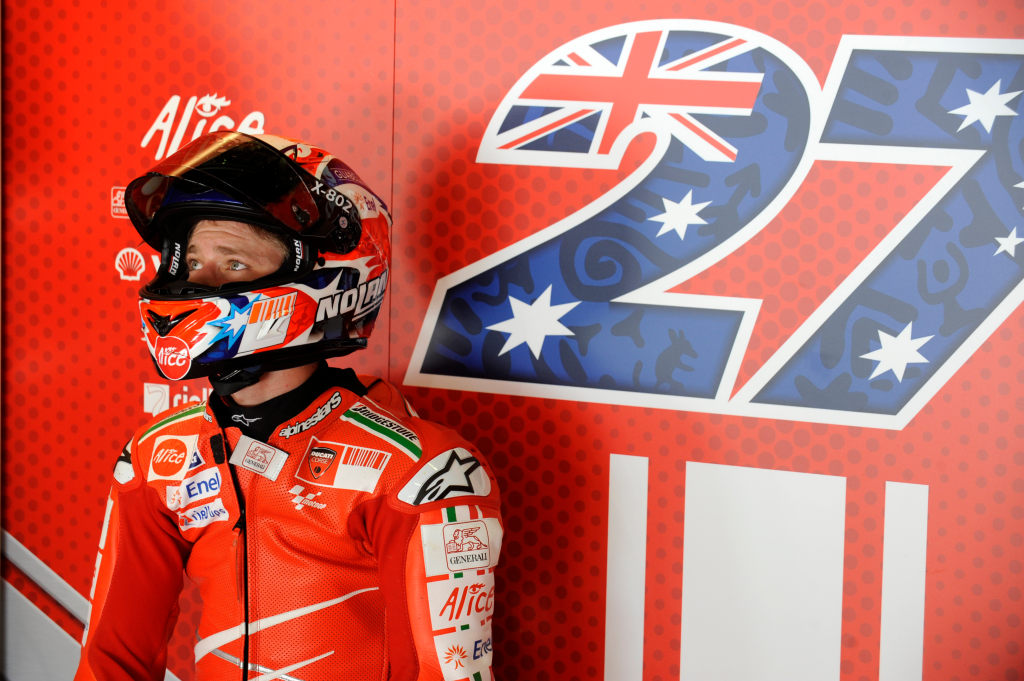 After securing another routine victory at the opening round in Qatar, the Australian's form fell off the proverbial cliff. Nobody could fathom why. In qualifying he'd still have the beating of everyone – often by the best part of half a second. After the Catalan grand prix fell apart so spectacularly, Stoner took the unprecedented decision of taking a mid-season hiatus. 
At first it was just suspected burnout. Sit out the next round or two and be back. The reality was far more complex. After numerous tests and consultations back in Australia, Stoner was eventually diagnosed with Chronic Fatigue – a condition he is still managing to this day. The condition has many symptoms – among them most prevalent are a complete lack of energy / total exhaustion with an acute state of depression and quite often acute muscle and joint pains. Heavy exercise or over-exercising increases the symptoms. 
With this in mind one can see how racing an 800cc prototype, particularly such a demanding bike like the Ducati, resulted in such a sudden blowout for Stoner. Critics were quick to question his mentality – and even state he no longer had the desire to race as hard as his rivals. The truth is, he physically and mentally couldn't race and needed to recuperate away from the inferno that is grand prix racing. For more information about Chronic fatigue: https://www.nhs.uk/conditions/chronic-fatigue-syndrome-cfs/ is a very useful starting point.   
Stoner's decision to take a hiatus was vindicated immediately upon his return. He followed Lorenzo home to a comfortable second place at the Portuguese grand prix in Estoril, then demolished the field at Phillip Island to secure a hat-trick of victories on home-turf. 
Stoner was back.     
2011 – The Dream Come True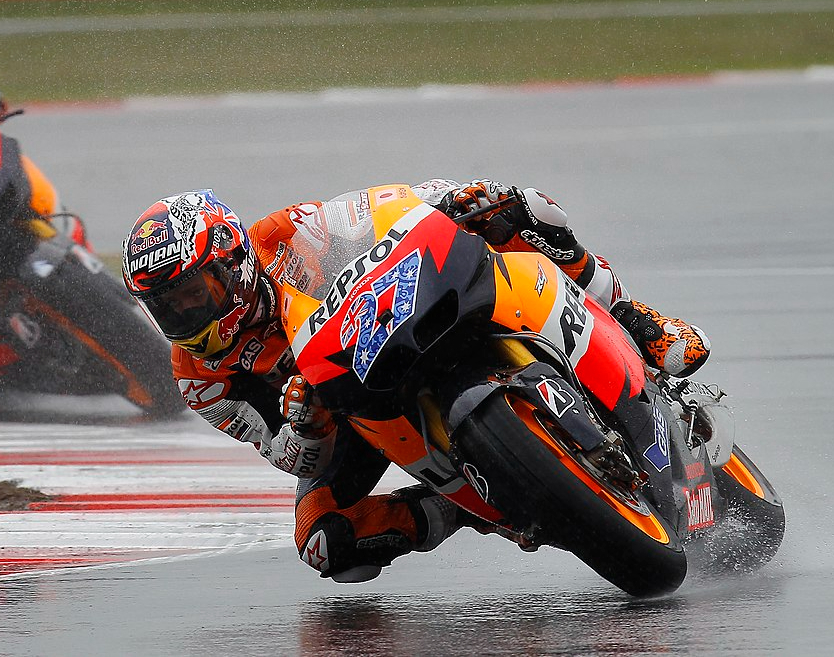 After relations soured with Ducati in 2010, Stoner signed for the Repsol Honda team. Emulating his boyhood hero, Mick Doohan. Once more he faced critics – this time aimed more at the team than the rider. The bike, whilst a competent competitor, had fallen clearly behind Yamaha in recent years. There was also the controversy of Honda employing three riders in their Repsol-backed factory team.
With a competitive bike underneath him again, and a team actively supporting his direction, Stoner was once more given an opportunity to fight for the championship. The season couldn't have started better. Fast throughout testing, Stoner delivered at the opening round under the floodlights in Qatar, leaving the defending champion Jorge Lorenzo in a distant second place. 
The rivalry between Stoner and Rossi briefly resurfaced at the following round when the Italian – now at Ducati – lost the front wheel into turn one and took himself and Stoner out of the race. In the aftermath, Stoner uttered to Rossi the now famous line in racing folklore: "Your ambition outweighed your talent".
Arguably, Stoner's finest hour of the season came at a drenched Silverstone. The start was delayed due to the continuous downpour, but the decision was finally made to get underway. Whilst chaos reigned behind him with riders constantly tripping up on the treacherous surface, Stoner executed a wet-weather masterclass, negotiating every corner and braking point – almost drifting through every apex – with an elegance previously unseen by him. His teammate Andrea Dovizioso was the best of the rest, finishing 15 seconds adrift. The race effectively ended any hope Lorenzo had of retaining the title, crashing out halfway through the race, unable to stick to the Australian.
From then on, Stoner ensured he had it all his own way for the rest of the season. At Aragon he showcased another imperious lights-to-flag victory ahead of his other team-mate Dani Pedrosa. The result ensured victory in the constructors' championship for Honda for the first time since 2006 with the late and much missed Nicky Hayden. Stoner's personal triumph would be confirmed once again at Phillip Island. 
The weekend had been drummed up as a tribute to Mick Doohan – officially badged to mark 20 years since he joined HRC. Essentially, it was a grand gesture from Honda to mark Stoner realising his dream of following in his hero's footsteps. Though before he could don the champions t-shirt again, he first had to fend off a spirited challenge from Marco Simoncelli, pushed all the way to the final lap before the Italian was forced into a mistake. 
Battle won, and cue the euphoric celebrations from rider, team and fans alike. A premier class world champion with multiple teams. Only a select few have managed to claim such an accolade.
2012 – The Curtain Falls
The Australian may have had a much shorter grand prix career than his contemporaries – he called time on his career just 7 seasons since making his bow in the premier class.
His decision to retire stunned the racing world, in much the same vein as his signing for Ducati and his decision to take time out did. Very fitting – above all else, Casey Stoner did it his own way throughout his career. His ability and sheer tenacity on the bike ensured that he succeeded wherever he went.
Any controversy that followed him was ultimately silenced by his results.