Toyota broke its 24 Hours of Le Mans curse with an emotional 1–2 finish led home by the #8 car of Sebastien Buemi, Kazuki Nakajima and Fernando Alonso.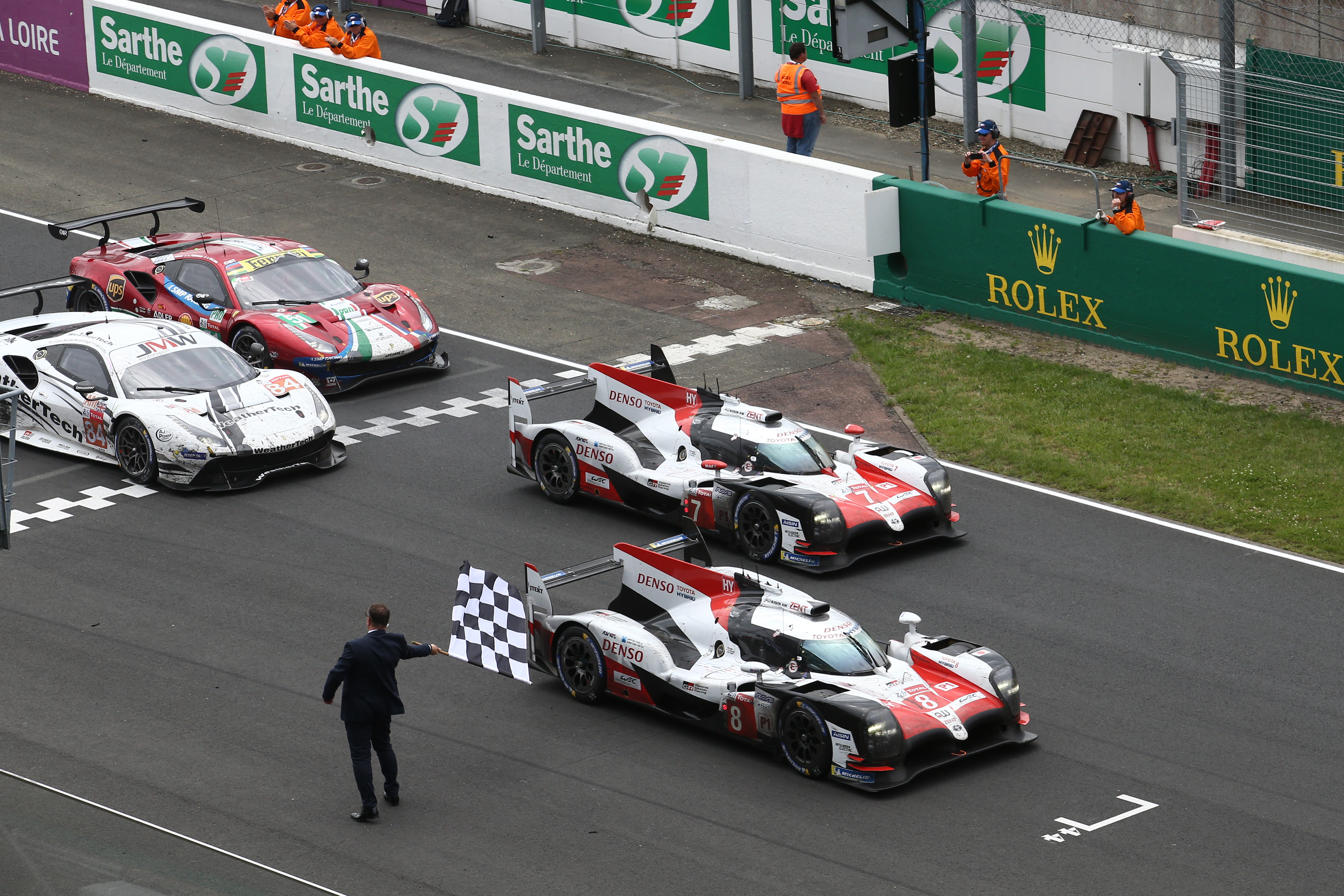 The Japanese marque was the overwhelming favourite coming into the 86th running of Le Mans, and aggressive opening stints from both Buemi and the #7 car's Mike Conway soon put the two TS050 Hybrids well ahead of the privateer LMP1 entries battling for third.
The #7 gained the advantage late on Saturday when Buemi earned the #8 car a 60-second stop-go penalty for speeding in a slow zone. But a pair of rapid nighttime recovery drives by first Alonso and then Nakajima saw the #7's lead disappear. Nakajima then completed the #8's comeback in the 16th hour by snatching first place from Kamui Kobayashi on the inside of Arnage.
The #8 went on to hold the lead for the remaining eight hours, while the #7 dropped back after a series of late difficulties that included Jose Maria Lopez spinning at the Dunlop chicane and Kobayashi missing a pit stop and needing to take an extra lap at full course yellow speed to save fuel.
In the end Nakajima brought the #8 Toyota across the line with two laps in hand over Kobayashi in the sister car, which was a further ten laps clear of the #3 Rebellion in third. The win was Toyota's first at Le Mans after 19 attempts and the first by a Japanese manufacturer since Mazda in 1991. Nakajima meanwhile became the first Japanese driver to win since Seiji Ara did so with Audi in 2004.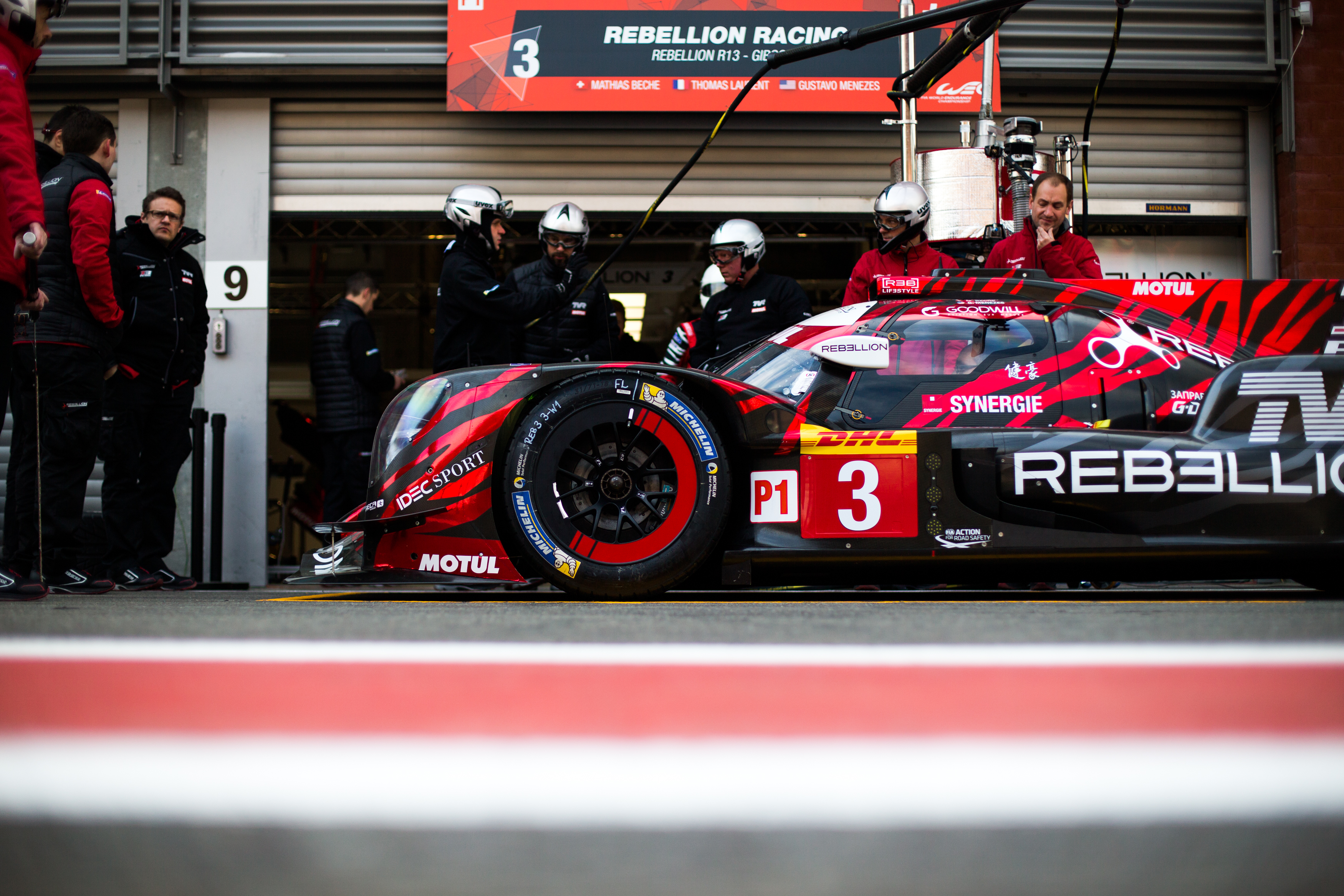 Behind the Toyotas, Rebellion and SMP Racing immediately established themselves as the chief contenders for best-of-the-rest.
After Andre Lotterer lost the nose of his #1 Rebellion in a first lap collision, it was Thomas Laurent in the sister #3 who took charge of the Swiss team's race by pressuring the #17 SMP of Stephane Sarrazin for third.
The two Frenchmen and their subsequent replacements swapped third and fourth position several times in the opening hours of the race, although the battle was eventually ended early and in Rebellion's favour when Matevos Isaakyan spun the #17 into the barriers at the Porsche Curves shortly after midnight.
Isaakyan's crash came not long after Dominik Kraihamer spun the #4 ByKolles out of the race at the same part of the track. The #10 Dragonspeed was another casualty of the Porsche Curves with Ben Hanley finding the barriers in hour 17, while the Manor-run #6 CEFC Ginetta and the #11 SMP were both waylaid by mechanical troubles to make it five LMP1 retirements by the end of the race.
That left the #1 Rebellion—which recovered from its opening lap crash and several late penalties to take fourth—and the #5 CEFC Ginetta, as the only surviving LMP1 cars outside of the podium.