The earlier Superpole race saw Alvaro Bautista (Aruba.it Racing Ducati) claim yet another win, and make it 2/3 wins across the weekend so far. Could anyone break this Ducati dominance?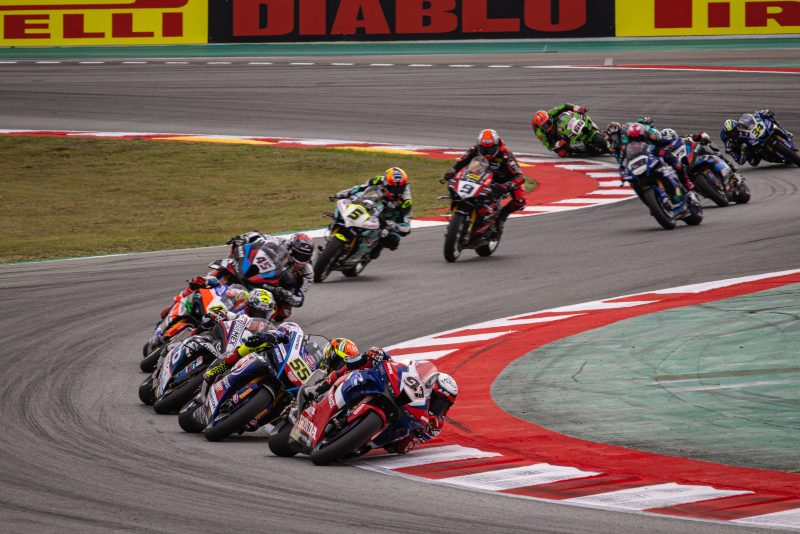 During the sighting lap rain began to fall, playing on the minds of the riders. Although it wasn't enough to be declared a wet race.
Lights out then for race 2, and once again you guessed correct, it was Bautista with the holeshot into turn 1. Toprak (Pata Prometeon Yamaha WorldSBK) was in no mood to witness the Ducatis clear off into the distance again, and quickly launched an attack on both of them, getting through on Rinaldi (Aruba.it Racing Ducati), before passing Bautista into turn 5 to briefly take the lead. It was now the factory Ducatis 2nd and 3rd, with Lowes (Kawasaki Racing Team) in 4th, and Locatelli (Pata Prometeon Yamaha WorldSBK) in 5th.
Next lap of the 20 lap race, and Bautista blasted past Toprak down the long straight and back into the lead. The Yamaha R1 had no answer to the power of the Ducati V4. Next was Rinaldi to pass Toprak and retake 2nd. Positions were as follows: 1. Bautista 2. Rinaldi 3. Lowes 4. Toprak 5. Locatelli 6. Vierge (Honda HRC) 7. Rea (Kawasaki Racing Team) 8. Lecuona (Honda HRC) 9. Gerloff (Bonovo Action BMW) 10. Bassani (Motocorsa Ducati). Drama for a deflated Tom Sykes (Kawasaki Puccetti Racing) yet again, who crashed out of the race alongside Malaysian rider Syahrin (Petronas MIE Racing Honda Team). Both their races were over.
Next lap and Alex Lowes, who had an impressive start to the race made a great pass on Rinaldi to take 2nd. Meanwhile Kawasaki team mate Jonny Rea, who had only started in 10th after a DNF in the Superpole race, moved through on Vierge to take 6th. The light rain had cleared off, and the race was perfectly dry.
With 17 laps remaining Bautista had a gap of 0.3s to Lowes in 2nd. Rinaldi was in 3rd. Swiss rider Aegerter (GYTR GRT Yamaha WorldSBK) was up to 10th after getting through on Bassani, who had opted for a harder SC0 front tyre which did not seem to be paying off. Further back Scott Redding (Rokit BMW Motorrad WorldSBK) was also struggling and was down in 13th.
Next lap and Rinaldi blasted past Lowes down the straight to retake 2nd. Both Lowes and Rinaldi were having much better rides compared to race 1. Meanwhile Bautista extended his lead to 1.2s. Further back Rea was looking to catch the leaders, and was sizing up Locatelli ahead of him for a pass.
With 14 laps to go Toprak out braked Lowes into turn 1 to move into 3rd. Both of the Ducatis were now clearing off into the distance, with Bautista holding a gap of 1.5s to his team mate. Positions were as follows: 1. Bautista 2. Rinaldi 3. Toprak 4. Lowes 5. Locatelli 6. Rea 7. Vierge 8. Lecuona 9. Gerloff 10. Aegerter.
With 12 laps remaining Bautista had now extended his lead to 2.3s. Rinaldi held a gap of 2.5s to Toprak in 3rd. Meanwhile Isaac Vinales (Team Perdercini) retires due to a mechanical issue. BSB current champion, Brad Ray (MotoxRacing Yamaha), was in 17th.
At half race distance there was a 4 way battle for 8th between Lecuona 8th, Aegerter 9th, Petrucci (Barni Spark Racing) 10th, and Gerloff 11th. Meanwhile at the front Bautista had extended his lead to 3.9s, while Rinaldi had a gap of 3.5s. Lowes held a gap of 1.0s to Locatelli in 5th.
With 7 laps remaining, Bautista was once again clear into the distance, out in front with an unassailable lead. Rea finally made his move on Locatelli to move into 5th. The day got worse for Scott Redding, as he was forced to retire due to a mechanical issue. Locatelli hadn't given up his place lying down, and the young Italian was trying to put pressure back on Rea.
Next lap and positions were as follows: 1. Bautista 2. Rinaldi 3. Toprak 4. Lowes 5. Rea 6. Locatelli 7. Vierge 8. Lecuona 9. Aegerter 10. Gerloff.
With 4 laps left Bautista now had a commanding lead of 6.7s, while Rinaldi in 2nd had a gap of 3.2s.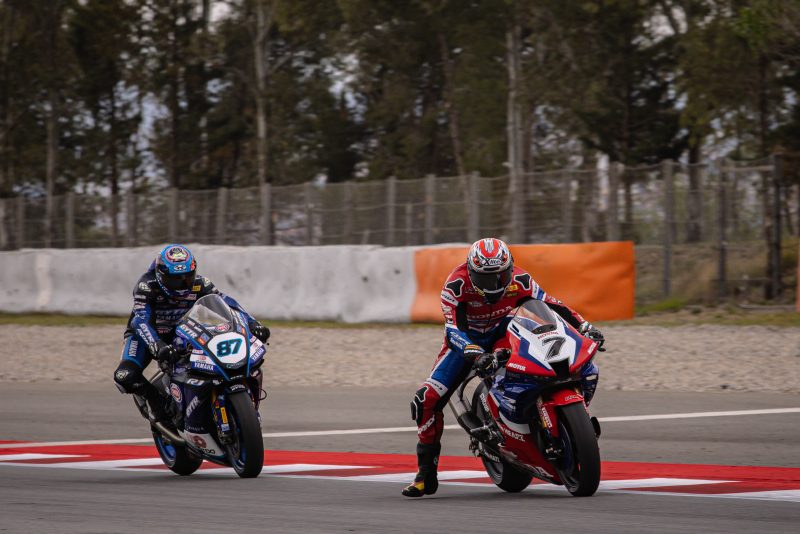 Penultimate lap and Aegerter was all over the back of Vierge, and looking for a pass into 7th place. Further back Gardner (GYTR GRT Yamaha WorldSBK) was in a disappointing 13th, after a good race 1 yesterday.
Last lap and it was Vierge who got through on Locatelli into 6th. Meanwhile Bautista crossed the line to make it 3/3 wins across the weekend, as well as his second clean sweep of wins in Catalunya. Toprak pipped Rinaldi to the line to take 2nd, driving up the inside of the last corner with much better traction, Rinaldi had lost massive time on the last lap, and his tyres were cooked. The race finished: 1. Bautista 2. Toprak 3. Rinaldi 4. Lowes 5. Rea 6. Vierge 7. Locatelli 8. Aegerter 9. Lecuona 10. Gerloff.
Result top 5:
Bautista (Aruba.it Racing Ducati)
Razgatlioglu (Pata Prometeon Yamaha WorldSBK)
Rinaldi (Aruba.it Racing Ducati)
Lowes (Kawasaki Racing Team)
Rea (Kawasaki Racing Team)
Championship top 3:
Bautista – 236 pts
Razgatlioglu – 167
Locatelli – 133