Qualifying:
Clouds loomed large overhead on Saturday, but the sunshine prevailed.
Down on the track Marc Marquez (Honda) and Francesco Bagnaia (Ducati) managed to make their way through to Q2. Marquez kept his performance up and claimed 3rd place for Sunday, while Bagnaia unfortunately fell and could only manage 9th on the grid, ahead of Aleix Espargaro (Aprilia). Fabio Quartararo (Yamaha) managed 11th place, after also crashing.
Making up the rest of the front row was Enea Bastianini (Ducati) who took 2nd and pole went to Jorge Martin (Ducati), who did a phenomenal lap to not only take pole (his 4th this year and 2nd in a row) but also a new lap record – 1:57.790.
Race:
The weather remained the same through to Sunday and the pressure was mounting. With 20 laps till the end, the drama continued:
Martin started well and kept hold of his lead, but it was Bagnaia who made a fantastic start going straight to 2nd by the first corner. He wasn't the only one though – Fabio also managed to make up 6 places, but Espargaro fell back to 11th.
Leading on the first lap was Martin from Bagnaia, Bastianini and Marquez.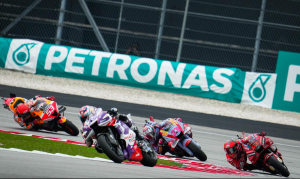 The championship hunt was on!
Lap 2 of 20 and Bastianini looked like he was ready to line a pass up on Bagnaia but would he? Ducati had already confirmed there were to be no team orders, but he would still need to be careful with his decisions.
Martin soon took fastest lap and continued to lead, Bagnaia, Bastianini and Marquez. The leading group had started to break away from Quartararo in 5th.
While some Ducati's were soaring unfortunately Luca Marini (Ducati) had to retire from the race early on – the first time this season he hadn't managed to finish a race.
With 17 laps to go: Bastianini still looked menacing behind Bagania for second. Franco Morbidelli (Yamaha) took his long-lap penalty (which was enforced following on from qualifying sessions and rejoined the race in 10th) and Fabio managed to pass Marquez for 4th – keeping his championship hopes alive.
Marquez in 5th looked like he was in trouble from the two Suzuki's following closely behind him. On lap 7 Joan Mir managed to pass, forcing Marquez back to 6th. Behind them Marco Bezzecchi (Ducati) had also passed Alex Rins (Suzuki) for 7th.
Yellow flags were suddenly waving and a Pramac Ducati was in the gravel – Martin had crashed out of first place on turn 5. All of a sudden, the championship leader was in the lead, with his 2023 teammate following closely behind. Fabio was also up to 3rd. The battle continued.
Next lap Marquez passed Mir back, but Bezzecchi had better pace and managed to pass both riders to go to 4th. Could Bezzecchi help Bagnaia by passing Quartararo?
With 13 laps to go, Bagnaia led Bastianini, Quartararo and Bezzecchi.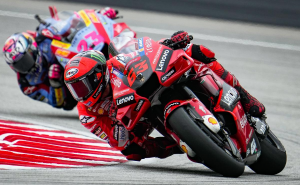 Gapping had started to appear between the top 4 riders – Bagnaia and Bastianini were 3.156 seconds ahead of Fabio who was 1.156 seconds ahead of Bezzecchi. But Bezzecchi was eating away at his gap to Fabio. Could he fight for a podium spot?
Half-way through the race, Bastianini couldn't hold back any further and on turn 4 he managed to make a move on fellow Italian Bagnaia to take the lead. Ducati had said no team orders, were they going to commit to this rule? Audiences were on the edge of their seats wondering what would happen next.
With 7 laps to go Bagnaia re-passed Bastianini on the start-finish straight and managed to hold onto first place into turn 1 (lap 16). Every championship point counted, with only one round left.
The lead for the two Italians at the front had decreased to Fabio in 3rd to 1.620 seconds, could he catch up and fight for the win? Bezzecchi behind him seemed to have had tyre issues, after fighting hard early on in the race as the gap between himself and Fabio had increased to 1.523 seconds.
With only 3 laps to go Mir crashed out of his race on turn 1, leaving his teammate to battle Marquez.
The pressure from Bastianini remained constant throughout the entire race even down to the final lap.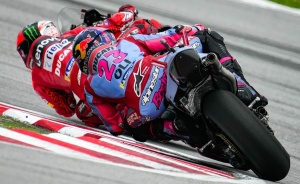 Last lap – would Bastianini make a last lap move on the championship leader? He certainly tried too. On turn 9 he made an attempt to pass but went slightly wide leaving Bagnaia free to take his 7th victory this season.
Top 10 Finishers:
| | |
| --- | --- |
| 1st | F. Bagnaia |
| 2nd | E. Bastianini |
| 3rd | F. Quartararo |
| 4th | M. Bezzecchi |
| 5th | A. Rins |
| 6th | J. Miller |
| 7th | M. Marquez |
| 8th | B. Binder |
| 9th | J. Zarco |
| 10th | F. Morbidelli |
Congratulations to Ducati for winning the team championship.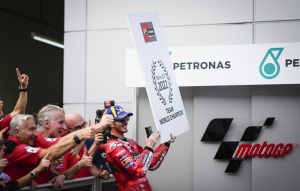 Top 4 Championship:
| | | |
| --- | --- | --- |
| 1st | F. Bagnaia | 258 points |
| 2nd | F. Quartararo | 235 points |
| 3rd | E. Bastianini | 211 points |
| 4th | A. Espargaro | 211 points |
It is now down to the wire – who will be crowned World Champion in the next round?
In the words of Fabio – "…even if the chance is super small, we bring it to Valencia". We will see you there!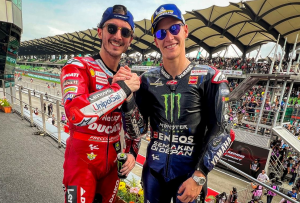 (Featured image – "Victory tastes sweet". Courtesy of: Moto GP website).