What a race…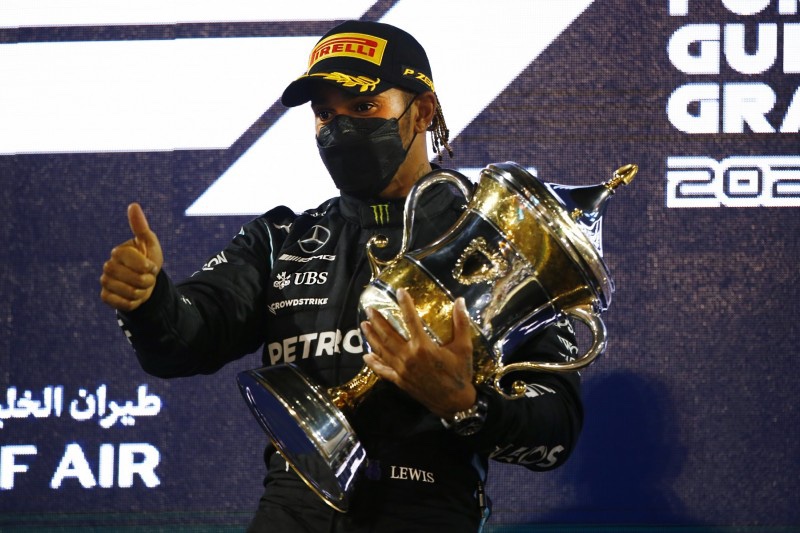 After what seemed like an unusually long winter Formula 1 is back with a bang in the desert.
After winter testing, three practice sessions and qualifying all that we knew for sure was the grid had indeed tightened up, especially for the top two teams in Mercedes and Red Bull.
Max Verstappen had taken pole position from Lewis Hamilton by just under four tenths of a second with the sister Mercedes of Valtteri Bottas in third and Charles Leclerc in fourth.
Even sitting thousands of miles away the anticipation at the start was palpable.
The instillation lap did nothing to calm the nerves as Checo Perez loses power initialising a second instal lap.
He did manage to power up the ailing Red Bull but had to start from the pit lane.
Five red lights go out and we're away for the Bahrain Grand Prix and indeed the start of the 2021 season. Unsurprisingly to many fans the number two Haas crashes out at turn one and his race ends before it can even start, leaving Mick Schumacher the sole Haas driver as the safety car is deployed.
Leclerc had managed to snatch third from Bottas before the safety car was deployed! Sainz lost out at the start and is down in P10, with Alonso and Stroll both gaining a position from him.
Verstappen leads the pack away from Hamilton who is left to defend from Leclerc into turn one.
Bottas takes third place back as we settle into a familiar pattern.
Verstappen pulls out a small lead of just under two seconds.
Further down the pack Sergio Perez starts to haul the Red bull through the field.
Mercedes are first to blink and try the undercut, putting the hard tyres on and it looks like a great decision as Red bull stays out as Lewis starts pumping in purple sectors and is the fastest man on track.
Verstappen's in at last! And goes from mediums to mediums, he will have to stop again. He exits the pits nearly seven seconds behind Hamilton!
The top three are Hamilton, Verstappen and Bottas. Further down the field Vettel and Alonso are fighting it out for P8!
Max is putting in the strong laps now on tyres ten laps newer than Hamilton's. He closes to within two seconds or so, as Mercedes once again throws the dice and pull Lewis in for a new set of hard boots.
He exits the pits in third behinds Bottas in second and Max in first.
Bottas stops but there's a problem with the front left! It's a 10.9s stop and he comes out behind Leclerc in P5
Verstappen pits for hards and is stationary for an incredible 1.9 seconds and leaves himself 8.7s to make up to Hamilton in the final 17 laps.
Hamilton's trying to keep his tyres going until the end, andy it's falling back into Verstappen's hands as he starts to take chunks off Lewis.
Verstappen is eating into Hamilton's lead like its an open buffet. Half a second out in the middle sector alone, and he can see the Mercedes on the straights now.
Hamilton brakes another record this time for the most laps led in F1 with 5,112!
Vettel and Ocon have come together. Both have got going again, but Vettel has some damage to his front wing. Looks like Sebs fault but that's one for the stewards to decide.
Max is like a lion hunting down his prey with only the odd back marker to hold him back, Lewis locks up and goes wide at Turn ten! He keeps the lead but Verstappen is just a second behind now and within DRS range.
Lap 52 and Hamilton only has half a second over Verstappen as he tries around the outside of Turn one but Hamilton holds him off!
Down to Turn four and Verstappen goes around the outside again, and this time he takes the lead!
Max Is immediately told by his team to give the place back as he's left the circuit whilst taking the position, if he doesn't do it a penalty could be costly.
Verstappen's loses grip in Hamilton's wake but he's now out of DRS range on the start finish straight.
Bottas stops for a new set of tyres as he attempts to grab the extra point for fastest lap.
Hamilton starts the final lap and Verstappen is back within DRS range, no matter how well Max has driven this weekend he just can't get passed the exuberant Hamilton who takes the win from Verstappen and Bottas.
Norris, Perez, Ricardo and Yuki Tsunoda all make impressive debuts, Alonso and Seb looked good and should improve as we get further into the season.
Mick Schumacher had a quiet race finishing last but that's all that can be expected in the under developed Haas.
HAM
VER
BOT
NOR
PER
LEC
RIC
SAI
TSU
STR
RAI
GIO
OCO
RUS
VET
MSC
DNF: GAS, LAT, ALO, MAZ