Qualifying:
A few unexpected crashes from Marc Marquez (Honda), Aleix Espargaro (Aprilia) and Fabio Quartararo (Yamaha) during the qualifying session meant yellow flags had to be waved and some riders were caught out by this, by not putting in a good qualifying lap.
One rider not to be caught out was Francesco Bagnaia (Ducati) who bagged a second pole in a row. Also claiming a second, second place was team-mate Jack Miller (Ducati) from Quartararo in third, taking the last spot on the front row.
Valentino Rossi (Yamaha) had yet another team-mate, this time with former Moto GP rider Andrea Dovizioso (Yamaha). He also had another helmet design, following on from last years design (Viagra pills) being substituted for a pink bow in honour of the announcement of his soon-to-be baby girl. Would this helmet bring him any luck for the race on home ground?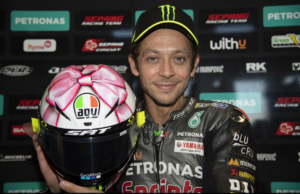 Race:
With the riders getting prepped on the grid, grey clouds started to loom above them and the temperature at the track dropped but it was declared a dry race by the start.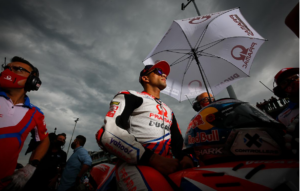 When the lights went out it appeared that Bagnaia may have had a jump-start but stewards quickly assessed the situation and he just started as he meant to go on – perfectly.
Marc Marquez was quick off the line and was soon in fourth place with Jorge Martin (Ducati) close behind, who had passed A. Espargaro.
Starting from 12th place – Bastianini had quickly made up places and was soon in 9th. Would he be one to keep-an-eye on?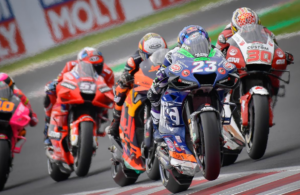 Pecco created a gap straight away from Jack and Fabio, already 1.231 seconds ahead and secured fastest lap in the process. While Fabio and Jorge Martin scrapped for third position behind. But it was not to be for Martin, who crashed out on lap 3, turn 14.
The man to watch (Bastianini) flew through the field and soon passed A. Espargaro for 5th place. While Miller took fastest lap behind his team-mate, in the lead.
Next up on Bastianini's list was M. Marquez, they had a fight for 4th position but the Ducati man came out the victor. Could he make it to a podium place? The gap between himself and Quartararo was 3.486 seconds – it seemed it could be done with 11 laps to go.
Both front Ducati's had chosen to race with hard front Michelin tyres and soft rears, compared to Yamaha which had front hard and medium rear. Would the soft tyre choices prove to be effective for the Dukes? Or would the Yamaha conserve tyres more effectively?
While it was elation for the factory Ducati's in 1st and 2nd, it was deflation for the Pramac Ducati's. In quick succession both Pramac Ducati riders soon had long-lap penalties. But for Martin, who had managed to get back on his bike, found himself in last place and took his penalty but soon after retired out of the race.
Pecco continued to extend his lead from Miller while Quartararo continued to stalk him for 2nd place. With 14 laps till the end Quartararo took a stop to the Ducati dominance and passed the Australian for 2nd, trying to claw back the lead that Bagnaia had created, which was 2.818 seconds ahead.
It appeared that Miller's rear tyre may have degraded as Bastianini had him in his sights by lap 16.
The young Italian was on a mission – he claimed fastest lap on lap 17 and again on lap 18. Closing the space between himself and Miller to under a second. Whilst Alex Rins (Suzuki) crashed out in sector one, Bastianini claimed a third fastest lap in a row. He was just 0.180 seconds behind Miller. But the number 43 couldn't hold off the number 23 any longer and on lap 19 Enea passed Jack to take a podium place.
The gap between Bagnaia and Quartararo was closed down to 1.254 seconds. Did Bagnaia have the same tyre concerns as Miller? With just 5 laps until the end the gap was down to 1.089 seconds.
But then the gap was suddenly increased again to 2.628 seconds – maybe Bagnaia had been conserving his tyres all along? Or had Quartararo made a small mistake?
The pressure was building between the Italian and the Frenchman as Quartararo seemed to find something last minute as well and was soon back behind Bagnaia. But as Bagnaia had proven last weekend, he was ready for a fight, with the taste of one victory, he wanted more.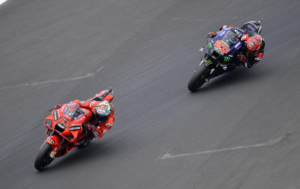 With two laps to go Fabio appeared to be setting himself up to pass Pecco. The gap had decreased to just 0.271 seconds. But Bagnaia managed to hold off his advances and took back-to-back wins from Quartararo and Bastianini – who rode an incredible race and took his first podium in Moto GP on a 2019 Ducati.
Marquez and Joan Mir (Suzuki) managed to pass Miller, who couldn't quite defend 4th place, on the last lap. But Miller was soon promoted to 5th place as Mir had exceeded track limits on the last lap.
It was the perfect weekend for Pecco – taking back-to-back poles and back-to-back wins!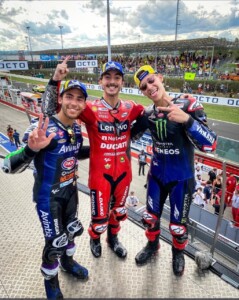 Top ten race finishers:
| | |
| --- | --- |
| 1 | F. Bagnaia |
| 2 | F. Quartararo |
| 3 | E. Bastianini |
| 4 | M.Marquez |
| 5 | J. Miller |
| 6 | J. Mir |
| 7 | P. Espargaro |
| 8 | A. Espargaro |
| 9 | B. Binder |
| 10 | T. Nakagami |
Championship results:
| | | |
| --- | --- | --- |
| First | F. Quartararo | 234 points |
| Second | F. Bagnaia | 186 points |
| Third | J. Mir | 168 points |
| Fourth | J. Zarco | 141 points |
What can we expect for the next round in two weeks time at Austin, Texas? Will Quartararo be in a comfortable position to claim the World Title? Will there be a 9th new winner? Or will the Ducati's reign supreme once more?
(Featured image – Courtesy of Moto GP website).