It's almost time to switch off the lights and celebrate the first day of the 2018, but before we close the 2017 chapter, we must first give the crown to the driver who received the most grid drop penalties in 2017.
During the past season, many fans complained about the amount of penalties which were given to the Formula One drivers, some of them were fair, but some others didn't even make sense. This article, presents all the penalties which were given to the drivers in the 2017 season. Due to the different type of penalties, I decided to give the crown to the driver with the most grid penalties.
Let's step aside now and let the numbers do the talking.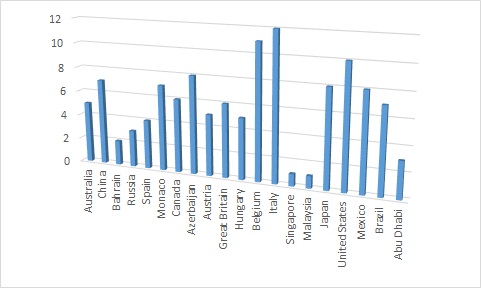 The first figure shows the number of penalties which applied on every track, the least penalties were given in Malaysia and Singapore, whilst Italy and Belgium set the highest rate of penalties. The award of the most "painful" track goes to Monza (12)!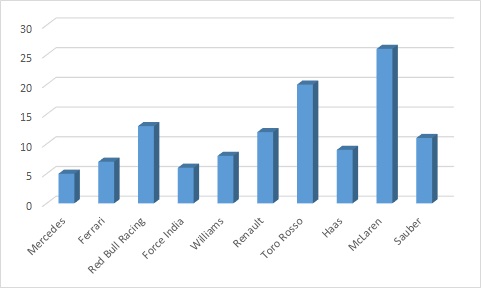 It's not difficult to guess which team got the most penalties in 2017 (hint: they were using Honda engines), the interesting point is that despite the wins and the podium finishes Red Bull Racing was penalised 12 times in 20 races. The two title contenders had low penalty percentage, which means that the battle for the title wasn't affected much from grid position penalties.
The award of the most penalised team goes to McLaren (25).
Now it's finally the time to announce the big winner. (Hold your breath!!)
Many drivers tried to beat him, to claim the throne, but once again he proved how skilful driver, he is, of course his team and their engine supplier helped him to achieve this victory, but without teamwork you cannot achieve anything.
His closest rivals were Fernando Alonso and Daniel Ricciardo with eight grid drop penalties, whilst Esteban Ocon still doesn't know how is to lose positions due to penalties, no grid drop penalty for Esteban (a.k.a. Oconsistency).
The award of the Mr.Penalty goes to.. Drums… Stoffel Vandoorne (15)!
At this point, I would like to thank the Pit Crew for giving me the opportunity to freely write articles and express my opinion via our website! I hope you enjoyed most of them, if not all them, and I wish you a happy new year!
See you all next year!
Ps. if you are planning to attend the Autosport Show, in January, let me know and we can meet there!
Twitter @FP_Passion