This is going to be special! If you've watched any of the pre-event testing footage online, you'll understand what I'm talking about. If you haven't, be sure to check them out!
When we knew that Rally Sweden was cancelled, the FIA looked to see what could be done, and this event was put together pretty quickly as a replacement.
Now looking at the championship, Seb and Elfyn hold the top two places, with Thierry third. As championship leader, Seb will open the road on day one, thus sweeping the road of fresh snow. This will likely mean that he won't be in the fight for victory, but will hope that he can score a podium, and some good points from the power stage. Elfyn will be certainly be eyeing up the win however, and starting second on the road will give him a good opportunity to do this.
Last year, Thierry came to Rally Sweden as championship leader and finished sixth. This time around he starts third on the road, and having won Rally Sweden in 2018, he knows how to win on the snow and ice. The new partnership with Martijn will be the key to possible to victory. Twelve months ago, Ott Tanak came back from his big shunt to score a well-deserved second place, and he won in Sweden during his championship year as well, meaning that the Estonian duo can't be discounted from the fight for victory. Also driving an i20 will be Craig who took seventh overall last year, but was not happy with his drive.
Teemu took eighth in Sweden last year, and the M-Sport Fiesta has shown good pace on the snow in the past, win Elfyn taking stage wins in 2019 when he was at the team. Gus will continue his learning of this car, and will want to just finish the event. He will be happy if he shows some pace similar to Teemu.
Now, here are the key figures for Round Two of this year's championship.
251.08: Competitive distance in kilometres
10: Service park and event HQ are located 10 kilometres south of Rovaniemi Airport
31.05: Sarriojärvi is the longest stage of the rally at 31.05 kilometres in length
19.91: In contrast the 19.91-kilometre Kaihuavaara stage is the shortest
-20: The ambient temperate could drop below as -20 degrees centigrade during the rally
Here's the full stage details for each day and the map showing the stage locations.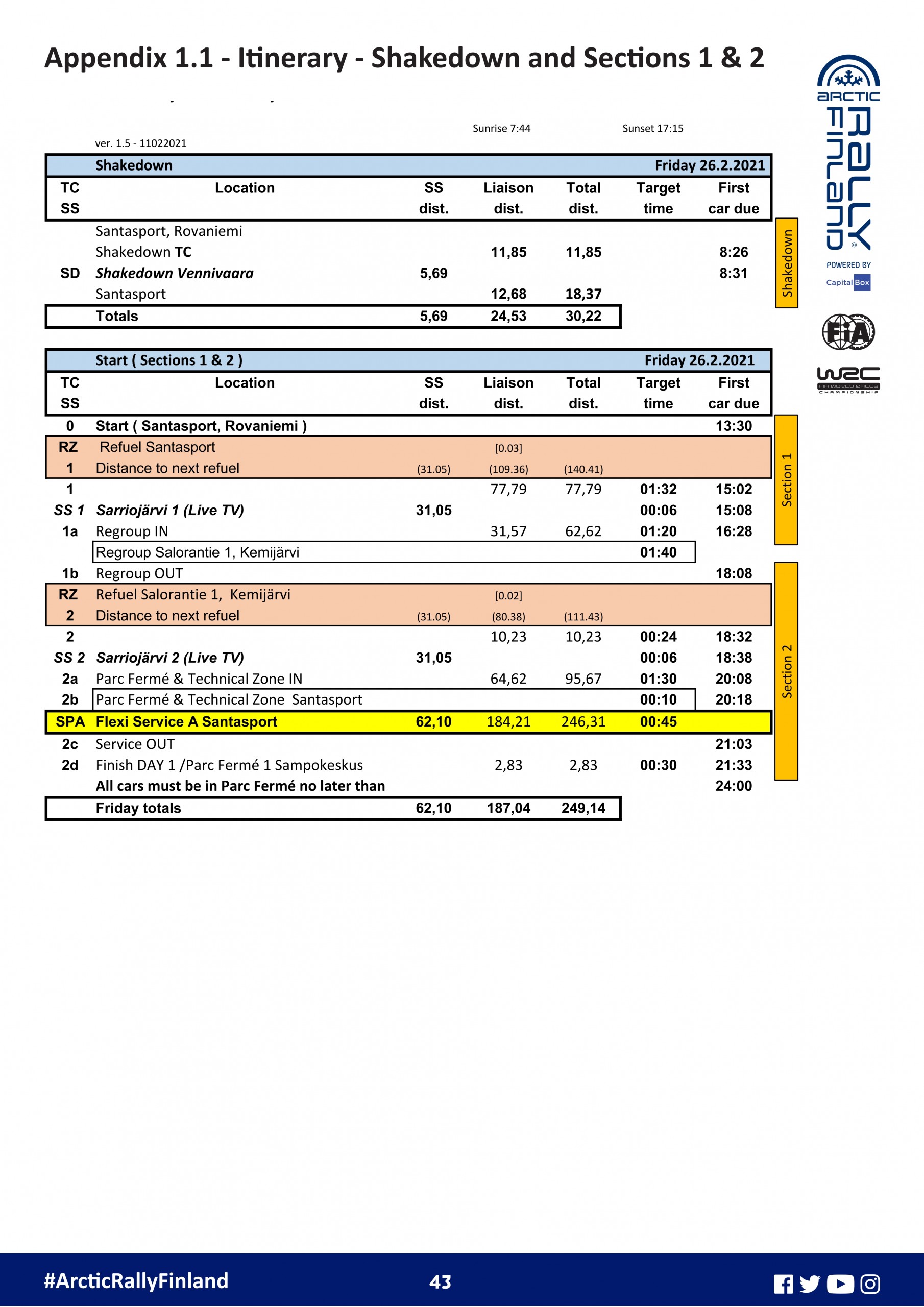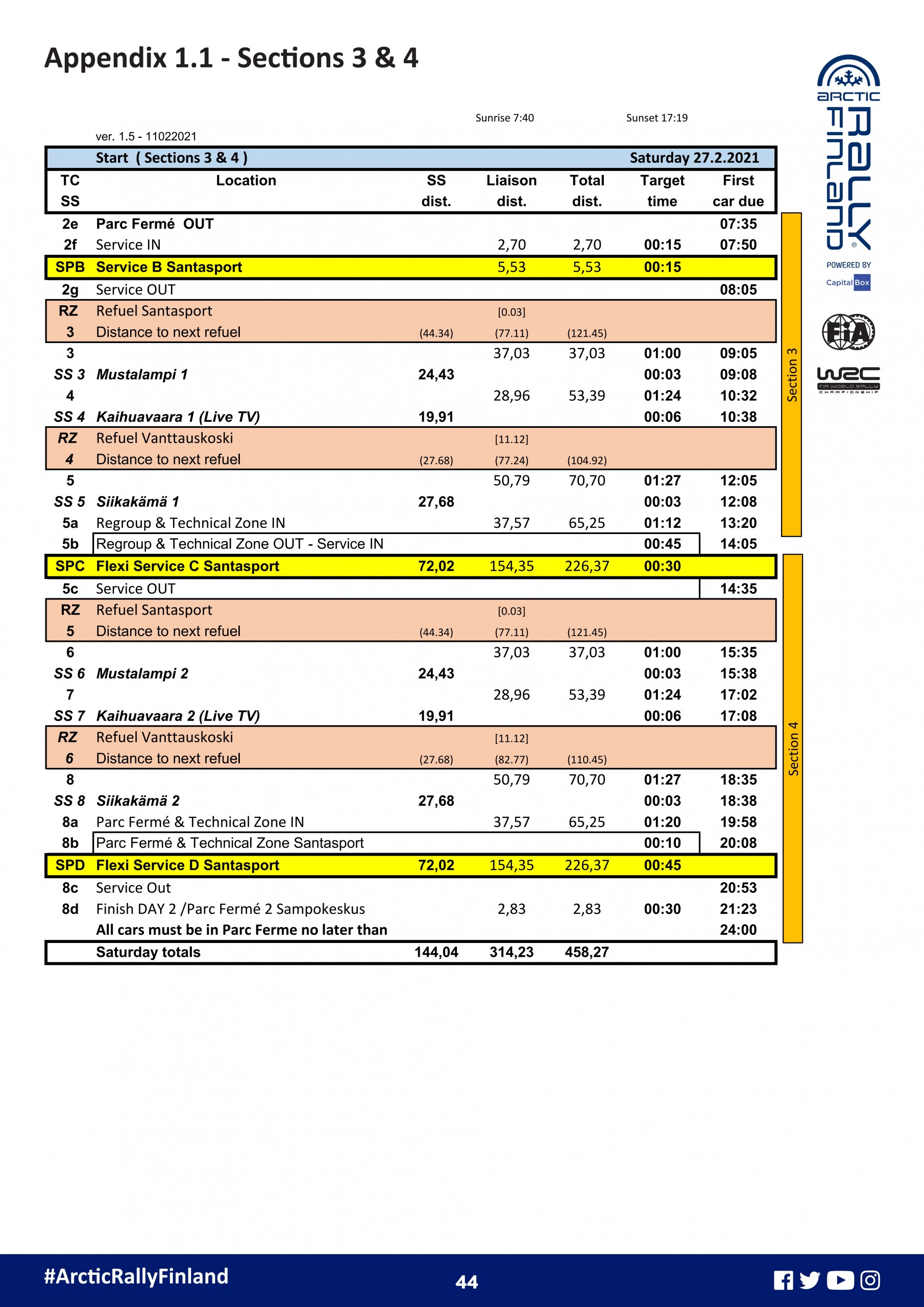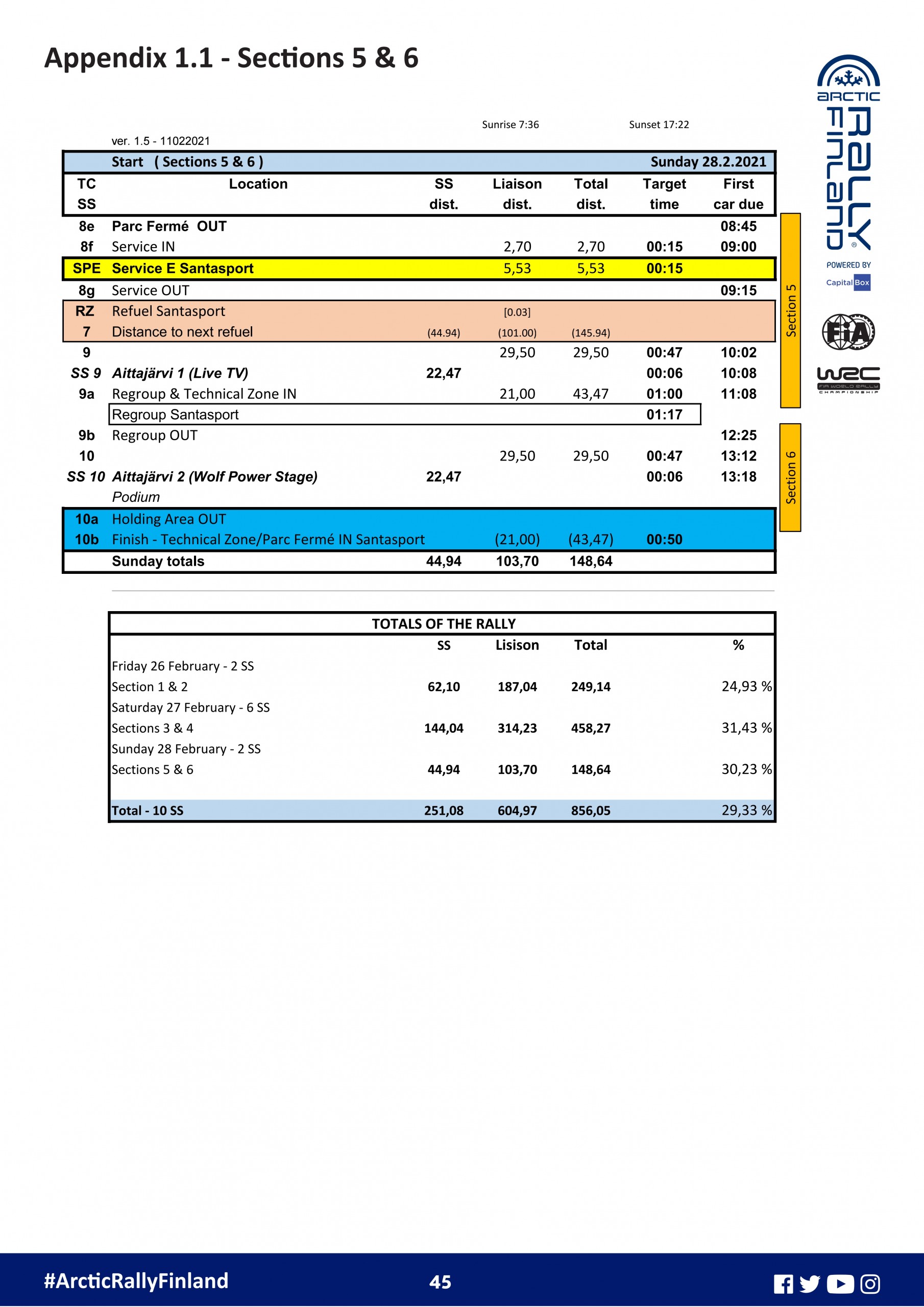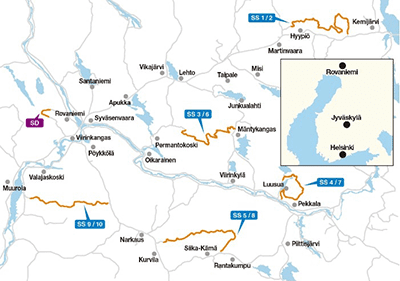 Let's hear from the drivers.
Toyota Gazoo Racing WRT
Sébastien Ogier (Driver car 1)
"We should have proper winter conditions for Arctic Rally Finland, which will be quite a contrast to what we have seen in the WRC in the last few years. When I tested in the area around Rovaniemi last week I enjoyed it a lot: I felt happy with the car and I think we are ready. We just have to wait and see how the conditions are for us opening the road, as usually this can play a big role on snow rallies like this. After last year I know to expect tough competition from my team-mates in these conditions – I'm sure Elfyn will be very motivated and Kalle probably even more so on home ground – but also from the other teams as well. So, I expect it will be a difficult rally to win, but I'm up for the challenge."
Elfyn Evans (Driver car 33)
"Arctic Rally Finland will be brand new for most of the drivers. Naturally, we want to strive for a similar result to Sweden last year, but we have to wait and see how things go. The conditions are likely to be different to what we've seen in Sweden in recent years, when there's been very little ice or snow. So that's been something to consider in our testing, where it's been really cold. We've also had to adapt the setup for the new Pirelli tyre. Similar to Monte-Carlo we have no prior experience with the tyre, but it's a bit more straightforward because we only have one choice for this rally, so we've been able to focus our efforts on that. Overall, the feeling is good and I'm looking forward to the rally."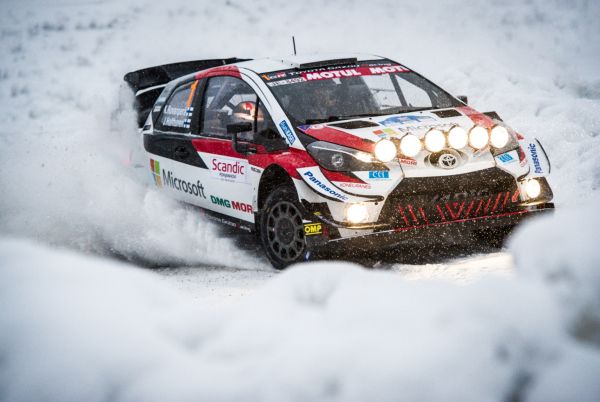 Kalle Rovanperä (Driver car 69)
"It will be nice to be back competing in Lapland again. I did the rally there once before – last year, when it was my first event in the Yaris WRC. For sure, this experience will help a bit. But there will be some stages that I haven't driven before or they will be in the opposite direction, so I don't think it will be a big advantage. In our tests the biggest thing we needed to do was find the right setup for the new tyre, as the style of the tyre is different from what we had before, but the feeling has been good. For me there is a bit more pressure than normally, but I would say it's more excitement than pressure – especially from the Finnish people, as everybody is following me more than on other rallies."
Hyundai Motorsport
Thierry Neuville (Car number 11)
"Aside from our recent pre-event test, the only time I had been in Rovaniemi before was for a test with the team many years ago. It's proper winter conditions, lots of snow on the stages, huge snowbanks and quite narrow in places. It's a challenging profile but one we are really looking forward to. We were able to pick up a podium in Monte-Carlo, in our first competitive rally together, so the target for Martijn and I is to build some momentum and aim to deliver another solid result for the team."
Ott Tänak (Car number 8)
"Arctic Rally Finland will be a very interesting event. Rovaniemi is very far north in Finland so it is certain to be cold and snowy. I competed there about ten years ago, so I have some experience of a few of the stages. It's definitely a full snow event and I'm sure it has a rightful place on the WRC calendar. We will be aiming to get our championship off to a proper start after the disappointment and challenges of Monte, targeting a more representative result for ourselves and the team."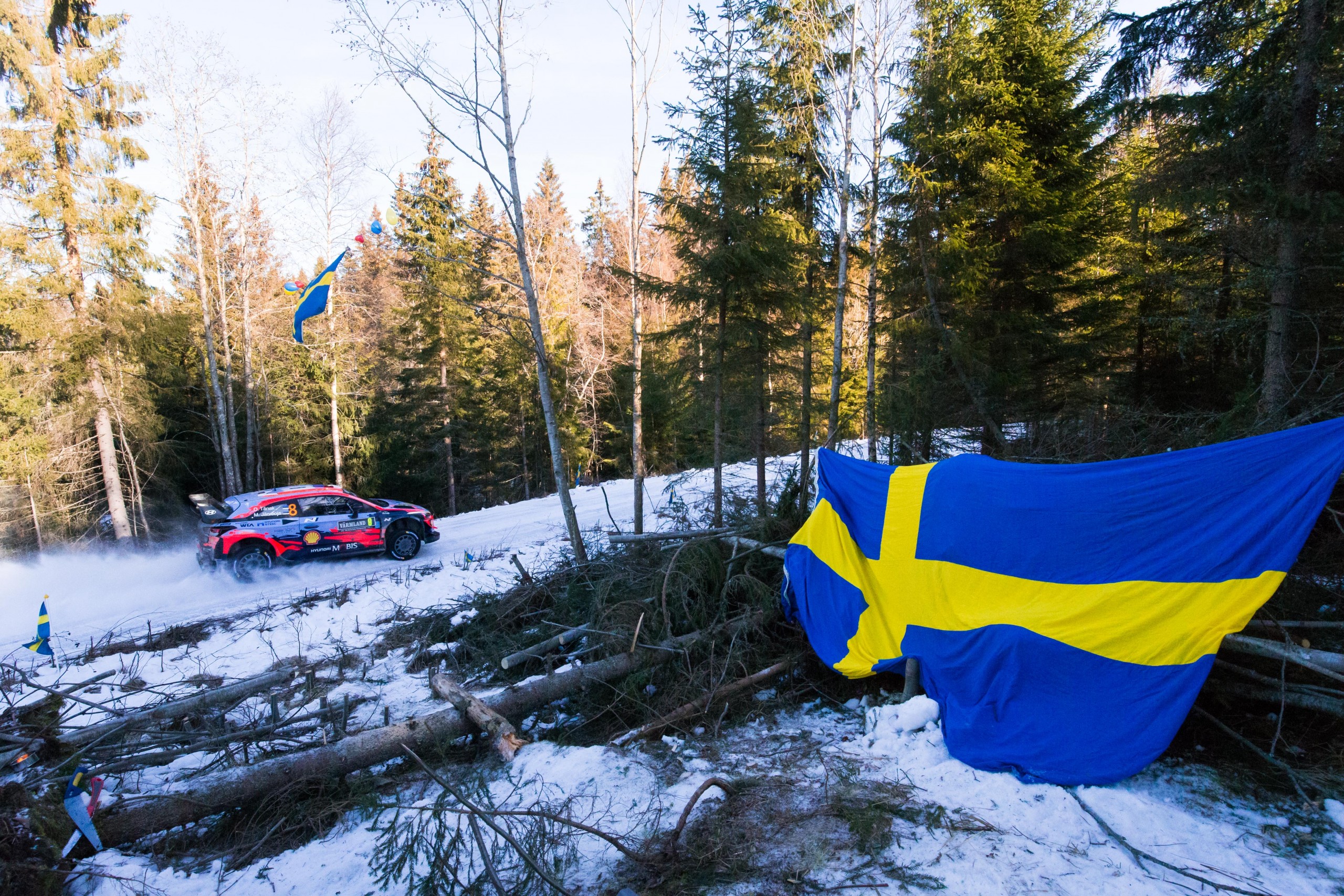 Craig Breen (Car number 42)
"I am thrilled that Paul and I get to start our 2021 championship at a brand-new event for the WRC, a rally that is going to be an amazing adventure for us all. We can be quite sure that we will have cold weather and big snowbanks at Arctic Rally Finland. It's important for Paul and me to start our season in the right way. It will take a bit of time to get back into the swing of things again, but we can't wait for it."
M-Sport Ford WRT
Teemu Suninen (Car number 3)
"The rally is similar to Sweden but even faster and with more narrow roads. There are quite a lot of compressions and bumps because when the ground freezes it gets bumpy and that's going to create a big challenge for the drivers but also for the teams with the set-up. My aim is to be as fast as possible in the first two stages where there is some chance to make some difference with the time. The Friday stage is the most challenging and the most technical, especially when we are doing it for the second time in the dark. My starting position is good, but if it's not too cold the snow can get dusty. And the snow dust can stay in the air for minutes like on a gravel rally. If you can't see you get slower."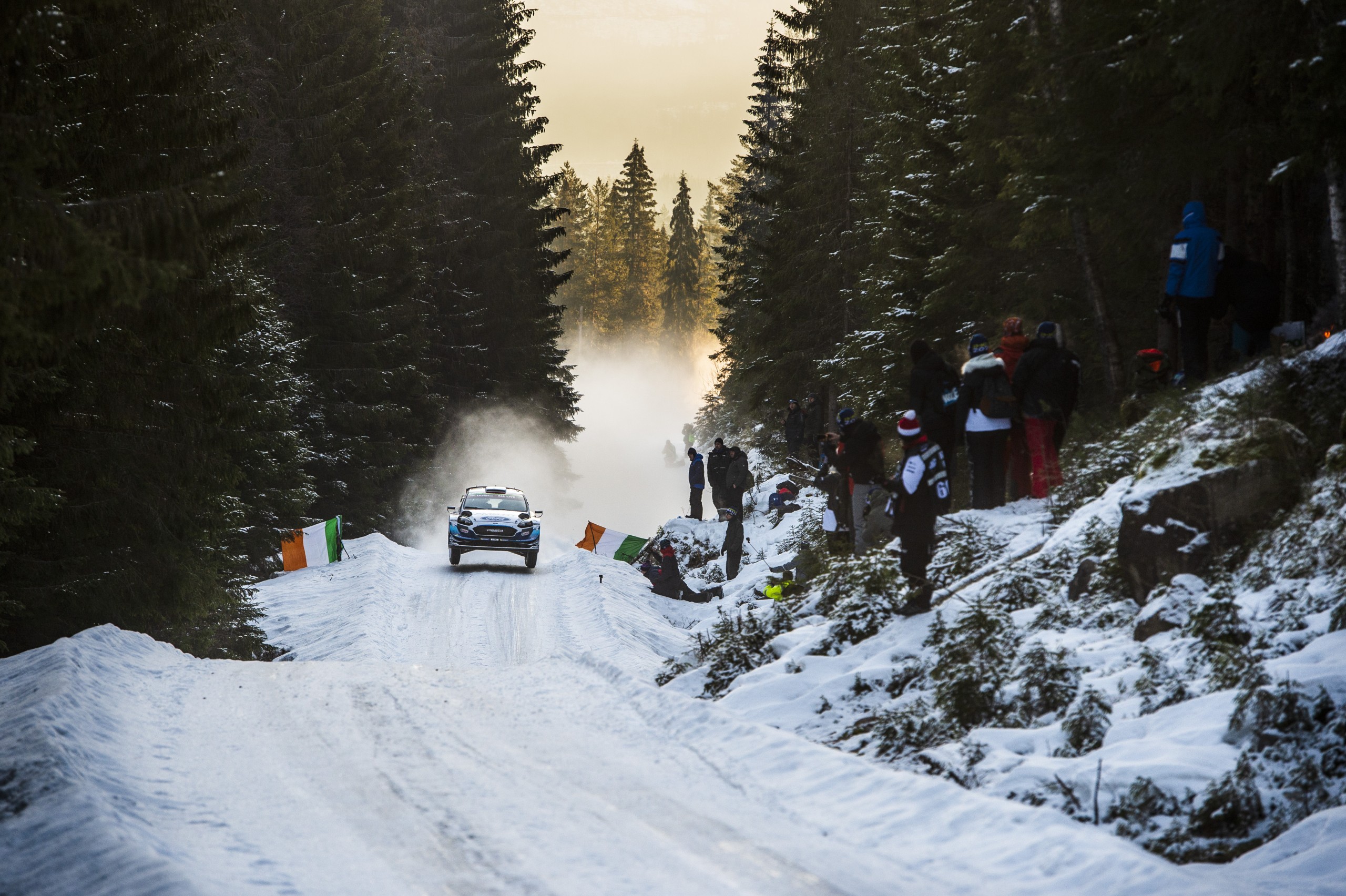 Gus Greensmith (Car number 44)
"I think everyone is looking forward to this week's event and the ultimate winter rally playground. I've not done a lot of snow rallies, but what I have done I've really enjoyed and – being in the Arctic Circle – this one is going to be on a completely different level.
"We've not had a lot of snow in the championship over the past few years, but there'll be no shortage of it in Rovaniemi and I'm really looking forward to the experience – learning how to use those big snow banks and how to extract the most from the studded tyres on the snow and ice.
"We had a full day testing last weekend to really get to grips with the conditions and learn as much as we could about winter rallying. But I'm not going to put too much pressure on myself this week. This rally is all about focusing on ourselves – on improving our pace over the course of the weekend and having fun doing it."
Other key competitors
Esapekka Lappi (Car number 25) Movisport, Volkswagen Polo GTI R5
"I have done the Arctic Lapland Rally three times and the last time was nine years ago so I can't take a lot from back then although the stages are a bit different now, of course. I am sure most of the drivers will like this adventure with the snowbanks although the roads are a bit different to what they will find in Sweden, more bumpy and more straightforward in some places with long straights and tight corners. But the rhythm and characteristics will change a few times per stage so each stage is not going to be similar from start to finish. The target is to fight for the win in WRC2 but the challenge will be tough. The quality of the drivers is very good and the competition is very high and I don't know the car."
Oliver Solberg (Car number 2) 2C Compétition
The first thing is for me to say is a very big thank you to Andrea [Adamo, Hyundai Motorsport Team Principal], Alain [Penasse, Hyundai Motorsport Team Manager] and everybody for giving me this opportunity and for putting their trust in me to drive this rally in the Hyundai i20 Coupe WRC. "This really is a dream for me. To think I have only been competing for four years and now I'm here; it's just a dream to be making my debut in a World Rally Car from the World Rally Champions!
"Honestly? I'm counting the minutes until I get to sit in this fantastic Hyundai for the first time. "Obviously, I did Arctic [Lapland Rally] last month with the Hyundai i20 R5, so that gave me an idea of what's coming later this month." Delighted to drive the Hyundai i20 Coupe WRC anywhere, anytime, Oliver's particularly pleased to make his debut in the car on a surface and in surroundings he knows well. "That is," he said, "one of the good things about driving the Hyundai i20 Coupe WRC in Lapland – the snow and ice conditions should be consistent, which is a nice way to learn about a new car. The consistency will help me to understand the grip and how any changes we make to the car will affect it.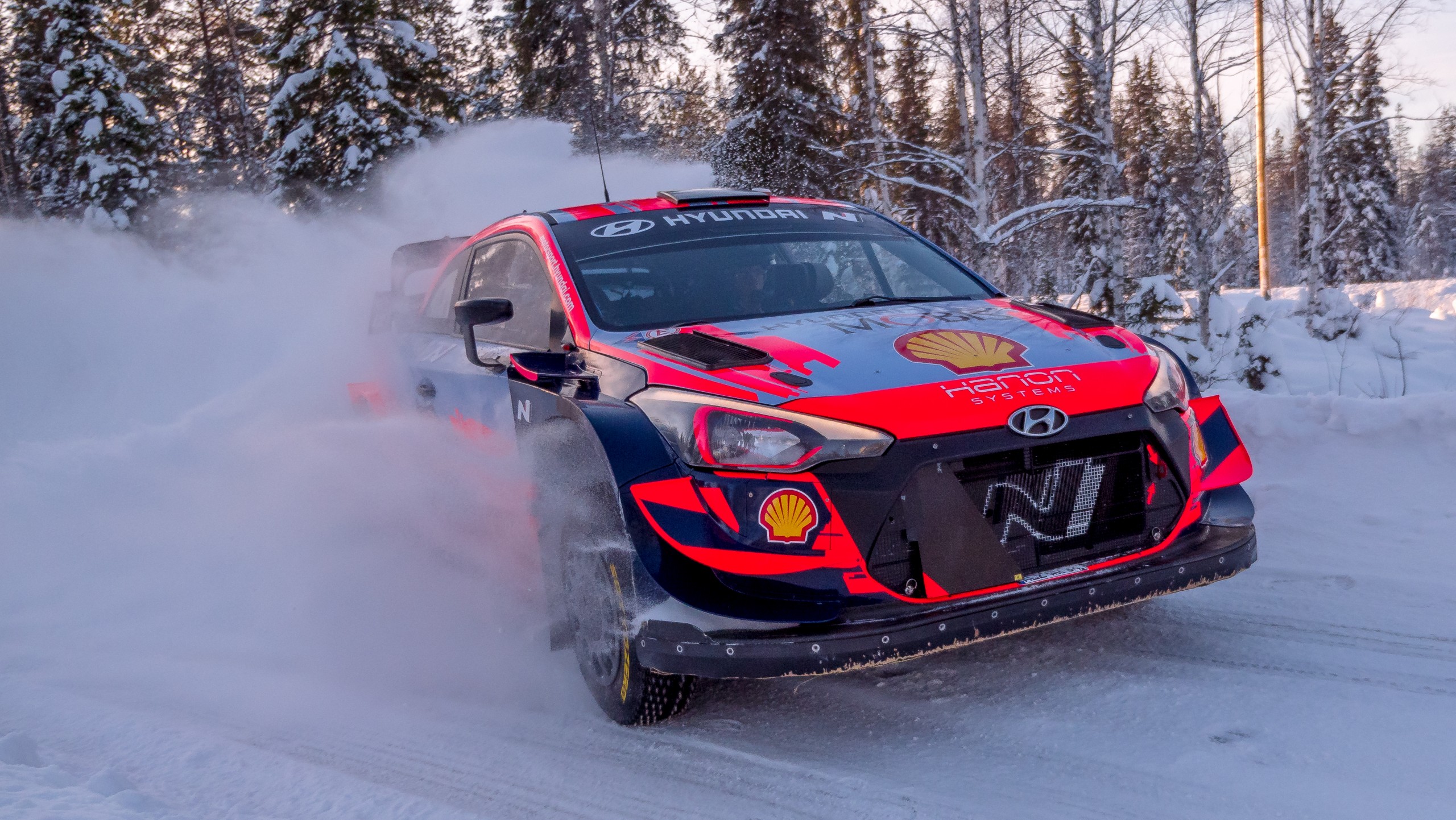 "And we go there with just one tyre, Pirelli's Sottozero Ice which is also nice and certainly less complicated than on the first round of the WRC, Rallye Monte-Carlo, where we had four tyres to choose from and so many conditions it was sometimes quite crazy! "If I had to choose a rally to take a debut in the Hyundai i20 Coupe WRC, it would be my home event at Rally Sweden, of course! But I have to be honest and say the snow in Finland is pretty good as well. "I have driven quite a lot on the snow and I know this type of condition quite well."
Summary
Well, we are set for an exciting event. Can Elfyn repeat his win from last year, or will Ott and Thierry deny the Welshman? What will Oliver be able to achieve in his first start in a full-on world rally car? With his co-driver out as he tested positive for Covid, Seb Marshall will be sitting next to Oliver instead.  It will be interesting to compare him and Gus Greensmith.
In the battle for the podium places, its fair to say that any of the drivers from the top teams will be in the fight. It will be interesting to see how Esapekka Lappi will do. Last year he was the best placed M-Sport driver with fifth place overall. He's a world class driver, and will want to win the class to show that he deserves a spot in the top cars. For me, there is no doubt that he deserves this, and the sooner he's back in one of those cars, the better.
Enjoy!