Cameron Beaubier and Sean Dylan Kelly were presented as the 2022 riders for Moto2 team, American Racing.
In front of a home crowd in Los Angeles, American Racing unveiled their 2022 machine. At the same time as presenting this years rider line-up. The team are the only fully American outfit racing in Moto2 and, now, they have two American riders at the helm.
Cameron Beaubier is returning to the team for his second season after scoring a season's best result of 5th at both COTA and Portimão. He will be joined by Sean Dylan Kelly, who enjoyed 12 wins in MotoAmerica Supersport before then securing the 2021 championship.
When speaking to media, Beaubier stated that "I'm really pumped to have Sean on the team and have two Americans. It's weird because coming up in racing, I was always the young gun that always had older teammates and now it's reversed on me."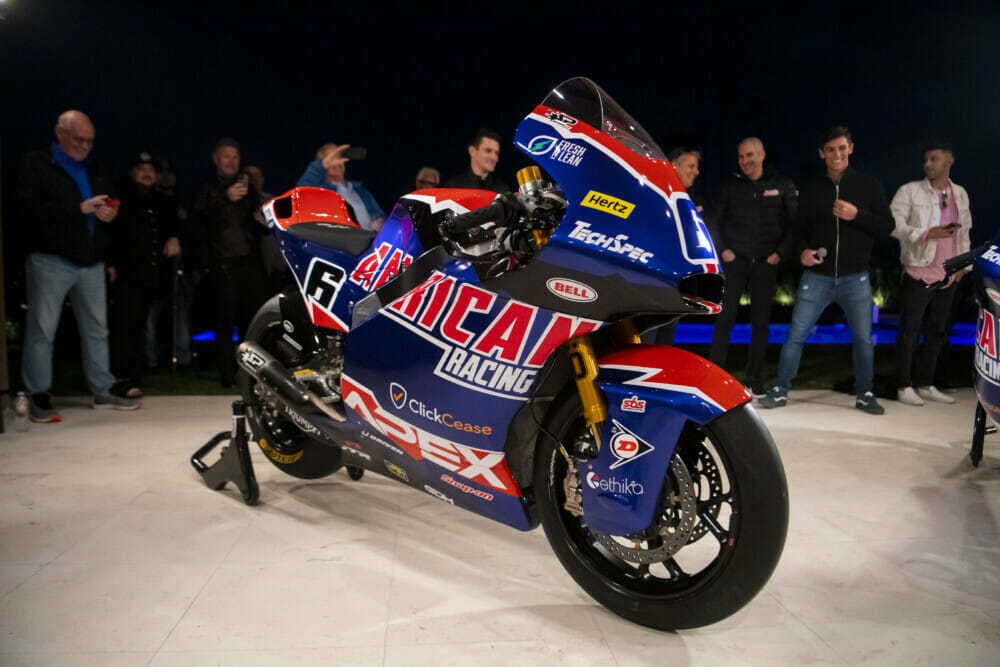 When reflecting on his 2021 rookie Moto2 season, Beaubier continued by saying that "I'm not saying that this year isn't going to be tough by any means, but last year was really, really tough. We had some really good moments, a lot of crashes, a couple of top-fives and a handful of top 10s. It's definitely something to build on and I'm definitely looking forward to it."
Hi new team mate, Kelly, commented that "Right now, it still feels unreal for me to looking at this beautiful bike with my number on it, which is going to be the 4 and I've always raced as 40. It's a dream come true for me. This is something that felt really far away only a year ago. It felt like something that was hard to reach."
He continued "We know how life is and how careers can be with lots of ups and downs. This year has been incredible, and I was able to achieve one of my biggest goals and dreams of being National Champion and not too long after to sign a contract for the World Championship. Honestly, it's a dream come true for me and my family and something I dreamed of since I was a little kid and started racing at five years old."
Beaubier and Kelly will be able to put the new American Racing Team machine to the test for the first time on the 22nd of February when the official test kicks off.
Feature Image Credit: American Racing Team