After last year's counting error that saw Aleix Espargaro celebrate too early and lose the victory, it was redemption day for the Aprilia rider as he finally claimed victory at his home race. Espargaro was riding high from victory in Saturday's sprint race and pulled off nearly the exact same move to take the lead of the race with only 3 laps remaining.
Despite leading the first 20 laps of the race, Maverick Vinales came home in 2nd. However, it wasn't a difficult result as he celebrated giving Aprilia their first ever 1-2 finish.
Jorge Martin rounded out the podium finishers, coming home in 3rd, after a positive day for the Pramac team.
The day was not without drama – an early red flag was waved after multiple riders crashed at turn 1. The domino-effect incident saw Enea Bastianini, Johann Zarco, Alex Marquez, Marco Bezzecchi and Fabio Di Giannantonio all in the gravel before completing a single corner.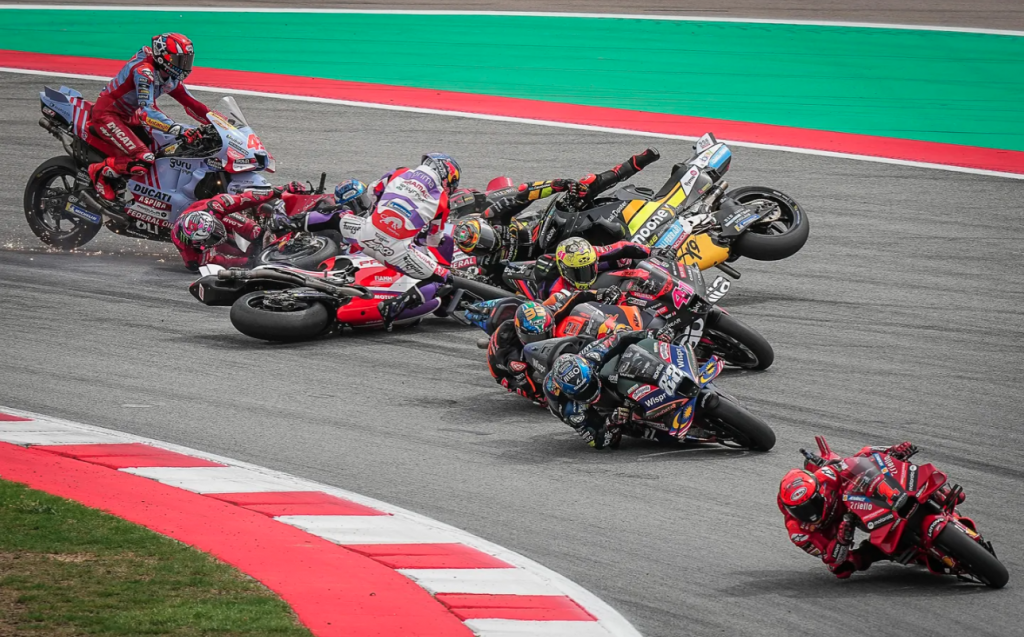 Moments later, our reigning champion and current championship leader, Pecco Bagnaia faced a huge highside which left him stranded in the middle of the track. Brad Binder, unable to avoid him, scarily ran over the Italian's legs and left him writhing around in pain.
Both Bagnaia and Bastianini were taken to hospital and post-race statements followed. Bagnaia has luckily escaped with very minor injuries and Bastianini suffered a fracture to his ankle and hand.
AS IT HAPPENED
As the lights went out at the start of the race, it was a good start for Pecco Bagnaia who was able remain at the front of the pack after starting on pole. However, it was a poor start for Aleix Espargaro who was quickly lost in the field and going backwards.
Enea Bastianini enjoyed a positive start but, as he made his way up the inside of turn 1, he crashed in to the side of Johann Zarco and caused a domino effect. Zarco then crashed in to Alex Marquez, who crashed in to Marco Bezzecchi, who crashed in to Fabio Di Giannantonio.
Whilst those riders were in the gravel at the outside of turn 1, Bagnaia faced an enormous highside and landed in the middle of the track. Brad Binder was unable to avoid the stranded champion and, in a scary moment, ran over Bagnaia's legs.
The red flag was quickly waved and the amazing medical team were instantly on the scene. Bagnaia spent some time receiving treatment on the track, before being taken to the medical centre and then the local hospital. Bastianini was also injured and took a trip to the hospital for further checks.
Now, with just 23 laps to race, the riders made their way back on to the grid. Luckily, all other riders were able to make it back to the garages under their own steam which allowed them to rejoin the race when it restarted 20 minutes later. Only Bagnaia and Bastianini were missing.
As the lights went out for the second time, Espargaro had a much better start this time away and managed to lead the pack through a clean, drama-free first corner. It was also a positive start for Jorge Martin, who leapt from 5th to 3rd, and Jack Miller, who leapt from 12th to 5th.
However, but turn 2, his Aprilia teammate snatched away the lead and Vinales took over at the front of the pack. Martin's positive race start continued as he made his way past Espargaro and in to 2nd.
Before lap 1 ended, Pol Espargaro was forced to retire with mechanical failure.
Meanwhile, his brother was trying to make moves to regain 2nd place from Martin. He was right on the tail of the Pramac rider but wasn't able to make anything stick. That was until lap 3 when he pulled up the inside of Martin at turn 10. By turn 12, he had made his way past and was in 2nd place, chasing down his teammate in the lead. It wouldn't be an easy task as Vinales set the fastest lap in response.
On lap 4, Miguel Oliveira made his way past Martin for 3rd, making in an Aprilia 1-2-3!
On the same lap, Binder was forced to retire with technical problems. It was suspected that he had laid down a lot of oil prior to the red flag so it seemed to be a persistent issue for his KTM.
Riders up and down the grid were now settling in to their race and Vinales was slowly pulling our a lead ahead of the chasing pack. By lap 5, he was 0.3 seconds ahead for Espargaro, who was in turn a further 0.5 seconds ahead of Oliveira.
There was action further down the grid with Augusto Fernandez battling with Marc Marquez for 10th place, and Alex Marquez battling with Jack Miller for 6th.
On lap 10, Oliveira lost out on a podium place to Martin, but was able to stay close on his tail. He clearly wasn't giving up easily, having worked so hard in the early stages.
On the same lap, we had our third rieder retire with mechanical problems – this time is was Raul Fernandez who was limping to the pits after just enjoying a battle with Marc Marquez for 11th.
At the halfway point, with 12 laps completed, Vinales now had a 1.2 second lead over Espargaro, who then had a 2 second gap over Martin. It was at this point that Espargaro seemed to wake up and was suddenly chasing down his teammate at a rapid pace.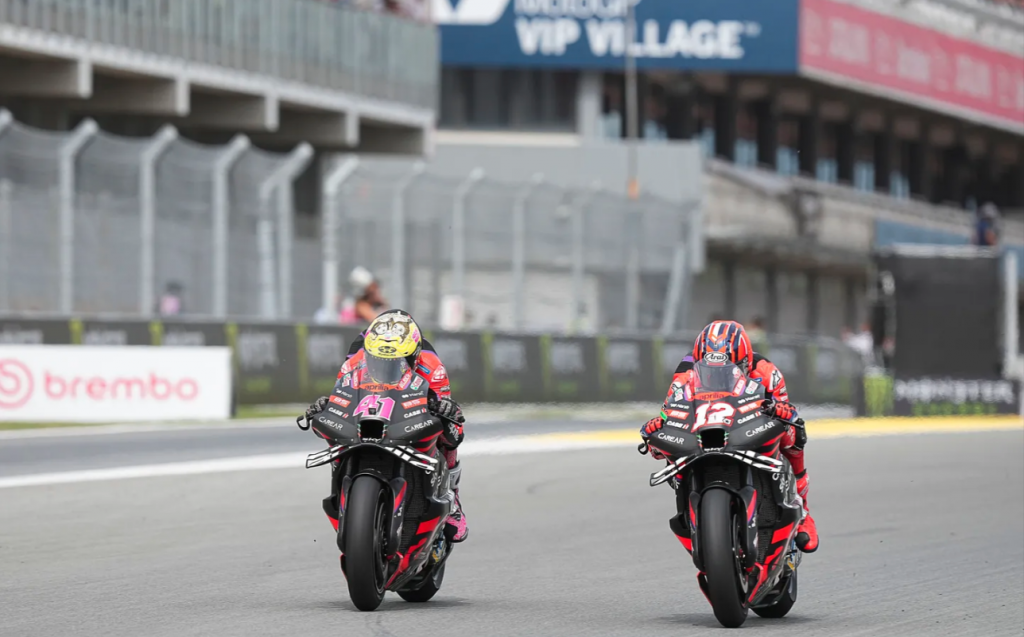 By lap 15, thanks to lapping faster than his teammate, Espargaro had now cut the gap down to 0.5 seconds. On lap 18, with just 6 laps to go, Espargaro was finally on his tail.
Espargaro waited patiently and, on lap 20, he came up alongside Vinales on the start-finish straight. The Aprilia pair almost came together at turn 1 and Vinales went wide. That instantly gave Espargaro the space he needed to check out at the front of the field. With only 3 laps left, there was nothing Vinales could do to close the gap.
It ended up being a comfortable victory for Espargaro who was already on a high from winning Saturday's sprint race!
FULL RESULTS
| 1st | Aleix Espargaro | Aprilia |
| --- | --- | --- |
| 2nd | Maverick Vinales | Aprilia |
| 3rd | Jorge Martin | Prima Pramac |
| 4th | Johann Zarco | Prima Pramac |
| 5th | Miguel Oliveira | CryptoDATA RNF |
| 6th | Alex Marquez | Gresini |
| 7th | Fabio Quartararo | Yamaha |
| 8th | Jack Miller | Red Bull KTM |
| 9th | Augusto Fernandez | GASGAS Tech3 |
| 10th | Rabio Di Giannantonio | Gresini |
| 11th | Luca Marini | Mooney VR46 |
| 12th | Marco Bezzecchi | Mooney VR46 |
| 13th | Marc Marquez | Repsol Honda |
| 14th | Franco Morbidelli | Yamaha |
| 15th | Takaaki Nakagami | LCR Honda |
| 16th | Iker Lecuona | LCR Honda |
| 17th | Joan Mir | Repsol Honda |
DNF: Raul Fernadez (CryptoDATA RNF), Brad Binder (Red Bull KTM), Pol Espargaro (GASGAS Tech3), Enea Bastianini (Ducati), Pecco Bagnaia (Ducati)
CHAMPIONSHIP STANDINGS
| 1st | Pecco Bagnaia | 260 points |
| --- | --- | --- |
| 2nd | Jorge Martin | 210 points |
| 3rd | Marco Bezzecchi | 189 points |
| 4th | Brad Binder | 166 points |
| 5th | Aleix Espargaro | 154 points |
Feature Image Credit: MotoGP