Jamie Chadwick had a very dominant drive in Spain to add to her double win in Miami. Abi Pulling put in a solid performance to take the second spot on the podium with her mentor and flatmate Alice Powell making it an all British podium inf Barcelona.
In qualifying yesterday Chadwick topped the session with an under the radar lap after teammates Powell and Hawkins battled with Powell eventually coming out in P2 with Pulling splitting the two drivers. That gave Chadwick her 9th pole in W Series and the advantage for the race.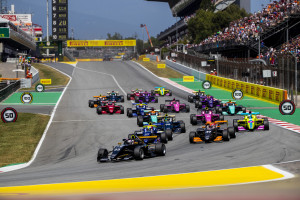 Lights out and Chadwick makes a great start immediately coming across to cover off Alice Powell. This gives room Abi Pulling to take advantage of her great start. By turn 1 Pulling was on the outside of Powell, making a great move to take P2. Emma Kimiläinen took advantage of her good start as well as she passed Visser for P4.
The drivers get away clean with only Chloe chambers going wide around turn 3, just kicking up some gravel on her way around. Everyone made it round the first lap safely with Marti making the biggest leap forward from P11 to P8 on lap one.
By the end of the first lap Chadwick had pulled out a one second gap on Pulling, however it didn't take Pulling long to close that gap to half a second. Chadwick was beginning to come under pressure from both Powell and Pulling as Moore was setting the pace with some fastest laps.
With 20 minutes to go Powell was pushing Pulling all the way by setting replacing Moore's fastest laps. The aim to get Pulling to either overtake Chadwick or Powell will overtake her. At this point Powell was only 3 tenths back and looked to make a move down the main straight, unfortunately not making anything stick.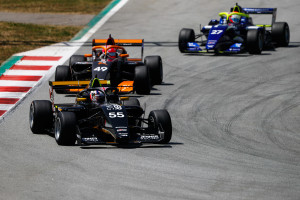 About halfway through the race and further down the field, Moore was showing that earlier pace and lined up a move on Jess Hawkins. When the gap was close enough down the main straight Sarah Moore got into the slip stream and the took the inside line on Hawkins into turn 1. The move was almost done for Moore but Hawkins stuck with her, forcing Moore to make a great move around the outside of turn 2 for P10.
There was then a stalemate for the rest of the race as the drivers needed to protect their tyres from degrading. However, the gap between Pulling and Chadwick was very slowly coming down with Pulling's engineer encouraging her to keep the pressure on.
As the final lap came around protection of the tyres no longer mattered so it was time to push. Pulling really put the pressure on Chadwick all the way through but just wasn't quite close enough to make a move.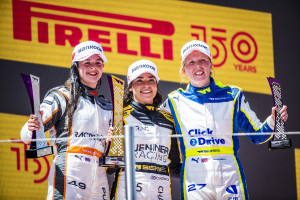 While Chloe Chambers unfortunately spun out on the last lap, her teammate won for a fifth time in a row and a third time this year. Chadwick won from pole with a very dominant performance. Pulling finished P2 with Powell in P3 after having to back off to preserve tyres.