Qualifying:
Round Four saw the Moto GP riders in Austin, Texas at the Circuit of the Americas. But, did anyone see the Ducati lockout at the front of the grid?
Jorge Martin (Ducati) took pole, with a new all-time lap record (2:02.039) from Jack Miller (Ducati) in second and Francesco Bagnaia (Ducati) in third. Fourth and fifth went to Ducati riders Johann Zarco and Enea Bastianini.
Race:
With 3.426 miles for just one lap at COTA, the laps are long and the wind was strong. With such an unpredictable season so far, who would come out victorious?
Martin and Miller had a great start but it was Miller who took the lead into the first lap, from Martin, Bagnaia and Bastianini. It was a disastrous start though for Marc Marquez (Honda), who had returned from injuries after missing last race. He seemed to have issues with his launch control and stumbled from his grid position, falling to last place.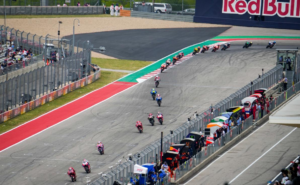 Bastianini claimed third place fairly quickly from Bagnaia, Whilst Martin overtook Miller into turn 20 but Miller was in the mood to fight and took the position back immediately.
Marquez was on a mission and already on lap 2 had made up 5 places, claiming 17th place. Miller also knew he had to try and create a gap between himself and second, trying to do this he put in the fastest lap.
By lap 4 of 20 it was another Ducati's turn to claim fastest lap, this time it went to Zarco, in 5th place.
Having won so many times at this race track, Marquez knew exactly what he had to do, with 17 laps to go he was up to 14th position. Was the win just a dream this time round?
Zarco and Bagnaia tussled for 4th place, Marquez took another step towards the front and Alex Rins (Suzuki) passed Fabio Quartararo (Yamaha) for 6th.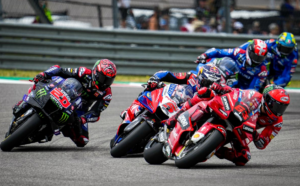 For the first time in the race the top five Ducati's were suddenly split by the Suzuki of Rins who took 5th place on lap 6  and in doing so claimed fastest lap. Unfortunately for Alex Marquez (Honda) on the same lap, he crashed out cutting his race short, in sector 2.
Having looked good for some time, Rins took 4th place from Zarco, but Zarco wasn't going down without a fight. Meanwhile the two factory Hondas switched places and Marquez was now up to 10th position.
With only 12 laps until the end Miller set another fastest lap and Rins and Zarco continued their battle for 4th.
Half-way through – Miller led Martin, Bastianini and Rins. Turn 11 though – Rins passed Bastianini, but Enea fought back for the spot.
Battling for 9th place, Marquez soon claimed it from Aleix Espargaro (Aprilia) – last weeks winner.
The Suzuki and Ducati clash continued between Rins and Bastianini with Bastianini coming out the stronger of the two and even taking 2nd place from Martin. Marquez also put in fastest lap – was a podium within reach?
Lap 12 of 20 and Miller continued to lead from the front, from Bastianini, Rins and Martin. While Mir passed Zarco once again for 6th.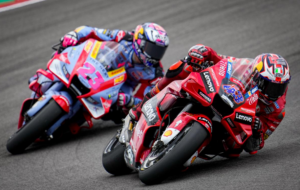 Marquez continued to push even harder, this time beating his own record and taking the best race lap ever (2:03.553). This did not last long as Bastianini, soon after, did an even better lap record of 2:03.521.
The overtakes just kept on coming: lap 14 of 20 – Quartararo finally passed Zarco this time managing to make it stick. Mir passed Martin and Bagnaia took full advantage doing the same. Meanwhile Marquez passed Quartararo for 7th.
Back at the front and Bastianini looked menacing behind Miller. Could Miller make his tyres last for just 6 more laps?
Two laps later and Bastianini made his move on Miller, taking the lead on turn 12, he straight away pushed hard to create a gap between the pair.
Martin continued to go backwards in Austin and found himself being passed by Marquez for 7th place, only to then have Quartararo seize the opportunity to also pass and force Martin into 8th, however, Martin fought back and and re-took 7th from Fabio.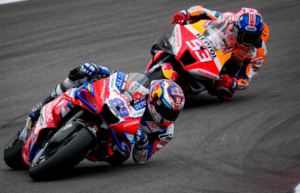 With only 3 laps until the chequered flag Bastianini created a gap of 1.031 seconds ahead of Miller. While Quartararo and Marquez went back-and-forth for 6th position.
Last lap and the Ducati's of Bastianini and Miller led Rins in 3rd.
The continued battle for 6th raged on while Rins and Miller decided to battle it out. Miller went defensive but in the end it was Rins who claimed 2nd spot on the podium from Miller.
It was an absolutely heroic race from Marquez, who showed with enough determination, will and grit, he could still fight through the pack to claim a valiant 6th place.
Having now taken a second win this year – Bastianini rode the Ducati to claim victory, securing Ducati's first ever win at COTA.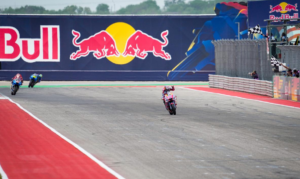 Top Ten Finishers:
| | |
| --- | --- |
| 1st | E. Bastianini |
| 2nd | A. Rins |
| 3rd | J. Miller |
| 4th | J. Mir |
| 5th | F. Bagnaia |
| 6th | M. Marquez |
| 7th | F. Quartararo |
| 8th | J. Martin |
| 9th | J. Zarco |
| 10th | M. Vinales |
This season is so unpredictable, we now have another new championship leader:
Championship:
| | | |
| --- | --- | --- |
| 1st | E. Bastianini | 61 points |
| 2nd | A. Rins | 56 points |
| 3rd | A. Espargaro | 50 points |
| 4th | J. Mir | 46 points |
Rins claiming second on the podium, equaled Suzuki's 500th podium finish in GP history across all classes.
Are we seeing a new championship contender in Enea Bastianini? Who would have predicted such a Ducati dominance? Can they continue in this fashion? We will have to see in round 5.
(Featured image: Courtesy of Moto GP website).